By now you guys realize how much I love a good theme night.  Now that I am home for a few months and not traveling so much, we can get back into the swing of working them in every couple of weeks.  When I am traveling so much, like I did this summer, it is really hard to fit in regular dinners, much less a themed one.  Well, welcome Fall, and welcome back theme nights!
                This week we are visiting one of my favorite children's series.  There Was An Old Lady Who Swallowed …  fill in the blank.  This time, in honor of Fall, we are reading There Was An Old Lady Who Swallowed Some Leaves.  I linked a you tube reading of this book.  This old gal can't be trusted.  You leave her alone for a minute and a half, and she is all over the farm swallowing everything in sight.  She builds up one item after the other, one item meant to do something to the previous item, until she sneezes and they all come out at once.  It's kind of gross if you spend too much time thinking about it.  None the less, it never fails to elicit giggles from the tinies when we read one of her adventures.  We'll explore There Was An Old Lady Who Swallowed A Bat a little closer to Halloween.
In this adventure, she swallows some leaves, a shirt, a pumpkin, some pants, a rope, a pumpkin, a pole, and some hay.  She had to have a tummy ache by this point.  My goal for this meal was to find something that represented each item in the story for the dinner.  I kept it simple for this theme night.  We had chicken fries and curly fries, both baked and not fried.  These represented the rope and pole.  I then made a feta stuffed mushroom with (what started out as) a cute little shirt and pants outline on top.  The leaves were cut from a pre made pie crust, and the pumpkins were slices of cheese to go with the leaves.  Finally, for dessert, we had haystacks.  What else are we going to do with hay?
Ingredients:
Pie crust
Kraft cracker cuts
2 large portabella mushroom caps
Feta cheese to taste
Mozzarella cheese to taste
Sharp Cheddar Cheese to taste
Mini pepperoni
Spinach leaves
1 bag chicken fries
1 bag curly fries
1 container Chinese noodles
1 bag butterscotch chips
Seasonings:
Garlic, Italian Seasonings, olive oil, Paprika
Method:
Place desired amount of chicken fries, curly fries and mushroom caps on a single pan.  Turn oven to 350 to preheat.  Stuff mushroom caps with a layer of feta, a layer of mozzarella, a drizzle of olive oil and Italian Seasoning to taste.  Place mini pepperoni in the shape of a shirt on one and a pair of pants on the other.  Note, the cheese will slide when it melts, you may opt for large pepperoni that are cut to prevent sliding.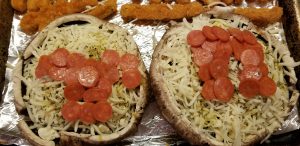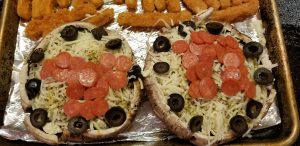 The leaves are really easy!  Cut leaf shapes from a pre made pie crust.  Sprinkle with garlic and paprika to give them a lovely fall color.  Top with sharp cheddar cheese and bake until crispy and brown.  Serve with tiny pumpkins cut from Kraft cracker cuts as an appetizer for your meal.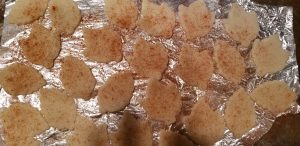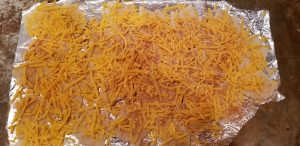 They hay stacks were a staple from my childhood.  I remember these from church suppers and school treats that our teachers would make.  The treat simply consists of one container of Chinese noodles and 1 bag of butterscotch chips.  Melt the chips in the microwave for about 2 minutes, in 30 second intervals.  The sugar in the chips will supper heat, so you don't want to cook it too fast for too long or it will seize and burn.  Once melted, mix in the Chinese noodles and spoon onto a lined cookie sheet in small hay stack shaped mounts.  Pop these in the fridge to help them set.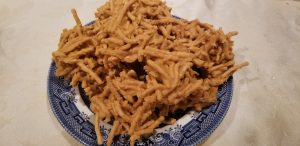 When you are ready to serve your meal, plate the stuffed mushrooms on a bed of leaves – spinach leaves.  Not only does it add in a bit more green to your plate, they are literal leaves.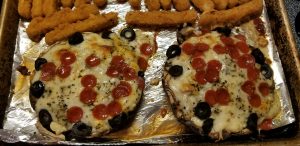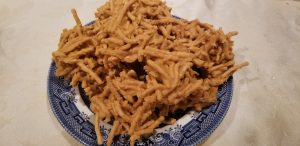 Menu Items:
Below are each food item and what they represent from the book:
Chicken fries  – pole
Curly fries – rope
Leaf crackers – leaves
Pumpkin cheese – pumpkin
Mushroom with designs – one shirt and one pants and leaves (spinach)
Haystacks – hay
You Tube is a great resource if you don't have a specific book.  The teacher's library is a You Tube channel that reads children's books, showing the pictures, via the television.  I like it when I do theme nights because we read the books so much, it is a great way to incorporate the book without resorting to a movie.
I hope you enjoy this theme night, the kids loved it.  We did some great fall activities along with this book to get in the mood for the coming Autumn themes of apples and pumpkins.  What are your favorite things to do with your children in the Fall?