We have long been over due for a theme night in the Momleficent household.  With all of the work and travel, back to school hubbub and dental appointments, I have slacked a bit on my extra-curricular fun.  Well, no more!  We had a glorious return to the first theme night of the new school year – featuring Peter Rabbit!  I love all things Beatrix Potter, especially Peter Rabbit and Benjamin Bunny.  So, after a long day of mayhem at my sister's house, and a visit with my brother and Mother in a town just over the mountain from us, we headed back home for a lazy evening of trying to keep the kids from killing eachother.  I know, it sounds a bit dramatic, but Tiny was in no mood to put up with Teeny, and Teeny was in every mood but good.  He was exhausted from our day, and we all know how well adjusted 3 year old little boys are when they are tired and nap free.
For this theme night, I wanted some comfort food.  It had been a rainy day, not cool, but not muggy, and was a perfect day for some hand pies.  My local grocery store had rotisserie chickens for $5.00 in their deli (you can't get an uncooked hen for that, much less seasoned and cooked!) that I picked up the day before – not really having a plan for it, but knowing it would come in handy.  Well, it did.  I had all the ingredients for some "Rabbit Pies."  Ok, so chicken pot pie – but stretch with me here.  Tiny (the 10 year old) did tell me "…well that took a dark turn, Mommy."  Ok, so maybe it did.
Our pies were super easy!  This is another one of those theme nights that is "almost homemade" – you made it, just not from scratch.  Those have their place, but not this one – not that day!  I started with some basic ingredients.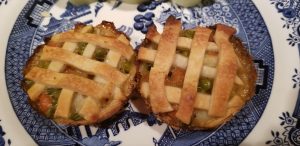 "Naughty Rabbit" Hand Pies
Ingredients:
1 pre made pie crust (rolls, not from freezer section)
1 jar chicken gravy
1 chicken, cooked as desired
1 can English peas
1 can carrots
2 cubed potatoes
You can add any aromatics or spices you like (onions, chives, tarragon, etc.)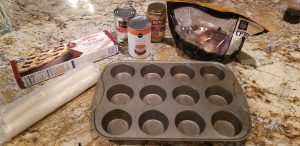 Method: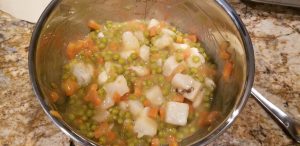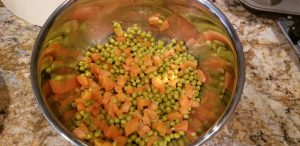 Dice chicken into fine pieces.  Boil potato dices until tender.  Mix all vegetables into gravy and set aside.
Using a glass or cutter, cut 12 circles from the pie crust to serve as the base of the hand pies.  Place them gently into a well sprayed muffin pan and gently poke into corners.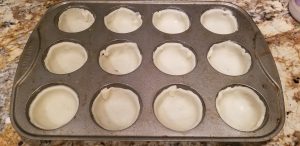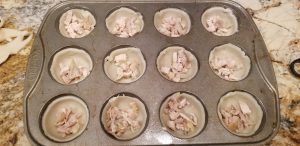 Place chicken into the bottom of crusts (you are only going to use about ½ of your chicken – so, it is already pre diced for another dish later in the week.
Cover chicken in veg and gravy mix to top of cup, taking care not to let it over flow.
Using the remainder of your pie crust, form lattice or top crust of your choice on the tops of the pies.  Bake according to crust box instructions (mine said 450 degrees for about 15 minutes – it didn't take quite that long for mine).
Of course we had to take a romp through the garden to satisfy hungry bunnies.  We made bunnies in the garden salad skewers to accompany our "rabbit" pies.  See the little bunny tails poking out of the lettuce?  Too fun.
Bunnies in the Garden Rolled Salad
Ingredients:
Cream cheese
Fresh cucumber
Ranch dressing powder
Mozzarella pearls (bunny tails)
6 inch skewers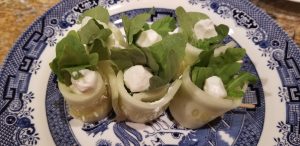 Method:
Mix your ranch powder into the softened cream cheese and set aside.  I then used a mandolin to slice thin strips from my cucumbers so that I could roll them.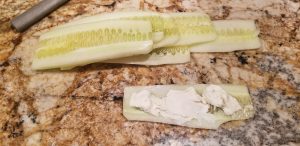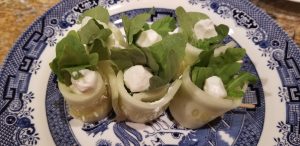 On each slice, I placed about 2 teaspoons of the cream cheese and ranch mixture.  Roll these up and slide onto skewer.  I used three rolls per skewer.  Stuff greens of your choice into the top of the rolls (I used arugula) and place a tiny bunny tail in each of the greens.
All done!  These are easy, healthy and adorable!  You could also stuff with julienned carrots, squash, chives, or any other sturdy and tasty vegies your little rabbits love before rolling and stuffing with greens.
Starters and Finishers
To start our meal, we had some carrot chips and hummus (roasted red pepper – yum!).
And of course we couldn't have a rabbit theme without some carrot cake!  I confess, as many cakes as I have baked in my life, I have NEVER made a homemade carrot cake!  This one came from my local grocery store's bakery – thanks guys!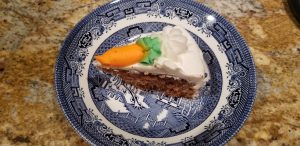 Since I am the only one of us who really enjoys carrot cake, I also made some Mr. McGregor's gardens for dessert.  I took chocolate fudge cookes (we call them Preacher's cookies in the South) from the bakery, sliced the rounded sides off of them, and lined them in a bowl.  Luckily, candy corn and pumpkins have just hit the shelves, so that made the perfect little garden for naught bunnies to devour.  I made a row of candy carrots in the middle, and pumpkins line the sides.  The preacher cookies made the perfect little garden soil patches to hold them in place!  Honestly, way too much sugar for that late at night, but how cute!
The entire dinner cost me about $30.00 and easily fed 8 people!  Most of the ingredients were already on hand in my pantry, so I am estimating here.  I only spent about $15.00 out of pocket on this theme night.  What a bargain.  You can't get popcorn and drinks (or even a popcorn and a drink here) at the movie theater for that – and they certainly don't let "fluffy" middle age women with children come in with their PJs on.  🙂
Let me know what your little bunnies think of these recipes!