I decided to have a Halloween Tea Party with the tinies this weekend.  We had the best time with our characters and little treats! I have shared my love of the "There Was An Old Lady…" books with you before.  We did a Fall theme night based on the book "There Was An Old Lady Who Swallowed Some Leaves" a few weeks ago and my little ones loved it (check it out here).  Anything she comes across, winds up in her tummy.  My smallest thinks it is the funniest thing to have this old woman rambling around swallowing everything from cats to bats to owls.  He has a regular giggle fest over these books.  If you don't have access to the book, you can watch a reading of it here from Teacher's Library.
During my theme nights, I like to have our dishes represent the major characters, locations, themes or items in a particular story.  For this book, it was pretty easy to have a 1:1 ratio of items that the old woman swallowed to items represented.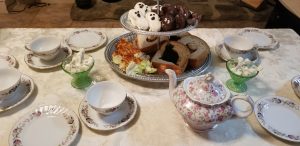 Cat and Owl
            These two items were pretty easy to capture.  I made some sandwiches out of white bread and brown bread and cut them with cookie cutters into fun shapes to represent each of the shapes we were going for.  You can easily make any filling you like from traditional cucumber tea sandwiches to peanut butter and jelly if that is what you kiddos like.  I used PB and J and then cut shapes from the top layer only.  The center of the shape was then filled in with sprinkles so that there was a shiny, glittery black cat and a white orange and yellow (sprinkles) "feathered" owl in the center of the sandwiches.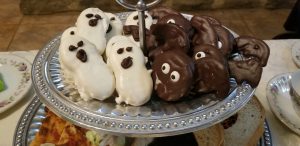 Bat
These couldn't be more simple to make.  I just freehand the bat wings, but you can easily use a printable layered under a sheet of wax paper if you wanted to  use a guide.  Free hand or trace your bat wings with melted chocolate.  I use a piping bag so that I can smoothly transfer the chocolate to my foil or wax paper, but you can also pipe them directly on a baking sheet or mat.  Pop your wings in the fridge to harden.  While wings are hardening, begin dipping Oreos in melted chocolate and place on a baking sheet lined with wax paper or foil with plenty of room between them to add the wings.  Once you have dipped all Oreos, add candy eyes and tiny fangs (white chocolate drops that you run a toothpick through from top to bottom to create a fang) and wings.  Pop in the fridge to set.  Aren't they the most adorable little fellas?
Ghost
This Halloween bark is frightfully (see what I did there?) easy and absolutely adorable when done.  Melt milk or dark chocolate chips in 30 second increments until smooth.  Remove from microwave and set aside (only for a sec).  Begin melting white chocolate chips in 30 second increments.  Between increments for white chocolate, spread  your milk chocolate on a small cookie sheet or baking sheet that is lined with wax paper or foil.  If you have any add ins like nuts, toffee bits, etc, this is the time.  If you are adding sprinkles, dust the top with them, but don't stir in.  Now place ½ teaspoon sized drops of white chocolate in random patterns around your bark.  Using a butter knife, draw the blunt side of the blade from the center of the drop to the end to elongate a tail for your ghostie.  You can use the same technique in smaller strokes for arms.  Pop in the fridge to set and you are all done!  Break apart and use as small teacher gifts by placing in a celo bag with ribbon or cute tin.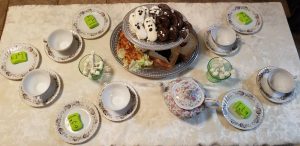 Goblin
For our goblins, I am using Peep's Frankenstein Monster heads to represent our Goblins.  My kids could live on these if I let them.  Now that Peeps aren't just for Easter any more, the kiddos are making a fuss to have them included in every holiday!
Wizard
I'll be honest with you, I had to do some thinking to figure out how I would represent our wizard in this book.  I didn't want to wax Harry Potter – though you could – but was seriously hitting a block now that Potter is THE wizard to beat.  We had enough sweet treats for our mini tea party, so I didn't want anything else sweet for our tray.  Finally, I settled on these cheesy pepperoni wizard hats!  These were quite easy to make using pre made Naan from the deli section of my local grocery as the base for the flat bread, Italian seasoning and garlic powder lightly sprinkled on top, then a sprinkle of cheese and some pepperoni that I trimmed into tiny moons!  They were so easy and provided a nice contrast to the sweets.  The mini pepperoni would have probably shown up better if I had used the real sizes, but live and learn, right?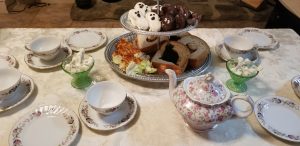 Bones
These little pretzel bones are adorable and very easy to make.  You simply place two mini marshmallows on the end of a thin pretzel rod, dip in melted white chocolate and boom – you have a bone!  These are cute, not too accurate for a kids party, and quite yummy!  I piled them in little green sundae glasses and set them at either end of our table.
I hope your little goblins enjoy your Halloween tea as much as mine did!  This was a perfect Halloween activity for a rainy weekend at home!  What would you add to this tea?
Like what you are reading?  Subscribe to keep up with our adventures and get the password to our free resource library – exclusively for subscribers!