This year we had time to do more gardening than usual – didn't everybody?  We had a great season with a ton of veggies and some great herbs.  I was quite excited to see the basil and rosemary doing so well this season.  Thyme and sage were also fun additions to this year's herb blends.  I have been drying them to preserve, so hopefully this winter we can still have a little taste of summer in our dishes. 
Since we had such a great year, I was able to make a few items that I have never made before – yellow squash sweet pickles (those turned out awesome!!!), green pepper jelly (a favorite from childhood), regular sweet pickles, and zucchini relish (another favorite). We have a ton of items to give to friends and family for Christmas. My problem, if you can call it that, was that I didn't know what to do with all of the herbs that would be interesting and tasty, and would preserve well. Finally, after a TON of searching, I found a method developed by the University of Pennsylvania Extension Service that allows you to preserve herbs in olive oil without contamination. If you take nothing else from this post – contamination bad, you're welcome.
The method is linked here, but the science behind the method is simple.  Basically, herbs are very alkaline, which means that they are not a high acid food.  In the case of preservation, acid can be your friend because it does not allow botulinum spores to survive.  In case you were wondering, you don't want that – it makes for a bad Christmas present.
So, the extension service developed a method of soaking the herbs in an acid bath for 24 hours to raise the acid level before you preserve the herbs in oil. I took a little time and blotted my herbs with a dry towel when I removed them from the bath so that little droplets of water wouldn't be left in my bottled oil and float to the top in a little layer.
I opted for rosemary and Tuscan blends for my bottles.  The rosemary one is pretty straight forward.  You select thick and long branches of rosemary that are well shaped and relatively straight.  They are BEAUTIFUL in the bottles.  The Tuscan blend was a central core of rosemary and sprigs of thyme wrapped in basil and sage leaves.  I wrapped the basil and sage long-way so that the leaves would be able to easily go into the bottle in bundle and "flower" a little when they settle in the oil.
I elected not to add garlic to my bottles because of the risks of garlic in long term storage.  These bottles were purchased on Amazon (where I seem to get all the things lately!), and came with great little plastic sleeves that will shrink to fit and seal the bottle when a hot hair dryer is focused on it – it will be a great little finishing touch for the gift baskets I am going to make.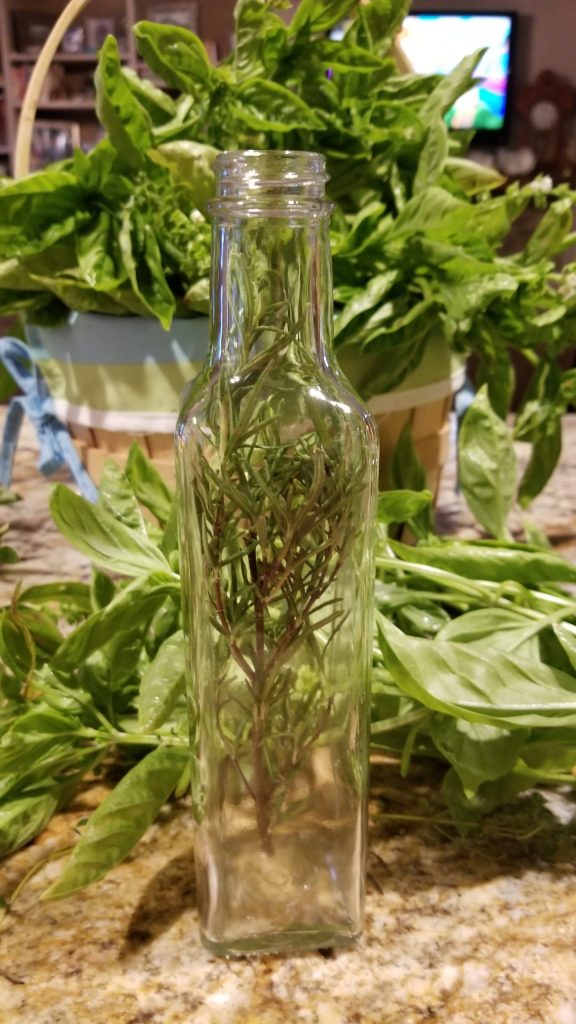 While it is still scorching outside right now, it pays in the long run to think about the gift giving season in advance. It is amazing how quickly it approaches. If you want to think about your Christmas game a little more – and focus on NOT going into debt – check out this post!
What is your favorite thing to preserve from your own garden?
Like what you read? Don't forget to subscribe to my mailing list to never miss an adventure!