I tried my hand at a new recipe this weekend. I don't know about you, but the thought of French Macarons makes my chubby little heart happy. I love the crispy shell, the soft and sensuous center that tastes like love feels. My favorites are pistachio and lavender, but I knew I would only get away with those if I made some chocolate ones for the family. I love the way they all look mingling on the plate with their springtime colors and the divine scent wafting through the house. It is enough to make me want to take the plate, run upstairs and lock the baby gate and hide in my closet with some hot tea, youtube on spa music on my phone and those sweet, sweet jewels of deliciousness. But I digress, no hiding for me, the tinies are like bloodhounds and as limber as cats, the baby gate is no match for them.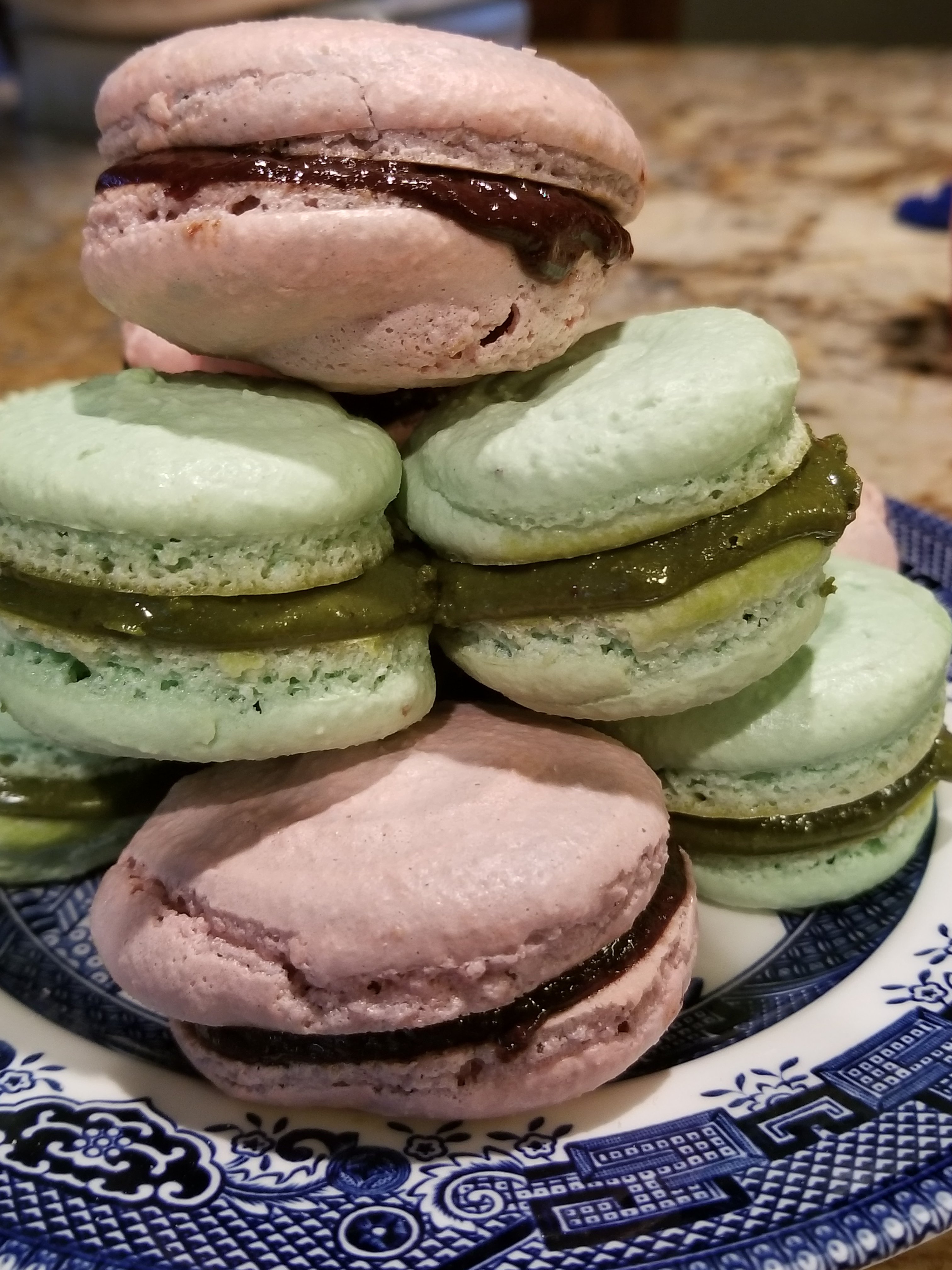 I remember the taste of Lauderee's macaroon's as I walked along the Champs Elysees one evening during a trip to Paris a few years ago. The long line and high prices were absolutely worth the experience of trying these beauties in the single most famous bakery that specializes in them. They really are an art form of their own. I visited in October, when the days were cool and the nights were down right chilly. It was by far one of the best side trips I have ever taken. The art, the cafes, the shopping! All of it is enough to make you fall in love with the city, then you see Notre Dame, the Louvre, the Eiffel Tower at night when it lights up each hour. Ahhhh, to be back in Spring next time…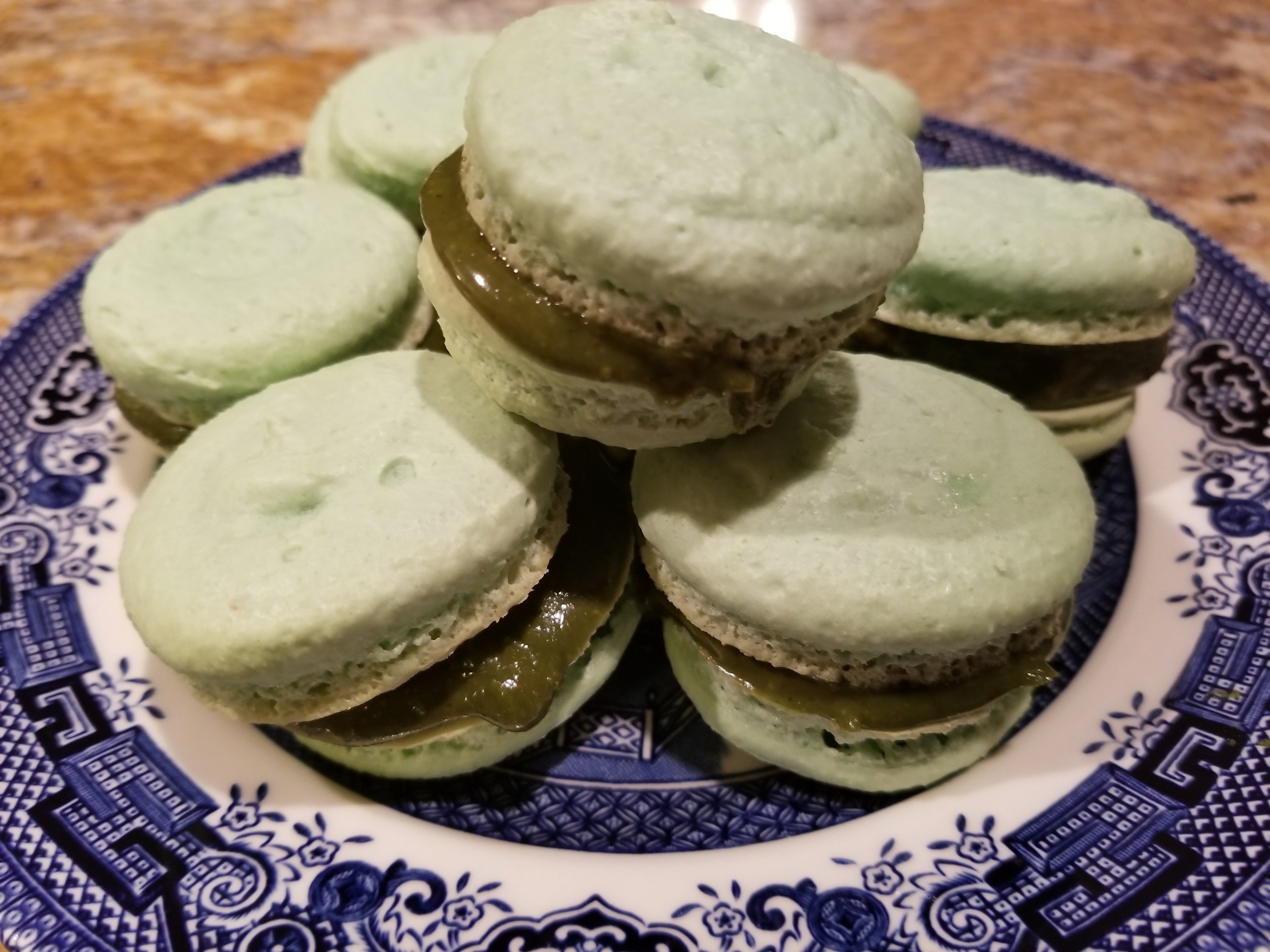 Well, I'm obviously not there, but making these little babies took my taste buds on a mini vacation! They are surprisingly not that difficult to make. My basic recipe is below:
1 cup ground almond flour
1 2/3 cup powdered sugar
3 large egg whites (room temperature)
¼ cup sugar
1/8 teaspoon green food color gel
Sift the dry ingredients at least twice to remove large particles from the flour. In the bowl of your mixer, use the whisk attachment to beat the egg whites until foamy.


Add the sugar bit by bit, very slowly. Beat on medium high until the egg whites hold stiff peaks. Add the food color to the egg whites and beat until blended. Fold the egg white mixture into the dry ingredients being careful not to over mix.


Around 30 strokes worked well for my recipe. The batter will become runny and distort the shape of your cookie shells if you over mix.


Pipe the batter in circles on a parchment lined cookie sheet (double stack your sheets to protect the delicate shells from heat) or silicon lined cookie sheet. Tap the sheets firmly on the counter to even out any air bubbles and create a smooth surface.


I live in the south and decided to bake on a rainy day – maybe not the best idea. Let the piped cookies dry before baking. I left mine out for an hour, but in dryer climates you may be able to get away with 20 to 30 minutes. When you see a light skin they are ready to bake. Bake at 285 degrees for 15 to 20 minutes.
The filling (my favorite part!) can be made with a variety of ingredients. I personally like the custard style filling that is smooth and creamy. There are a variety of options – you can use butter cream, Nutella, mix cream cheese and jam, mascarpone and lavender honey, or just place jam between the shells. There are so many options! I like to use a thicker custard because the moisture in the various fillings could soften the shells to an unpleasant consistency. My filling recipe is below.
1/3 cup sugar
2 tablespoons water
1 tablespoon vanilla extract (or flavoring of choice)
3 egg yolks
2 ounces butter
To cook your custard, begin with your egg yolks in the bowl of your mixer. Begin mixing on high until they are thoroughly mixed.
Cook your sugar and water to 250 degrees (use a candy thermometer – it happens quickly then burns if you don't watch it). Very slowly (with mixer on low) add the sugar mix to your egg yolks while mixing on low. Increase to high once you have added the sugar mix and add butter one tablespoon at a time. Place in piping bag and pipe into centers of cookies.
For pistachio filling, add 3 tablespoons pistachio paste. You can grind your own paste in a food processor if you don't have access to it in pre-made form. I made my own by grinding 2 cups of roasted pistachios, ¼ cup honey, ¼ cup sugar and grape seed oil to get it to the consistency you want. It was about ¼ cup for me.
Other options include 3 tablespoons of jam, fruit compote or other thick and not too moist ingredients to flavor your little bites of heaven. As a side note, look at those precious jars! They are from Pioneer Woman and are adorable!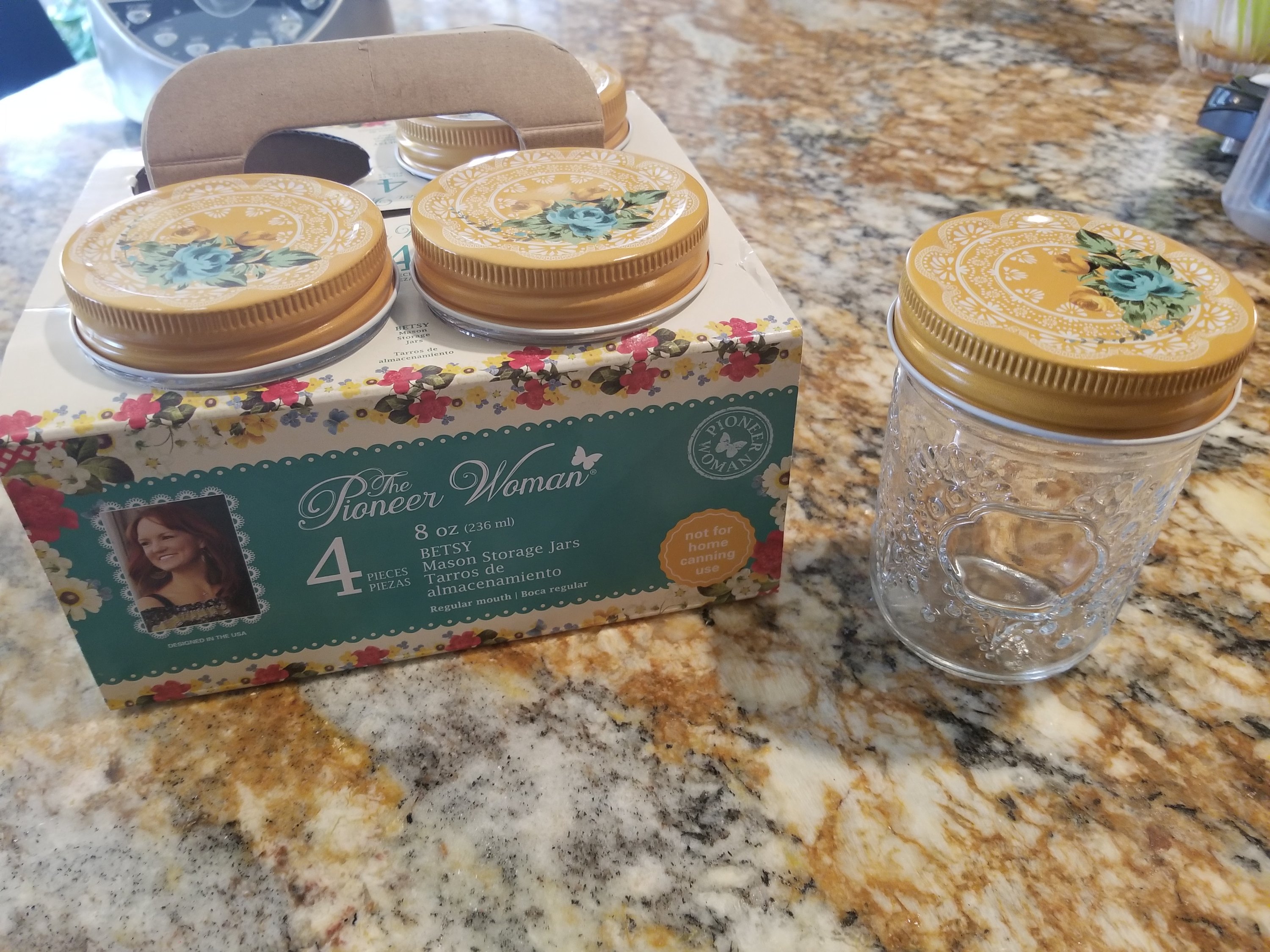 To fill the cookies, let them cool completely. Take one half and pipe a generous amount in a circle on the flat side of the half. Top with another cookie half.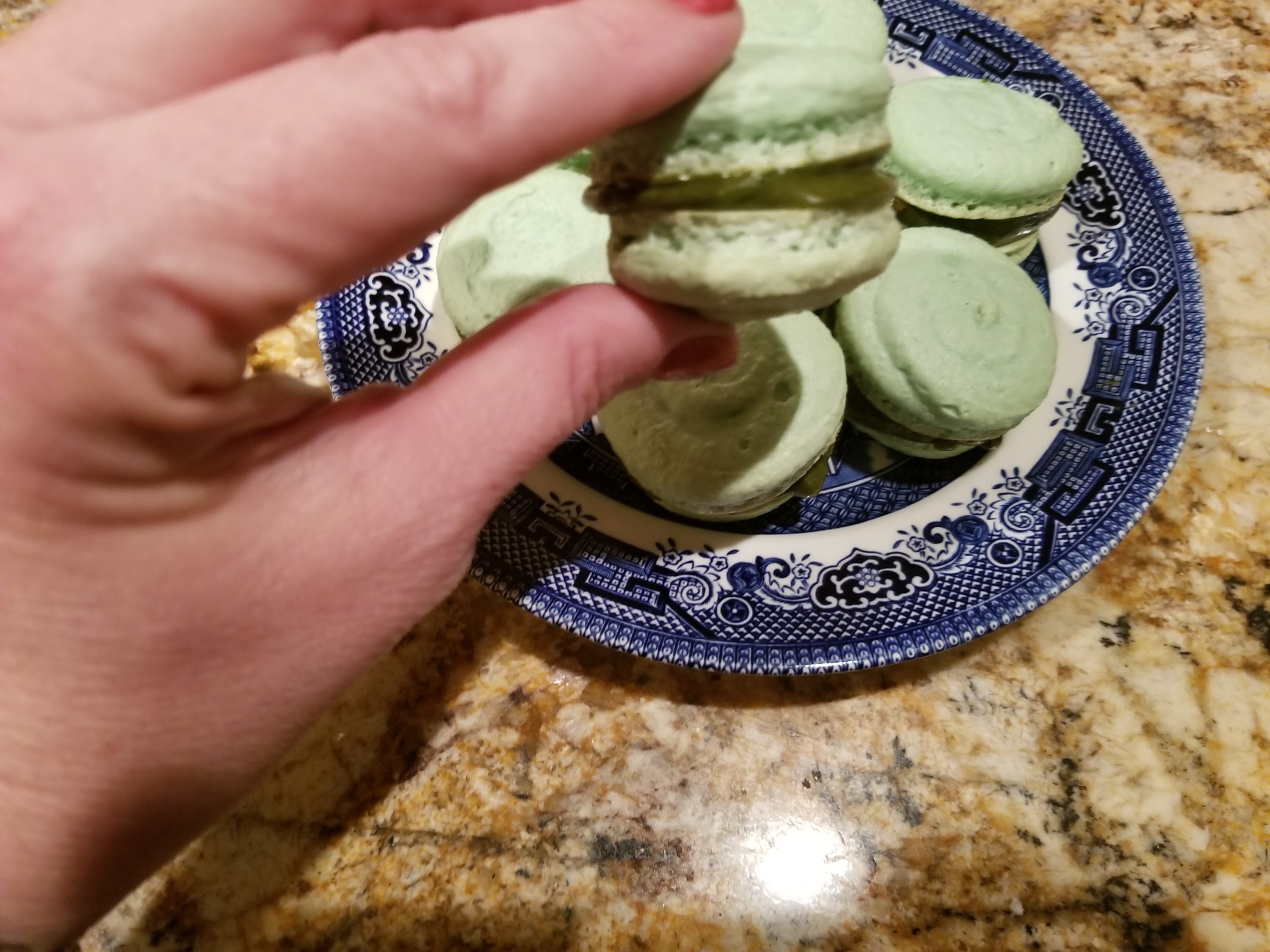 I can't wait to see what the tinies think of these, they love store bought macaroons, so let's hope they like Mommy's version as well.