The regions outside of Havana are an entirely different landscape.  To the north you have mountains where we spent some time in the hills of Viñales.  I have never had such a variety of experiences in a single trip.  During my first visit to Cuba, I had two colleagues along.  One female that is an elegant, middle aged woman who is absolutely brilliant yet has some sass.  My other colleague is the energizer bunny of all things flora, fauna and wildlife.  He is a hoot!  I adore this colleague, but he will wear you OUT!  I have students in their teens that couldn't keep up with this gentleman.


No joke, my pudgy self started walking and training to make sure I didn't pass out on this little expedition.  There is no hot like Cuba at the end of July hot.  WHEW!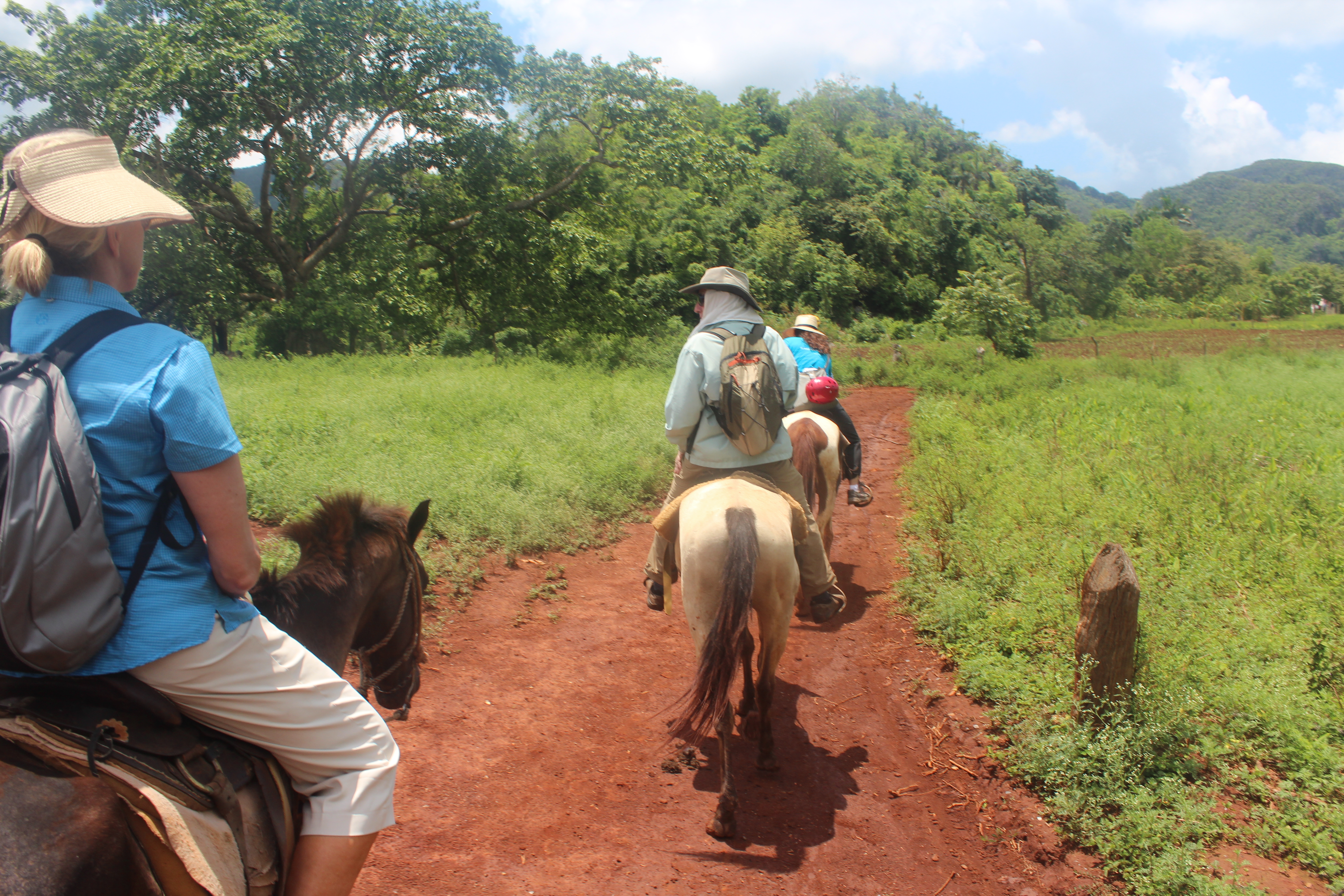 We spent two days on excursions to a variety of highly remote places – some of which we had to ride horses into and out of in order to access.  There are caves with hidden pools, rock faces where the only mollusks in the world to develop a pulmonary system now live in moist, shadow draped niches.


One of the most interesting parts of this particular part of the country was the tobacco farms.  Growing up in the south, I am no stranger to farm life – these guys have it way harder than I ever did.  The farmer came out to the tobacco barn and gave us a tour of the barns as well as talked to us about the fermentation of and curing process of the tobacco leaves.  I have to admit, without all of the chemicals, the tobacco smelled amazing after they put the wash of honey, spices and seasonings on it.  I'm not a smoker, but after that little sample, I totally get how someone could be.  The complexity and fragility of the ecosystem was awe inspiring.   We went so far into the brush and off the beaten path that my shirt was peppered with snags, rips and tears by the end of the day.  I will admit, I have never been so glad to get off of a horse in my entire life.  I don't imagine the horse was sad to see me go either.  Yes, photos were taken and no, you don't get to see them.
To the South you have a variety of cities and towns, each with their own charm and feel.  The two I have spent the most time in are Cienfuegos, a medium size town about 130 to the south west of Havana and Trinidad.  I must admit, the visit to Trinidad was one of the highlights of any of my trips to Cuba.  The city's cobblestone streets and well preserved architecture give you a sense of walking back in time.  House museums and paladars, along with a few shops added to the charm of the location.  Be sure to sample a local specialty cocktail, the Canchanchara.  This light and fruity rum drink is the signature drink of Trinidad and served in a special cup designed to maximize the flavors of the beverage.  It is cool, refreshing and perfect for a hot day on the move.
The drive from Cienfuegos to Trinidad was lovely and it happened to be the season where red crabs migrate.  We had to stop several times to allow the crabs to skitter across the hot asphalt from one side of the road to the other.  There were hundreds of them!  The beaches near Trinidad were pristine and beautiful.  Warning.  Don't stand in the seagrass.  There are teeny tiny little organisms that live in it that love to munch on us.  Once disturbed, they call their cousins and everybody shows up to the party.  We had to take turns buying bottled water and rinsing off to stop itching.
Cienfuegos itself was settled by the French, and much of the architectural details reminded me of New Orleans, Louisiana.  The initial seeds of revolution were planted in this quite seaside town when students rebelled against the government.  They were summarily halted, but the city is proud of its place in history.  Beautiful parks and quiet neighborhoods make for an ideal setting to rest and relax.  It was incredible to wake to the sounds of birds chirping and the clip clop of horses hooves as they lazily make their way to and from the prado.  Small horse drawn carriages serve as local taxis in this charming city, take one for about 1 CUC from your hotel or paladar to the prado for the experience alone.  The city is also home to Benny Moore, a Cuban musical legend.  Nightlife in the city is casual and easy to find.  My favorite place to listen to music and cool off after a long, hot day is in the Jardines de Uneac.  This outdoor patio is a coffee shop by day and local musical venue at night.  This is by far the best place to experience the local flavor of Cienfuegos.  Located near Plaza José Martí and next to the Teatro Terry, this lovely little garden is the place to be to mix with locals and tourists alike.
Las Mamparasas, located on the Prado (the main street in town) is one of my favorite paladars in Cienfuegos.  Their paella is AMAZING!  It is also mammoth, so unless you plan on eating it later, share with a friend.  I would also suggest the fish special of the night.  Mine was grilled with garlic and was heavenly!  Sides include plantains, rice and black beans, and green salad with oil and vinegar dressing.  I have never had a bad meal there.
Dona Nora is another local favorite, and again, the food is fresh, hearty and flavorful.  I dined on the roof top terrace with a group of colleagues to the tunes of Marcos Sánchez and his band.  What a lovely evening of dancing, eating and collaborating under the Cuban stars.  My other favorite for night time dining is La Ocaso.  This paladar is situated just off the Prado and overlooking the nighttime sea.  Beautiful salty breezes, aromas of cooking food and cigar smoke mingle to create a relaxing environment that wraps you in the warmth of the Cuban night.  This little restaurant packs a wallop with an insanely talented musical duo that are students at the University of Cienfuegos and have the faces and voices of angels.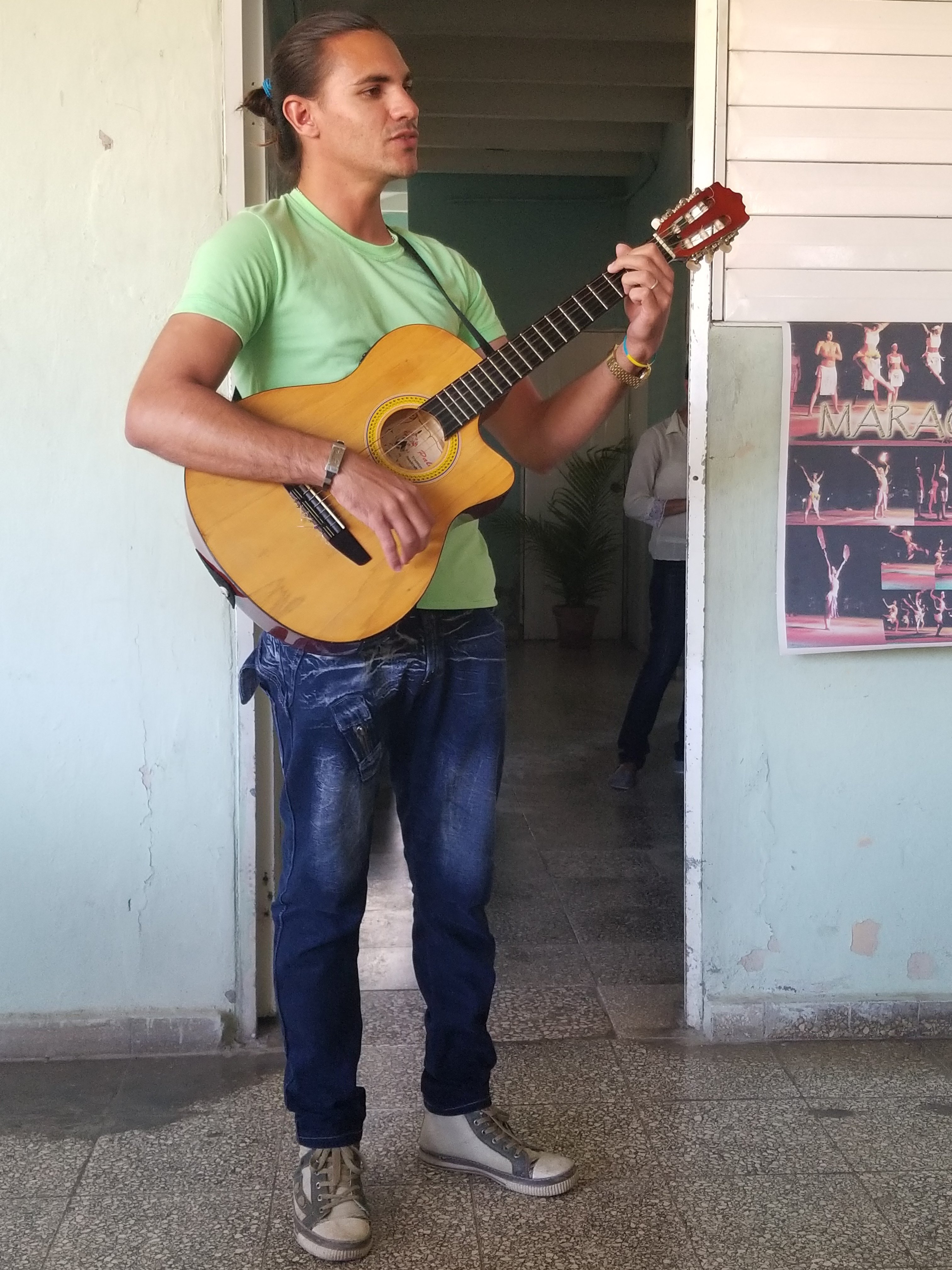 The food is divine and freshly prepared when you order it.  The meals in Cuba take a while, so do not go into a paladar expecting instant meals.  Quality takes time, enjoy it.
One of the most interesting visits we made was courtesy of our amazing guide to a ration distribution station.  The government provides a specific amount of goods per person to each citizen.  For example, a certain number of pounds of rice, beans, powdered milk, etc.  They have ration books that allow them to go into the distribution station where an attendant marks the amount goods taken.  This is then subtracted from your allocation for the month.  Each man, woman and child has their own personal ration book and allocations.  There are also markets where you can purchase fresh fruits and vegetables as well as meats.  Because I live in a free market system, the ration system was fascinating.  It was a rare glimpse into the real lives of everyday Cubans.
Art and music are the lifeblood of most Cuban cities and towns, but nowhere do you feel it more than Cienfuegos.  My favorite place to purchase and appreciate art is at the Graphic Society of Cienfuegos.  This amazing community art project will steal your heart!  The center serves as an artist haven and creative space for many local artists, complete with a gallery where you can take home amazing prints and original works of art for very reasonable prices.  The center opens its doors to community students with Down Syndrome two mornings a week to provide a creative outlet for these precious souls and budding artists.  These students are sweet, attentive and willing to show off their work with a huge smile and sense of pride.  I was blown away by the impact that the artists who kindly open their doors have in the life of the community members.  If you visit Cienfuegos, this MUST be on your to do list.  They welcome visitors to their facility and gallery.
No visit to the south is complete without a visit to the Castillo de Jagua.  This Spanish built fortification was originally built to protect the bay from pirates, but served as a place of refuge as well.  To access the Castillo, ferry across the bay to the small outcropping which supports the structure.  The stone and wood structure has working draw bridges, beautiful art and sweeping views of the bay and surrounding areas.  Nestled on the lower level is a small bar that serves Cuban cigars and beverages to take a respite from the sun as you explore the grounds.