I had had the best time lately with all of the amazing recipes I have been playing with for the blog.  In particular, all of the amazing apple recipes.  I was able to make some really awesome apple pie purses last weekend that really hit the spot.  If you have ever worked with puff pastry, you know that it can be a little finicky.  That being said, store bought puff pastry is convenient and so very easy to work with.  I love to use it for both sweet and savory recipes.
Apple Pie Purses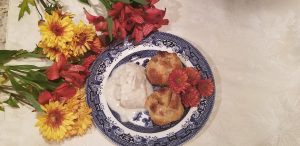 These adorable apple purses are so easy and delicious you will want to make them every weekend while apples are in season!
Ingredients:
5 large apples of your choice
1 and ½ cups sugar
Cinnamon
Vanilla
Nutmeg
1 box puff pastry
Butter
Method:
I like to use a mandolin to slice my apples, but you are welcome to chop, dice or slice yours in any way that makes you happy.  Put into a thick pot and set the stove to medium heat.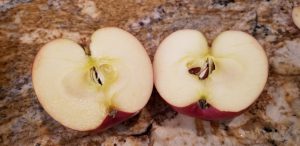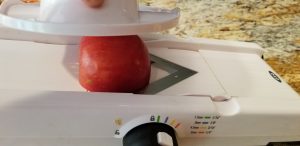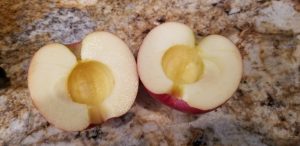 Simmer the apples in just enough water to cover the fresh fruit until they have become tender and soft.  Add the nutmeg, vanilla and cinnamon and stir as the water is heating.  Before slicing applies on the mandolin, cut in half and core (I use a melon baller) the halves.  Once your applies are sliced, stack them and cut in half again (from stem to blossom scar, not from edge to edge).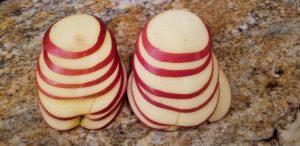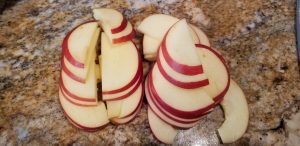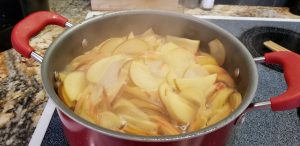 Unroll each sheet of pastry puff and cut it into quarters on your cutting surface.  Once the cooked apples have cooled a bit, place ¼ cup of apples in the center of each square.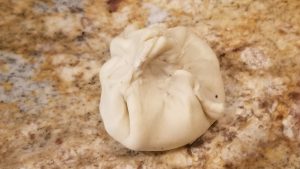 Pull the tips of each square together, then any open sides, until each little packet looks like a small purse.
Brush with melted butter and sprinkle generously with large sanding sugar.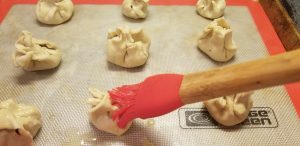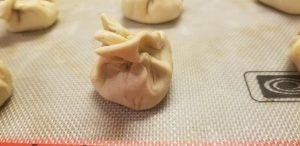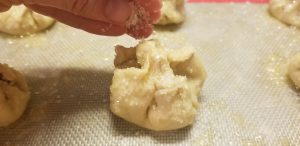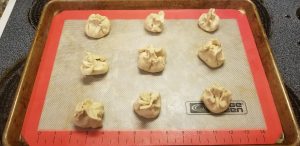 Bake purses at 425 degrees until the puff pastry is golden and crispy.  Serve with ice cream while the purses are sill warm.
Like what you read?  Don't forget to subscribe to my mailing list to never miss an adventure!
Apple Pie Rose Tarts
Another apple and puff pastry recipe I love is an apple rose tart.  They are so pretty and easy, and can be made ahead and placed in the freezer in a muffin pan until you are ready to cook them.  I do these in advance for Thanksgiving so that on the morning of, I have a beautiful dessert ready to go.  I take them out of the freezer the night before to let them thaw, then pop them in the oven the next morning.  They are elegant and so very tasty!
Ingredients:
Reserved apples from previous recipe
1 box of pastry puff dough
Pan spray
Method:
Unfold the pastry dough onto a flat cutting surface.  Cut into ½ inch strips and sprinkle with sugar and cinnamon. Place the very thinly sliced applies in an overlapping row on top of each pastry strip.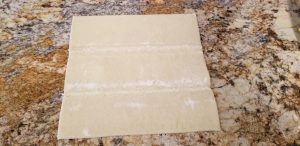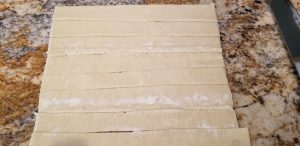 Make sure the apple slices are with the skin (curved side of each slice) peeking over the top of each strip of dough.  This is going to form the petals of your roses.
Begin to carefully roll each strip up into a spiral and place with petals up in a thoroughly sprayed baking sheet.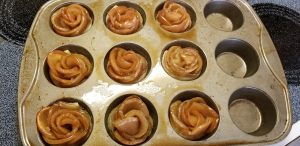 Bake at 425 degrees for about 12 to 15 minutes.  Watch them closely between the 12 and 15 minute marks so that they do not burn.
These are so quick and easy, but look quite impressive on a platter.
Like what you read?  Don't forget to subscribe to my mailing list to never miss an adventure!
Caramel Apple Slices
I have loved candy and caramel apples since I was a child.  They always taste like fall to me because our county fair was in the fall each year, and of course, was stocked with candy and caramel apples.  I love the cinnamon taste of candy apples, but hate the super hard candy shell.  I never loved it when the apples would stick to my teeth!  Caramel apples are not quite as sticky, but can certainly be hard to eat if you just approach a whole one with no knife to cut it up.
I saw some great ideas about ways to make smaller, bite size, and even slice sized apples.  I wanted to have something that would hold up well, not be hard to eat, and would also satisfy my taste for caramel apples without leaving me wanting the whole thing.
So, I made caramel apple slices.  They can be customized just as easily in slices as they can in whole form, and are so much easier to eat!
Ingredients:
2 apples
1 bag caramel squares
1 bag chocolate chips
1 bag toffee bits
Any other caramel apple toppings you like.
Method:
Core and slice the applies in approximately ¼ inch slices.  Juice 1 lemon and set aside.  As you slice your applies, quickly rub some lemon juice on the front and back of each slice to keep them from turning.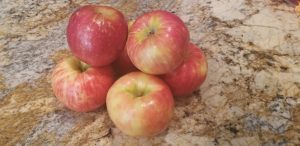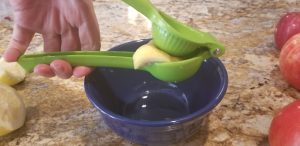 Unwrap and melt half of the caramels.  Be careful if you are melting in the microwave – chocolates and caramel are primarily sugar, which can super heat and cause serious burns!  If melting on stove top, do so over a double boiler on medium heat.  In microwave, melt for 30 seconds, then stir, melting again at 30 second intervals until the mixture is smooth and creamy.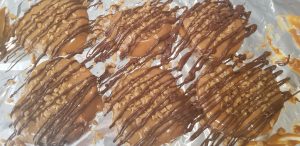 Coat your apples in caramel and place on wax paper or foil.  Using a piping bag, top with drizzles of chocolate and sprinkle with toffee bits.  If you don't happen to have a decorating (piping) bag handy, you can use a zip lock bag with a tiny slit off the corner of one side.  I also absolutely love pecans chopped up and sprinkled on top.  My favorite of the whole apples is a red apple (preferably Honeycrisp) coated in caramel, then covered in chopped pecans.  Yum!!!
Apple Spice Pancakes
The final super fall flavored apple recipe for this post is apple spice pancakes.  I love pancakes for dinner every once in a while, so these are a great treat for mom (easy and only take a few minutes to whip up) and for the kids.  They feel like it is a special night when we have pancakes for dinner.  They are a lovely change from the routine, and make for an easy prep and clean up night.
These pancakes are made using your favorite base.  I used the remainder of my pre prepped apples from the recipes above.  In your base pancake mix, add two tablespoons of cinnamon, 1 table spoon of nutmeg, and a splash of vanilla.  Mix well.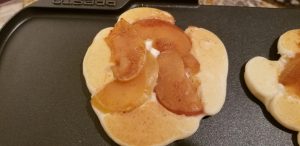 Place your apples on the skillet, covering with pancake mix.  Cook as usual.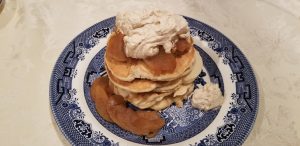 To finish off, warm any remaining apples you have, and spoon on top.  I made a quick spiced whipped cream by chilling my metal bowl for my stand mixer, then adding cinnamon, nutmeg, and vanilla to the mix.  Pour in 1 cup of cold heavy cream and whip on high until stiff peaks form.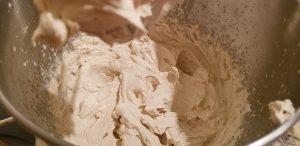 Serve warm with bacon or sausage for an amazing mid week treat that tastes like crisp autumn air and apples!
These recipes are some of my favorites for the fall.  What apple recipes do you love?
Like what you read?  Don't forget to subscribe to my mailing list to never miss an adventure!