Now that school has started back, I am finding myself falling into the trap of wanting to order takeout on nights that are hectic.  I know it is easy to do, but man, that gets expensive and is not the healthiest option for the kiddos.  With karate several nights a week, virtual Kindergarten (that is a trip!!!!), and virtual middle school, plus trying to balance a full time job and do everything else I need to do, I'm exhausted!  On top of that, I'm doing my best to lose a little weight.  That's a lot of balls to have in the air!
I have been really working on getting back into the habit of meal prepping and making sure that when I know we are going to have a hectic day, we also have a meal that is healthy and – this is the most important part – EASY!  Easy is the operative word in that sentence.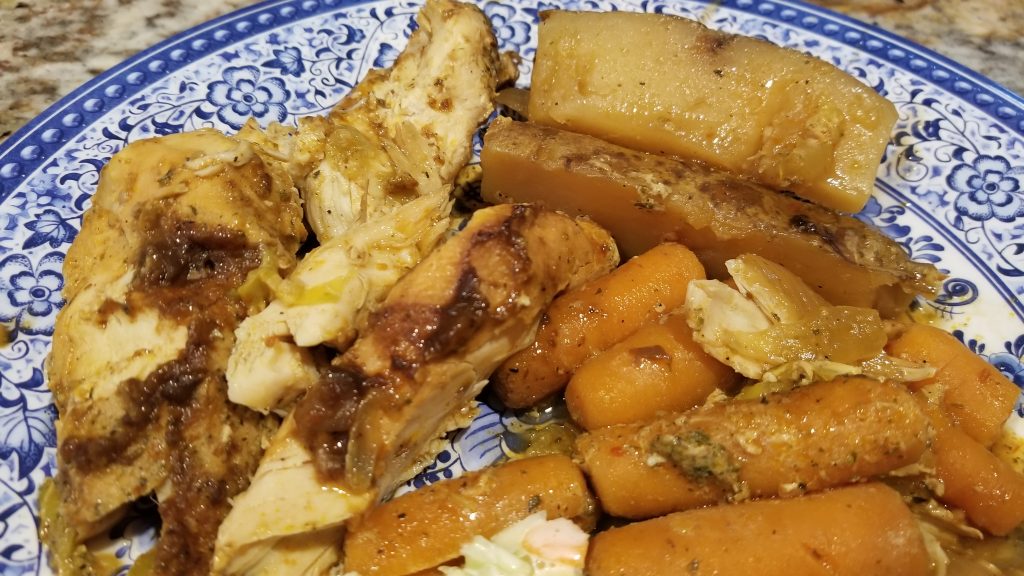 A few months ago, I tried the Mississippi Pot Roast recipe that is so popular in my crock pot groups.  It was really good!  We loved it, and it was different, which is nice every once in an while.  A couple of weeks ago, I decided to make the roast, and low and behold – forgot to buy the roast.  Oops!  I did have a couple of packs of chicken on hand and decided to try that.  I am so glad I did!  It was amazing.  Even my non chicken loving hubby liked this dish. 
Basically, I made it in a similar way as the normal roast, but altered a couple of things to my family's tastes (swapped banana pepper rings for the pepperoncinis for the tots).  This was easy, reasonably healthy, and quite tasty!  Pair this with a green salad, and you are set!
Ingredients:
1 lb chicken
1 lb baby carrots
3 potatoes
1 yellow onion
Banana pepper rings (to taste)
Salt and pepper to taste
1 packet ranch dressing mix (or 3 tablespoons bulk)
Beef pot roast seasoning
Method:
Chop veggies and place in the bottom of the crock pot.  Add banana pepper rings and juice.  Layer chicken on top of veggies.  Add salt and pepper to taste, ranch seasoning, and finally, pot roast seasoning (I got this amazing one at Aldi).  Cover and cook on low for 8 hours.
This recipe is hearty and perfect for fall.  I have loved having a little taste of fall weather this past week.  It has really made me start looking for comfort food and all things apple and pumpkin. 
What is your favorite fall recipe?  Check out a few of mine here!
Like what you read? Don't forget to subscribe to my mailing list to never miss an adventure!