Another holiday is upon us and you know what that means, themed fun! This Easter was no different. Tiny wanted to host an Easter party for her friends, which morphed into a glow in the dark egg hunt, which morphed into a tea party, which may still be morphing. I would be lying if I said I didn't love every minute of it!
The menu included a traditional tea party selection of sweet and savory treats, just with a lovely Easter flare.
Tea Party Menu
Sweet treats included super simple Peeps bunny pops, candy bird nests, Nutter Butter Bunnies, and some adorable lemon tarts. Our savory selections included Easter shaped tea sandwiches, Baby Chick Deviled Eggs, and chicken salad endive cups.
Nutter Butter Bunnies
Nutter Butter Bunnies are just chocolate covered Nutter Butter cookies that have set with eyes in place prior to decorating. They are easy to complete in just a few minutes and transport well. The white chocolate travels easier as the darker chocolate will skuff a bit.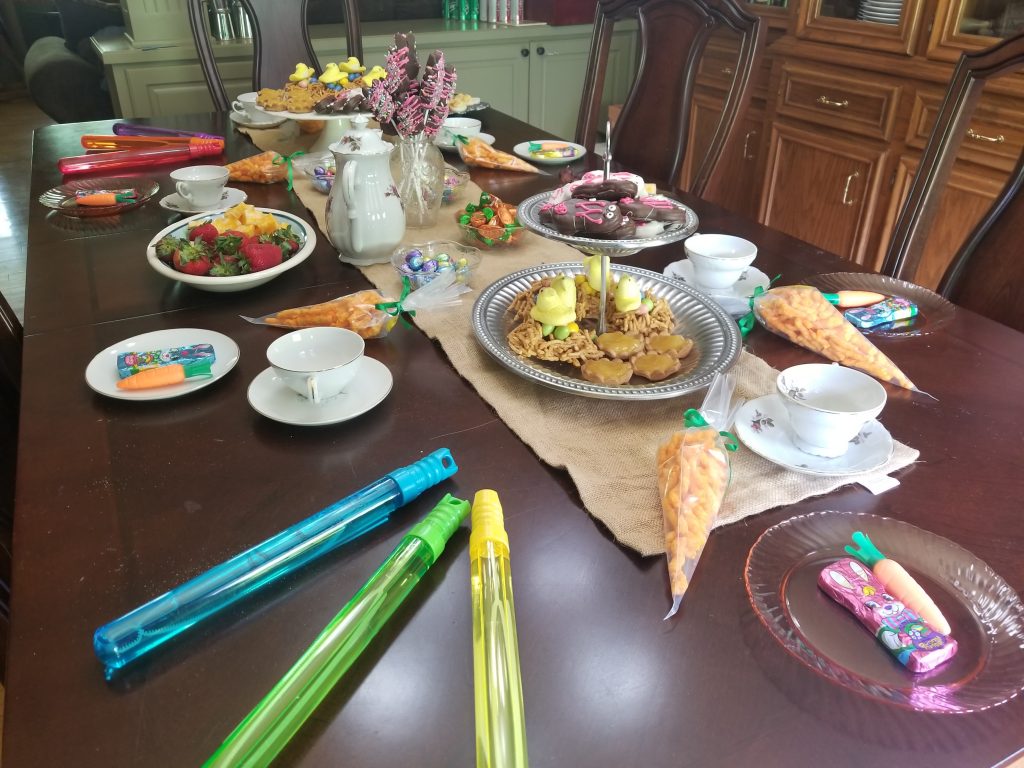 Haystack Birds Nests
These super easy bird's nests are made in two steps. First make your next using the haystack candy recipe – 1/2 large bag of chinese noodles per 1 bag of butterscotch chips. Complete melt the butterscotch chips in the microwave and then stir in your noodles. Continue to gently turn the mixture in a large bowl until the noodles are coated.
Create a large drop of the mixture on a pan or foil sheet on the counter. Using a teaspoon, hollow out the center so that you can make an egg deposit in a bit. Let these shapes harden. Try to leave a little of the candy on the floor of the nest so that your eggs stay inside. Once hardened, fill with robin's eggs, Reese's eggs, or jelly beans and top with a birdie peep.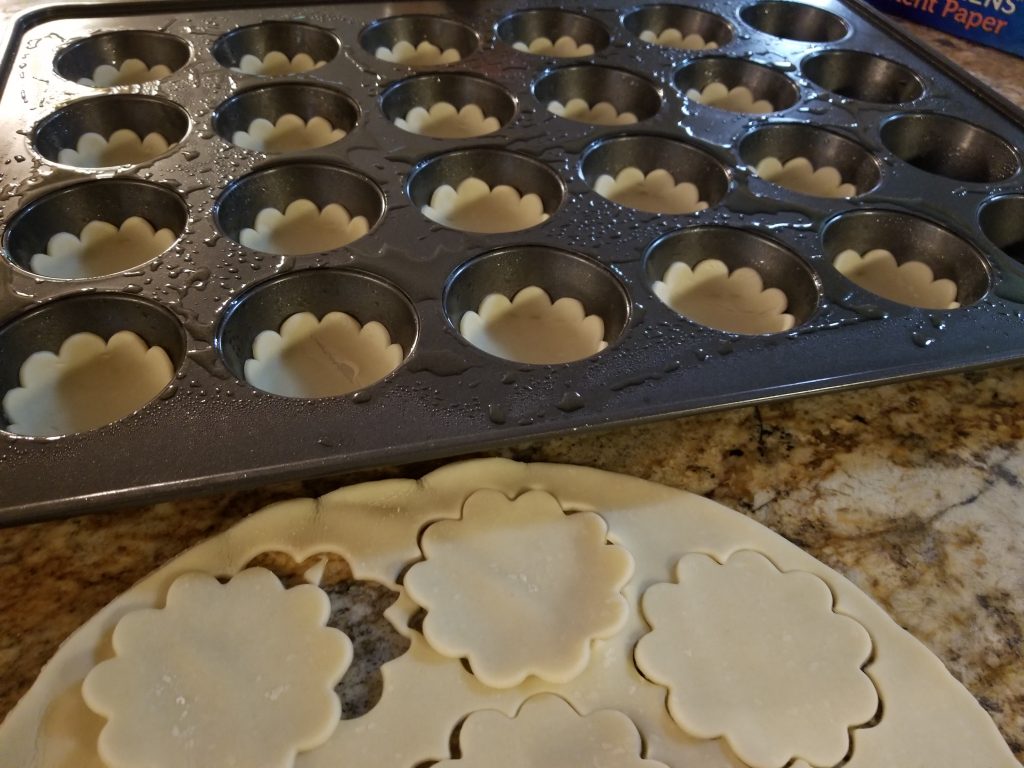 Lemon Tarts
The final treat I will highlight tonight are these amazing Lemon Tarts. I had a busy day, so I wanted to make this super easy as well. These delicate little tarts are ready made pie crusts, cut into flower shapes, and baked in a muffin tin (regular size for tart shells) to hold their shape. Fill with lemon curd, and you are done! They look kind of fancy in their bite size shapes, so the kids went crazy for the sweet but tangy tart.
Glow In The Dark Egg Hunt
This has to be one of my favorite types of egg hunts. We do the traditional one on Easter morning, but I LOVE a glow in the dark hunt before Easter Sunday. In previous years, I would roll up glow in the dark bracelets (the cheap 10 in a pack ones for $1.00 at your local box store). This year, I found some great little inserts that would make life a LOT easier when stuffing the plastic eggs.
Make sure you break the inner core and activate the glow stick or bracelet before you stuff the eggs – otherwise, the glow in the dark part of the egg hunt is going to be lacking – then stuff each egg and set aside. You have to do these shortly before hiding the eggs so that you get the maximum benefit from the glow sticks. Hide just before night fall and wait until darkness has set in. Once it is thoroughly dark, let the kids loose!
Like what you read? Don't forget to subscribe to my mailing list to never miss an adventure!