Recently, I was able to attend a conference in Boston.  I had the good fortune of taking Tiny with me!  I love getting to spend some time with her, but I especially love when I can share my passion for travel with her.  This was the ultimately Mommy / Daughter trip.  I did have some conference events to attend, but she was a trooper and handled those wonderfully!  When not conferencing, we were out on the town.  We ate, explored, and had a glorious time, just me and my girl.  She loves history as much as I do, so this was a special treat.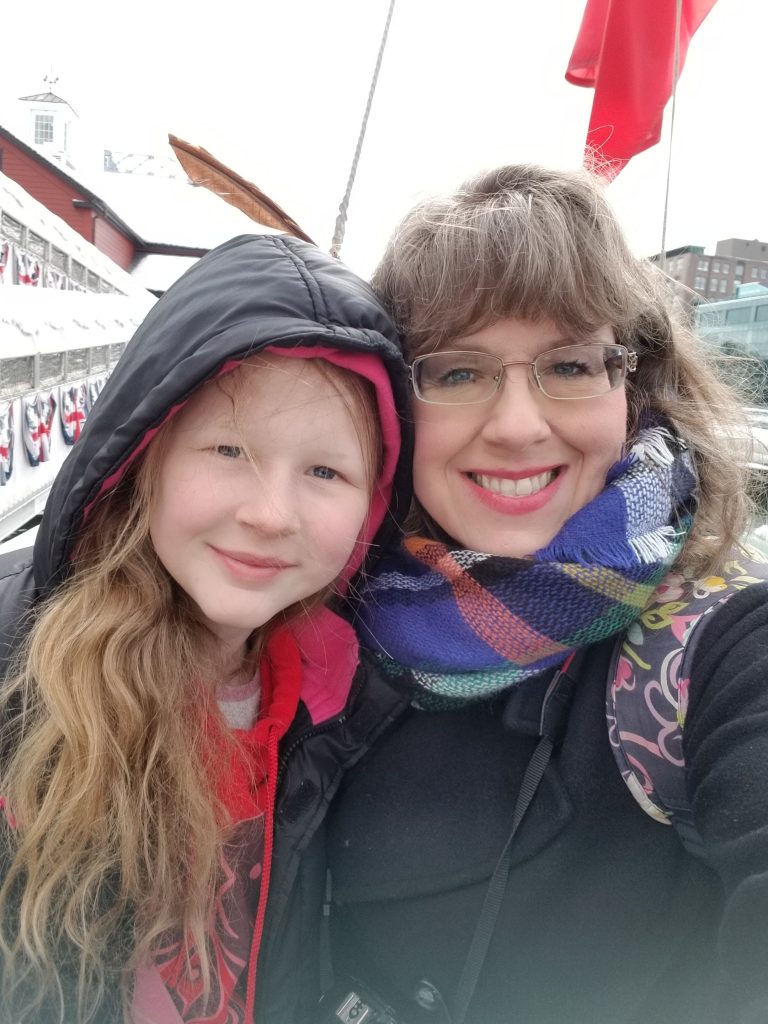 Boston Tea Party Ships and Museum
When traveling with our without kids, you have to explore the roots of the Revolution by visiting the Boston Tea Party Ships and Museum. The exhibition begins with costumed guides setting the stage for the Tea Party. After a very lively overview of the events leading up to the Tea Party, you are taken to the ships in the harbor.
This is a replica of one of the ships that colonists invaded. This replica is also staffed with guides in period costume. You are given the opportunity to throw your own crate of tea into the harbor as well! It was quite fun. The ships are well appointed and give you a feel of what it must have been like to live aboard those tiny ships.
The other highlight of this stop was Abigail's Tea Room. You can sample the teas that colonists would have been purchasing from those ships. I love that you can taste history! I had a lovely scone with some Devonshire cream and Jam with my tea that was just what I needed to tide me over. The tea room is not a fancy tea room, but the food is good, staff are dressed in period clothing, and it is a great place to rest a bit and have a few quite minutes playing games and talking.
Boston's North End
Another charming area of Boston is the North End – note, it is not Little Italy – no no no.
The North End is an enclave of Italian heritage, and is home to many of Boston's most historic locations. Paul Revere's House, Old North Church, and a variety of historic burring grounds. In addition to the history you can literally walk through, there are tons of amazing Italian eateries and bakeries every few feet.
You pretty much can't go wrong if you are looking for a good Italian meal or treat in the North End. I loved walking with Tiny to some of the major sites. Lucky for us, a major storm was on the way. In the span of 3 days, the city racked up 23 inches of snow. Seriously. While many of the attractions were closed because of the weather, Tiny still wanted to see them in person. I love that she is willing to get out and about and tour her past.
Cemeteries
It isn't often that people visit cemeteries as much as I do when I travel. I love to visit the original residents of a location. We braved the cold and made our way through icy, slushy streets to visit the Granary Burring Ground. This is one of the oldest cemeteries in the city, and was founded in 1660. Some of Boston's most notable figures, (Paul Revere and Samuel Adams among them) are buried here, as are the victims of the Boston Massacre. The headstones of this time period are fascinating to view.
They have a mixture of ornate macabre artwork and reverent, simplistic inscriptions. King's Chappell burying ground is another interesting because of a grave that isn't as notable as others. There is a very simple grave that is said to be of the woman that inspired Nathaniel Hawthorn's "The Scarlet Letter." I don't know how much truth there is to the tale, but I had to visit.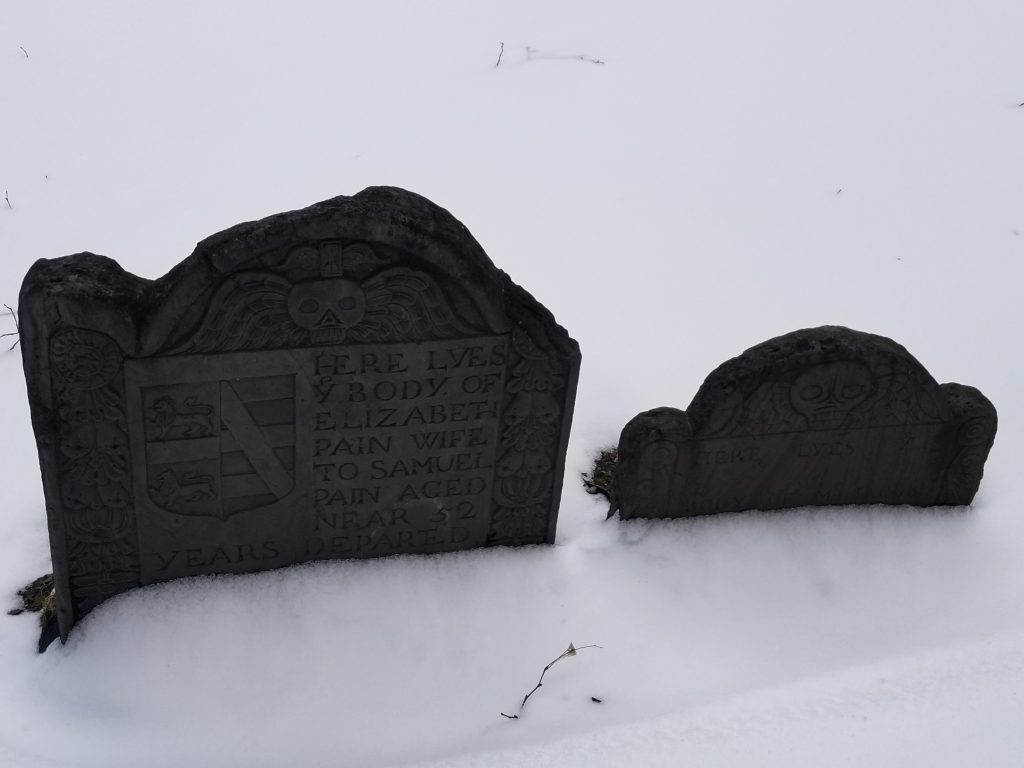 Aquarium
Generally when I am in a city as historic as Boston, I don't visit attractions like aquariums. This was on special request from Tiny. The cold and snowy day gave us few other options for an inside attraction, so it was extra appealing. I am so glad we went.
Tiny and I LOVED the penguin exhibit. We stood there for about 30 minutes just watching them hop and glide. They were beautiful! The main tank of the aquarium is a massive cylinder that goes up through the center of the facility. It was beautiful. We even found some staff members doing a bit of spring cleaning.
The additional tanks were filled with beautiful and exotic creatures, well done exhibits, and interesting habitats. I loved the sea dragons. They are fascinating to me. The octopus tank was also pretty amazing. The touch tanks were a big hit with sting rays and star fish among the exhibits.
The staff were so courteous and the facility was well maintained. Tiny had a blast! Of course, there is also an exceptionally well stocked gift shop.
Other Sites
If this is your first time in Boston, and the weather is good, consider taking the walking tour of the Freedom Trail. It will take you to the Old State House, Burying Grounds, King's Chapel, Old South Meeting House, and 12 other sites significant to Boston's history.
If you would rather ride, go with Olde Town Trolley. The hop on – hop off tours take you to all the major sites in and around Boston. I can't rate their service highly enough. Because of the snow storms, their trolley's were cancelled, meaning the multiple tours (ghost tour, 2 day tour, etc.) were all cancelled! They immediately reached out to me and refunded my money as we couldn't reschedule due to the conference activities. There was no haggling, no fussing, just a simple courteous staff member that was tremendously helpful. Read the rules and regulations as they only refund money if weather prevents the trolleys from running.
Like what you read? Don't forget to subscribe to my mailing list to never miss an adventure!