When I was a kid, we had this recipe about once a month in the colder months.  I have not made or thought about it since I went away to college.  I liked it, but was never inspired to make it until recently.  A book series that the tinies and I have been listening to on Audible (get your first book free here!), the Incorrigible Children of Ashton Place, mentions the dish quite a few times, and got me craving a pot myself!  I love to make recipes from the books and movies that the kiddos love, so this fits in perfectly with how we spend our quality time.  The kids and especially Papa Bear loved it!  I altered the recipe slightly from when I was a kid, but liked it all the better as a result.  If you like to bulk cook and freezer cook as much as I do, you will love this dish – easy and freezes well.
Ingredients:
2 cups dry elbow pasta (or cavatappi)
1 lb. ground beef – seasoned and drained
1 medium Spanish onion – thinly diced
2 cans tomato sauce
2 cups water
1 can petite diced tomatoes – drained
2 bay leaves
1 T paprika
1 T garlic powder
1 T Italian seasoning
1 t salt
1 t black pepper
1 cup mozzarella cheese – shredded
1 ½ cup cheddar – shredded
Method:
Sweat the thinly diced onion until clear and tender, add ground beef and season to taste (salt, pepper and garlic powder).  When browned, drain and return to pot.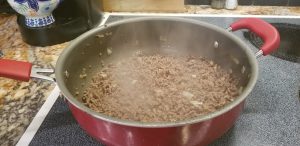 Add all other ingredients, starting with wet ingredients, then pasta and let cook until the pasta is done.  Add mozzarella cheese and 1 cup of the cheddar and let melt.  Mix thoroughly and let simmer for 20 minutes.  This is one of those dishes that is like chili – the longer you let it sit and simmer, the better it tastes.  It also happens to make excellent leftovers the second day – yum!
Serve with the remainder of cheese sprinkled on top of each bowl, a hint of fresh parsley, and plain Greek yogurt or sour cream if you like.
If you want to double the amounts, it doubles well if you have a big enough pot.  I love to cook chili, beef stew, and dishes like this in double batches and freeze anything not eaten by the second day to bring out later in the month when I need a quick meal on a busy night.  Buen Provecho!
Any links in this article may give Momleficent a small commission at NO additional cost to you.