This guide is by no means comprehensive, but I did get to travel around a bit during my stay. I have enjoyed eating a TON of different kinds of food while in Uzbekistan, and thoroughly loved them. We'll start with some of the local favorites. I will warn you, if you are vegan, Uzbekistan may not be for you. If you are vegetarian, you may be able to make it in Tashkent, but some of the regions my be more difficult. I have several opportunities to try the local favorites and here is my take.
Plov
This national dish is had at major gatherings, celebrations, and just for every day. I was told that no gathering or celebration is complete without a massive pot of plov. This dish is rice based with some vegetables, golden raisins, and seasoning (animal fat, salt, other spices). It was absolutely delicious. I had a chance to have it in several different areas and there are as many takes on Plov as there are people cooking it. I think about it like Americans have regional versions of BBQ and Chili. Well guarded, time tested, and the absolute only right way according to each cook. You can't go to Uzbekistan and not have plov. Be aware. Most of the time the meat on top is beef, but it could be lamb. They will also offer horse and quail eggs as an accompaniment. You can partake in it all, or request the horse meat or eggs to not come with your dish.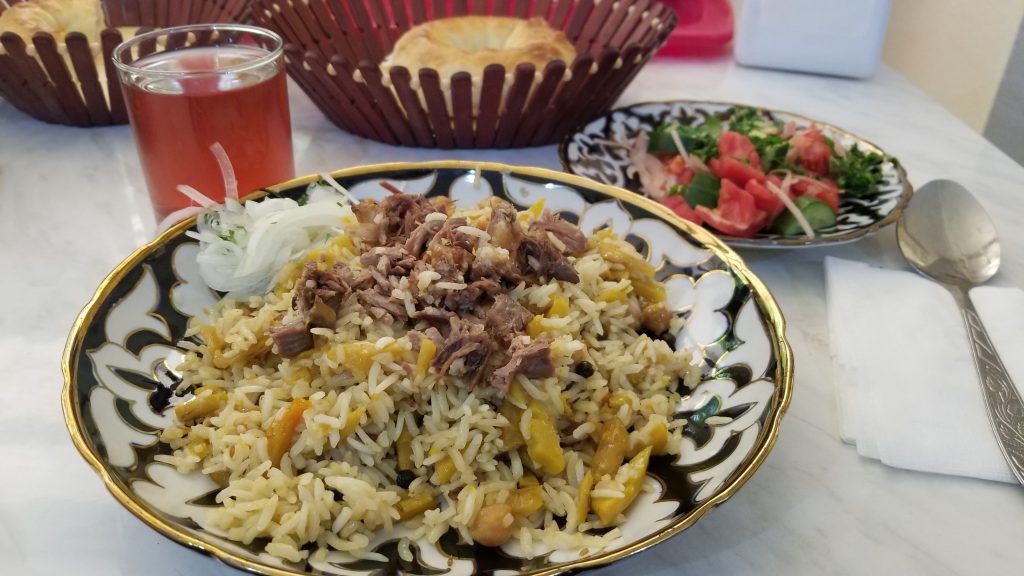 Manti
This delightful soup of broth and small meat filled dumplings was hearty and filling but not overwhelming like a heavy rice dish can be. The meat I had was a combination of lamb and beef. The soup is then topped with kefir, and green herbs (parsley and dill). It is warm, flavorful, and perfect for an evening meal.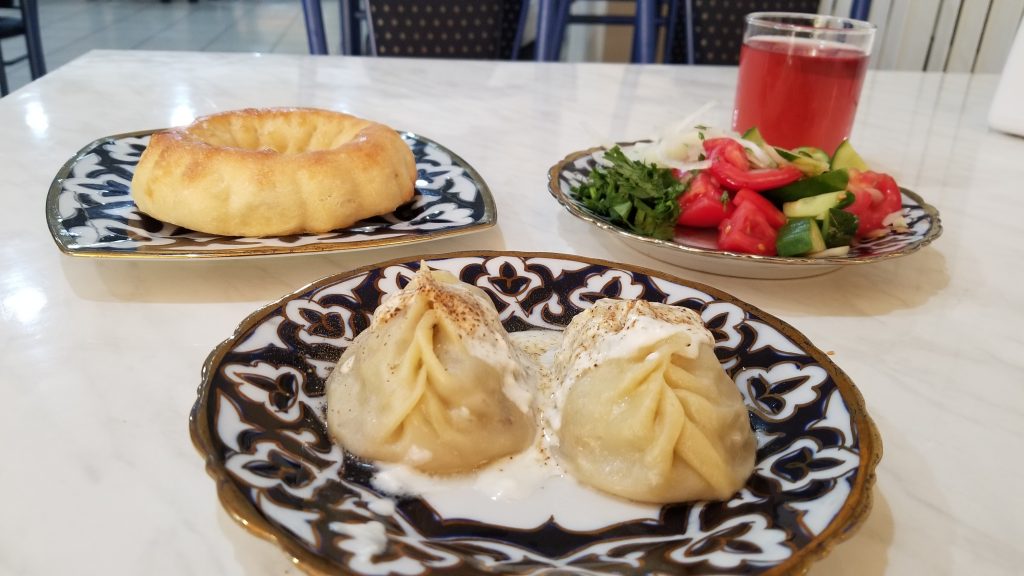 Nan (Bread)
The bread in Uzbekistan is a lovely, golden brown, round loaf that has small designs stenciled into the middle with bread stamps. It is usually brought to every table during meal time and eaten with almost everything. Generally it is bought in quantities of two or more, but you can buy a single loaf. Not only is it beautiful, it is quite tasty as well!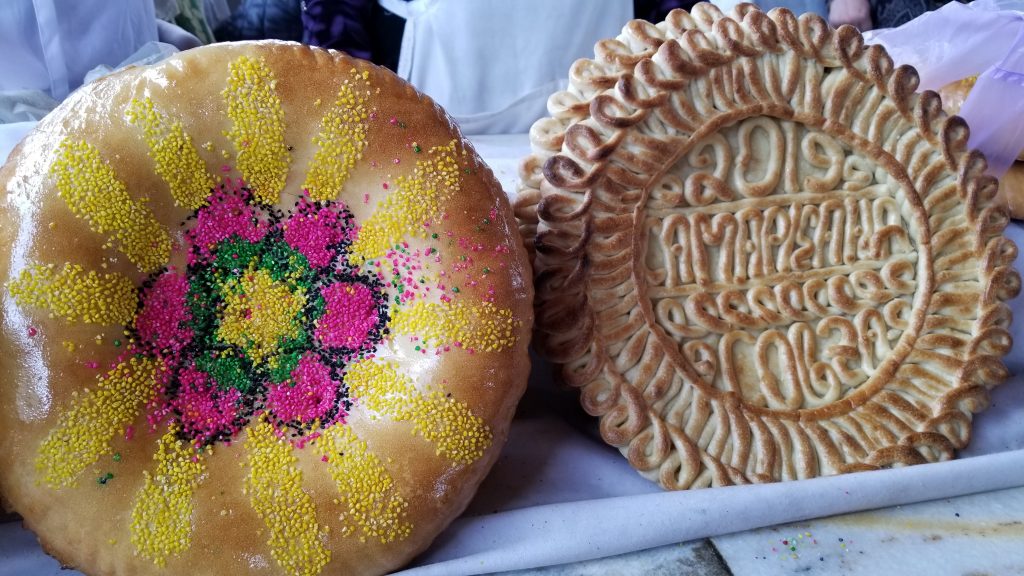 Somsa
A somsa is a puff pastry filled with minced lamb meat that has been seasoned and cooked. The pastry is then baked in an oven and is much like the Uzbek version of a meat pie or pasty. They are by no means similar in flavor, but the concept is similar. Somsas are hearty and filling. They can be picked up and eaten with the hands, making them an easy and portable meal for travelers who want to have a pic nic in the park.
Shashlik
These are kabobs. Shashlik are skewered, roasted bits of meat, that are threaded onto a skewer. They can come with only meat, or could have alternating vegetables, sometimes fat for flavor, or a combination of meats. Originally these were lamb, but as regional availability and tastes have evolved so have the varieties of shashlik. While pork is available, it is dependent on religious observance as to whether or not you consume it. Beef and lamb varieties are common.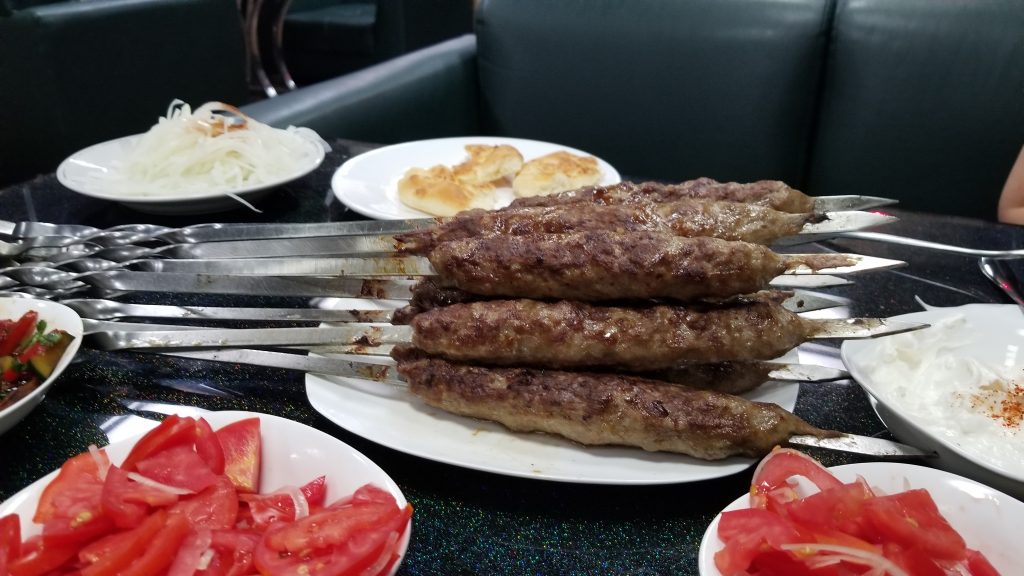 Fruits and Vegetables
During the Fall (September and early October) you can find some of the most flavorful vegetables and fruits on the planet. The melons are ripe and ready to eat with many different varieties that I had never seen before. The essence of the vegetables wafts through markets and bazars in a way that they do not, even in the height of summer, in the US. If you have a sensitive stomach, be sure to remember the rule of thumb – peel it, cook it, boil it, or forget it. Washing vegies in local tap water could give you travelers tummy, making a shorter trip a little more unpleasant than you may want.
There is a massive Russian influence on the cuisine of Uzbekistan. Given that they are a post Soviet country, it is only natural to see the Soviet influence in almost all aspects of daily life and culture. Below are a selection of salads that are more traditionally Russian than Uzbek. Delicious!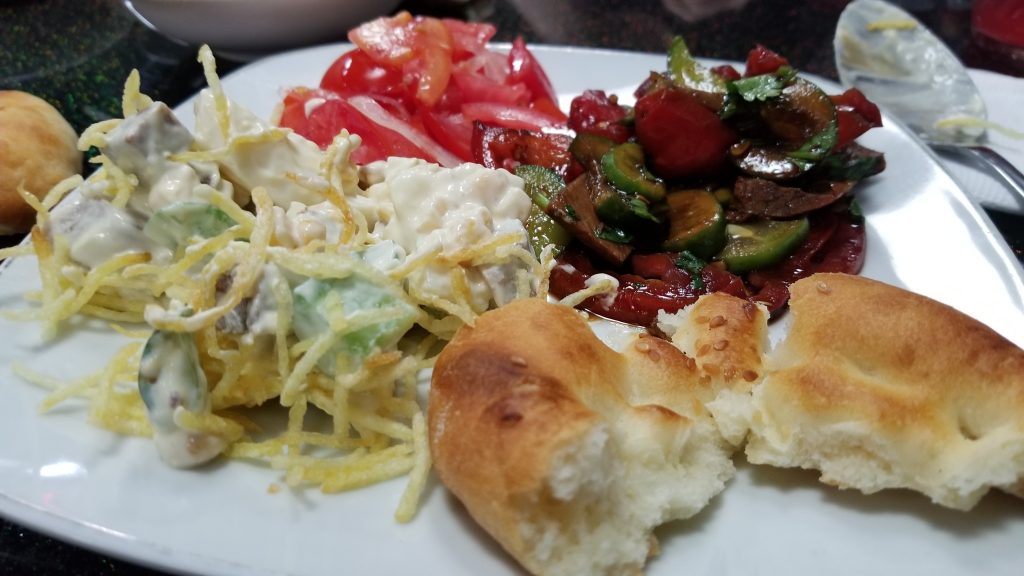 There is also a slight Turkish influence in the area. Lavash are really popular dishes that consist of bread (Lavash) with meats and vegies. You can roll it up like a wrap or eat it individually.
Finally, Lagaman is a treat that you don't want to miss. This is a noodle and vegetable soup (with meat) – if you are vegetarian, you are going to have a harder time finding a variety of foods here. If you are vegan, bring meal bars – it isn't going to happen. Back to the Lagaman – this delicious, brothy soup is quite hardy. Full of flavor, it reminds me of the Uzbek version of Ramen.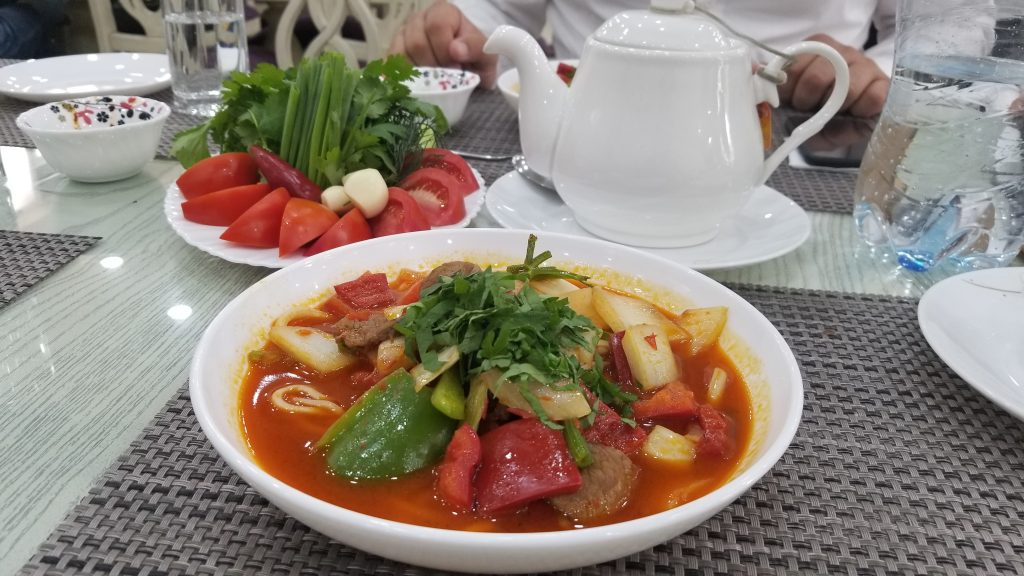 Like what you read? Don't forget to subscribe to my mailing list to never miss an adventure!