While in the Boston area, you truly need to get outside of the city to explore the rich cultural and historic towns just outside the hubbub and chaos of the city. The beautiful green of the country side is a stark change from the concrete of the city. While nothing is very far from anything else in this area, traffic will slow you down a bit. Tiny and I took an insanely early flight out of our town to Boston's Logan International Airport. Once there, we hopped a transit bus to the Enterprise rental station and were on our way in a few short minutes. We were only going to be there from Friday to Monday, so we packed in wheeled roll on bags and didn't check any bags at all. This helped tremendously when trying to save time and get on the road. If you are in Boston proper, check out these fun things to do with kids!
Concord
Our first stops were in the Lexington and Concord regions. I wanted Tiny to see the locations associated with the start of the actual Revolution, like the Old North Bridge.
This bridge still stands and is just a stone's throw from both Louisa May Alcott's house and Nathaniel Hawthorn's house.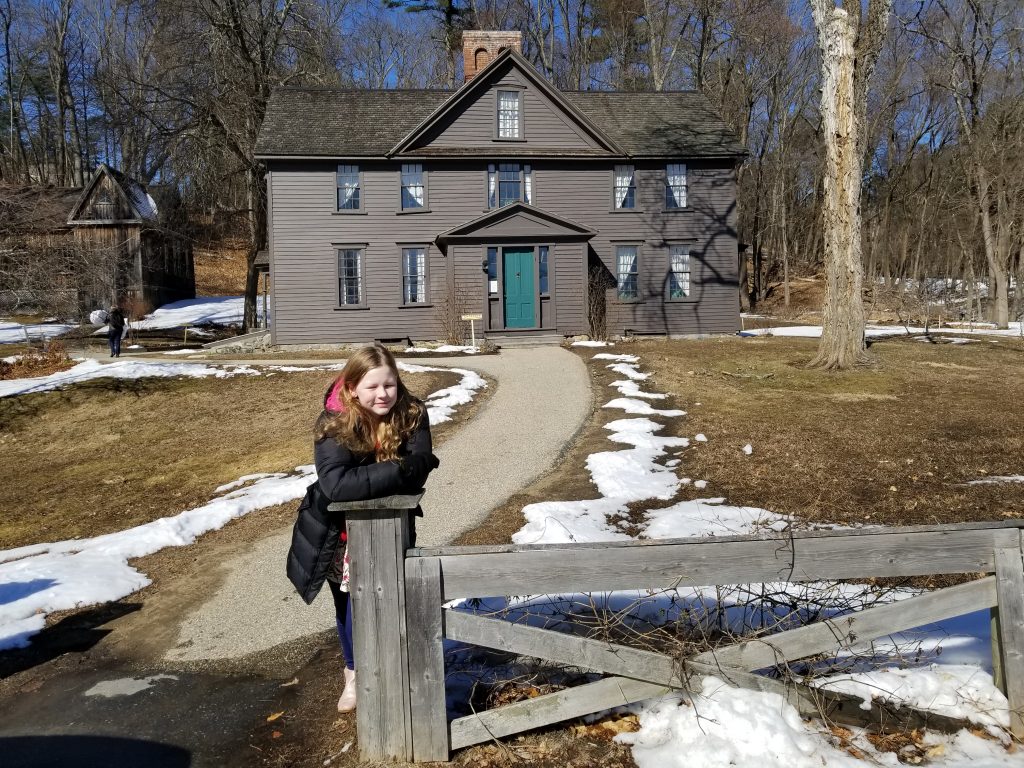 You can visit them all in a very short span of time. We had just finished "Little Women" (almost as if Mommy had planned it that way…) so Tiny was exceptionally interested in Louisa May Alcott's Orchard House. We stopped in Concord at an adorable little bistro on Main Street.
Appropriately named Main Street Market and Café, the atmosphere was casual and comfortable. I had a divine lobster roll – how could you not have one when visiting Boston?!?! Tiny had a massive hamburger! We took a stroll around town, and down to Sleepy Hollow Cemetery.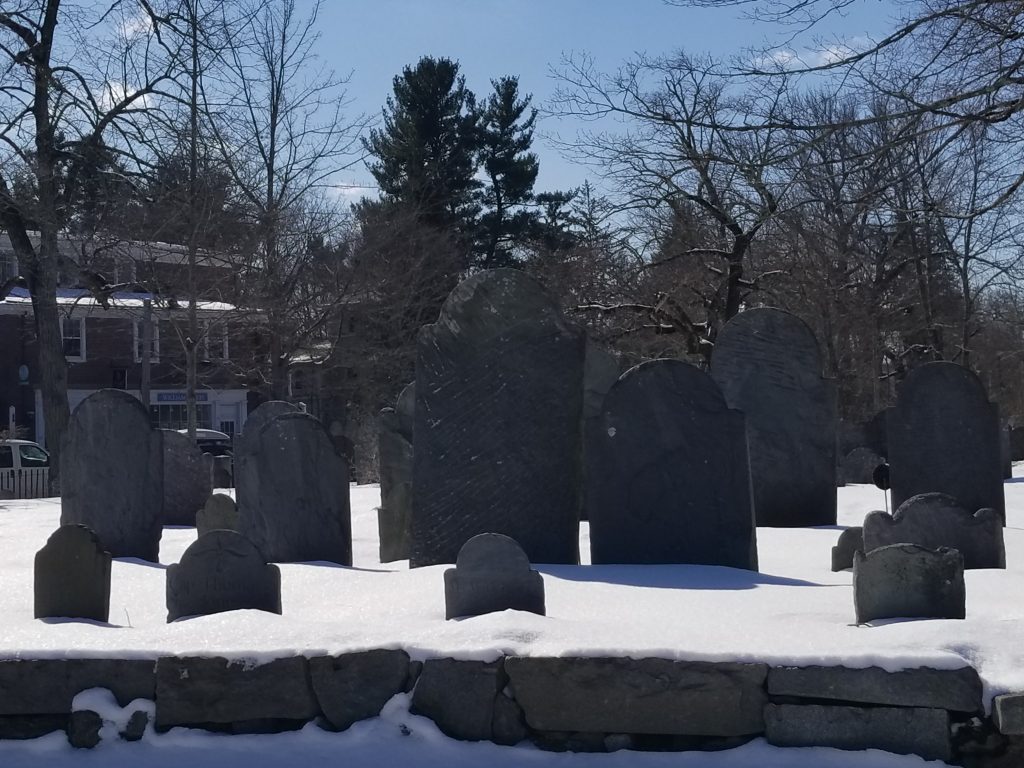 Author's Ridge is the resting place of Hawthorn, Alcott, Emmerson and Thoreau. How could I not take her to visit these amazing authors. It is surprising how many people make this same pilgrimage and leave reminders for these long dead figures.
We also made a quick stop by some of the shops on the main street. They were all amazing, but Tiny's eyes lit up and her stomach became bottomless when we walked into Graem Chocolate Company. Oh MY! They had everything from chocolate pizza to nut and fruit mixes. Tiny had to work to contain herself, she wanted a bit of everything – as did I.
We did make a couple of sections for ourselves before leaving, and we make a couple for Papa Bear as well. If you are in Concord, swing by and check them out.
Our final stop was Walden pond. I waned Tiny to see this inspirational place and the replica of Thoreau's cabin (think tiny house before tiny houses). She thought that the frozen lake was the coolest thing!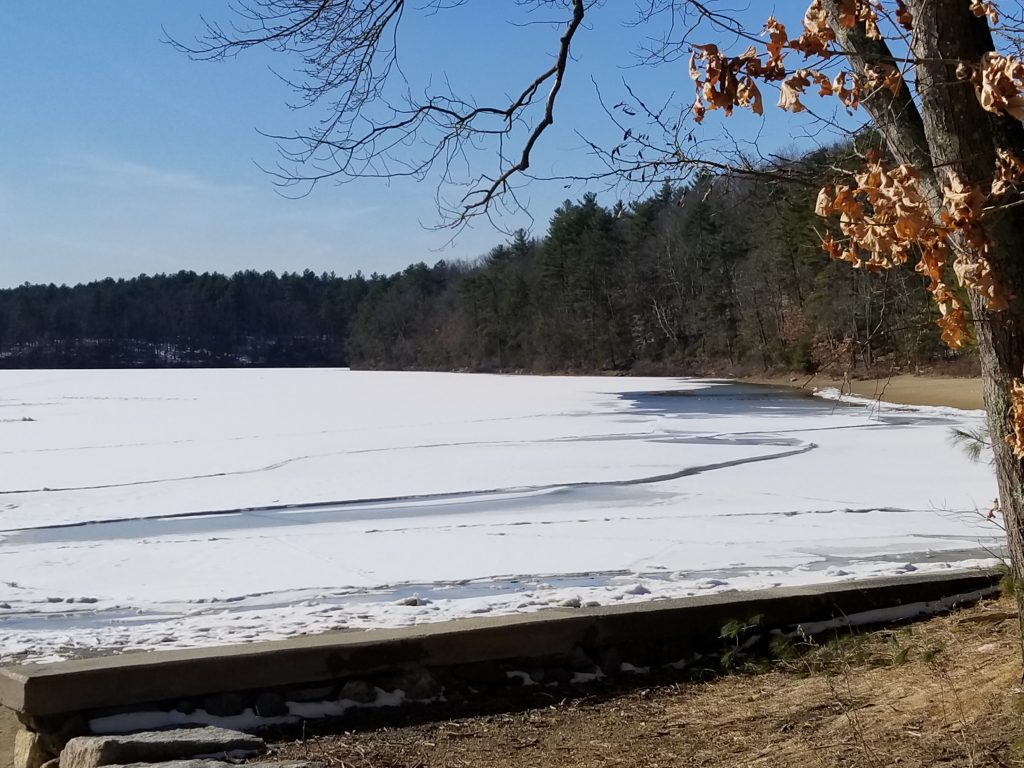 She wanted to walk on it so bad! Needless to say I wouldn't let her. I have to admit though, if she weren't there, I would have likely tried my luck. There were ice fishermen on the lake that day, so I don't feel like it would be too unsafe – my mom brain just wouldn't turn off!
Salem
The second part of our day trip was something that thrilled Tiny to her little witchy core. Salem is not far at all from Boston, proper. The town is quirky and charming, lively and unassuming at the same time. From it's famed "House of Seven Gables" to the Witch Museum and Witch House, the only structure still tied to the actual witch hunts of the 1600s, the town is steeped in history and embraces it's inner witchyness.
We visited the Witch Museum, a small museum in an old church that is well done. The tour begins with a narrated history of the mania that swept Salem during the witch trials. From there, you go into an exhibit hall that gives you a tour of the past and makes parallels to current events. The tour will last about an hour, and of course, ends in the gift shop. They do not allow photos inside, but the exterior sets a creepy tone, church or no church.
We decided to also visit the Witch Trial monument in down town, and Proctor's Ledge – the actual location of the hangings. This site was literally someone's backyard until researchers figured out that what was known as Gallow's Hill was too far removed from what would have been the center of town during the time. There is now a touching memorial to those who were victims of the terror.
Of course we had to have our photo taken by the "Bewitched" statue. For a short time, the sitcom Bewitched was filmed on location in Salem after a fire ravaged the set. While the set was being restored, the cast and crew relocated to Salem to continue filming.
There are so many quirky and odd attractions in Salem, you couldn't do them all in a day. Salem really does deserve a couple of days dedicated just to it.
Like what you read? Don't forget to subscribe to my mailing list to never miss an adventure!