If it is one thing I love doing, it is traveling. I love everything about it – but I especially love seeing what locals do when they have the time to go out. Where do they go? What restaurants do they frequent? What are their favorite things to eat? You have such a variety of cultures, cuisines, and options in Boston, you don't have to go far for a good meal. The influence of Italian immigrants, Irish immigrants, and British immigrants can be found all over the city, and is reflected in the vibe that makes Boston unique. Check out my favorite attractions here.
Lobster Roll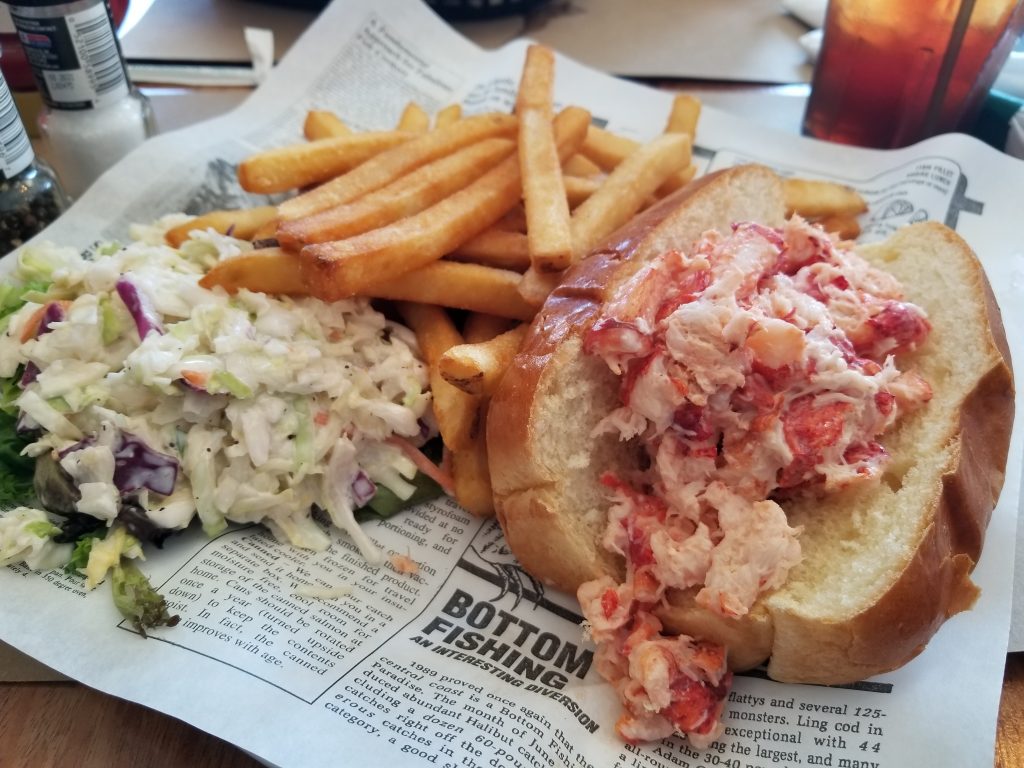 What isn't to love about a soft, buttery, toasted roll with fresh lobster piled high? Oh my! There is something that feels so luxurious about the flaky richness of the lobster, contrasting with the warm and buttery bread. It is both high end and comfort food at the same time. This mix of buttery bread and sweet lobster hits the spot and will keep you filled for an afternoon of exploring the city. I got this one in Concord, check out our day trips here!
Clam Chowder
I love New England Clam Chowder! There are a ton of calories, so don't expect this to be a light meal if you are dieting. The soft warm bits of clam mixed into the creamy bisque, loaded with potato, onion, and spices is the perfect tummy warmer on a cold day. Disturbingly, our visit to the Aquarium put Tiny in the mood for seafood, so we ventured over to Legal Seafood. I was able to get her to try the clam chowder and she loved it. I am a little surprised since she fancies that she doesn't like clams. New England Clam Chowder is thick and creamy, warm, and has just enough substance to stick with you while you venture back out in to the cold.
Irish Breakfast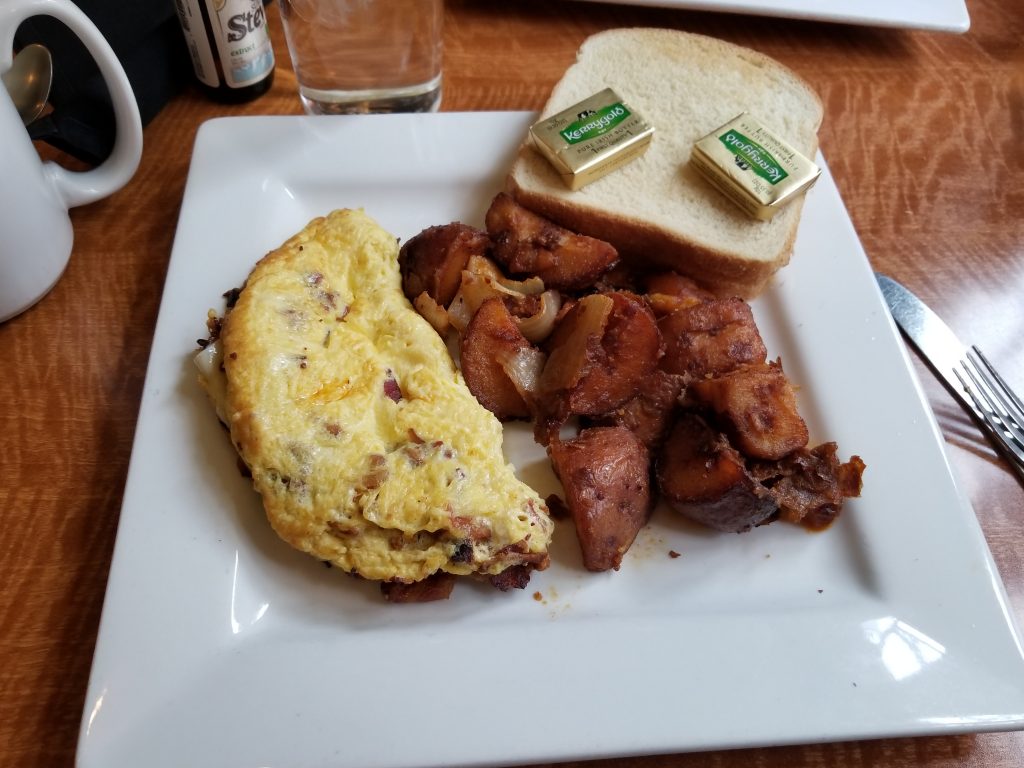 One of our favorite breakfasts in the city was in a little Irish bistro near our hotel. This small, family run operation was just as charming and quaint as you would expect it to be. The breakfast consisted of eggs, bacon, toast, and home fries with coffee. Perfection! It was filling and perfect to start a busy day!
Italian Meal – North End
Oh my goodness, you cannot visit Boston and not have a meal in the North End. We had a lovely meal at one of the many Italian restaurants in the neighborhood. You can't throw a stick without hitting an Italian eatery in this area of town. We didn't have a bad meal the entire time we were there!
Cannoli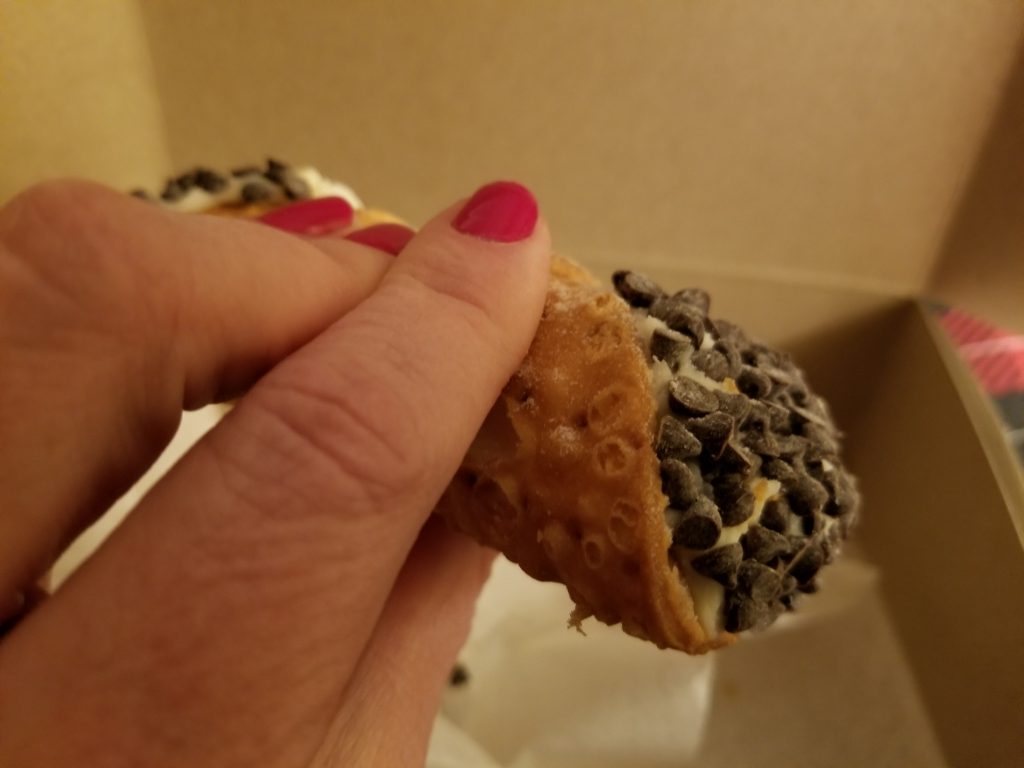 Tied back to the Italian influence in the city is its love for Cannoli. This sweet and comforting dessert consists of a fried shell filled with sweetened and blended ricotta cheese. The creamy smoothness of the filling is a perfect balance for the shell. I love the ones that have little chocolate chips on the ends. The North End has several famous Italian bakeries that specialize in all desserts Italian. You can get some amazing treats, but I highly suggest the cannoli as your first bite. Even if you have had a cannoli from a restaurant or bakery in the past, there is something about these that is head and shoulders above the average.
If you want to get out of the city, be sure to check out my Day Trip Recommendations!
Like what you read? Don't forget to subscribe to my mailing list to never miss an adventure!