Washington DC is one of my absolute favorite cities in the US. It truly is the people's city in many ways. Most of the attractions are funded by the Federal Government, making the admission to most museums, facilitates, and monuments free of charge. This is the first time I have been able to bring my children to the city, and my oldest (who happens to be very interested in history) has had a blast – even during a governmental shutdown. So what do you do with children in the city?
National Archives
This location should be on every visitor's list for a visit to Washington DC. Not only does it house our nation's freedom documents, it has a copy of the Magna Carta, the Emancipation Proclamation, and a variety of other exhibits. The women's rights exhibit is particularly good. I love walking into the rotunda with my daughter and having her see the faded but still beautiful documents. The scrawling calligraphy, the massive signature of John Hancock, the Bill of Rights. It is amazing to think that the Declaration of Independence, a document that served as hate mail to the King, was sent and signed (making each signer a traitor to the crown) almost 250 years ago. I loved talking to my children about the level of significance that this one document had on each man's life. Each man would either be known as a hero or die a traitor – there would be no middle ground. The importance of the document is never lost on me.
Smithsonian Museums
Our favorite of the Smithsonian Museums were the the American History Museum, and the Natural History Museum. The American History Museum was by far my daughter's favorite. She loved the first ladies' dresses and the Colonial American artifacts.
The tiny one loved the dinosaurs and animals at the Natural History Museum, though my favorite exhibit is always the exhibit of gem stones – including the Hope Diamond, once owned by Marie Antoinette.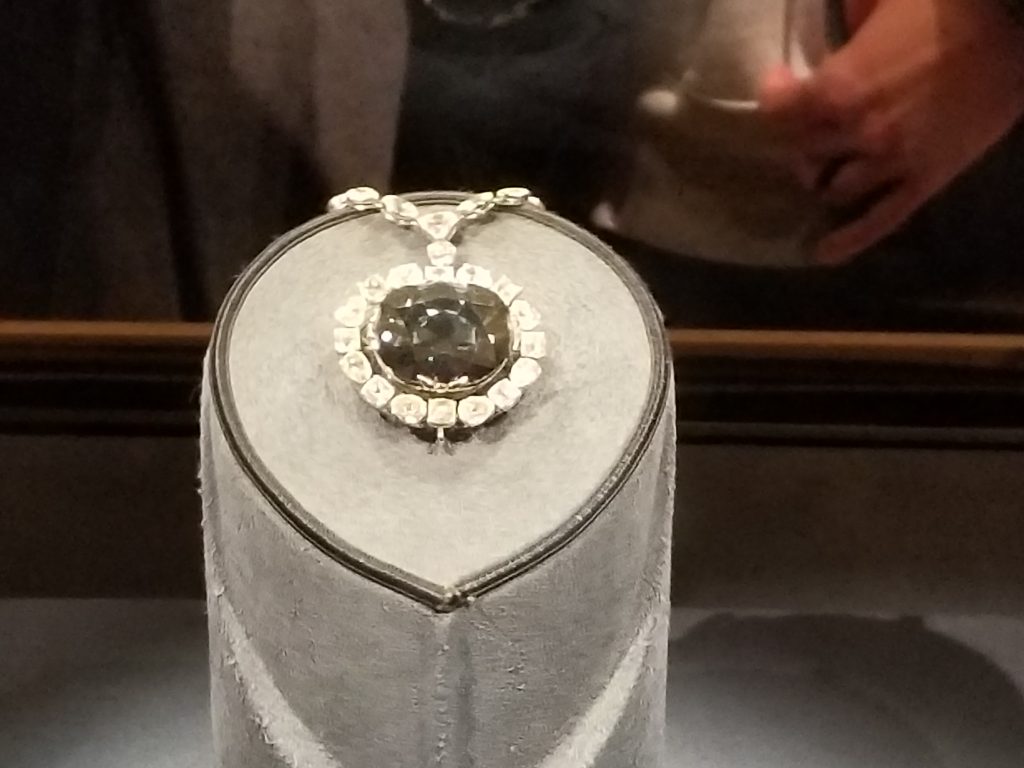 There are more museums than the ones we toured, but we devoted one day to the museums.
The American History museum has a great transportation exhibit on the ground floor, as well as Julia Childs' actual kitchen – no joke, but my favorites are usually on the third floor. I kind of geeked out a bit over the Batman car (first floor). I wonder how long it would have taken security to get there had I tried to get in? The permanent display of stunning dresses worn by first ladies is fascinating, and they also have a collection of White House china used by different administrations (third floor).
Tiny particularly liked a display featuring the Ruby Slippers from the Wizard of Oz, Glenda's wand, and the Scarecrow's hat. It is a small display, but pretty cool if you are as big of a fan of that movie as she is.
The National portrait Gallery is also an excellent choice for history lovers. Every portrait you have ever seen in a history book is housed in this gallery – it is amazing.
The gift shops are well stocked and expensive, so let your kids in at your own peril. They do have some amazing little finds, and are really interesting in their own right. I love the American History museum shop, and the kids love the family shop at the Natural History museum. I try to also get a smushed penny to add to our family collection.
Monuments and Memorials
Believe it or not, there is a difference between memorials. Monuments are built to honor the living – which is why there is both a memorial and a monument to George Washington.
The Washington monument (the large obelisk near the White House) is a monument because it was originally started when Washington was alive. The original plan was for a statue, but the builders changed the way it was designed – once the Civil War started, it was halted because of funding. See as many as you can – they are all beautiful in their own way.
The view from the steps of the Lincoln Memorial is stunningly beautiful. We also loved the Jefferson Memorial and the Vietnam Veteran's Memorial. The stunning numbers of names on these walls brings into clear focus how war takes a toll on human life.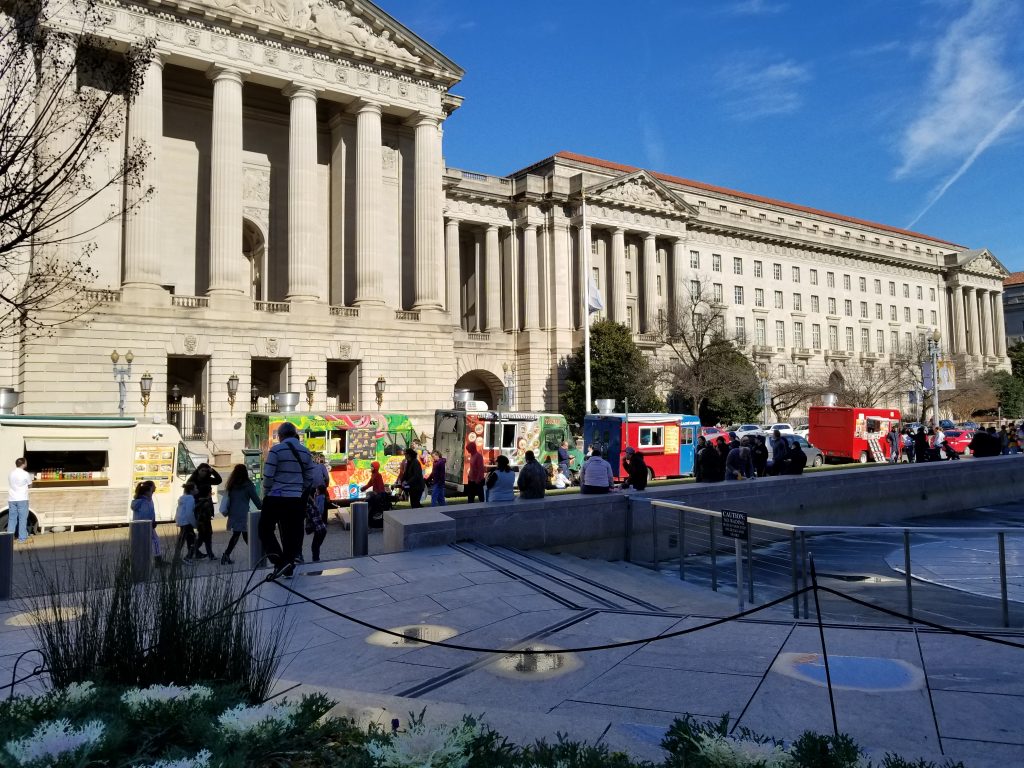 Arlington National Cemetery
Arlington is a beautiful place, especially at Christmas. The headstones are beautiful in their straight lines, reminding you of soldiers at attention, but at Christmas, with green wreaths laid carefully at each headstone, they are especially beautiful. The cemetery covers 640 acres of land, about half of the original plantation holdings.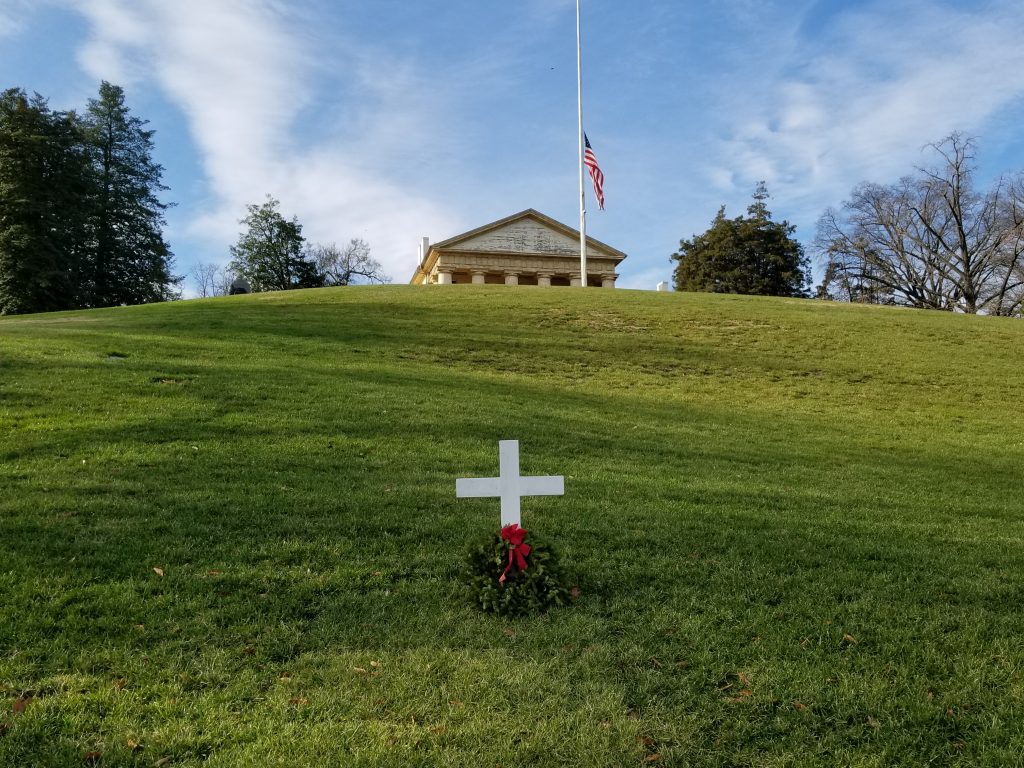 Once owned by General Robert E. Lee, the land sits on a hill overlooking the Federal City. Arlington House, once his home, sits at the apex of the hill.
Buried in the cemetery are Presidents Taft and Kennedy, the three Kennedy brothers, as well as Jaqueline Kennedy and two of their children.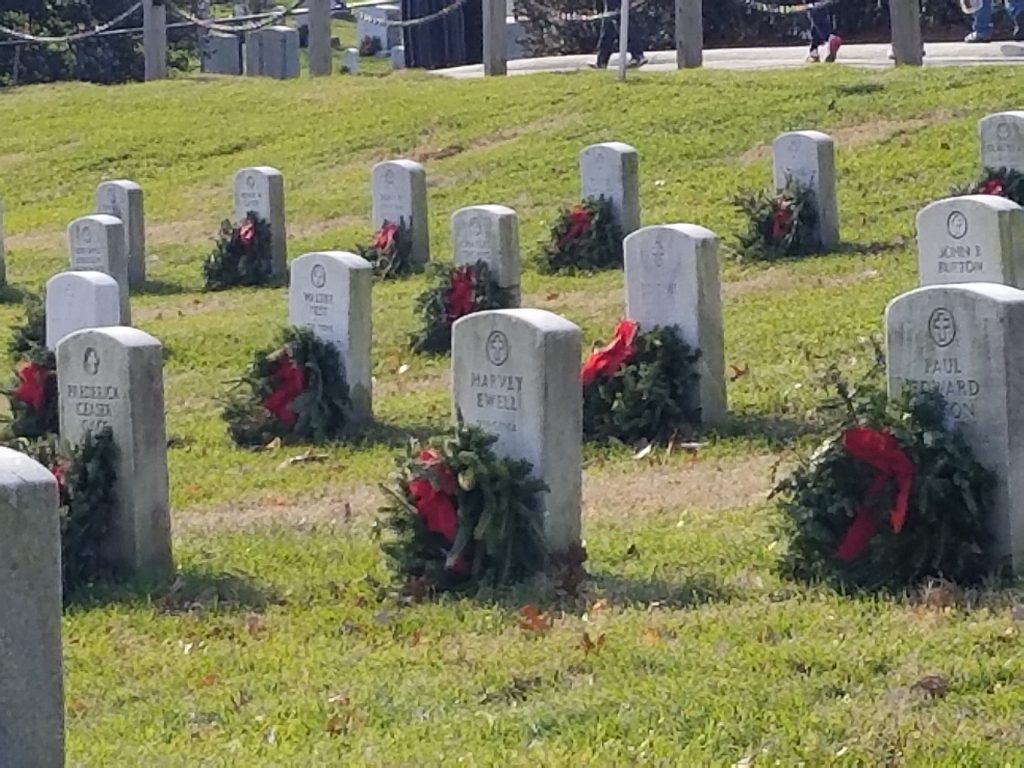 There are many notable burials in this cemetery, but Thurgood Marshall and Medgar Evers are two of my favorites. I will admit, we did have a hard time keeping my son (the 4 year old) as quiet as I wanted him to be in a place of reverence, but he did pretty well. This is an active cemetery with as many as 30 burials a day scheduled. Please keep that in mind as you visit tombs – funerals take prescient over sight seeing.
Other Attractions
I love Holocaust Memorial, but it is tremendously accurate in its depiction of atrocities. While done quite tastefully, I was not ready for my children to see this yet. This museum would be best for the over 12 set as you can pick up a profile at the beginning of the exhibits that takes you through the experience of an internment camp resident – including what their outcome was. This is an emotionally heavy for an adult, it may be too much for young children.
Unfortunately, I was not able to take my children to some attractions that I wanted to due to the government shut down. They didn't get to see the National Archives nor did they get to tour the White House, but we did get to tour the Capital.
The National Archives are an amazing facility. There are original versions of our freedom documents on display, as well as other significant documents. One such document is an English version of the Magna Carta! I am descended from several of the Magna Carta signers, so it was truly amazing to see the document, signed in their own hand. To arrange this, call the office of your congressman and one of their aids will arrange a tour for you. This is an exceptional experience for children to see the seat of the executive process in the US.
On our tour, we were able to see several areas of the capital building, but the actual chambers must be seen via a gallery pass that we didn't opt for given the walking emotional time bomb that is my four year old. The rotunda was truly grand. This is where many of our formal governmental ceremonies happen – from inaugurations to deceased presidents lying in state.
When To Visit?
DC is a busy town any time of year, but conventions and summer vacations bring tons of people into town to see the museums and same sites you want to see. We like to take a trip over Christmas break when we can to avoid some of the summer crowds (nobody likes a ton of tourists elbowing their way up to take a selfie while you are trying look at an original draft of the Constitution). We also love to see the cities all aglow with Christmas Decorations. If you go at Christmas, be sure to stop into some of the swanky hotels near the Federal Triangle.
The JW Mariott and the Willard were all decked out and made for some really pretty photo ops – the Willard has an amazing reception desk that looks like it is from the early 1800's and a gingerbread replica on display. The hotel lobby is a great place to take a break, warm up, and get some really gorgeous shots of your family and friends.
Know Before You Go
Rooms in the downtown area can be expensive, but using a site like Booking.com helped us save a ton on our three night stay. We stayed just steps from the White House at the JW Marriot. This beautiful and chic hotel is an amazing place to base your touring. We were blocks from many of the more significant sites and museums that were important to us. We were able to park the car and not move it again until we were ready to go. I hate driving in DC, so that worked out well for us. If you are looking for more budget friendly rooms, try Reston, VA and Alexandria, VA. There are metro connections to most points in the city for a lot less money. The trade off is that you get cheaper rooms but have a much less convenient access to the city.
We use the Old Towne Trolley tour service that had a three day for the price of one special during the winter – including the driving tour of Arlington. Uber would have been much more expensive than that, so we were happy to have the guaranteed transportation with the kids in tow.
Finally, know that in DC, everything is expensive. I mean everything. There is virtually nothing reasonably priced in that town! We took our breakfast and room snacks/drinks with us. I packed shelf stable milk and small cereal boxes, oatmeal that we could make with hot water from the coffee pot in the room, and prepackaged muffins. That will save you a bit of money. Snacks are another thing that we usually bring. I know what the kids like, and can usually get healthier options in them if I pack some in advance. I like the little pouches of applesauce that come in boxes. These are easy to pack and easy to eat on the go. Granola bars are another fave of my crew and easy to pack and eat on the go. I love self contained snacks that I can pop into a zip lock bag and then into my day pack or oversized purse for easy access (the zip lock bag keeps spills and crumbs that could happen on an active day out from ruining anything else – death by applesauce to my phone would make my day take a dive).
The kids had a blast in the city, and learned a lot too. This is one of my favorite American cities because it truly is the people's city. Access to our history, our culture, and our future merge into a diverse and amazing urban hub. You are only steps away from walking in the steps of Lincoln, catching a Broadway caliber show, or having a virtual reality adventure in the down town area. My favorite thing to do is just walk among the buildings and look at the architecture.
What are your tips for traveling in DC?
Like what you read? Don't forget to subscribe to my mailing list to never miss an adventure!