Washington D.C. has no shortage of amazing places to dine. It seems as if there are Michelin rated and award winning restaurants on every corner in the downtown area. There is something for everyone, from Mexican and Korean fusion to steak and seafood. I don't know about you, but while I do love to dine out in a fancy restaurant, something goes awry every time I take my four year old along for the ride. I like to strategically plan our meals so that we are not spending $50.00 on each meal for the four of us. Let me tell you, there is absolutely nothing reasonably priced in Washington D.C. Food is definitely something that fits into that category.
Check out our touring adventures here!
Mobilizing my crew each morning is like walking a tight rope that is burning at both ends – you know you are going down, it is just a matter of when. We generally pack breakfasts that we can fix in the room using nothing more than the hot water from the small coffee pots located in the room. Generally in my breakfast bag I have small boxes of cereal and shelf stable milk, instant grits or oatmeal in individual cups, and pre packaged muffins (the boy is addicted!). These easy and simple breakfasts allow us to go ahead and fuel up without having to spend an hour in a restaurant or extra time waiting to start our day. It also saves a ton of money that we can spend on a better meal when we need a mid day or evening break. There are always exceptions, so look at the restaurants that you definitely want to visit and plan accordingly. We definitely want to visit the Old Ebbit Grill – a locally famous establishment, but will go during brunch on our last morning in town.
Some of our favorite meals in Washington that happened to be kid friendly were:
Pizza Uno at Union Station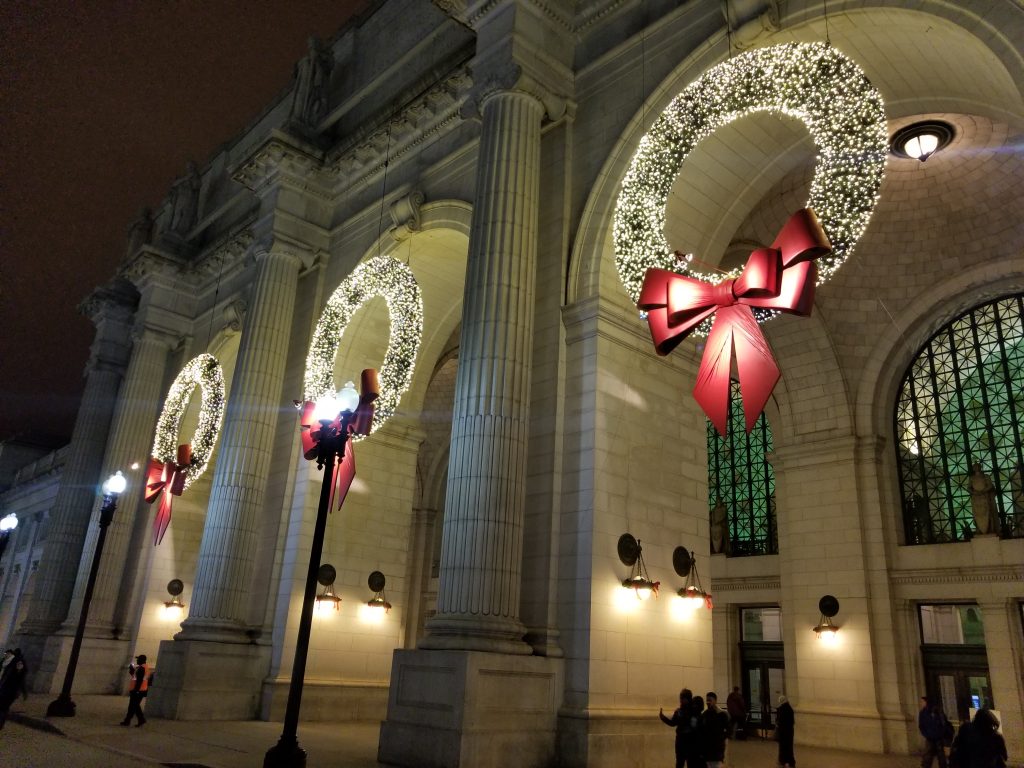 Union station has a major food court, filled with all of the standard favorites when it comes to generic fast food. If you are on a budget and have a group that all wants different foods, this could be your answer.
There are also mid range table service restaurants in Union station. The one we chose was Pizza Uno, a Chicago pizzeria with regular and deep dish options. The kids menu is small but stocked with all the standard kid favorites. We ordered a half and half (half meat and half vegi) deep dish that was amazing. I had never had Chicago style deep dish pizza before and it was so yummy. The meal was around $50.00 for the four of us, so not cheap, but also not high end. I would highly suggest trying it out if you find yourself in Union Station at meal time.
After dinner, Tiny was itching to play the virtual reality Mario Cart in on the ground floor near the food court. She and Papa Bear had a blast while Teeny and I went to get some ice cream . It was a one stop shop – and by Washington standards – affordable.
National Place
Another budget friendly option is the food hall at National Place. It was quite close to our hotel, so we did find ourselves there a couple of times. The selection is more unique than the Union Station food court, but I wouldn't consider it to be a true food hall like the ones you will find in Boston or Philadelphia. It is a step up from a mall food court, but it is a small step. We got pizza and teriyaki chicken from different vendors and the prices were reasonable for a large city, and the food quite fresh and tasty. I had a great vegetable tempura with rice and a ginger salad and the kids shared a large portion of chicken teriyaki with some to spare.
Old Ebbit Grill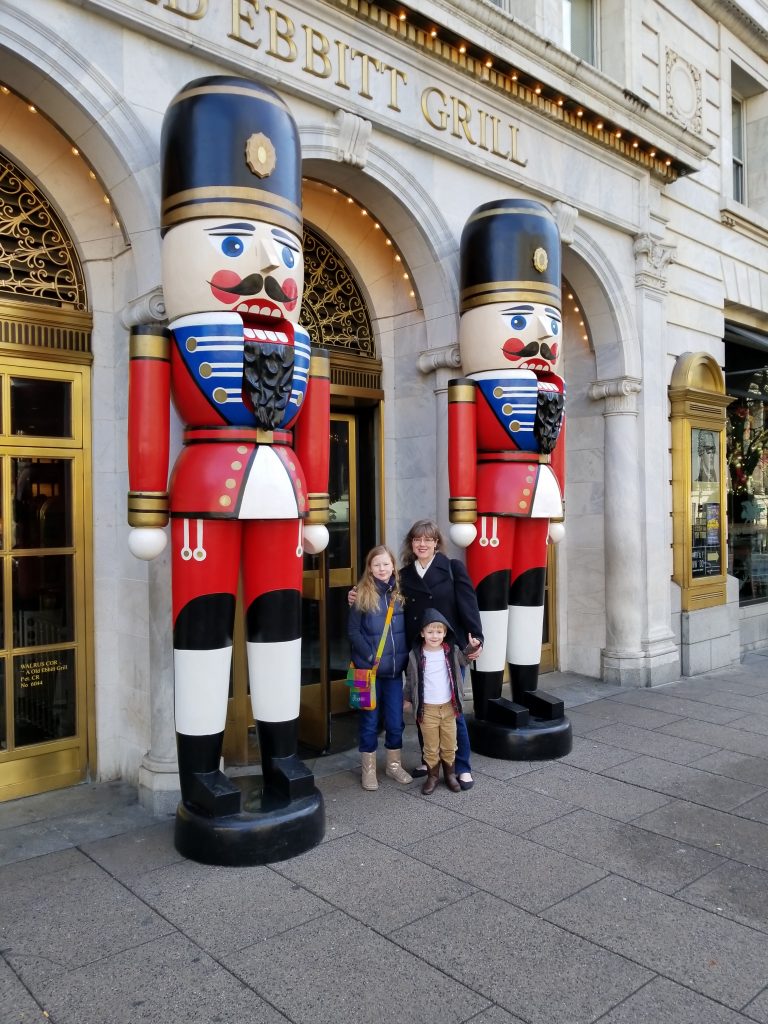 Papa Bear was so thoughtful to take me to the Old Ebbit Grill for my birthday. This is Washington's oldest bar and restaurant that started as the dining option for the Ebbitt Hotel in 1856. Keep in mind that Franklin Pierce was President at this time (still two more to go before Lincoln held office, and well before the outbreak of the Civil War to give you a little perspective. Imagine the stories the highly polished bar and shiny brass fixtures could tell of the politicians and their guests from over the years. This is not the original location of the hotel or restaurant, the décor is vintage and appropriate for the well heeled guests to have graced its doors over the past century and a half in business.
We had the kids with us, so we didn't want to go in for dinner, and were leaving town on the day of my birthday. We had a lovely, if a bit pricey, brunch with the kids. The food was excellent and the kids ate every single bite! This is high praise for two busy little souls. I particularly enjoyed their selection of "Bennies" – different variations on the old classic brunch fare. Mine involved a Maryland crab cake rather than Canadian bacon, and it was D-I-V-I-N-E. The crab was soft and sweet and the cake was full of succulent little chunks rather than overwhelmed by fillers. It was a lovely way to start the morning. Papa Bear opted for some decadent French Toast with whipped cream, confectioner's sugar, and candied nuts to top it off.
Wok and Roll
Wock and Roll is located on the first floor of the old Surrat boarding house. This boarding house was initially run by Mary Surrat, one of those tried and convicted for conspiring to assassinate President Lincoln. The outside of the building still stands and looks much like it did during the era, though very little of the inside configurations are still the same. Instead of a parlor, the second floor, which was the original entry, now hosts a hopping karaoke bar. This location is also on our Oddities and Curiosities list – see what other locations made that list here!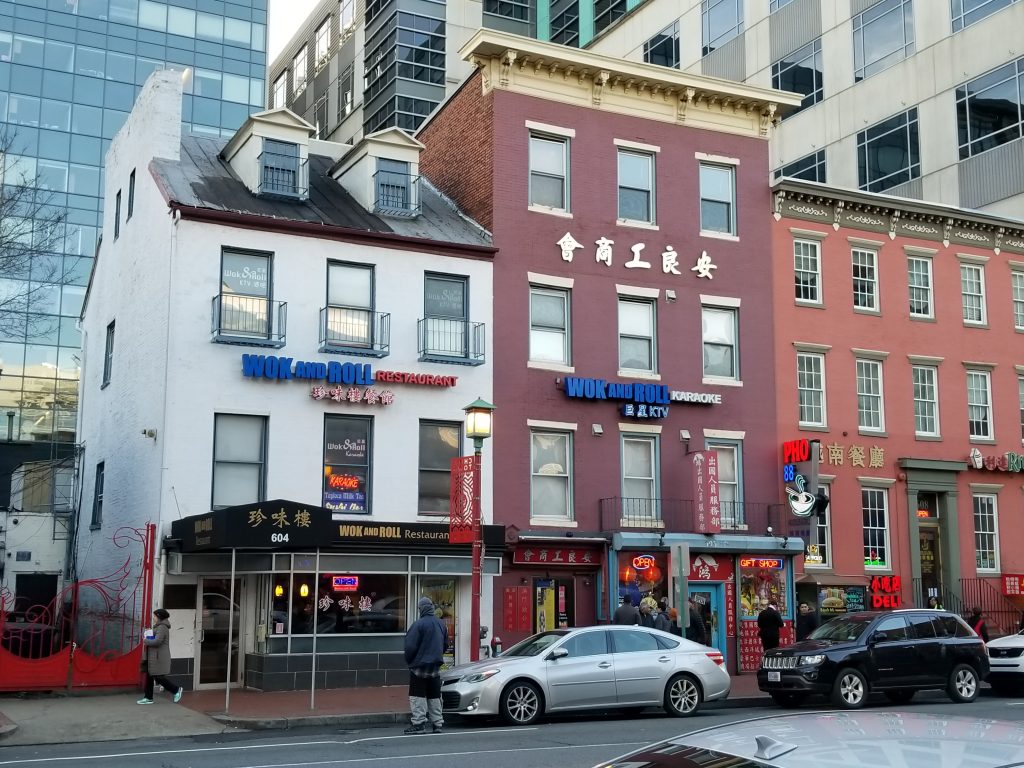 Knowing the historical significance of the building was very cool for history geeks like myself and my family. The food was fresh and flavorful, and reasonably priced. I opted for chicken lo mein to share with the kids, and an order of egg rolls. Tiny and Teeny also requested hot and sour soup, which was just the right amount of tangy and delicious.
Papa Bear doesn't love Asian foods, but tolerates them for myself and Tiny when we ask nicely. He had a beef dish that smelled divine and that he actually quite enjoyed. I would definitely come back to this establishment even if it weren't located in a historic building.
Street Fare
My favorite, and by far the most convenient, mode of feeding the tinies were the prevalent food trucks that are scattered around museums, the National Mall, and other areas where locals and tourists alike frequent.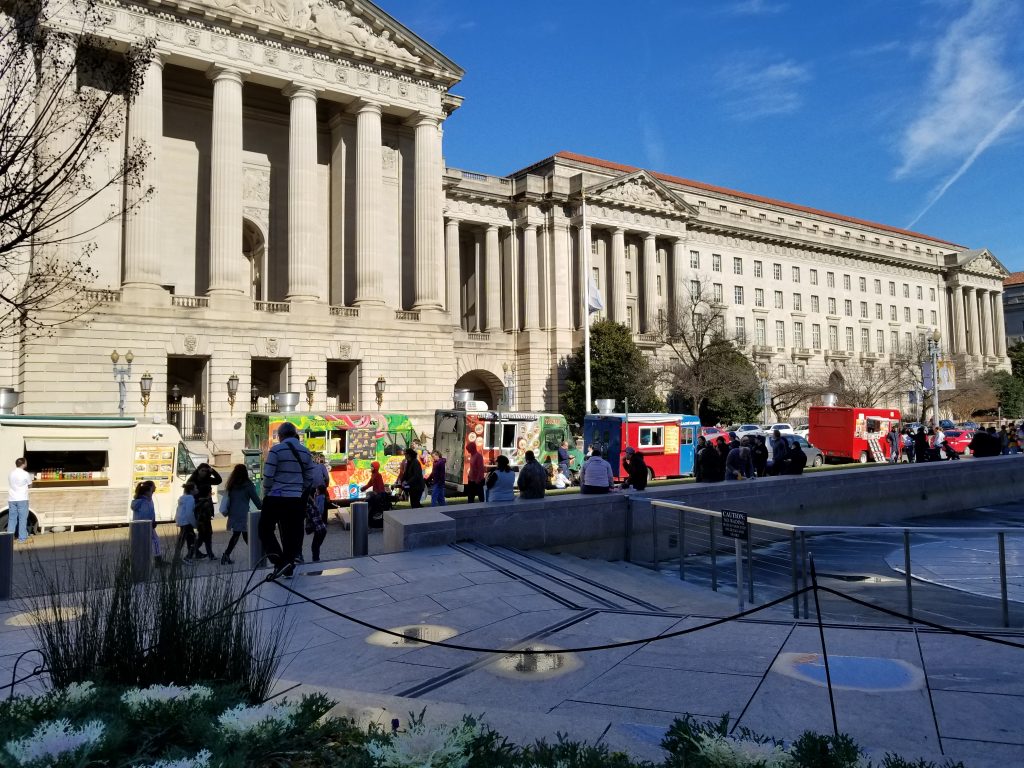 We found a great taco truck in front of the Museum of Natural History that served Three huge tacos with all the fixin's for $9.99. There was so much food in that single tray to feed myself and Tiny and get us set for our next adventure. If the weather is good, you can't beat the pricing for the amount and surprisingly good quality of food you can get.
I was intrigued by the vendor that was making Venezuelan food. It was also a treat to stop by another vendor with a massive ice cream selection. Who doesn't love to eat a snow cone in late December in Washington, right?
There are so many choices that you can't get bored, and can easily get something that everyone is interested in all in a single side stop, or while dashing between museums.
Where is your favorite place to take your kids when eating in Washington?
Like what you read? Don't forget to subscribe to my mailing list to never miss an adventure!