Valentine's day is approaching and my tinies are already in the swing of the season. Since they are already thinking in shades of pink and red, I decided to treat them to a little Valentine's brunch this past weekend.
I don't know what it is about making something they commonly already like into a fun shape that makes them so happy, but it seems to work every time.
This brunch was super simple to make, and works up quite quickly. I served heart shaped French toast bites, heart shaped bacon, and garnished it with chocolate covered strawberry hearts. Super easy!
Use your favorite French toast recipe. I didn't have any milk this time, so I used coconut milk. It worked wonderfully in both the bake and the regular French toast recipes! If you are lactose intolerant, have no fear, coconut milk to the rescue!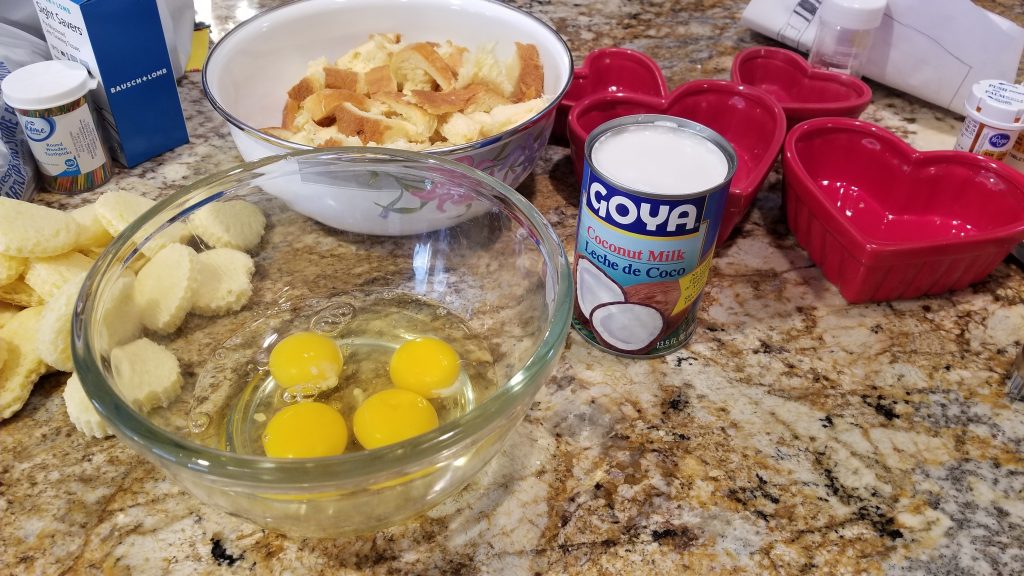 I mix two to three eggs with about 2 cups of milk, 2 tablespoons of vanilla, and 1 tablespoon each nutmeg and cinnamon. Give it a good whisk and you have your basic batter for the toast. I cut adorable hearts from a loaf of sliced brioche for my base and simply dipped and griddled until they were golden.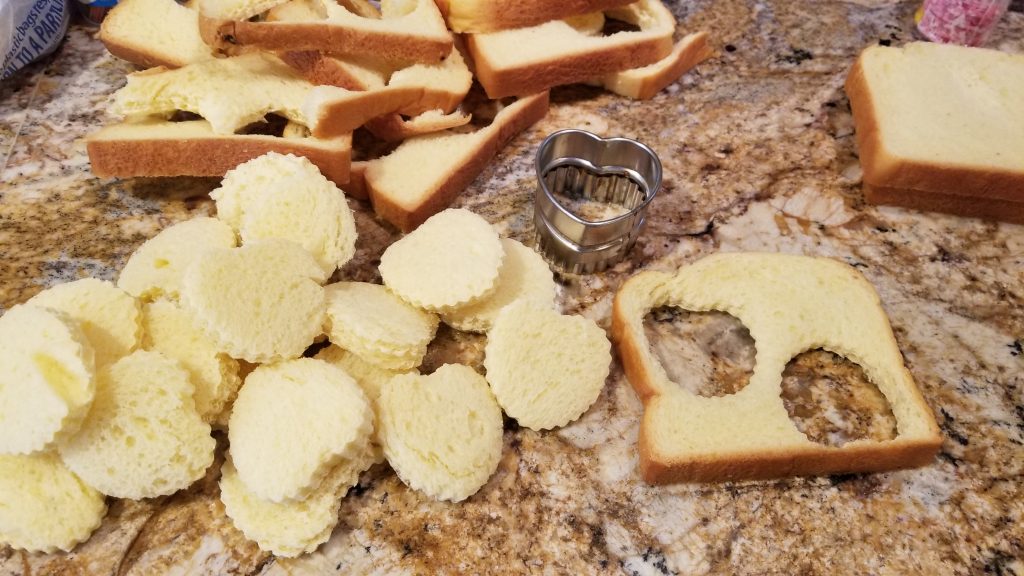 I couldn't bare to waste all of the bits of bread that were not used in my toast bites, so I shredded them and put them aside. Once I finished the hearts for the tinies, I mixed the bread bits into the left over batter, added a few pecans and chocolate chips and baked in heart shaped ramekins at 350 degrees for approximately 25 minutes.
These were for myself and Papa Bear – well, they were supposed to be – the largest of the tiny ones zeroed in on the chocolate chips pretty quickly and claimed one for herself. This mixture can be put in a well oiled dish and frozen to use within 3 months – be sure to freeze it uncooked and cook when you thaw – super easy if you have a holiday or company coming soon.
The heart shaped bacon was also super easy. Simply fold the bacon into a semi pretzel shape and bake at 400 degrees for 20 minutes. This is the easiest way to cook bacon, once you bake it, you will never go back to pan frying again! No popping, no dripping, no burns!
The chocolate covered strawberries were also super easy – as a matter of fact, I made them the night before and let them sit overnight in the fridge to set. Simply top and halve your strawberries, skewer them into shape with a toothpick, and dip in chocolate. You may want to use a cotton dish cloth to blot the moisture from the cut sides of the strawberry before dipping as chocolate and water are not friends (the chocolate will not stick).
Simply plate with a dish of syrup for the toast and you have a perfect and simple Valentine's brunch that will please the pickiest of eaters. 
If you prefer a full dinner style theme night – never fear, click here! Or for a more kid friendly meal, check out this Lady and the Tramp theme night – completely with heart shaped meatballs! So fun!
Like what you read? Don't forget to subscribe to my mailing list to never miss an adventure!