There is something about a bottle of sprinkles that makes me so happy – when they are tied to a holiday, even better! I am going to use peanut butter cookies and decorations as my options for these adorable and super easy cookies, but you can use sugar cookies for the base and milk chocolate if you have a nut allergy – or just don't like peanut butter – in your own house.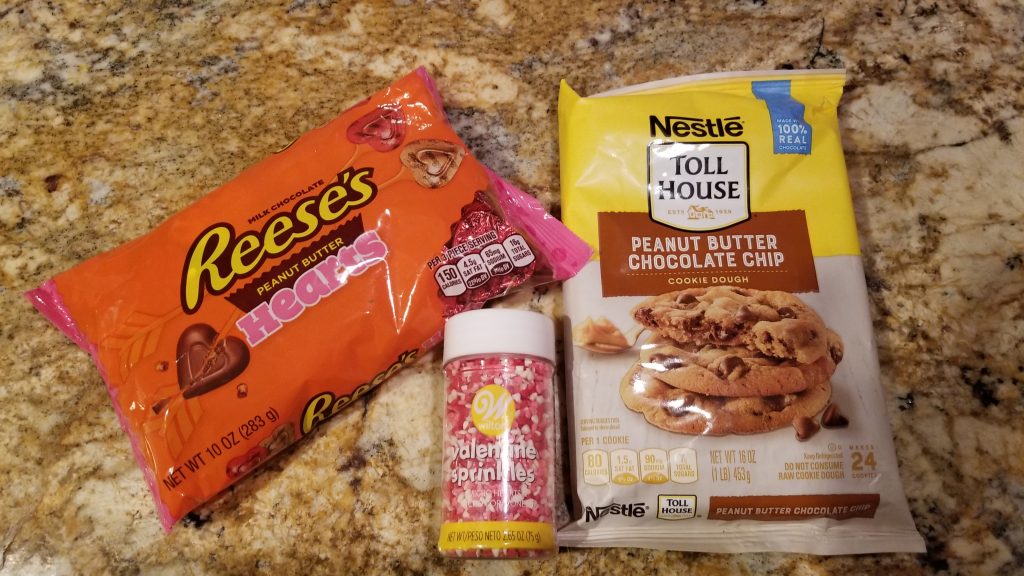 You can start with any premade cookie mix that you like. I selected a peanut butter cup option for my cookies. Since these little jewels are premixed and pre cut, all you need to do is separate them and roll them into balls.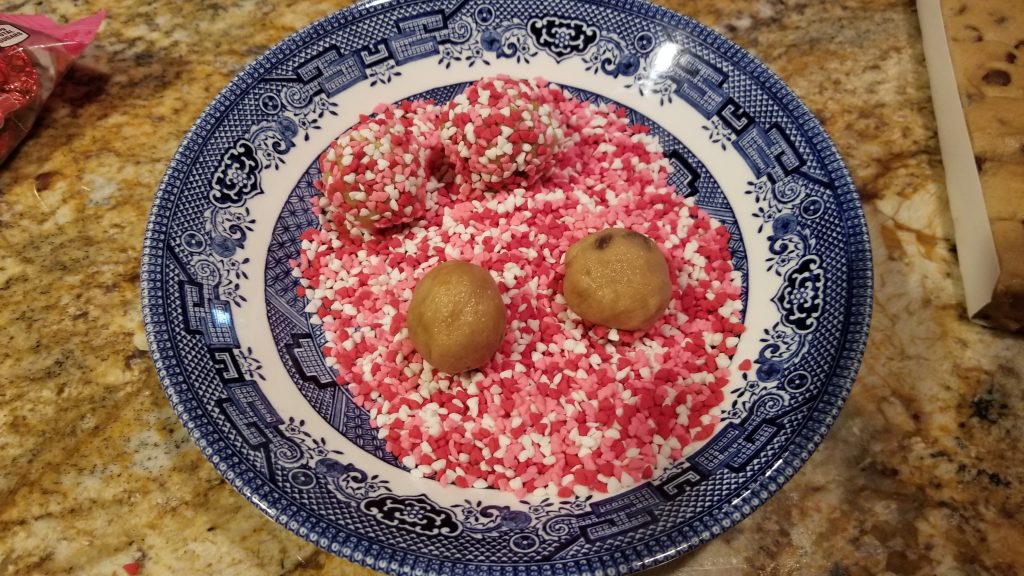 Take each of those little balls of goodness and roll them in a bowl that you have filled with your sprinkles of choice. I used a red, white, and pink mix of nonpareils and they worked exceptionally well with this cookie base.
My cookie pack had 24 cookies in the pack, so I used two cookie sheets lined with silpat liners to make sure the cookies didn't stick.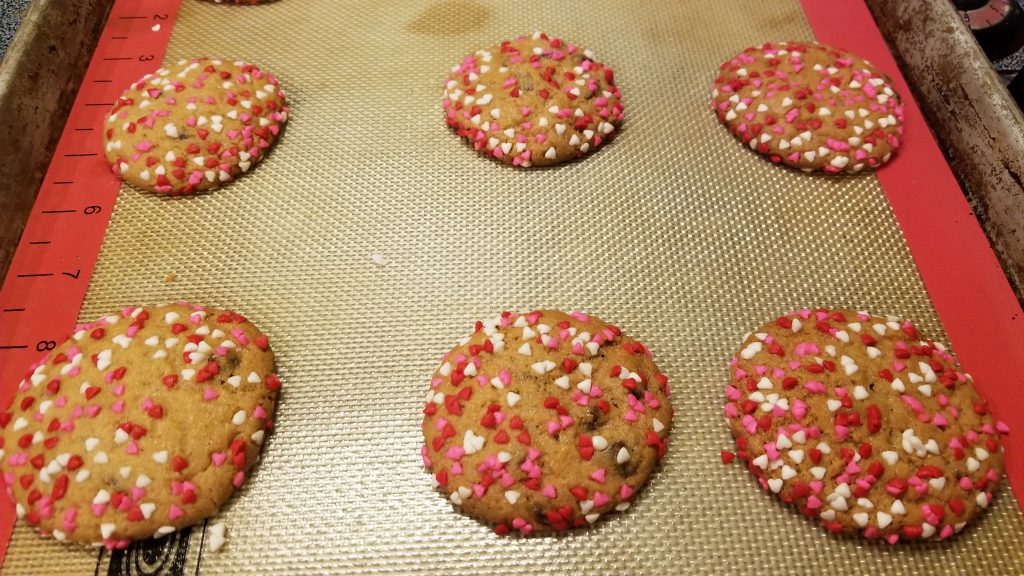 Place your sprinkle coated cookie balls about 2 inches apart on your cookie sheets and follow the cooking instructions on the particular pack of dough you selected.
While the cookies are baking, peel your candy hearts. I used Reese's brand peanut butter filled hearts for these cookies, you can use traditional kiss shaped candies, milk chocolate hearts, or the chocolate candy of your choice – get creative!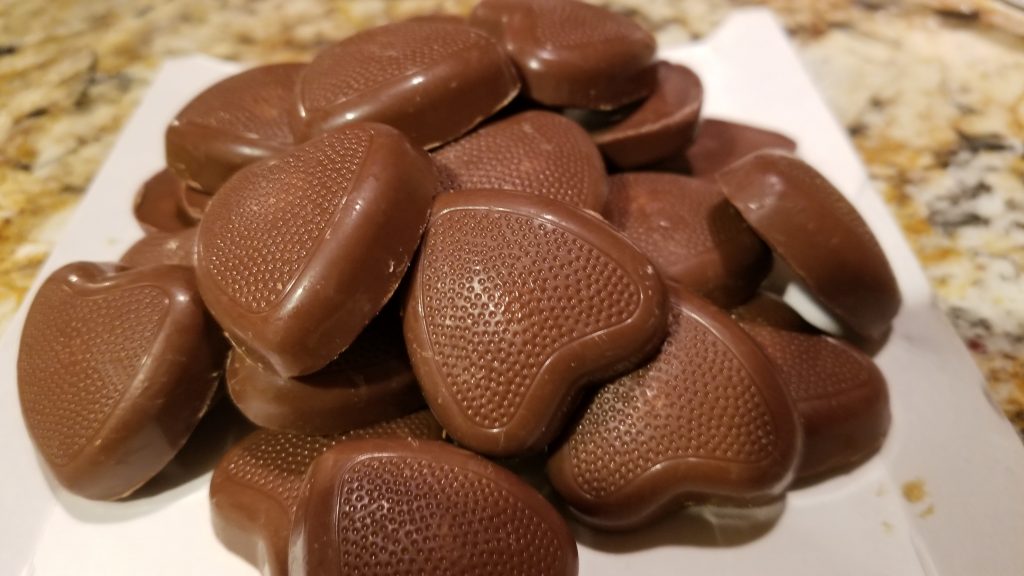 Once you remove the cookies from the oven, quickly place one heart in the center of each cookie – pressing down slightly to get the candy to adhere. Allow the cookies to completely cool.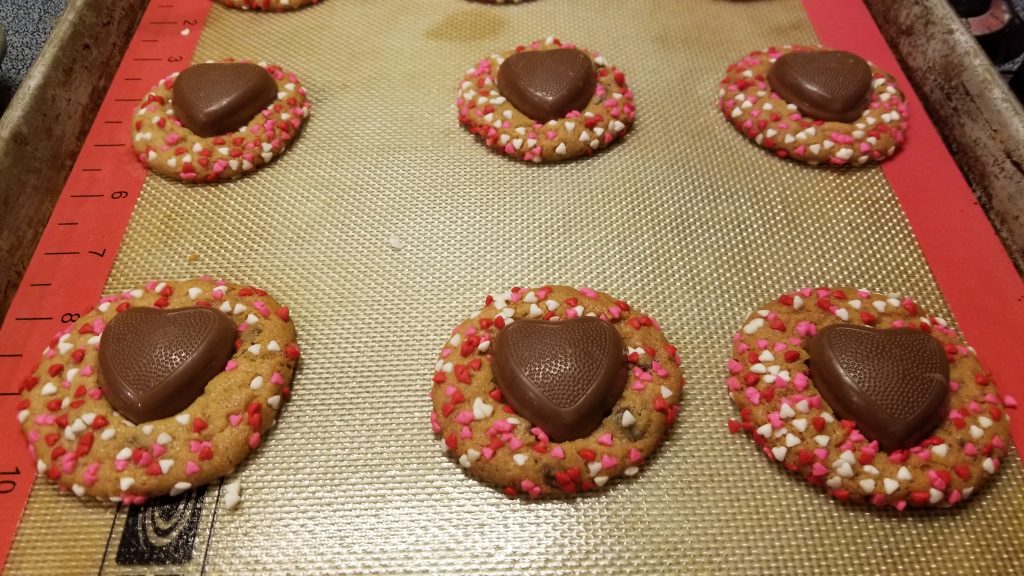 Word of caution – if you don't let these cookies completely cool prior to stacking or moving them, the chocolate hearts on top will lose their shape and become damaged. The hearts will warm to the temperature of the cookies as the cookies are cooling – melting your chocolate. Be careful and do not cover or stack until the melted chocolate has reset and is firm.
I packed a couple of these for the tinies' school lunches and snacks for a few days, but honestly, they didn't last very long!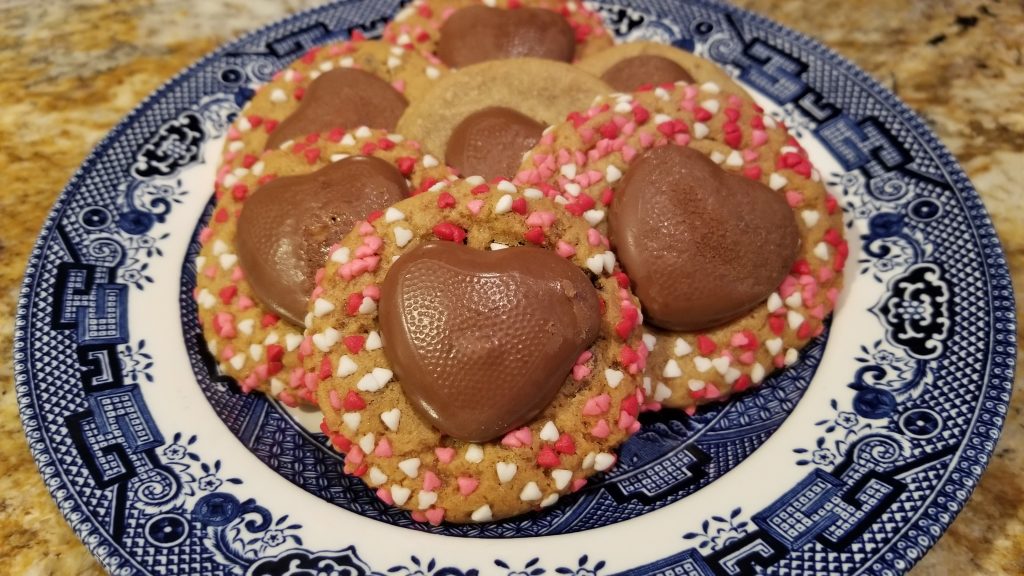 These cute little cookies were super simple but looked impressive when the family came home. They thought I had been slaving a way for hours to get them so pretty and perfect. My little secret!
Check out this quick and easy Valentine's Brunch before you go!
If you prefer a full dinner style theme night – never fear, click here! Or for a more kid friendly meal, check out this Lady and the Tramp theme night – completely with heart shaped meatballs! So fun!
Like what you read? Don't forget to subscribe to my mailing list to never miss an adventure!