Well, we've already established that I have embraced my Geeky inner core. I'm good with it – actually kind of like it at this point. When I visit any city, I love to see the "off the beaten path" attractions and pop culture elements that give a city its life blood – its vibe. That is everything from actual buildings to curiosities that have historical or cultural significance. Philadelphia did not disappoint. This city has it all! Let's get started on your chicly geeky tour of Philly!
Be sure to check out my chicly geek-ly guide to historic Philadelphia here.
Rocky Steps and Statue
Philadelphia has been the backdrop of several movies – the most famous of these is the Rocky series. You can run up the steps – all 72 of them – if you like. Be sure to bring a crowd of cheering onlookers to give you the support you need to get up those last few steps. Another must is taking a winner's photo with the Rocky statue at the bottom, and just to the right of the steps. Did I run up them? Bless my chubby soul, no!
Reading Terminal Market
This former train depot – yes, of Reading Railroad fame – now serves as a hip and trendy food court that is sure to have something for even the pickiest of eaters. Beautiful produce markets, tasty cheese counters, and fresh meat and seafood counters sit along side of Amish markets, bakeries and ethnic cuisine (Cajun, India, American and Italian to name a few). My goodness, Bieler's Doughnuts were enough motivation to have me visit again before I go. I got the banana cream and dream cream doughnuts and could only make it through ½ of each before it was just too much for my system. They were light, luscious and absolutely to die for – they were also the reason that I didn't Uber much that day and got in over 7 miles on foot. I have a feeling I still didn't burn those babies off. Of course there are also a number of Amish food stands that all smelled divine as well. You can't go wrong with a little take out from here.
Edgar Allen Poe House
Oh my goodness – to walk through the cellar that inspired The Black Cat, and stand in his private bedroom and study where he wrote Tell Tale Heart, and is rumored to have started The Raven was amazing. I felt like I could almost see him sitting at his desk, feverishly writing deep into the night – page after page, raven after raven. This particular National Historic Site is a must see for any Poe fan. You can wander around with a guided tour map that explains each room, complete with some time in the cellar! It smells like a cellar (I know, shocker), and that adds so much to the ambiance. You can almost see the black cat, a man burring his wife (yep, read the story) or hear the beating of a phantom heart.
Free Library of Philadelphia
What a treasure trove! This has to be the most under celebrated attraction in the city. Housed in the Rare Books branch of this massive library system, originally founded by Benjamin Franklin himself, are a wealth of treasures. My favorites include a cuneiform table from Ur – a small (2 X 2 inch) tablet that is a receipt for the trade of a small bear for a clown. Either someone really wanted that bear transaction to be protected, or someone did not want to have to give back a clown. Who know clown trading was serious business in ancient Mesopotamia. The branch houses the largest collection of original manuscripts of Charles Dickens in the world. Other treasures include original writings and artwork of Beatrix Potter, 3 sections of an original Book of the Dead from ancient Egypt dating to about 1000BC, a massive amount of medieval illuminations and volumes. One example was a pristine book of Hours that dated back to the 11th century. Amazing! Victorian children's thumb bibles and booklets abound and the collection only has a fraction of its treasures on display at any given time. I have saved the best for last. The main reason I went to the library was because they have the actual raven that inspired Poe's story. Yes, there was an actual raven. Originally it was the pet of Charles Dickens – yes, the author – and was allegedly a mean little cuss that like to bite children on the ankles and adults anywhere it could. His name was Grip, and he was adored by Mr. Dickens. When Grip passed, Mr. Dickens couldn't bear to part with him just yet and had him preserved. Grip inspired the equally meanspirited raven in Barnaby Rudge. Poe acquired the taxidermized feathered menace and later, it was the inspiration for Edgar Allen Poe's The Raven. Grip is now on display on the third floor of the Rare Books division near central city.
Love Park
The park has been refurbished and is now open and ready for visitors. This small green space has the iconic Love sculpture – iconic because it is the city of brotherly love – and is located a stone's throw from Reading Terminal Market. Take a short stroll down to the park and continue on to the Cathedral of Saints Peter and Paul to see the Latin version of the statue outside the Basilica. Amore stands proudly near the catholic church, welcoming all who pass by. Just in case you are look for it on a map, the official name of the park is JFK Park.
Philadelphia's Magic Garden
No, this is not a mushroom and weed friendly green space. Don't get excited. What it is, is a funky art installation that is tiled in mosaic patterns, glass bottles, and recycled items from floor to ceiling and in every direction. The fun and fanciful installation has a small admission fee and is one of the more eclectic art installations in the city – and this city is chock full of art! The museums are world class are all over the city. Mural Mile is also a great way to check out the pulse of the city as you stroll along vibrantly colored murals along a 2.5 mile stretch of the city that circles midtown.
Eastern State Penitentiary
Rumored to be the most haunted prison in America, this prison focused on solitude as a mechanism for self-reflection. Prisoners have very little contact with other humans and were encouraged to reflect on their errors as a means of remediation. Many of the prisoners went insane as a result of the solitude.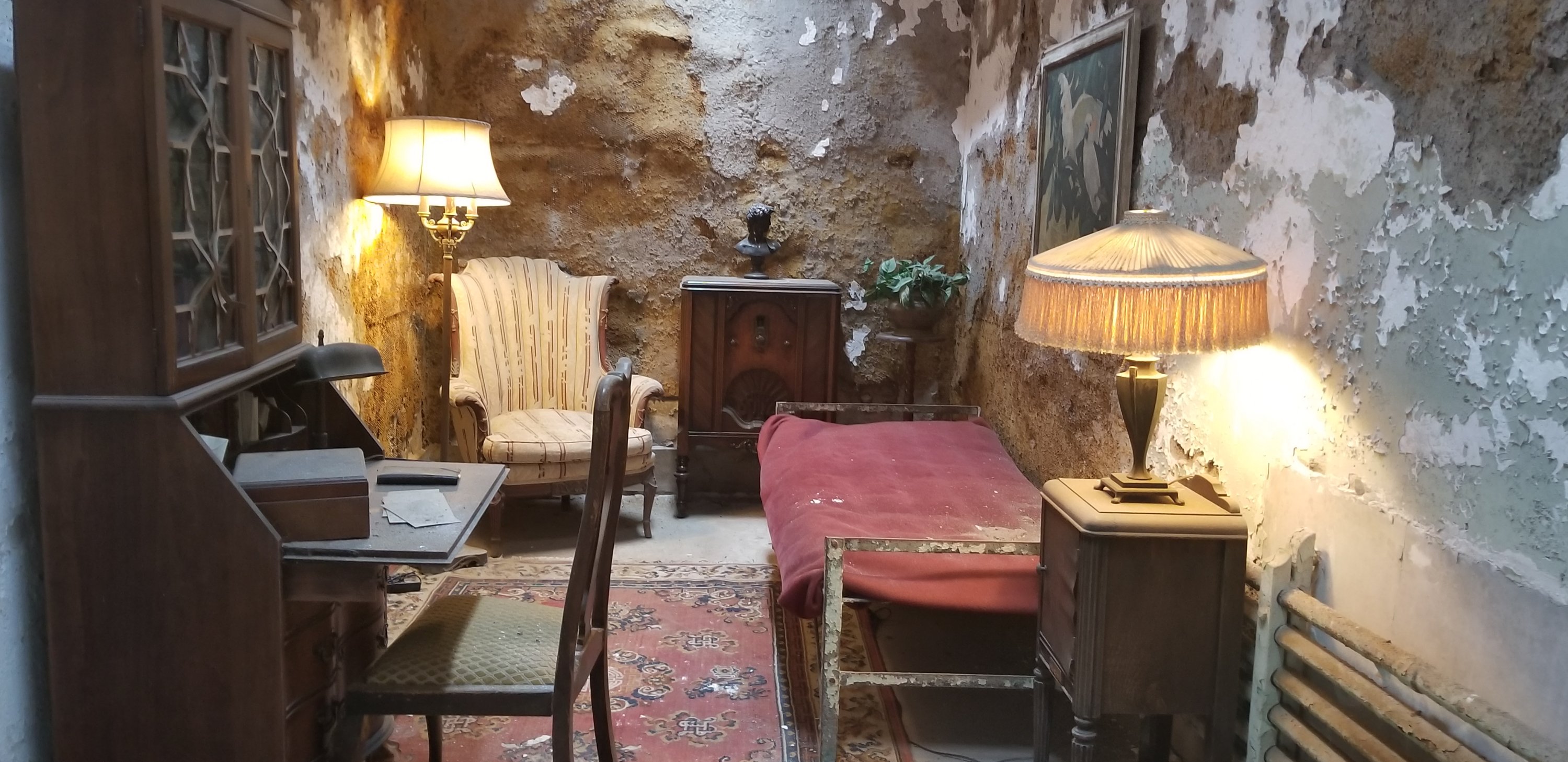 The most famous resident of this prison was Al Capone. His cell is decorated in period furniture as it would have been when he occupied it so long ago. The crumbling castle like structure is located in the heart of the city, and it open to the public for tours. Walk along the corridors to see portions of the structure as they would have been when the building was originally built. Other portions of the building are stabilized as a ruin, wall crumbling, furniture askew and cells that have succumbed to nature with vines and trees growing through the walls and into the cell – quite creepy! The beautiful itself is beautiful and formidable at the same time.
Legend says that the spirits of former residents who met their end within these walls still roam the property. Numerous ghost hunting shows have filmed at this location and its creepy reputation is not a secret. I visited mid day and was only spooked by the admission fee of $14.00, but who knows. If ever a place were to be haunted, this would be it!
Ben Franklin's Home Site, Print Shop and First Post Office
These three places are located steps from each other. The actual home is no longer there, though you can see portions of the foundation, privy ,well, and a few other pieces of the "foot print" of the home. There is also a steal beam art installation that provides an outline of the home over the old footprint as it would have been in Franklin's time. The print shop is a part of the National Park as well and is operated by park rangers that demonstrate the printing press, roll documents, and give interpretations. The original press is no longer in the shop, but a working replica is. The guides are ultra friendly and very knowledgeable. Just next door to the print shop is the first post office in the United States. This is still a working post office, also maintained as a part of the site. Buy some post cards and send them to your friends, family and send one to yourself to get the hand cancelled unique stamp that is used at this location.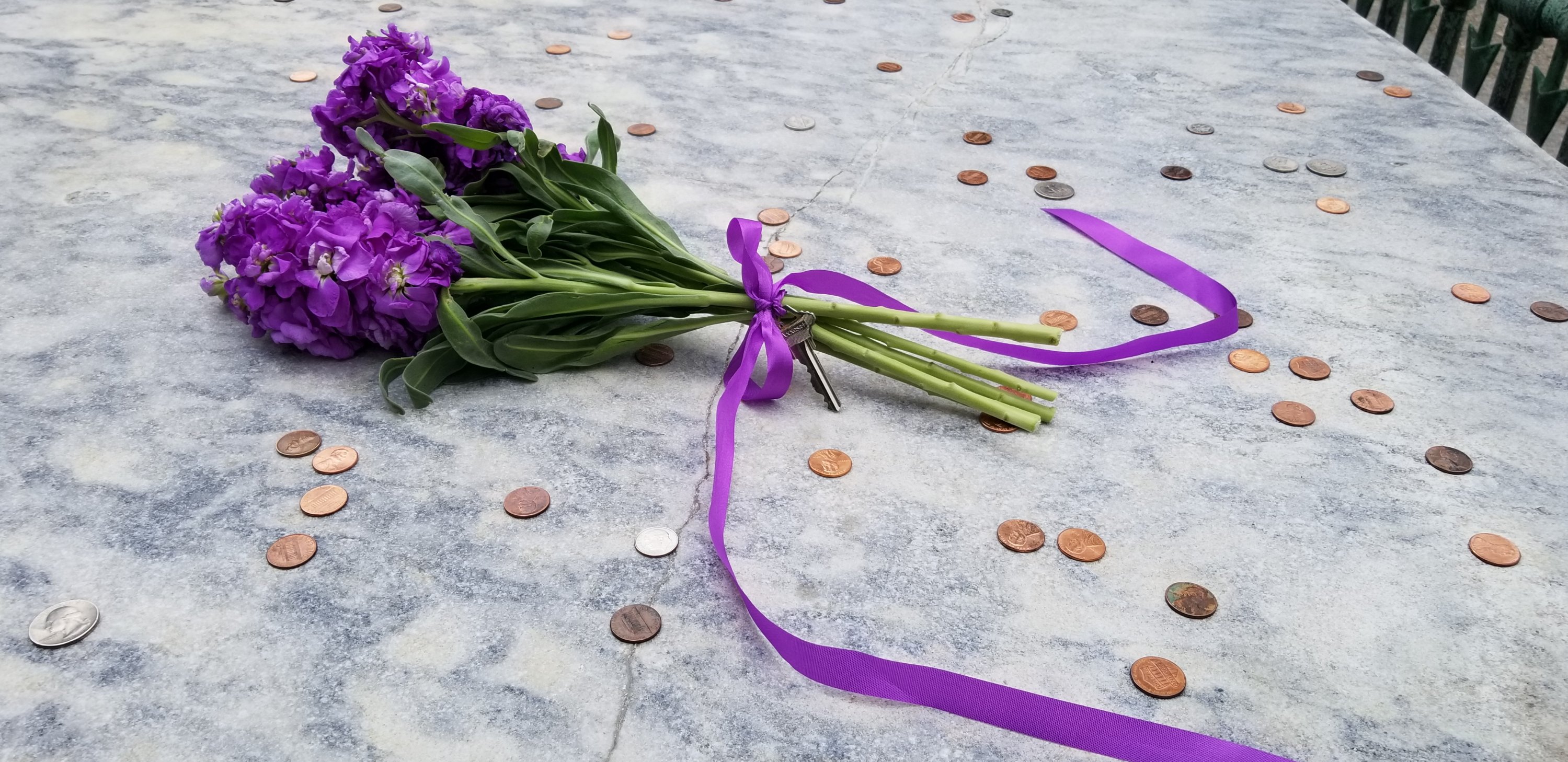 I couldn't help taking some flowers to his grave, complete with a key tied to the bouquet – bonus points if you can tell me why I paid homage with a key.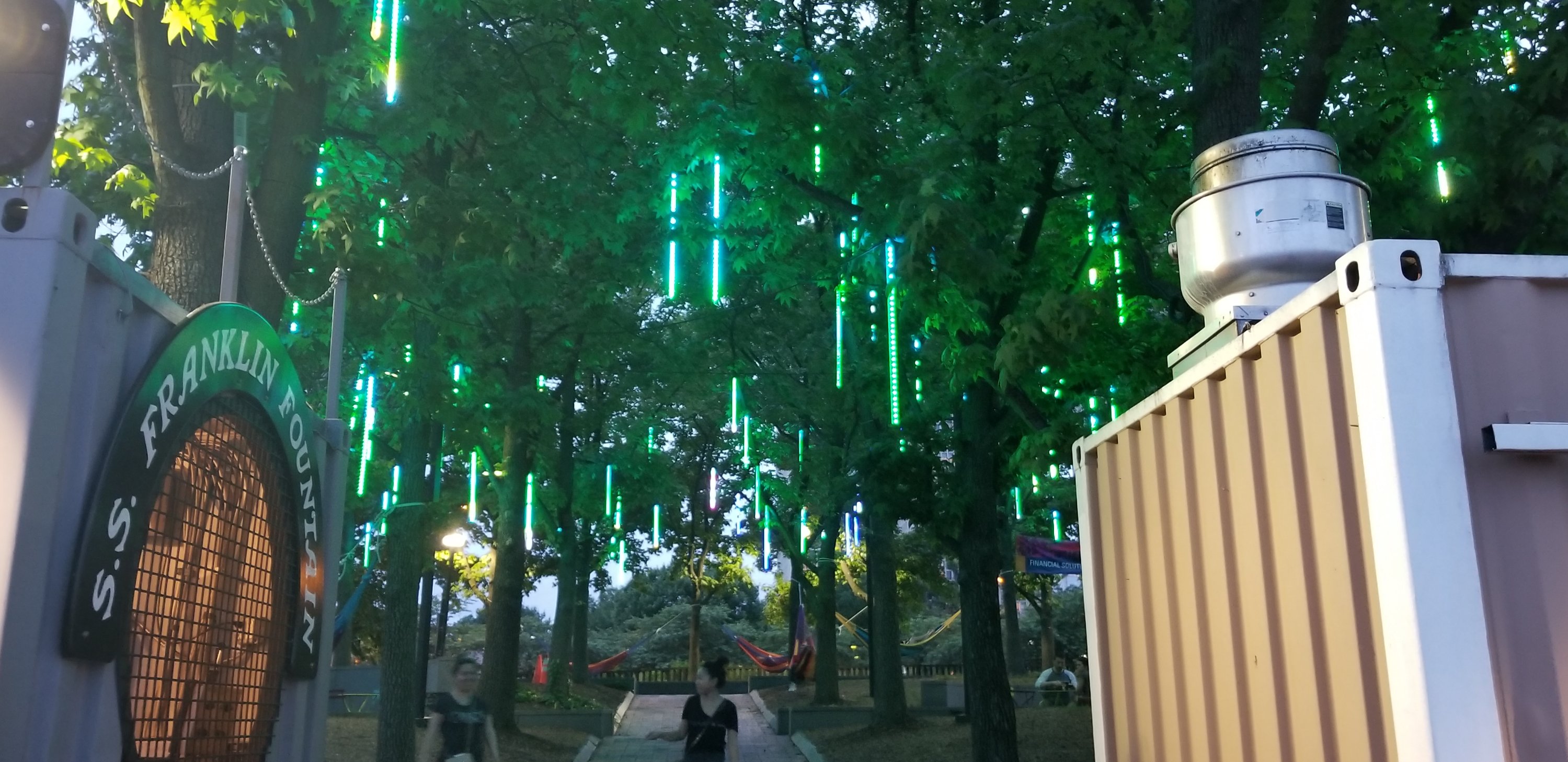 Penn's Landing
Penn's Landing is a family Meca along the river at the edge of the old city. The landing is currently in summer festival mode with a feris wheel and carnival setup, but transfers to a winder wonderland with ice rink in late fall. Dotted with maritime museums, the battleship New Jersey (the most decorated battle ship in American history), many eateries that range from funky to food trucks and high end as well.
I recommend the Moshulu, Fork, Market on Main and Happily Ever After, Franklin's Fountain as great options. The Moshulu are high end and two of the best restaurants in town. Market on Main us a lovely lunch spot, just beside Fork. I had a blast satisfying my sweet tooth at Franklin's Fountain – a fabulous period soda fountain that serves homemade ice cream and hand mixed sodas (many of the syrups are made in stores as well!).
I particularly enjoyed Happily Ever After Dessert Cafe – just a couple blocks down from Franklin's Fountain. This little cafe serves ice cream and Dragon's Breath!The ice cream is made by the scoop – with any mix in, flavor or topping you like, put in a bowl and frozen with liquid nitrogen! The result is a very dramatic scoop of ice cream! Dragon's breath is a mug of frozen corn puffs that smoke as the nitrogen evaporates. You eat them with a skewer and as you do, you can breathe "fire" (evaporating nitrogen) like your favorite dragon! I had the absolutely best time taking selfies and videos and sending them back to my tinies for about 45 minutes! Seriously, the most fun I have had in a while that didn't involve a controlled substance, a babysitter, or the law. Easy tigers, I kid.
Philadelphia had such an eclectic, artsy vibe. Art installations were everywhere, on every corner, and in every free space available – I really loved the pervasiveness of the art through the city – murals, sculptures, museums – Philly has it all! I really didn't expect a city with that much history to also have as much energy as it did. I can't wait for my next visit!