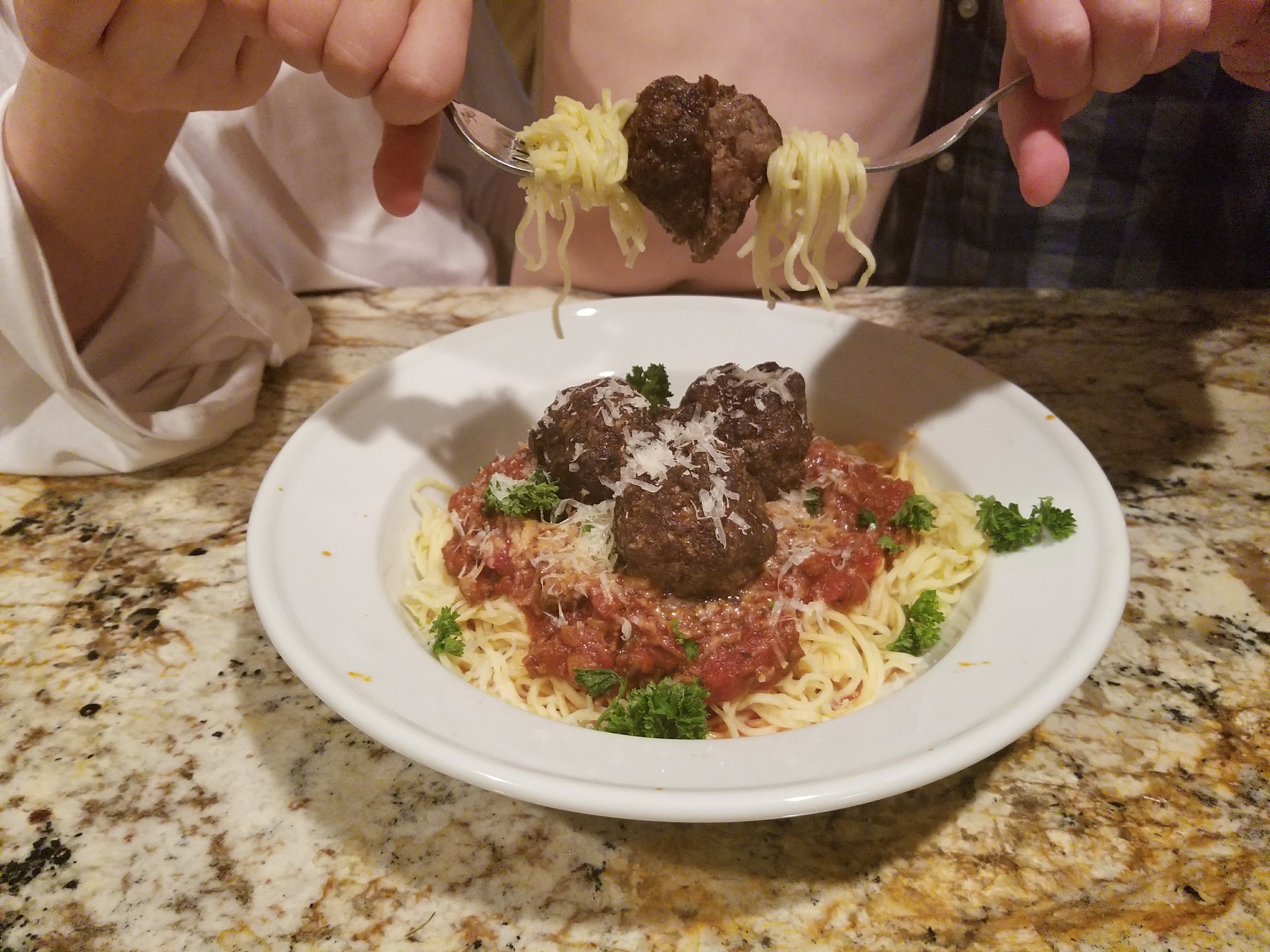 Yea!!!  It's theme night!  I get so excited about theme nights.  I love spending time in the kitchen with tinies, and I love that they do their best to "help" as much as they can.  Sometimes that "help" results in tiny little leprechaun like footprints in flour all over the floor, sometimes we wear about half of whatever it is we are cooking.  But you know, that's half the fun.



My crew loves pasta, especially if it is combined with meatballs in any manner.  Tiny likes the sauce, but would rather have plain pasta and meatballs – I just cannot relate to this in any way.  True Italians would hate the way I dress mine.  I am the complete opposite.  The more marinara the better!  I love a red sauce more than any other pasta topping – don't put vodka, cream or craziness, just give me a traditional, preferably vegi filled, marinara or Bolognese sauce any day of the week.  Teeny is more of a middle ground.  He wants pasta, sauce and meatball, but not in the overly saucy way that I do.  You have to admit, it's fitting that I like anything overly saucy – seems to be a theme of its own.  😊




Now, for the menu.  We have planned this theme night for the weekend before Valentine's day, so Tiny and Teeny are busily making Valentines for Grand ma' ma' and Papa Bear at our kitchen table.  I spent my day in the kitchen mixing and forming meatballs!  Yum!  I took about two pounds of ground lean meat, two eggs, 1 table spoon of garlic salt, 1 teaspoon of ground black pepper, 1 cup of Italian bread crumbs, and 2 tablespoons of Italian seasonings.  I mixed the base mixture thoroughly, of course using the old fashioned Southern method – by hand.  There is no better way to ensure that you have really gotten in there and spread the love – and breadcrumbs evenly throughout the mixture.  This is important when you are baking the meatballs because you don't want some to be over dry and others to fall apart.  Not only does it lend a great flavor, it is a binding agent, along with your eggs, to keep those tasty little meaty morsels in one piece until you are ready for them to meet their maker.  (see what I did there? Meet their maker? – it's the little things…)  Roll them out into balls – you can use any size you like, just adjust the cooking time from what I use for these.  I wanted larger meatballs for this dish, so I am using about 2 oz of my meatball mix per meatball.  Once you have them lined up like little meaty soldiers in your pan (I would suggest one with at least 2 inch sides so that you catch the juices as well as have a grip when you take it out of the oven – these little guys will give you a steam burn if you aren't careful!   A lovely marinara, provided by Ragu cooked as a Bolognese and some freshly grated Parmesan and parsley will top fresh angel hair.  I can taste the carby, garlicky goodness now!

Once the meatballs are done and resting, I move on to the caprese skewers and anti pasta that will serve as our starters.  I am simply using some deli salami, mushrooms, olives, and artichokes for a small anti pasta platter.  The caprese skewers are just as easy.  Take a four inch skewer (I particularly like these little bamboo numbers that I get at my local grocer on the paper products isle – very cute and they have a fancy little knot a the end instead of those little plastic fringes – I like the look of the bamboo and the finish of the knot) and begin with a mozzarella pearl.  Follow the mozzarella with a basil leaf, then a half cherry tomato.  You can stop at these three basic ingredients or continue layering if you want.  I will then use a basil and garlic olive oil pesto with a splash of balsamic vinegar to drizzle over the skewers.  Not only is it tasty, it is pretty with the bright green basil as the base of your dressing.  For a final special touch, I cut oval tomatoes on the diagonal and rotated one side up to form little hearts!  Cute, right?
I cheated on my bread and bought a roasted garlic crusty loaf at the grocery store.  We will have a little Tuscan seasoning, fresh roasted minced garlic (roast at 400 degrees for about 4 minutes – you want it toasted but not burn, and let me tell you from experience, garlic burns fast!) and some olive oil I picked up on my last trip to Spain (see that post
here
).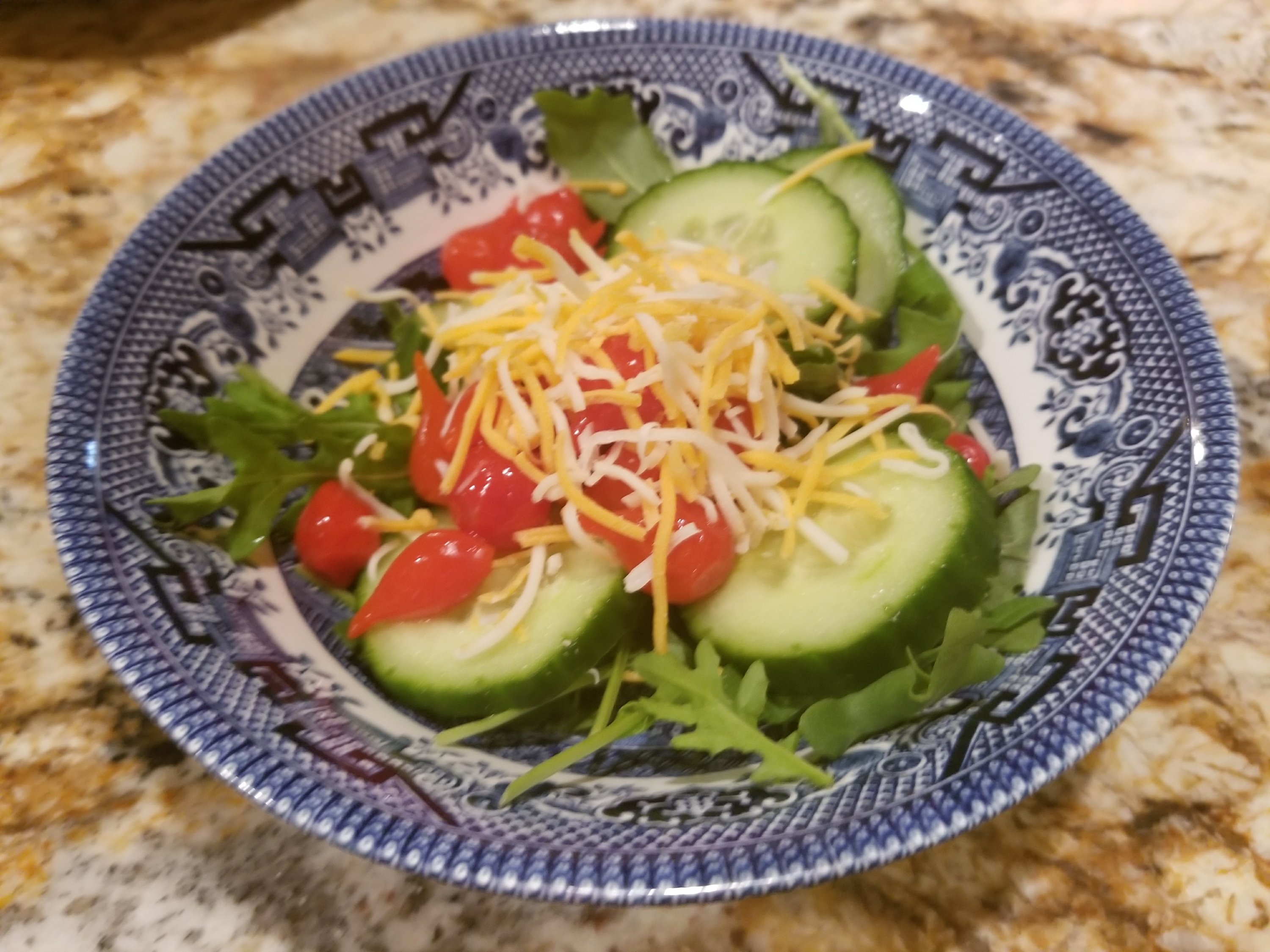 We are having a mixed salad with our spaghetti and meatballs tonight.  I am keeping it simple with a spinach base for Papa Bear and a mixed base for the rest of us.  A few fresh vegies (bell peppers, fresh mushrooms, cucumbers and cherry tomatoes) with Olive Garden brand Italian dressing and croutons.  I absolutely love that you can get this at the grocery store now.  The salad is half the reason we went to Olive Garden, so having the dressing at home helps me get leafy greens into the kids several times a week.
Finally, the good part!  For dessert, I am making Tiramisu.  Though my crew likes it, this addition to the menu is more for me than them!  Shhhhh, don't tell.  I bought lady fingers pre-prepared in the bakery section of my grocery store.  You are going to want two packs.  The remainder of the ingredients are:
12 oz Mascarpone cheese at room temperature (a little like cream cheese, but a little smoother, lighter and tangier) – I had to buy two 8 ounce containers. Truthfully, I'll make a little extra whipped cream and use it all.
1 cup heavy whipping cream
1 cup strong coffee or espresso – chilled
2 packs lady fingers
½  to 1 cup sugar
1 pinch of salt
Liqueur (Kahlua, Amaretto, etc. – something that pairs well with coffee). I don't use this, but put some Mexican vanilla and a little cocoa powder in the espresso to add a little complexity to the flavors.  See my post on Belize City where I stock up on Mexican vanilla here.
Cocoa powder for dusting and flavoring the coffee mixture.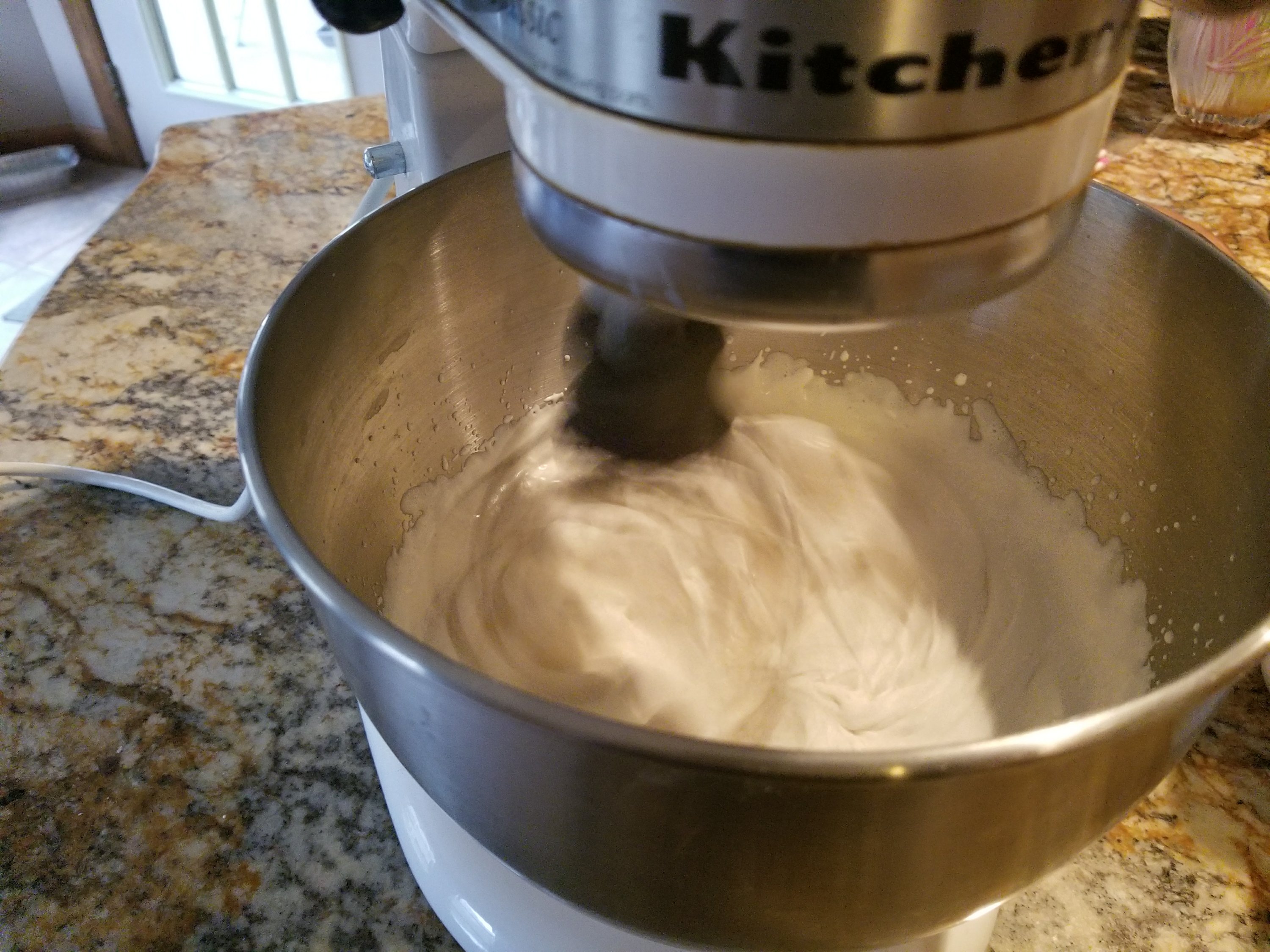 So, start with a chilled bowl.  You don't have to chill the bowl, but I think it gives me better results.  I take the metal bowl of my Kitchenaid stand mixer and stick it in the fridge before I make the meatballs.  Replace the bowl of the mixer and using the mixing attachment pour in your heavy cream.  Before mixing, add a splash of Mexican vanilla and ½ to 1 cup of sugar or Splenda depending on taste.  Add a pinch of salt to really add some depth to the flavor and set off the sweetness.  Whip on high until stiff peaks form.  Slowly fold in your Mascarpone little by little so that you don't remove the air from the whipped cream.
Place the coffee mix in a bowl and immerse your ladyfingers one or two at the time until you have a solid layer on the bottom of your square baking pan.  Metal or glass is fine – I like glass because you can see the lovely layers.

Layer the ladyfingers in the bottom of your dish.  Cover with a layer of your Mascarpone and cream mixture.  Dust lightly with cocoa and repeat until all lady fingers and cream have been used.  Dust heavily with cocoa powder to finish.  Chill before serving so that the Mascarpone and cream mix firms up a bit and the flavors have a chance to come together.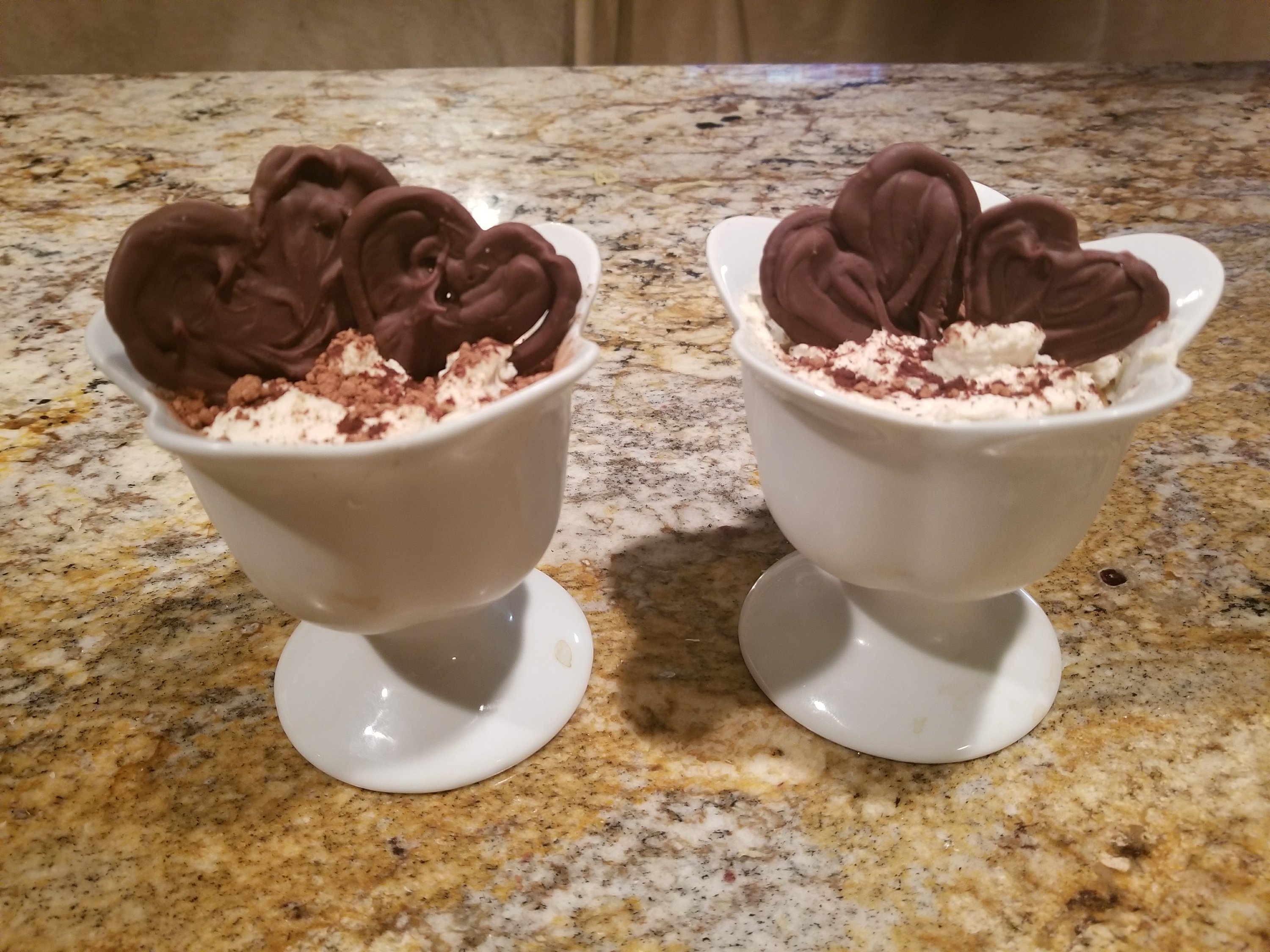 For a cute little treat, I am layering mine in dessert glasses so that Teeny and Tiny have their own individual desserts, just for them.  I piped melted chocolate in heart shapes on some foil earlier in the day, so I will top with little bits of chocolate love and serve chilled.
Now on to enjoying the movie with the kids.  I do love anything Disney as you will see by my theme night list.  You can check out our other theme nights
here
.
Happy theming y'all!  Leave me some suggestions of great family friendly ideas that you want to see transformed into a theme night, below!