In my last post on Savannah, I took you through some of my favorite locations in Savannah.  Truly, there are too many too name.  This post is focused on my favorite places to eat and shop.  Fun stuff!  The Momleficent clan does love to both eat and shop, so hold on tight as we breeze through a few of my time honored go to's and some new favorites.  There are so many excellent places to eat in Savannah.  We have a few that we love, but also like to try new ones each time we go.  Standards are the Shrimp Factory on River Street (more in River Street in a bit), The Cotton Exchange (also on River Street) and Vinnie Van Go Go's in the City Market (more on that in a bit too).  The Shrimp Factory and Cotton Exchange are terribly over priced, but the food is amazing and service is top notch.  If you are looking for a high end dinning option for a special occasion while in Savannah and love sea food, you can't go wrong with either of these.  Most of the restaurants on the river are great, so you really can't go wrong depending on your tastes and preferences.  Bear in mind that they are all going to be expensive if they are located on River Street or in City Market.


Located on the bluffs above the river quickly went from initial camp ground to point of commerce.  The area is called the Factor's Walk and is now peppered with hotels, restaurants and all manner of boutiques and shops.  This trip we took a chance on brunch at Two Cracked Eggs.  The restaurant is located near the Cotton Sail Inn and has a beautiful view of the Savannah River from the back tables.  We were lucky enough to be seated at one of these as massive freight liners slowly made their way down the river and out to sea – horns blowing a warning to smaller vessels as they dwarfed all other structures in sight.  The man cub was quite taken with the ships!


Papa bear had a Belgian waffle with sausage, tiny had a kids breakfast that was enough for both kids, and I started with a blue cheese Bloody Mary!  Drinks come in mason jars and are basically bottomless.  The Bloody Mary has a sprig of lettuce, large piece of crispy bacon and is topped off with three blue cheese stuffed olives.  YUM!  Who needs breakfast!  This girl!!!  I ordered the crab cakes eggs Benedict,  topped with folded scrambled eggs, homemade hollandaise sauce and placed on two homemade biscuit halves.  It came with grits (yes, I do love them!!!) and sausage.  Man cub and I "shared" this dish and there was still so much that I had to give Papa bear an entire half of his own.  What a lovely little place!  We had about a 30 minute wait, but it was well worth wrangling the tinies as we waited.  There are shops and antique stores (also overpriced) that are near by, so finding a  way to occupy some time as you wait is ever so easy.
Of course the first thing on the tinies' list after brunch was a visit to the famous Savannah Candy Kitchen which is located on the River in the old cotton warehouses just under Two Cracked Eggs.  The man cub had a hard time making up his mind about which chocolate covered treat he wanted to devour.
Tiny didn't have such a hard time.  She is a gummy lover through and through – a visit to the bulk candy room was in order for her.  Papa bear is easy to please with chocolate covered oreo's and I had a turtle.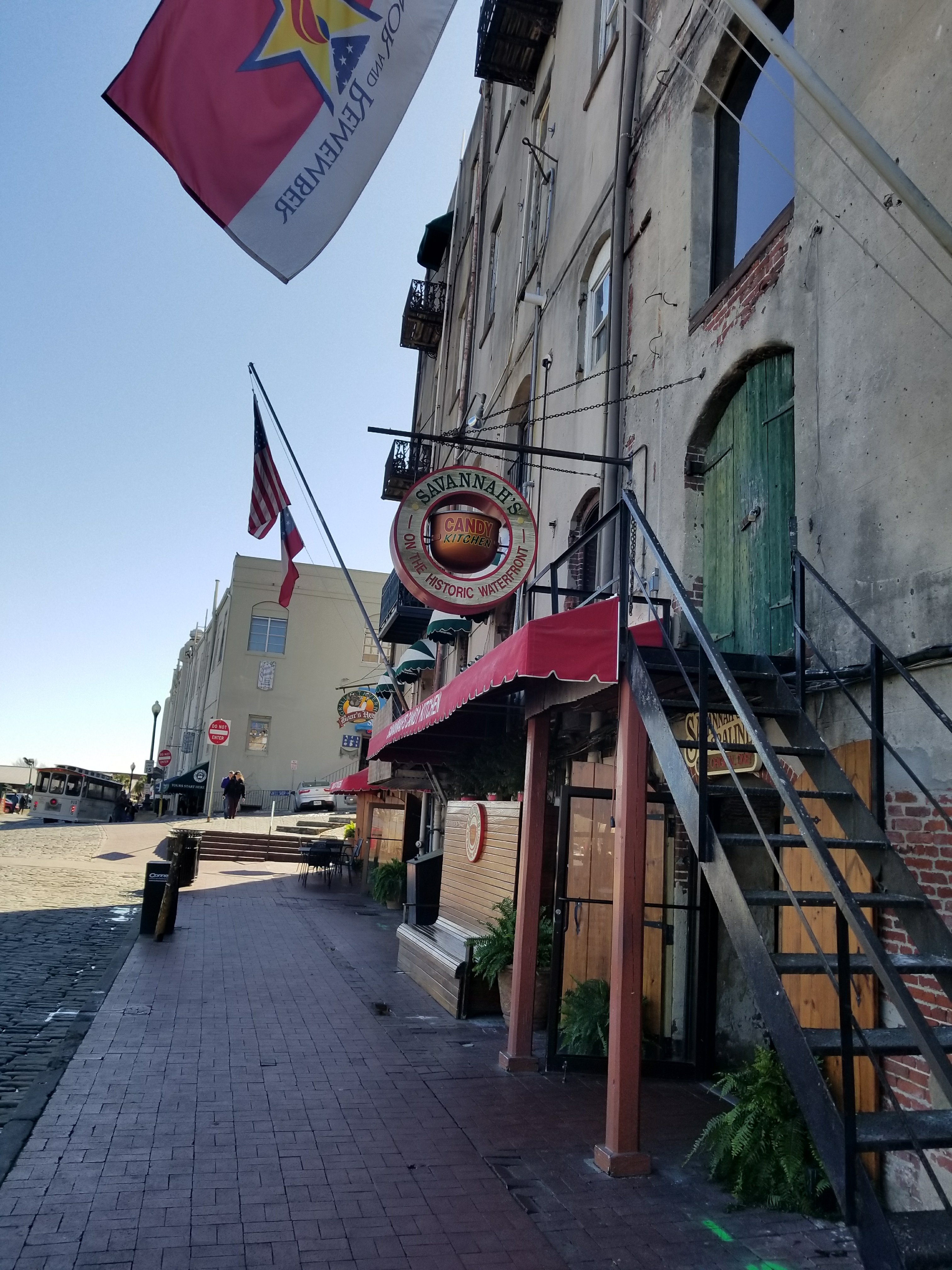 It is so hard to leave!  The smell of cooking caramel and freshly pulled salt water taffy wafts out into the street and lures you in – holding you hostage as you walk from room to room.  Treats in hand, we made our way down the street to the Savannah Bee Company.
Located in the section of River Street under the Hyatt Regency, the Savannah Bee Company has a host of products and services.  A visit to the store will allow you to sample craft meads (yes, they have a mead tasting), several varieties of honey, and body care products.  Tiny does love a sample.  😊  My favorites are the lavender honey, rosemary honey and whipped cinnamon honey.  The first two are for my teas – they add a lovely botanical hint to green and white teas along with the sweetness of the honey.  Tiny asked for a whipped chocolate variety this time.  I have a feeling that the whipped spreads are going to go well with English muffins in the morning.  I admit, I overbought a bit, but I have a couple of gifts for dear friends in the mix, so they weren't all for me.  I must admit, I do love their Royal Jelly Body Butter (especially the chamomile and myrrh scent) and basic hand salves.
I bought one of the small hand salves this time to put in my travel bag.  What a cute little tin of happiness!  The company has made a commitment to being as environmentally friendly as possible and saving the honey bee.  I swear, saving the bees never tasted so good!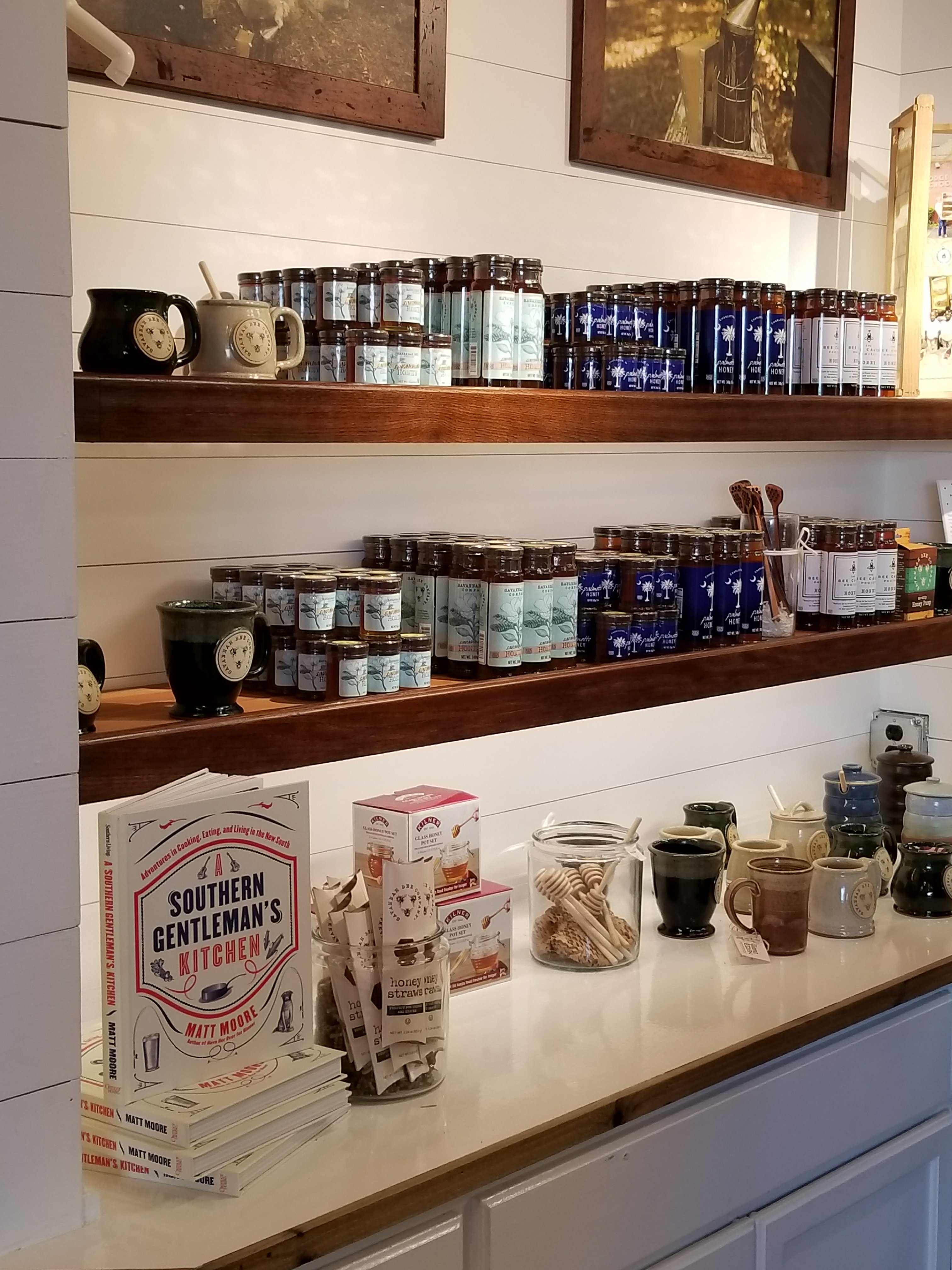 While there are tons of Starbucks, do yourself a favor and visit the Savannah Roasting Company while you are in town.  The fare is French inspired and the coffee is unbelievable.  For the quality of the food, the pricing is reasonable.  The man cub had his first pot de crème here during our last visit and absolutely fell in love.  Then again, what's not to love?  It is located on the edge of the Historic District on Liberty Street.  This is one of my favorite brunch locations for our last day in Savannah.  We get a little final taste of the charming parts of the city without going all the way down into the chaos of the Historic District.