Another summer vacation is in the books, and lots of great photos and memories are still being held close as I am STILL wading through unpacking and dirty laundry.  I know, more organized moms would have done it by now, but I'm not that girl.  Slow and steady wins the race, right?  Besides, after all the planning  and packing (catch those posts here and here!) I am TIRED (whole other post here)!  This year, we decided it would be a great idea to take one of our long mulled about explorations off the list.  Being the nerdy type, we love history related vacations and destinations with a historic bent.  This year we headed to Pennsylvania.  Not just one city, but basically all of it – in one week.  All I can say for myself is that it sounded like a good idea at the time…  And honestly, it was.  We had a fabulous week.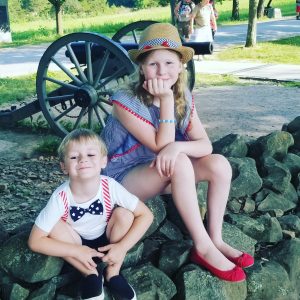 We began our little adventure in Gettysburg.  I wasn't sure what to expect.  I thought it would be pretty cool given the amount of history associated with the location, but I didn't bank on genuinely liking the town and residents as much as I did.  Yes, we did some really touristy things like dinner at the Farnsworth Inn and lunch at Battle Field Fries.  Let me be the first to tell you, they were both worth a look.  Battle field fries honestly does have some amazing fries.  They also stock sandwiches and other lunch ready fare in a quaint little store front just outside the National Park.  Hence the name.  The cheese fries were amazing and the BLT was quite respectable.
The Farnsworth House is a historic site that was actually used as a sniper's nest during the battle of Gettysburg.  Snipers were holed up in the attic shooting through a small peephole above one of the windows.  Needless to say, many lives were lost in that house, and rumors are that some of the souls still remain to this day.  Many guests have paranormal experiences and make reservations seeking them out.  I will go about as far as a ghost walk with colorful commentary, but not much more.  The restaurant is a little pricey, but the meals are authentic to the Civil War era and portions are massive.  The food was perfect, and many of the dishes reminded me of old southern dishes my Grandmother used to make.  They served spoonbread in little pots, which was sort of like a cross between a corn bread and a bread pudding.  It was lovely with some apple butter.
My favorite dish of the night was actually the one plate that I got for Tiny and Teeny to share – and there was still enough to box up for later!  They had the roasted chicken with mashed potatoes and green beans.  The chicken was absolutely perfectly cooked and seasoned.  It is well worth a splurge to visit this historic inn.  We also booked our ghost walk through the Farnsworth as they came highly recommended from the waitstaff at Battlefield Fries.  We were not disappointed.  The tour even went up into the attic for some spooky stories before walking about the old part of town and exploring some of the battle field sites that are actually in town.  I don't know about you, but I never realized that the battle was raging in and amongst the houses and establishments of the town and not just in the pastureland around it.  The photo below is of some "ghostly" boots that can be seen when you take a photo.
Gettysburg is no New York City, but that is part of its charm.  There are quaint boutiques and some shopping, but mainly in local shops, which are our favorite.  One that particularly stood out to us was the Purple Piggy, a toy shop in the touristy part of town nearest the National Park Entrance.  They carry modern, but also nostalgic toys which took me right back to childhood.
Our few days in Gettysburg were lovely, and we have already decided that Gettysburg will be a destination of its own in future years.  We based there for three days, one of which we used to take a day trip up to Hershey's World of Chocolate.  Oh – My – Sugar Coma!  Seriously, these folks pass out chocolate like they were, well, candy.  The tinies wanted to do everything, of course.  We started with a trolley ride around the sentimental parts of town related to Mr. Hershey's life.  It was quaint and sweet and a little funny.  I enjoyed it, but could see how you might get a little tired of the sing along after a bit.  Inside the hall, we bought tickets for the chocolate tasting experience – a highly produced, engaging and well done "show" that mixed entertainment with education in a way that the kids were completely engaged during the entire production.  My biggest struggle was to keep Teeny from eating all the chocolate samples we were supposed to grade in one bite.  We were slated to make our own candy bars, but the machines went down.  The staff were so lovely and offered a refund of that portion of the ticket.  They couldn't have been more accommodating.  We included a lunch ticket in with our package and actually had a better lunch than I banked on.   I knew we were going to get food court quality, but it was better than anticipated with some very fresh flavors and unique tastes on offer.  I like the chocolate cherry bread, just maybe not on my sandwich next time.  I had to try it, and it was great, but not with turkey and cheese.  Oh well, live and learn.
After Gettysburg, we made our way through Lancaster County (Amish Country) and, of course, had to stop for lunch to see what the fuss was all about.  We selected a restaurant in Bird In Hand community which is lovely.  We didn't expect to see as many Amish families in town as we did, but it was lovely to meet and talk with some community members.  There was even a meeting house in town that was originally built in the early 1700's and is still used today.  My favorite part of this portion of our drive was simply driving through the town and surrounding farm land and looking at the absolutely beautiful landscape.
We arrived in busy Philadelphia in the early evening and checked into the Home2Suites – a Hilton property in City Center.  It was directly across from Reading Terminal Market and had great access to all of the historical sites within a short walk or shorter Uber from the hotel.  I had been to Philadelphia a few weeks earlier for a conference and had a bit of the lay of the land.  Tiny is a history buff like her Papa Bear and I are, so we had the best time walking through Independence Hall, along the narrow streets of Society Hill and exploring the Betsy Ross house and story times in the old part of town.  History is so amazing – you think of historical figures a noble and virtuous and forget that Ben Franklin was a regular party when he was in the mood to be.  I tend to forget that they were people with lives and families, not just historical figures.  Being in their city really brought home the distinction for me.  Check out my Chicly Geeky posts on Philadelphia History, Food and Quirks before you go!  Of course I had to take Tiny to the Poe house since it is right in Philly and he is one of her favorite authors.  She had a blast.  The National Park Service does a really good job interpreting what is, essentially, a bare house.
On the ride home we went through Baltimore, and of course, had to stop at Poe's grave to say hello.  We didn't see much more of Baltimore than the cemetery, but it was so beautiful!  Some of the graves were quite old, and all of the graves were lovingly cared for.
 We also made a quick stop at Ft. McHenry, the location where Francis Scott Key penned the Star Spangled Banner.  We were lucky enough to watch reinactors drill on the fields in costume as we were there.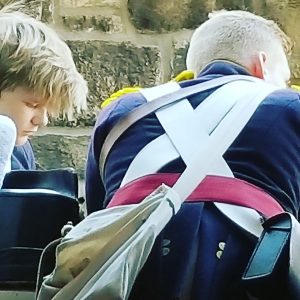 As we made our way back South, we were able to stop in for a very quick peek at a couple of monuments in Washington DC, per the request of my little History buff, and made a special trip down to Pennsylvania Avenue to show her the White House and Washington Monument.  For me, it was quite special to have her tour Independence Hall, the place where the founding documents of our nation were drafted, the original seat of government and revolution.  Then to be able share her first trip to the White House, and Washington with her, our current seat of power (which is, thankfully, proving to be bigger than any one individual who occupies the Oval Office) and government.  The trip came full circle as she learned about the origins of our nation and was able to see the current manifestation of the dreams of our founding fathers.  It was all pretty special.  Honestly, it made not getting home until close to midnight worth it.
As tired as I am, I wouldn't trade a single moment of those memories for anything in the world.