I'm getting ready to go out of the country again next week, and I am in full prep mode to keep the home fires burning while I am away. See what all goes in to my prep to spend time away here. The amount of prep that goes into getting ready to go out of town for a week and leave Papa Bear and the tinies to their own devices is exhausting. I have so many things to do. Not only do I have to get all preparation done for the workshops and activities I am delivering, I have to get the kids and Papa Bear set up so that the tinies know more than Chick fil A and Taco Bell while I am away. Sorry, Taco Bell beans don't count as a vegetable.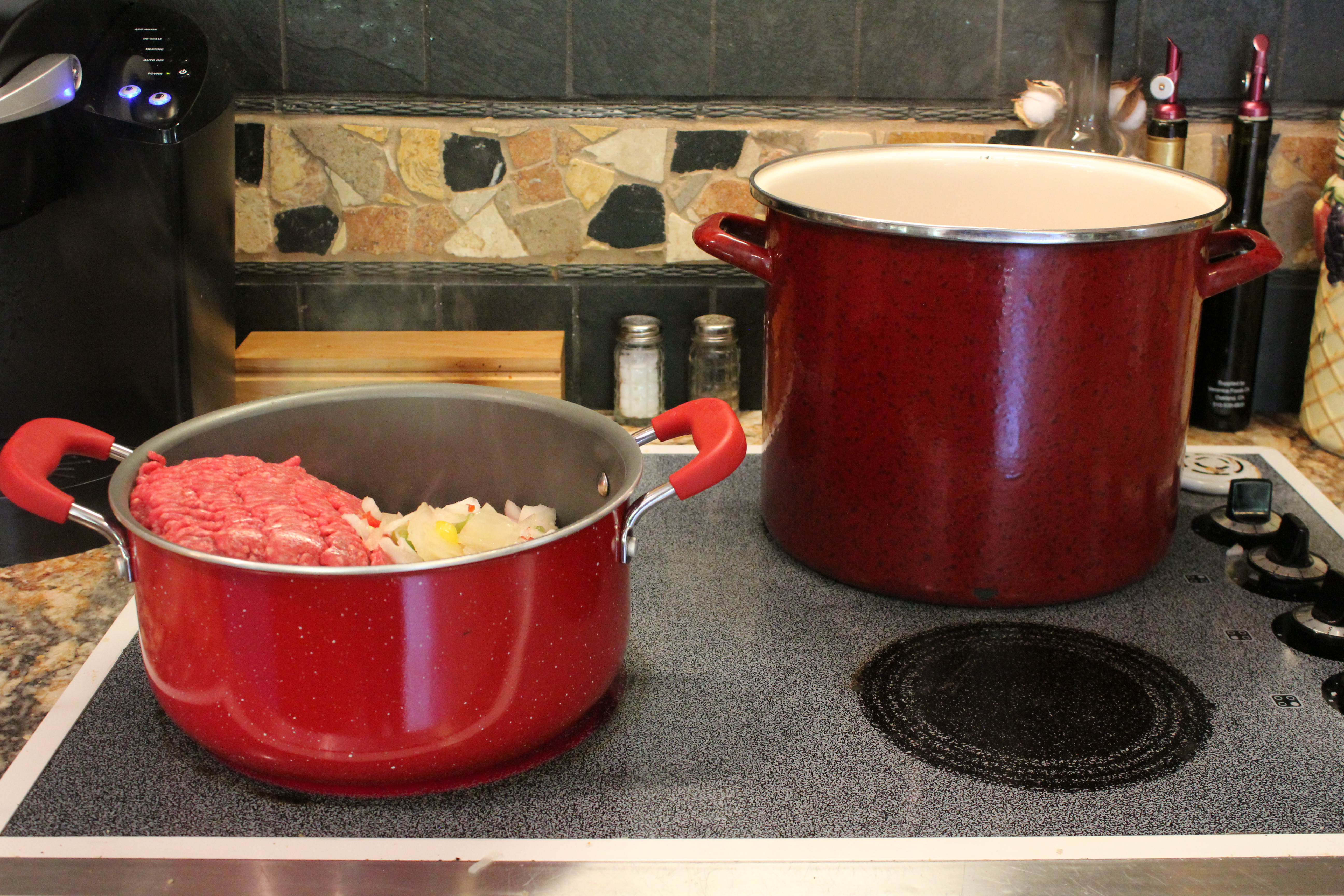 This post is going to focus on the cooking that I do to prepare for a week away. I tend to bulk cook on the weekends even when I am home just to make the work week easier and run more smoothly. I am much less likely to stop and grab pizza or something equally as unhealthy (yet tasty! Oh the quandary for a middle aged mom who loves to eat!) if I have a plan and a head start on meal prep. Usually once a month or so, one of our local grocery chains has ground beef on sale and I stock up and cook it all or prep it all at once for the freezer. You would be surprised how easy taco night becomes when the meat is seasoned, cooked and thawing in the fridge when you get home. Just warm, add sides and done! The same chain generally has chicken on sale a couple of weeks later, so the same process will repeat with chicken dishes. This happened to be beef week, which works out since Papa Bear is a meat-a-tarian.
For this session, I bought 11 lbs. of ground beef. I cooked 7 lbs. and seasoned each with salt, pepper, garlic and onions as it cooked. I admit, I cheated a bit with onion and pepper blend. I chopped two large, sweet, yellow onions very finely, but added one bag of tri pepper blend because I love the different colored peppers in my final products. I added mild (I love spicy, but my 3 year old has his own opinions!) taco seasoning to two lbs and bagged each individual pound in freezer bags. I then bagged 3 one pound freezer bags with seasoned ground beef that I can use for spaghetti sauce, sloppy joes, shepherds pie, or number of things.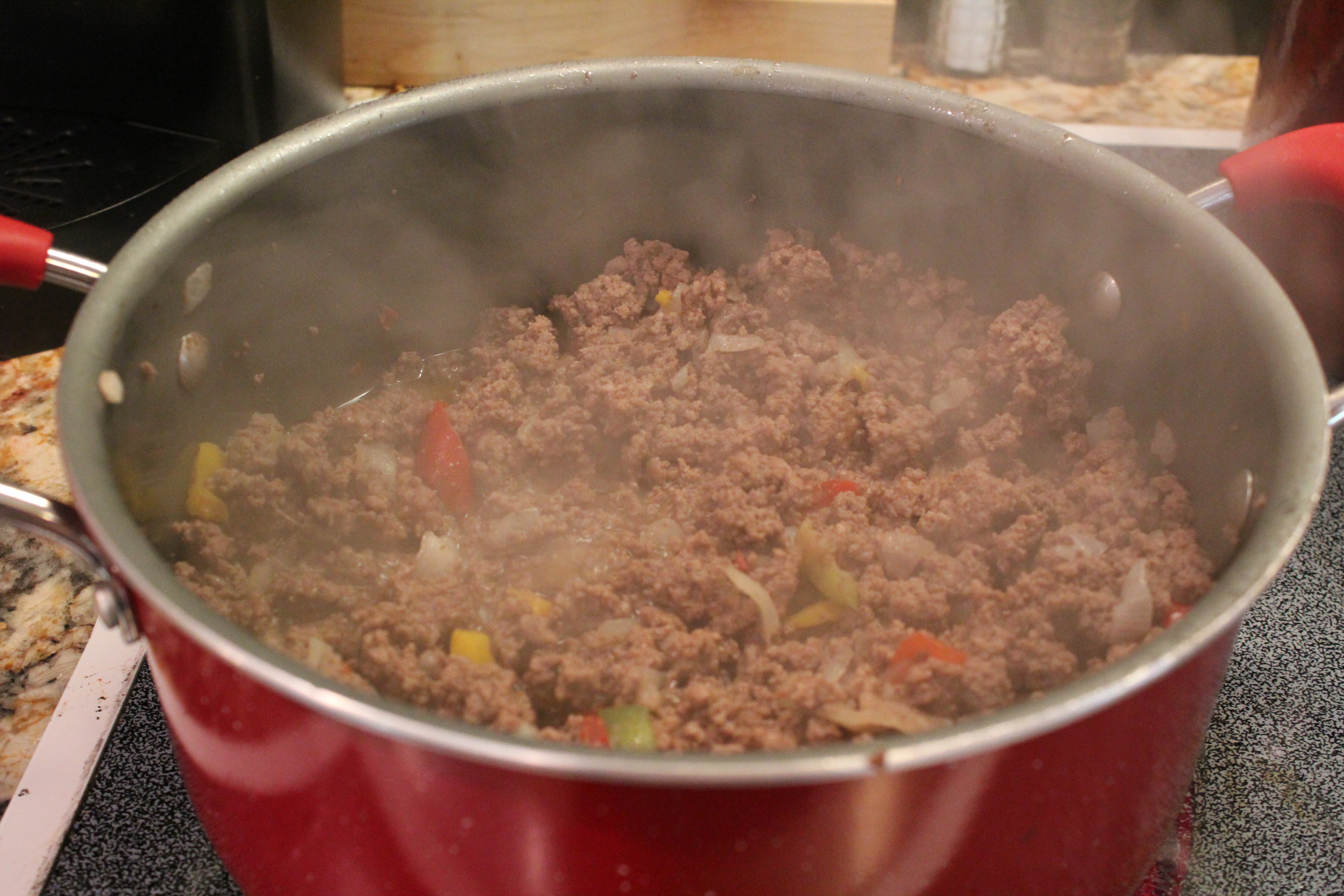 Papa Bear and the tinies also like English Pea Casserole. This is a very simple concoction. Take two pounds of your cooked, seasoned ground beef and mix with two drained cans of English peas and 1 jar of Ragu cheddar cheese sauce. Mix well and divide into two metal cake pans. Wrap tightly with aluminum foil, label and pop in the freezer. When you are ready to cook, top with crescent roll rounds (instead of rolling the rolls, cut ½ inch rounds – like you are slicing cookie dough from a pre made roll) and bake at 350 degrees until the rolls are golden brown. This is basically the ONLY way I can get all three of them to eat their peas with no fuss. I had never had this growing up, but Papa Bear wanted me to make it for him because his grandmother used to make it. It is surprisingly tasty!
My next premade freezable is enchiladas. These are a no brainer. I usually get about 5 enchiladas in each metal pan, so adjust your pan size according to your guest list. I average one pound of ground beef per pan of enchiladas. This time, I mixed it up a bit. I found flank steak at a REALLY good price, so I bought a pack. I sliced it into fajita strips and cooked with salt, garlic and a couple of splashes of worcestershire sauce. You would be surprised how much flavor a few dashes adds to an inexpensive cut of meat. Once cooked, I chopped into small cubes and made one pan of steak enchiladas and one of ground beef. To assemble the enchiladas, I used 10 round flour tortillas, one can of refried beans, shredded cheese, one pack of mild taco seasoning, and one large can of enchilada sauce. I placed about two tablespoons of beans on each tortilla and spread down the middle. On top of each smear of beans, add your meat of choice, cheese to taste, roll and place in pan. Cover enchiladas in sauce, wrap tightly with aluminum foil and label. Two dinners are ready to go.
Finally, I prepped hamburgers. I like to use a one gallon freezer bag for these. I cut 4 lengths of wax paper that are about 6 inches wide and the length of the roll. Pat out 8 hamburger patties from your ground beef. Season with salt, pepper, garlic and Worcestershire sauce on both sides. Lay the patties two high and slide both stacks into your freezer bag. I like to add two more lengths of wax paper on top to protect the meat. Label and into the freezer they go.
One of the most important things you need to do when bulk cooking is make sure to label the bags and containers as you go. It is very easy to forget what is in each container after they are sealed. Keep a sharpie on hand and quickly jot the recipe contents and any directions on the top of the container. I also like to make a list of any additional items I am going to need on each baggie so that I don't forget to have them on hand. The directions are more for Papa Bear's convenience than mine, but it works.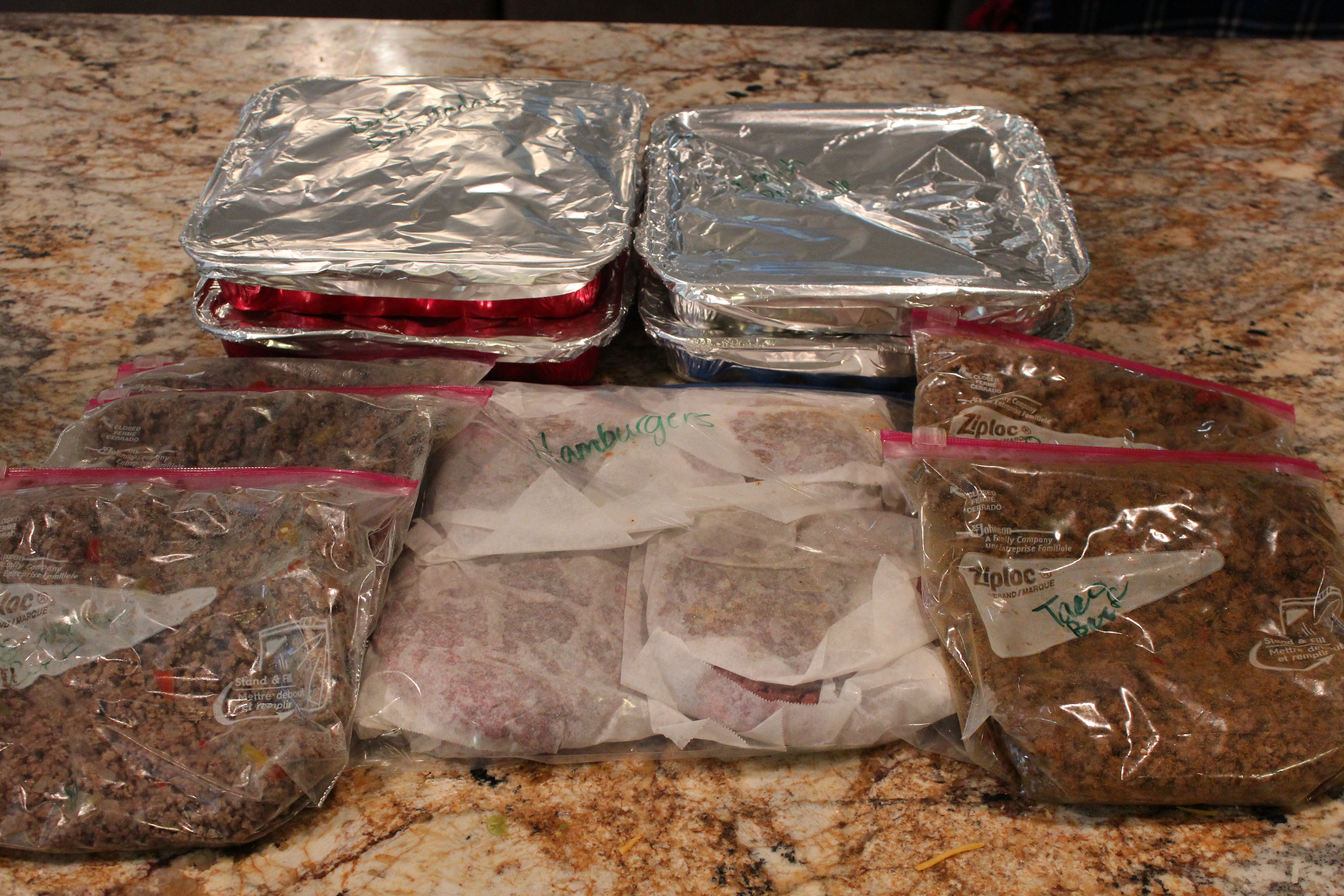 We are all set for my first of two weeks away this month. We still have a few recipes from the last bulk session in the freezer for variety, so there should be no excuse not to eat healthfully while I am gone.