When I think of shopping in Paris, I imagine strolling through boutiques, tree lined streets with quaint shops, and very high prices.  While you can readily have that experience if you like, you don't have to sacrifice quality gifts for your friends and family at home for less expensive price tags.  One of my favorite places to get gifts for my family is the Monoprix.  I know, those of you that know Paris just groaned a little.  What I love about shopping at a grocery store rather than a boutique is that you get pricing for Parisians rather than tourists, and you get a peek at the culture rather than some little Eiffel Tower shaped dust catcher.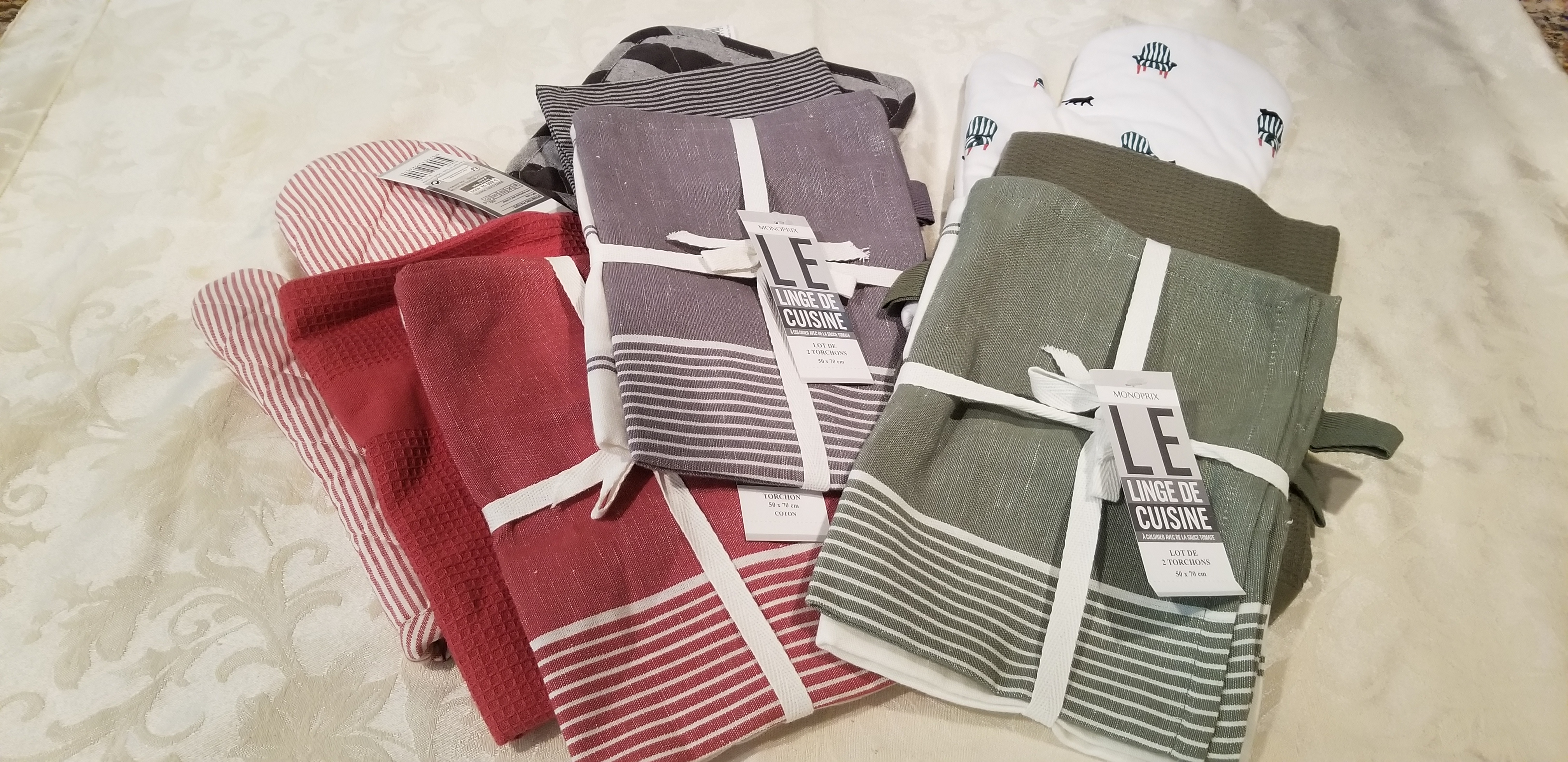 One of my favorite gifts for the foodies on my list are kitchen linens (they are such great quality there!) and spices.  While abroad this summer, I did a huge amount of Christmas shopping.  My siblings love to cook.  While they are not hard core foodies, they spend a lot of time playing around with dishes and flavors.  So, naturally, instead of t shirts and scarves, they are getting kitchen towels, mitts, pot holders and spices.  They are going to LOVE their Christmas presents (hopefully they are not reading this post…surprise, guys!).  I picked out colors that I thought would match their kitchens and personalities, and then headed for the spice isle.  The herbs de Provence are different in France than they are here.  They have a more botanical flavor because of the added lavender that really lends itself to fish and chicken.  The other thing I look for on that isle are mustards.  Yes, mustards – I know that they are more associated with German cuisine, but the French have made some of the most delicious flavored mustards that I have ever had.  I love the basil flavored one for salad dressings.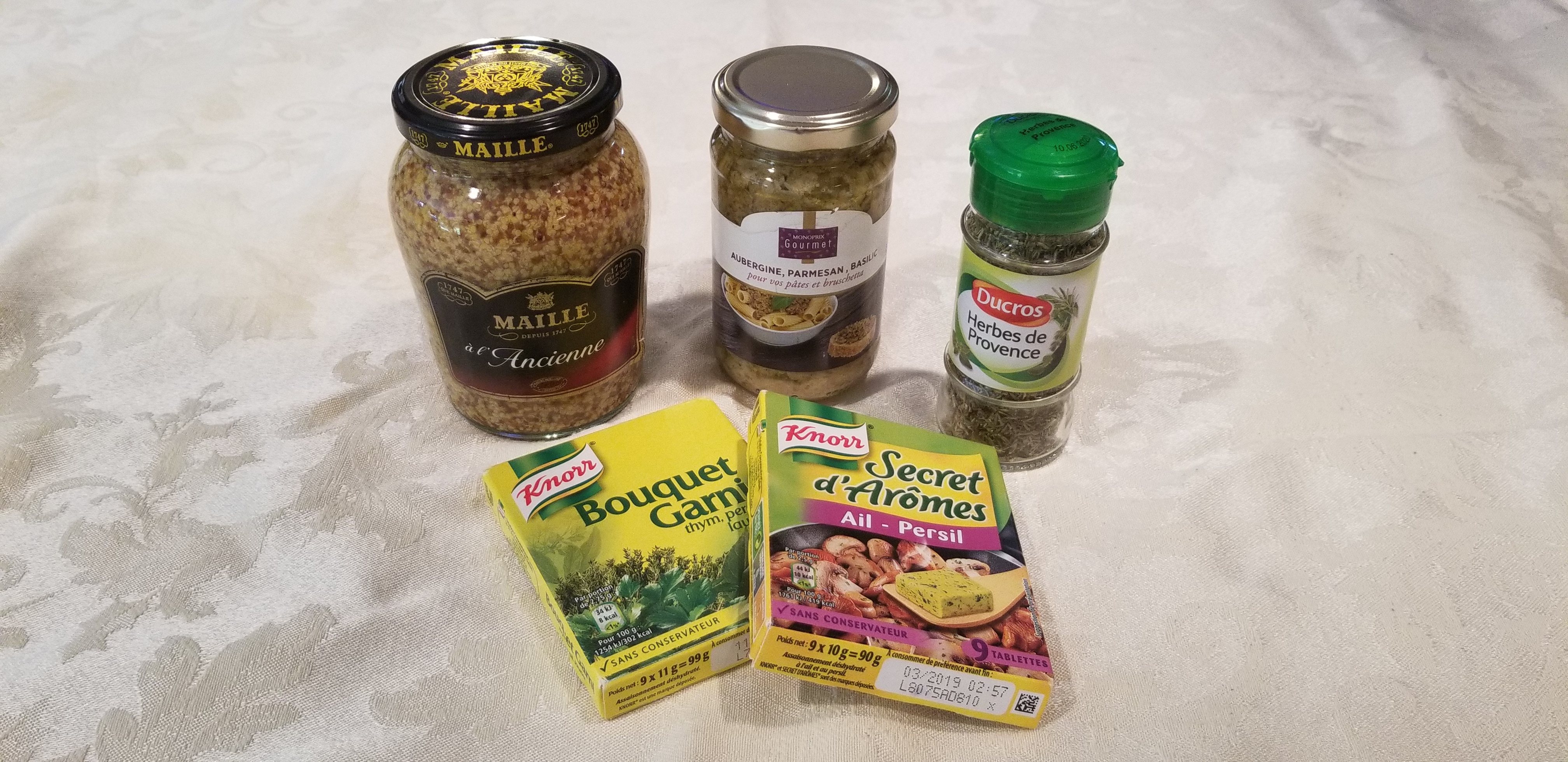 One rule of thumb I have is to never buy and cart back items that I can get in the states for a similar price.  For that reason, I don't buy huge amounts of products that are the same as or similar to items that I have access to every day.  I only pick up items that I can't find.  I found some delicious smelling seasoning cubes that look like large chicken stock cubes but are garlic and herb flavored.  I have not seen those anywhere, and they are light, compact, will travel well, and complement the herbs de Provence and kitchen goodies in my little gift selection for Christmas. 
I also love to look in the bath and makeup sections.  French cosmetics are some of the best in the world (think Sephora and all of the girlie deliciousness there!), as are their soaps.  You can get lovely flower waters, French milled soaps and bath mitts (the European ones are closed on three sides like a little mitt rather than a flat cloth.  They smell divine and leave your skin smooth and soft.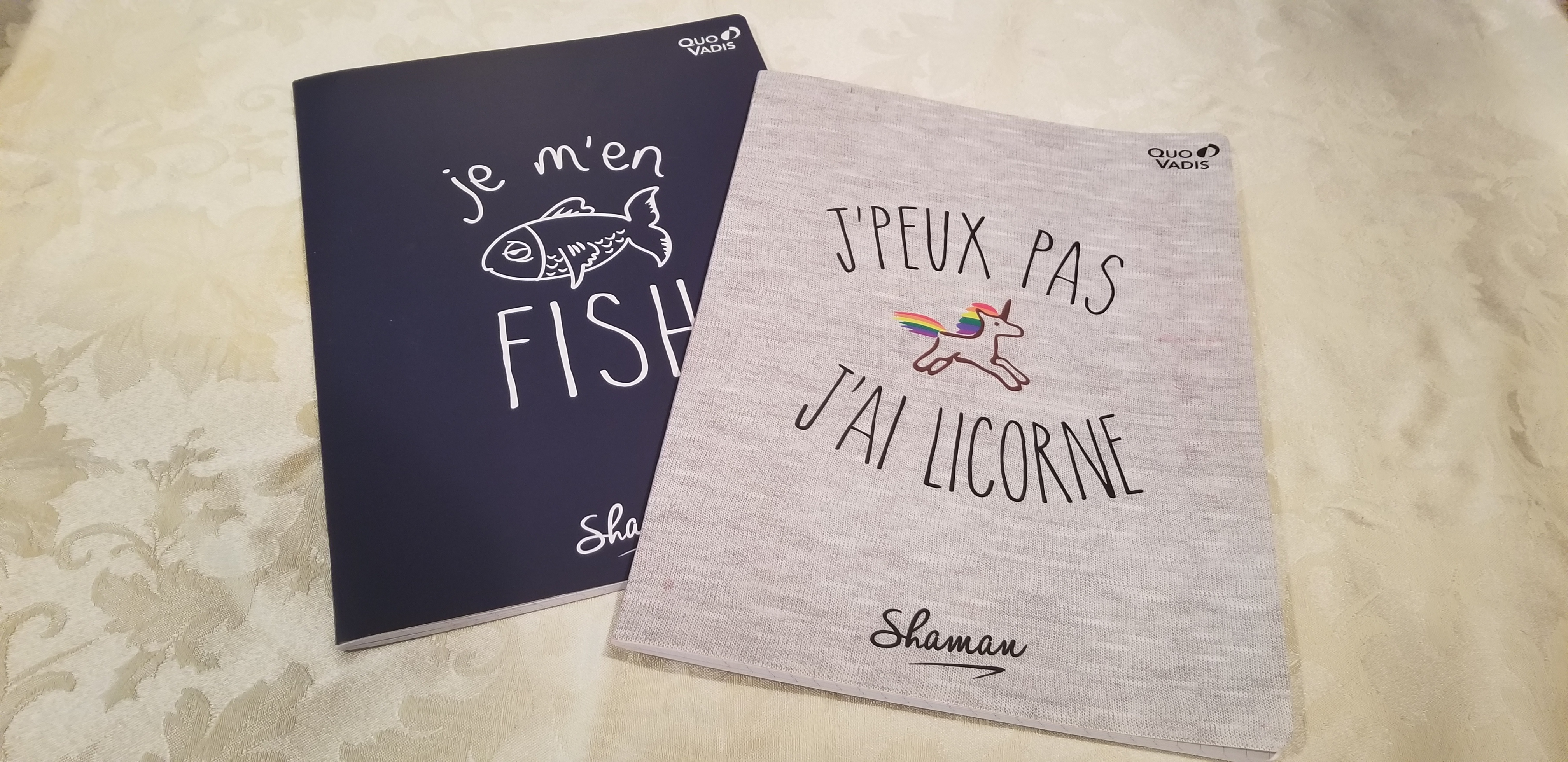 Finally, I head over to the stationary section.  Why in the world would I buy notebooks in Paris rather than just getting them at home?  Because of 1. The novelty of the designs and French lettering and 2. Because the lines on the paper are different.  They have a sort of micro grid rather than straight lines on a page.  My sister in law loves them, so I like to pick up some for her when I am there.  This set was so cute I couldn't decide which one I wanted to bring her, so I got both.  For those of you who don't read French, the unicorn one is my favorite and reads "I can't, I'm a unicorn."  I'm surprised Tiny has attempted to commandeer it from Auntie yet.  We still have time.
You can score delicious European chocolates, beauty products, and cookies and candies for pennies on the dollar compared to the US.  If you can spare the room in your luggage, and don't mind saving a little pocket change for a glass of wine later that evening (and who does?!?!), you will want to swing by and check out the finds at your neighborhood's Monoprix.
Where do you get your favorite souvenirs?