You have probably figured out by now that I am obsessed with Paris, and all things French.  Well, you are not wrong.  In this final (well, for now) post on my latest trip to Paris, I want to take you to my other favorite shopping location (read about my favorite here) – the pharmacy!  Yes, the pharmacy!
These pharmacies are not like the ones you think of in the US.  There are no rows of toys and groceries, no cheap make up, none of that.  These pharmacies are filled with elixirs and potions, face creams and serums – all the best french cosmetics and beauty products – right at your finger tips!  I love that French cosmetics are largely chemical free, very easy on the skin, and actually WORK!!!!!  My favorite brand is La Roche Possay.  Now, I know I can get many of the items in the states, but they are SO expensive that I can buy twice as many of them in Paris for a fraction of the price – and know that I am getting the French product, not a distributed or fake product from an online retailer.
Now what do I buy?  I'm glad you asked.  My favorite products, the ones I stock up on each time I visit, are below.
All things La Roche Possay – but especially the items in this first photo.  Pictured are micellair water – if you haven't gotten on the micellair band wagon yet, you need to.  This cleaner has micro droplets of oil that bond to the grime on your skin and lift it away, leaving your skin soft, smooth and clean.  I use Neutrogena make up remover wipes first, then follow up with micellair water on cotton pads to get my skin clean each night.  I then put on my pigmentclar serum (the little bottle on the far right) to even out skin tone and try to get rid of those stubborn brown spots that I am getting as I age.  I hate them!  The other items pictured are a cleanser and makeup remover and pressed powder compact that I tried for the first time on this trip and am now in love!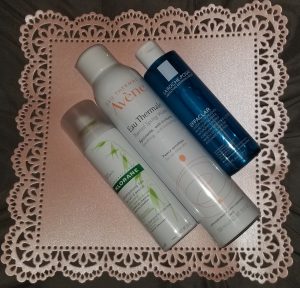 Other go to items are Avene thermal water.  I spray this on my face before cleansing to help moisturizer and to loosen the days makeup and dirt.  Every once in a while I have a blemish and hit it with a little astringent – that is the blue bottle to the far right.  My other cult favorite (I have officially joined this cult!) is Klorane oat milk dry shampoo.  Holy moly, I love this stuff.  It helps me go an extra day between washes, pep up my hair if I have an evening event, and keeps me from having to over process and over heat my hair.  The ingredients are all natural and this one is even formulated for dark hair so that you don't have that whiteish residue until it soaks into your hair (those of us who have a couple of grays don't like an extra whiteish glow).  This is hands down the best dry shampoo on the market.  It freshens without leaving your hair stiff and brittle.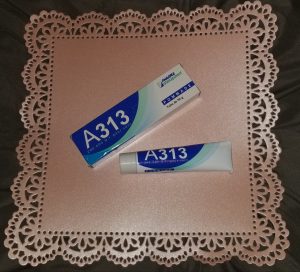 Those of you familiar with Avibon, you can stop crying.  A313 is reportedly the same formula as our old favorite Avibon.  I am trying this one out for the first time and so far, so good.  It is very oily, so only use this at night before you go to sleep.  It locks in moisture and keeps your skin glowing and happy, even through the harshest of winters!  This is going to be behind the counter, so ask a pharmacist for assistance.
My last staple item for this trip was Homeoplasmine (also located behind the counter like the A313).  I LOVE this stuff.  I keep it on hand for the inevitable bites, scrapes and bumps that come with having tiny people in your life.  It is made for to combat irritated skin, but I like to use it on burns, dry elbows, and scrapes and scratches too.  It is filled with floral extracts that soothe and calm the skin.  If you are just looking for dry skin relief, Chicaplast Baume is your friend!  I use this on the kids' cheeks and hands in the winter to keep them soft and smooth.  It is great for skin conditions that are a result of dryness and chapping.
I usually find some little treats and treasures that I want to try in trial size near the check out as well.  This year I got several little lip and hand balm kits to use as stocking stuffers later in the year.  Don't forget to ask about a VAT form if you spend more than $175.00 in any single shop.  You will need your passport to get the form filled out, so be sure to take it with you.  Finally, go in with a list.  The cavernous rows of City Pharma (my favorite Pharmacy) can be overwhelming!  I could easily find myself forgetting some of the items I went in for and having to make a second trip – not that it would be ALL bad.
What is your favorite Paris Pharmacy find?