I love to seek out odd and unusual things to see when I visit a city, especially with the kids. Bonus points for anything that I can take the kids to and engage them with history. There are a few points of interest that are both on and off the beaten path for the discerning visitor to Washinton DC.
Mary Surrat's Boarding House
After the assassination of Abraham Lincoln, the conspirators were tried and executed in Washington. They frequently met to discuss their plans at the home/boarding house of Mary Surrat, the mother of one of the conspirators. While she maintained her innocence during the trial and up to the very moment of her death, historians do not thing that there was almost no chance that she was unaware of the plans of her son and his colleagues. The boarding house is still standing, and very similar to its original configuration. It now houses a Chinese restaurant on the lower floor.
The property is located in the heart of modern day China town, so I threw in a couple of landmarks for you – you (well, at least I) don't see Starbuck's in Chinese every day. The other photo is of the Friendship Gate – gifted to the city by China.
Mary Surrat's Grave
After she was hanged, Mary Surrat was taken to Mount Olivet cemetery to be interred. You can still pay your respects between 9:00 AM and 4:00 PM most days of the week. It is a drive from downtown, so this may be something you want to do when coming into town or leaving if you have your own vehicle. We arrived just after the gate was locked, and to be honest it was quite creepy. The red (what I hope was and) exit sign in the top floor window didn't help with the creepy air. The little chapel was a beautiful stone structure and was probably quite lovely inside, but arriving just past twilight is probably not the best time to explore.
Exorcist Steps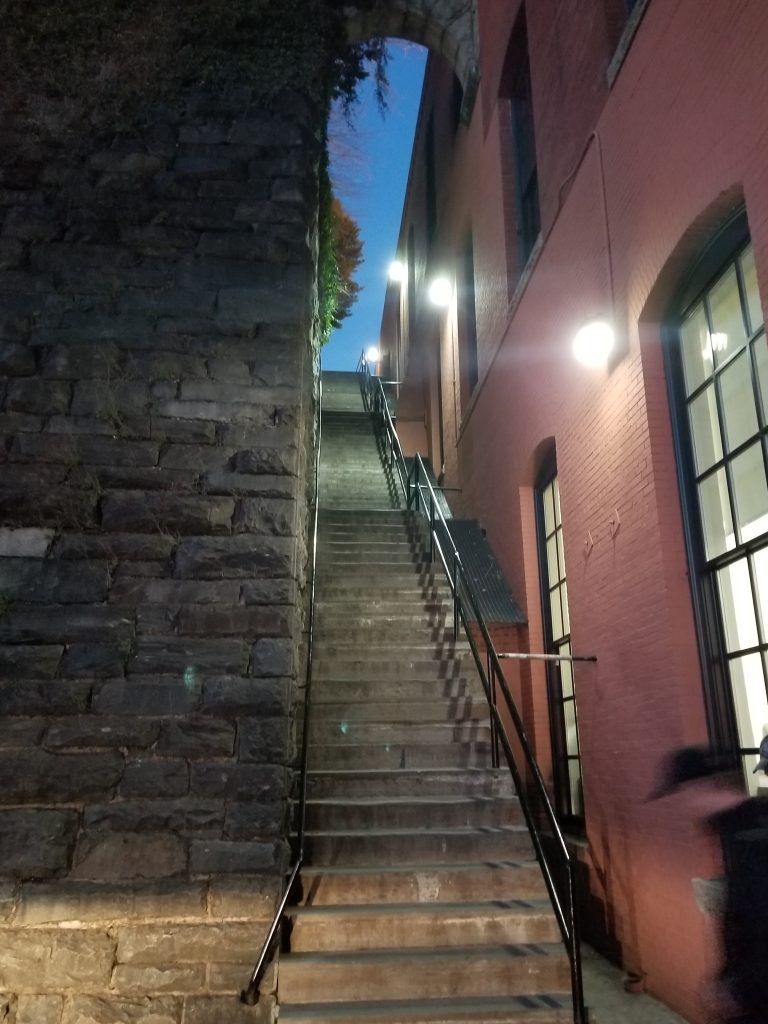 Located in a small alley in Georgetown, the steps for the iconic scene when the demon from the Exorcist meets up head to head with the priest. These steps lead from a sidewalk above the alcove to the alcove below with completely unremarkable views at the top or bottom. That being said, if you are a fan of film, these steps make for a particularly spooky photo around dusk. The area is well lit and easy to get to. Take some time to walk around Georgetown itself and enjoy the posh neighborhood, bars, restaurants, and shops.
Congressional Cemetery
The congressional cemetery is open until 5:00 PM every day and is a beautiful place to take a walk and explore. Interred here are John Phillips Sousa, composer who was most famous for his military marches; Matthew Brady, a civil war era photographer, Pushmataha, Choctaw Chief; and David Harrell, one of the Lincoln assassination conspirators.
Additionally, many Congressional representatives have a final resting place in this cemetery. I find it terribly ironic that David Harrell was buried in the Congressional cemetery when he actually was partially responsible for the death of a sitting president – though visitors should note that his grave is hard to find because there is no headstone – it lies unmarked near other Harrell's. The most famous resident resident is J. Edgar Hoover, leader of the FBI for more than 4 decades.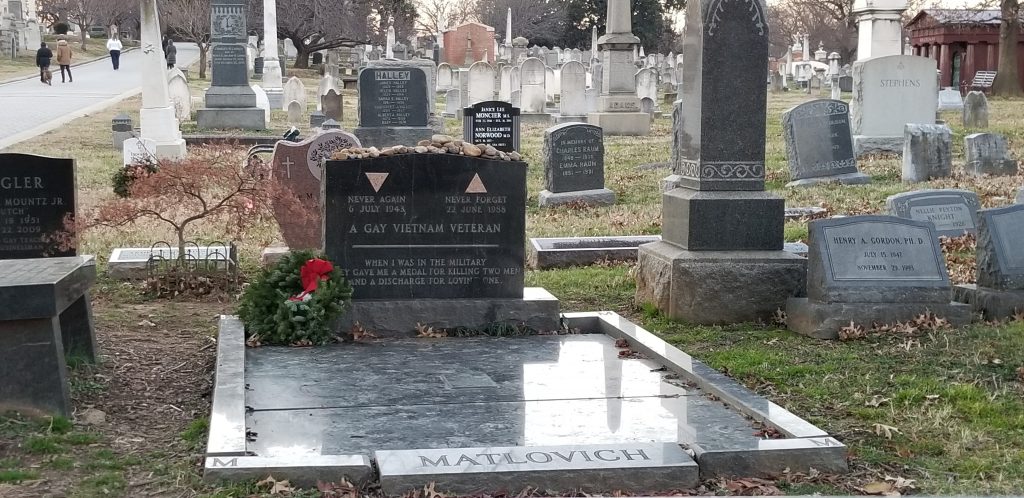 Another notable grave that stood out to me was the grave of a Vietnam veteran with a heartbreaking epitaph on his marker. It read "When I was in the military, I was given a medal for killing two men, and a discharge for loving one." Bless him.
National Cathedral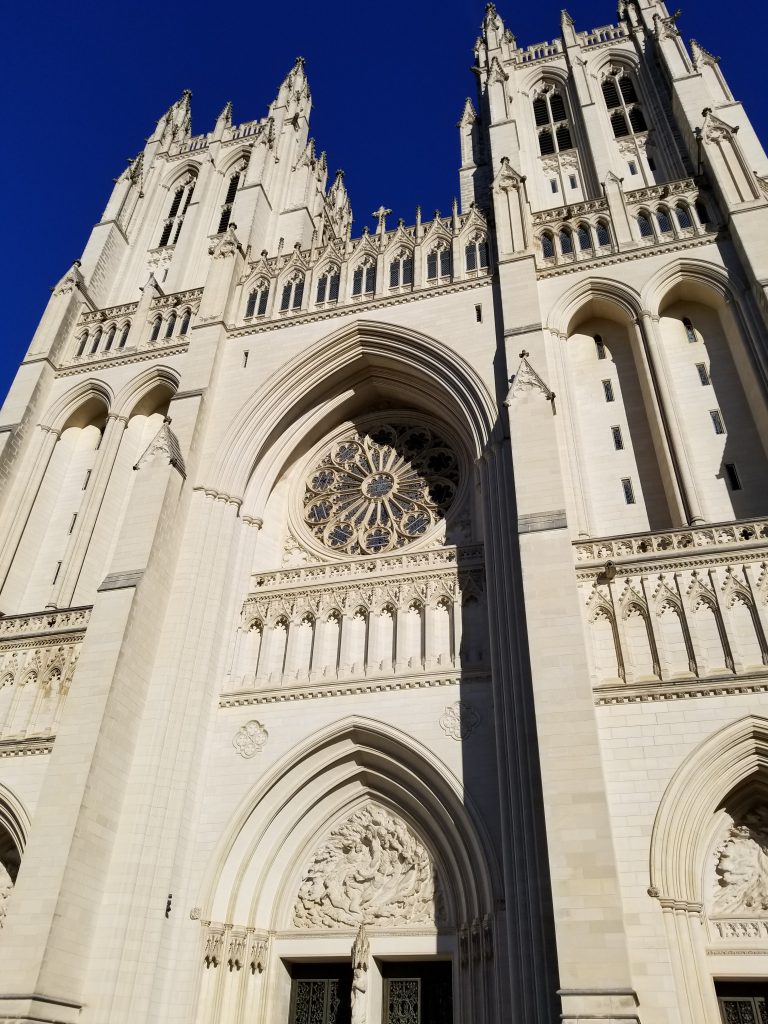 There are a few notable point of interest to see if you have time to visit the National Cathedral. This Episcopal Cathedral is home to a moon rock, donated by Neil Armstrong.
The rock is a small black stone embedded into the space themed stained glass window in the main portion of the cathedral. Another interesting point is the crypts. The most prominent resident is President Woodrow Wilson, the only former president to be buried in the city itself. Though the Capital has a crypt which was meant for George Washington, he did not want to be buried there and preferred to be buried at Mount Vernon with his wife, Martha.
The ashes of both Hellen Keller and her teacher Annie Sullivan can also be visited while in the crypts.
Petersen House
Another unusual but very popular spot to visit on any tour of odd locations in Washington is the Petersen House. This small boarding house is directly across the street from Ford's Theater and was where President Lincoln was taken after he was fatally wounded by actor, John Wilkes Booth. He was too tall to fit in the bed, so they laid him diagonally across the twin bed. He died shortly after reaching the small room. You can tour the home and visit the room which was maintained just as it was the night Lincoln died, including the bed. Ironically, a few months before, a friend of Booth's was renting the room and allowed him to take a nap in that very bed. Who knew that would be where the President he shot spent his final moments. I don't have any good shots of this location (I have visited on on a previous visit) because of the shut down, it is worth your time!
Natural History Museum
This is such an amazing and well rounded place. I talked about it a little in my Washington DC with Kids post from this series, but have to mention it again here. In addition to bones, creatures, full size dinosaurs, and mastadons, you get mummies! There is an amazing exhibit on Ancient Egypt that includes two mummies (one adult and one child) as well as several artifacts.
What are your favorite "off the beaten path" destinations in Washington D.C.?
Like what you read? Don't forget to subscribe to my mailing list to never miss an adventure!