This is a sponsored post though all thoughts, images, and opinions are my own.
Trinidad and Tobago are two different islands that make a unified country. Located just 7 miles off the coast of Venezuela, the culture is flavored by a little of every major group to settle in the region since the 1700s.  The food in Trinidad and Tobago is highly representative of the cultures and regions where the dishes are popular.  You can taste the East Indian influence in almost every dish that T&T are know for, while still seeing the Colonial influence in cuisine and culture.  It really is a fascinating fusion!  On my recent adventure, Gail's Exclusive Tours, Limited took me to  visit some of the communities that are known for their amazing food.  I loved every minute of this tour, and was STUFFED when I was done!
We'll start with some of the dishes that are synonymous with a of Trinidad and Tobago.
Roti
Roti is a staple dish.  It is curried, stewed chicken dish that is slow cooked and tender.  The wrap then has rice, potato mash, beans, and a variety of other toppings that you can get.  This wrap could be filled with a variety of meats and seafood all cooked in a similar way.  The thing about Roti is that it is MASSIVE.  This thing was about the size of a large coconut when they were done stuffing the soft, flour based, hand made wrap (sort of like a huge flour tortilla).  One wrap was roughly large enough to feed a small Ethiopian village.
Doubles
Doubles were made to eat on the run.  These easy to handle meals that feature curried chick peas served between two pieces of flat bread (sort of like if naan and flour tortillas had a baby) are served wrapped in paper eaten with the hands.  These are easy to eat while walking to work, or standing near the Doubles stand – most have some water to rinse your hands because you are going to get messy – that's the purpose!  If you don't want it hot – and I mean Trini hot, not American hot, order it with "slight" pepper.
Saheena
This fried hand pie is a mix of dasheen (it sort of looks like chopped spinach but is actually the leaf of the taro plant), chick peas and curry, and equally easy to eat on the go.  Our visit to the Doubles stand in Debe yielded several of the hand held treats for early morning workers, busily on their way.  The frying paste is a mix of split pea powder, flour, water and seasoned with salt, turmeric, salt, and saffron.  YUM!  You can see the east Indian influence in these first few dishes.
Baiganee
Another reason you should ignore anyone that says not to eat the street food in the countries you visit is Baiganee.  This dish is a roasted and fried slice of egg plant that fries up to be a sort of egg plant fritter – seasoned with all of the strong and earthy spices you would expect of Trini cooking.
Aloo Pie
Aloo pie is a potato hand pie that is a lot like a samosa.  This is Trini comfort food, and is a standard at street stalls and in markets across Trinidad and Tobago.  You will find it fried and the potatoes mashed and mixed with split peas, chana (curried chick peas), and spices).
Bake and Shark
This was one of my favorite finds in all of Trinidad!  Oh my heavens!  The bake (actually a fried piece of dough that reminded me of the bread from the doubles) and shark (yep – actually shark) was nothing like I imagined it would be.  The shark was also fried, but was a light, flaky delicate fish that didn't over power the bread and vegies you can flavor your sandwich with.  Deric, the world's best guide, told me that they eat the sharks before the sharks can eat them…seems fair to me.  The sandwich is given to you plain and you head to the world's largest condiment bar to add, season and spice it until your heart's content.  I added tomato, pickles, onion, cabbage, garlic sauce, pepper sauce, and a tamarind sauce that was LOVELY!  There were a ton of options – and don't doubt them when they say something is hot – they grow the scorpion pepper (world's hottest) and use it liberally.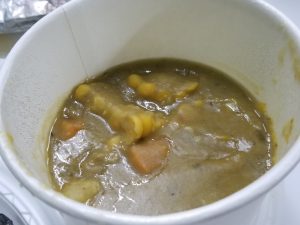 Corn Soup
If you have ever been to Cuba, you'll get this reference, but it reminded me of Ajiaco.  The soup is a lot like a chowder with potato, split peas, and slices of corn on the cob cooked until tender in the pot.  To that you will find celery, carrots, seasonings and peppers all having a swim.  The colors in the pot are so pretty as they are cooking down, and the texture is a smooth and earthy mix of chowder and potato soup.  I can't wait to try this dish during the winter with my family – it is thick and hearty and begs to have a little crab added to it.
Crab and Dumpling
It isn't like my grace and poise was ever in question in the first place, I have never had any.  If you do, prepare to give it up for this dish.  There is NO easy or graceful way to eat crab and dumpling.  The dumplings are made from a pone that is derived from the cassava, and the crabs are curried, steamed and served halved.  You have to crunch through the shells and go at it if you want the precious and delicate crab meat inside – I did, and I may or may not have lost my grip a time or two – one of which landed on the shoe of my neighbor…oh well, you win some you lose some.  I still had a better day than the crab.
Grilled Chicken
There are a ton of ways to get chicken in the Caribbean.  One of my favorites is bbq chicken, grilled and tender with fries or potato salad.  It is usually served spiced and seasoned, but you have a million options for sauces and seasonings after you get the dish.  My favorite was the garlic sauce.  I put it on everything!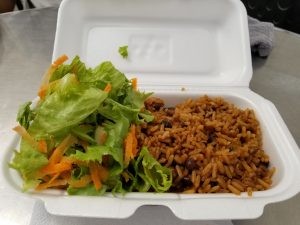 Pelau
This particular dish was one of my favorites.  While I liked the doubles and Crab and Dumpling, this one was a little more mild, but really substantial.  This particular rice dish was a blend of spices, stewed (read that as melt in your mouth tender) meat (chicken, etc.) and rice, served with a little salad.  This is more of a sit down and eat me dish than the doubles or saheena which are made to eat on the go – especially in the mornings.
Barfi
This one was a little deceptive to my American palate.  It was good, but I expected (by the looks of it) to be a lot like old school fudge.  It is actually a fudge like candy that is a little more crumbly and has a base of powdered milk rather than cream and chocolate.  Over all, it was really good.
Papaya Candy
Now this candy and I could get along – or maybe not because of the sugar content.  These were sooooo good!  Our guide in Trinidad took us to a little sweet shop that had a billion different tasting options – my choice (because I was STUFFED after my doubles) was a papaya candy ball.  These are shredded and dyed either red or green and covered in sugar.  They are sweet, chewy and an absolute must try!
Chocolate
Trinidad is known to have some of the best cocoa in the world.  On our way back from Maracas beach, we were able to stop at Mountain Pride Chocolate café and try several things – and of course buy some bars to take back home for Papa Bear.  The café specializes in cocoa tea – a drink that is sort of like the Maya hot chocolate and modern hot chocolate – it was divine!  I wound up buying some cocoa pod shaped bars to take home and make for the family over the holidays.
To make it, you grate the chocolate and boil in a bit of water.  After you boil it, you need to strain out all of the solid pieces that remain.  Strain it slowly – steam burns!  Place the remainder back on the stove on low and add sugar (or in my case stevia) and cream.  I used heavy whipping cream in mine.  It is an intensely flavored, slightly bitter (almost like a semi dark chocolate flavor), creamy concoction that is heavenly on a cold day.
Between all of the local foods, delicacies, and specialty items I brought home, I couldn't have had a more delicious destination had I tried to select one.  The food was amazing, but the conversation and new friends absolutely made each meal a treat.
What are your favorite Tini dishes?
Like what you read?  Don't forget to subscribe to my mailing list to never miss an adventure!