Has the Hamilton craze hit your house like it has mine?  My tween LOVES Hamilton and was slated to see it live in Atlanta, but unfortunately, COVID has knocked us out of the theater scene until at least 2021.  Lucky for us, the filmed version of the stage show dropped on Disney + on July 3rd, an now she can at least get her Hamilton fix when she needs it. 
Of course we had to plan a theme night around the event and have a viewing party (household only) to celebrate the momentous occasion.  If you want to check out our other theme nights, click here!
Menu
Won't Give Up My Shot – Glass Appetizers
Ribs Fit For Royalty
Guns and Chips
Founding Father's Fruit Salad
Patriots Pasta Salad
Eliza's Man Catching Mashed Potatoes
New Man New York Cheesecake
So I'm not even going to pretend that I made all of this from scratch.  Some was, some was pre made.  Don't stress over making everything from scratch on a theme night.  The point is to have fun – if you can find a way to shorten the work load, you'll enjoy the night more.  Not to mention, Teeny broke BOTH of his arms at the park that morning (very minor breaks, but painful none the less) so some of the designs I had on homemade got pushed aside out of sheer exhaustion!  The only reason I persisted was because Tiny loves this movie so much and was such an amazing help and calming force for her brother during his little adventure.  So, here we go – the pre-made items were the mashed potatoes, the cheesecake, and the chips and dip (amazing spinach dip from Sam's Club).    The other items were made by yours truly – with recipes below!
Won't Give Up My Shot – Glass Appetizers
These are so simple and so fun!  I just made a tiny shrimp cocktail using shot glasses.  Pour the cocktail sauce into the glass and balance two or three shrimp on the rim.  I used the disposable shot glasses from my local grocery store because I don't have a dozen shot glasses hanging out at the house – and the clean up was super simple.  Boil your shrimp for a few minutes (until pink) in Crab Boil and you are all done.  Cutest shrimp cocktails I have ever seen!
Ribs Fit For Royalty
These guys take a little longer, but they are still super simple to make.  I take a slab of baby back ribs and rub them the night before with a rub made of salt, garlic powder, onion powder, paprika, and black pepper.  The recipe is below.  Then wrap them tightly in aluminum foil.  The next morning, put them in a 250 degree oven and let them slow roast all day.  My smoker is dead, so these are just oven ribs, but I love to throw them in the smoker for the first hour and finish them off in the oven.  You can make your own BBQ sauce, but I love Williamson Brother's original.  It is a nice balance of tomato based and vinegar with a tiny kick.
Founding Father's Fruit Salad
Another easy salad that is as pretty as it is tasty.  I used a base of watermelon and added black berries, blue berries, and of course, cherries (can't have a founding father's fruit salad without a nod to George Washington's cherry tree).  If you want to get a little fancy with it, you can sprinkle in some chopped mint and let it sit over night.  Sooooo good!
Patriots Pasta Salad
I love this pasta salad for it's simplicity.  It is so good the next day as well.  While you can make it the day you are going to serve it, it is better the next day.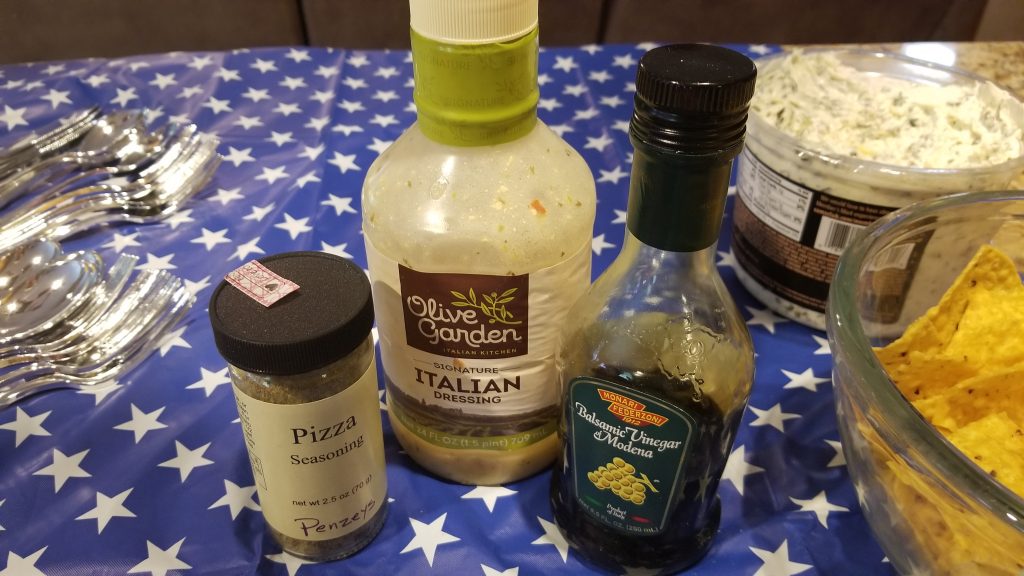 Take 8 ounces of the pasta shape of your choice and boil until al dente.  Drain and put into a bowl.  Sprinkle with Italian seasoning (I use Penzy's Pizza Seasoning), and toss in ¼ cup of Olive Garden Italian Dressing.  Mix well and then add 2 Tablespoons of balsamic vinegar.  Toss again. 
The veggies for this pasta salad are what make it impressive.  1 can of sliced black olives, 1 chopped red (or any color – I even have purple growing in my garden right now!) bell pepper, ½ small red onion (thinly diced), 1 cup of sliced cherry tomatoes, and 1 jar artichoke hearts (drained).  Mix all ingredients together and you are done.  If you love cheeses, you can add mozzarella balls or feta for a little more texture and flavor.
New Man New York Cheesecake
With our dessert, I bought a variety cheese cake from my local grocery store.  I topped the plain slices with berries and let the others stand as they are. 
What else would you put on a Hamilton themed menu?
Don't forget to check out our other theme nights here!
Like what you read? Don't forget to subscribe to my mailing list to never miss an adventure!