I remember eating this recipe during the cooler months. The seasoned ground beef and fluffy whipped potatoes were always hearty and who doesn't love meat and potatoes, right? Topped with a golden crown of melted cheddar cheese, this Shepherd's Pie was always a hit in my childhood home. I love that this dish can be prepared in relatively small quantities – serving four to six as this version does, or stretched with vegies, or in mass quantities as my Mother had to prepare it. I am the baby of five children, 2 boys and 3 girls. None of us were petite, nor were we delicate eaters. When my mother planned meals, it was like planning for an invasion – and the more ammunition she had, the better. In my older years, I tend to lean towards a slightly lighter version (but by no means is this a light dish!) with tons of vegies and less meat. Decreasing the amount of meat you use and eliminating the cheese could both reduce calories and fat as well as the overall cost of this dish. Now, in my house, the cheese topped version was always a Shepherd's Pie – though my British friends cringe and lovingly remind me that cheese makes it a Cottage Pie, not a Sheppard's Pie – shepherds didn't have cheese. Seriously, have you ever herded sheep? Me neither. Well, I'm not a shepherd and it isn't a pie, so I think we can call it a day and just enjoy the meal.
To make this recipe, you will need:
1 pound ground beef
1 small, sweet yellow onion (we love Vidalia's in the south!)
1 can green English peas (you can use mixed vegies or peas and carrots as wells)
1 can sweet yellow corn (kernels not creamed)
4 baking potatoes
1/4 cup heavy cream
2 tablespoons butter
Salt, pepper and garlic to taste
Thinly dice your small onion and sweat the onion until tender. Add ground beef and season with salt, pepper and garlic to taste. Brown thoroughly. Once the meat is completely cooked, drain and pour as the first layer in your casserole dish.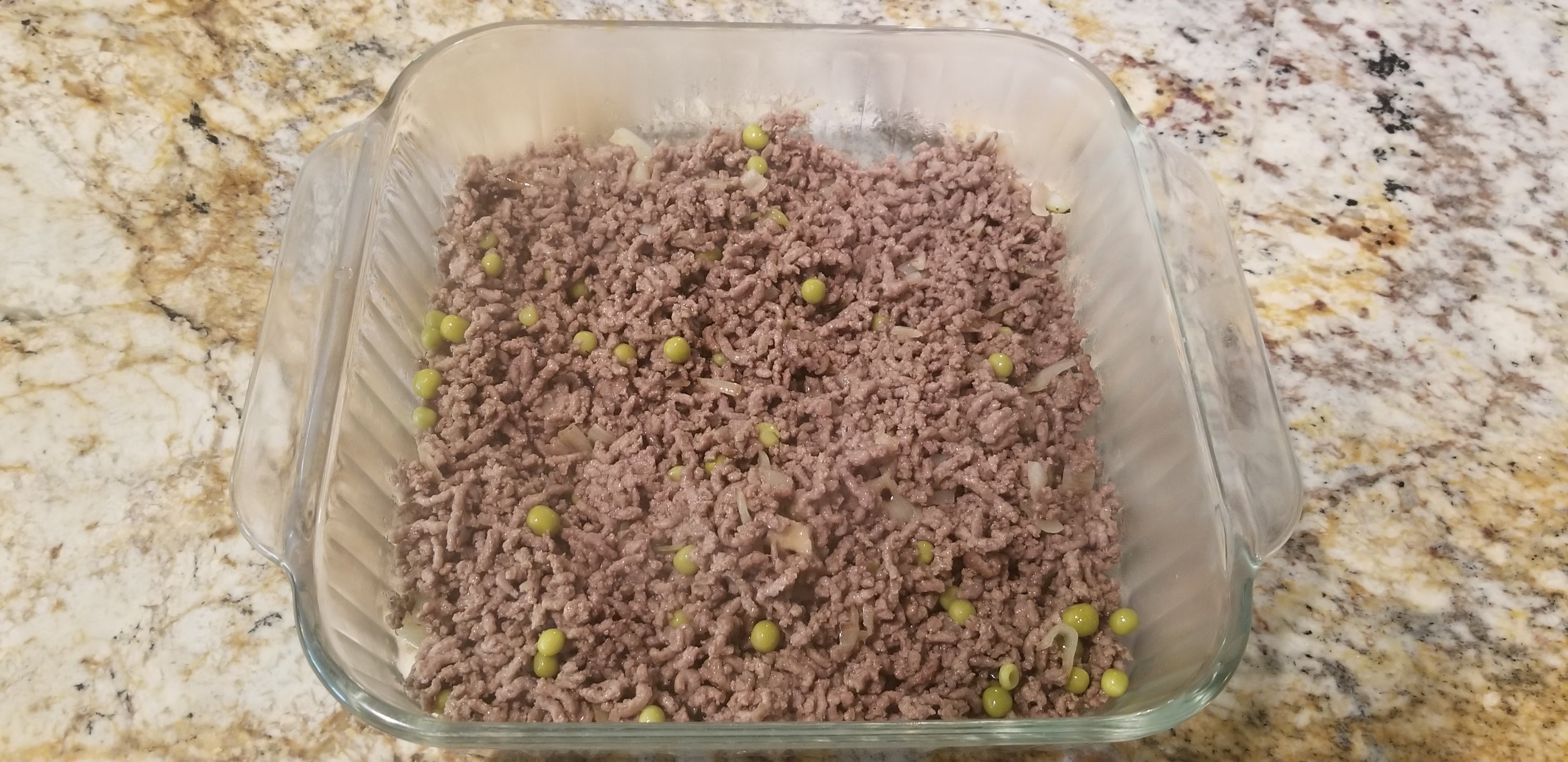 Next, we are going to make our top layer – fluffy mashed potatoes. Wash, peal and dice your potatoes. Place potatoes in a pot of boiling salted potatoes. Cook the potatoes until they are tender and drain. Place the potatoes in a bowl with the butter and cream. Begin mashing. I use an old school potato masher, but you can use a fork if you like. I usually add a little more cream as I mash, but it's your call. I have salt in my butter, so don't add more, but taste them and add salt, chives, sour cream, anything you want. Once they are the texture you like, set them aside for a minute.
Open the cans of vegies and place them on top of your ground beef. Retrieve your potatoes and layer those on top. I usually make more than I need for the pie and save those for the next day to have with another meal – my tinies love homemade mashed potatoes! Top with cheese – we like sharp cheddar or Mexican blends and bake until evenly heated and the cheese is melted. I usually leave mine in a 350 degree oven for about 15 minutes.
All done. This is a great dish to sneak in some vegies on the little (or big) ones. My crew is totally meat-itarian, but will eat almost anything that has mashed potatoes or cheese on top. I like to make this dish when I am going out of town because it freezes well and I know they will eat it. See how I prep here and what else I cook and freeze for the crew here when I am away for a week.