It happens to be a rainy and cold weekend here in Georgia.  We are finally into the full embrace of fall and the air has a nice chill to it.  The rain plus the chill are making me crave comfort food.  That, coupled with the fact that this is the last weekend before Halloween is making me want one last Halloween themed party night.  My favorite meal as a kid was chicken fried cubed steak with mashed potatoes, biscuits and English peas.  I loved it when Sunday or a birthday would roll around and that is what we would get.  Yum!  So bad for you, but so very yummy!  Since comfort food was calling, I had to meld two of my favorite things into one awesome theme night.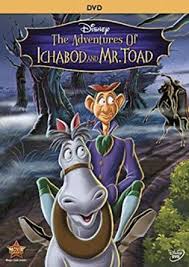 One of my all time favorite Halloween movies is the 1940's version of The Legend of Sleepy Hollow.  I love watching Ichabod dream about Katrina and Brom Bones get flustered when she plays the two against each other.  For some reason, my favorite scene is when Ichabod thinks he hears hoof beats and it is actually cat tails beating on a hollow log.  I used to think that was the funniest thing when I was a kid, watching this movie at school.  Ichabod and the horse laughing at each other and then the Horseman joining in.  Spooky and funny at the same time.
Tonight's menu will include:
"Ichabod's A Chicken" Fried Steak
Horseman's head biscuits
Mashed Potatoes For Brains
Pea Brained Ideas
Covered Bridge Cookies
"Ichabod's A Chicken" Fried Steak
This is actually a pretty easy dish to make.  I haven't figured out a way to bake this and have it turn out the same, so we are going to do it the old fashioned way, nice and fried.  I like to use smaller pieces of cubed steak, but that is also largely because I have small children.
To prepare your steak, place 2 cups of all purpose flour in a bowl, add 1 tablespoon salt, 1 teaspoon pepper, and 1 table spoon garlic powder and whisk together to distribute seasonings evenly.
Place steaks in flower and coat generously.
To cook steaks, fill a deep frying pan half full of your favorite cooking oil.  Turn it on high until it is screaming hot – then down to medium to cook the steaks.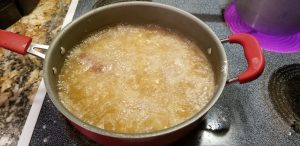 Fry steaks until brown in the center and remove to drain.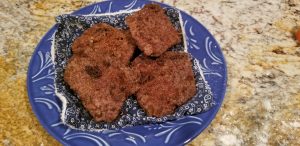 Mashed Potatoes for Brains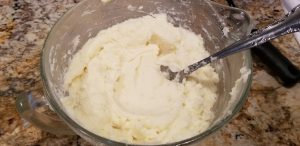 My smallest loves mashed potatoes more than anything.  He especially loves my homemade mashed potatoes.  I am going to start with 4 large baking potatoes – washed and pealed.
I like to dice my potatoes into smaller dices so that they cook faster and more evenly.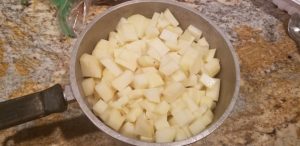 Boil the potatoes until they are tender – I like to add salt to the water, but you can do that later if you like.
Drain potatoes and mash.  To smooth out potatoes, add three tablespoons of butter (use the real stuff!), and ¼ cup of heavy cream to start.  Mix these in well and add more cream as desired to get the potatoes to the consistency you like.  I like mine thick and just a little lumpy, not completely smooth.  Add salt and pepper to taste.
Pea Brained Ideas
These are going to be the most simple side of the meal.  I like to use Le Sueur's English peas when I make mashed potatoes.  Most meals that I cook include frozen green peas – for some reason, it tastes more like home when I use the canned ones with mashed potatoes.  Use what ever you like best.  I just put them in a pot on the stove, add one pat of butter and let them simmer.  Easy peasy – see what I did there?
Horseman's Head Biscuits
We are going to get a little fancy with our biscuits for this meal.  When I add the liquid, I am also going to add a 2:1 ratio of yellow (1 drop) and red (2 drops) food color to turn the biscuits orange.
In a bowl, add:
2 cups flour
4 teaspoons baking powder
¼ teaspoon baking soda
¾ teaspoons salt
2 tablespoons butter
2 tablespoons shortening
1 cup milk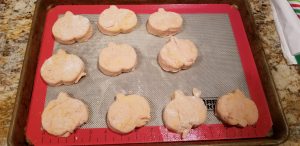 I like to use butter milk, but if you don't happen to have any, use full fat milk and add a few splashes (2 tablespoons or so) lemon juice to give an acidic tang to your biscuits that mimics buttermilk.
Combine dry ingredients and whisk well.
Mix shortening and butter into your flour mixture until it looks a bit like crumbles.  Begin adding buttermilk slowly and incorporate it well.  The dough is going to be kind of sticky.  This is where I will add the coloring.
Remove dough from bowl onto a floured surface and roll out.  Cut in desired shapes and bake at 400 degrees for 15 to 20 minutes.  You can brush the tops with melted butter to enhance the browning.
Covered Bridge Cookies
As an homage to the old film, I decided that I would let the kids make little covered bridges for their dessert.
These are simply chocolate covered graham crackers that I let them use chocolate frosting (in a piping bag is easiest) to make little bridges from.  We have some lovely little pumpkins to dress up our bridge, or serve as Horseman's heads as well.  Simply dip the graham cracker halves into chocolate to cover, then let set in the fridge.  To hold your bridge in place, use chocolate frosting as a "glue" to keep the roof and sides intact.
These are super easy, and the kids love making their own!
What special meals do you make when you need comfort food?