Amazingly, 10 years have flown by, and my little baby is no longer so little.  We celebrated Tiny's double digit birthday this past weekend with a birth-stravaganza of sorts.  The culminating activity was a skating party with a Pokemon theme.  Tiny loves anime and especially, Pokemon.  I let the kids pick a theme each year and then make a cake to match the theme.  There is something about making the cake from scratch, rolling out fondant, making sure the little one's theme comes to life in sugar that makes me feel like I am showing them how special they are to me.
This year, Tiny decided that she wanted a cake that represented the different types of Pokemon – we settled on grass types, water types and fire types.  Thank Goodness for Pinterest for inspiration!  We chose a flower shaped pan set to make the bottom tiers and used rice krispies and fondant for the Poke ball topper.  All in all, it took a few hours, but it was completely worth it to see her face when the cake was put together.
We found some great plastic balls at Party City that were colored on one half and clear on the other – perfect Pokeballs in the making!  Instead of goody bags, each child got their own Poke ball filled with treats and candy.  To make the black band on the ball, I used two layers of black washi tape.  These were the easiest and cutest goody bags I have ever made for a birthday party and the kids loved them.
I used a vanilla sour cream pound cake recipe (you can find my base recipe here) with a couple of alterations.  When I sculpt cakes or make layered cakes that need to be transported, I use pound cake because it is so much more sturdy than sponge.  If the party is at our house, I like to use a butter sponge recipe for the layers.
For the pound cake you will need:
6 large eggs
3 cups of flour
3 cups of sugar
1 cup of butter (I use salted French Presidente, so I don't add any more salt)
1/4 teaspoon baking powder
1 6 to 8 ounce cup of plain Greek yogurt (instead of sour cream)
1 tablespoon vanilla flavoring
Cream butter and sugar until fluffy.  Add eggs, vanilla and yogurt.  Mix flour and baking powder and add slowly, ½ cup at the time until fully incorporated.  Grease and flour your pan of choice and bake at 350 degrees for approximately 80 minutes.  Be sure to start checking at the 60 minute mark as all ovens are different and you don't want to over cook the cake.  The thicker your layer, the longer it will take to fully cook.
Get your flower pan set

here!

Butter cream icing can be done two ways.  You can make it, or you can buy it.  I chose to buy it from my local bakery department for the sake of time for this cake.  When I make it, I like to use the Wilton recipe found here.

For Rice Krispy Treats:

10 cups rice cereal

1 bag mini marshmallows

1 tablespoon vanilla

3 table spoons butter.

Melt vanilla, butter and marshmallows in microwave until completely melted.  Slowly incorporate into rice cereal until thoroughly mixed.  Turn mixture into pan or mold to set.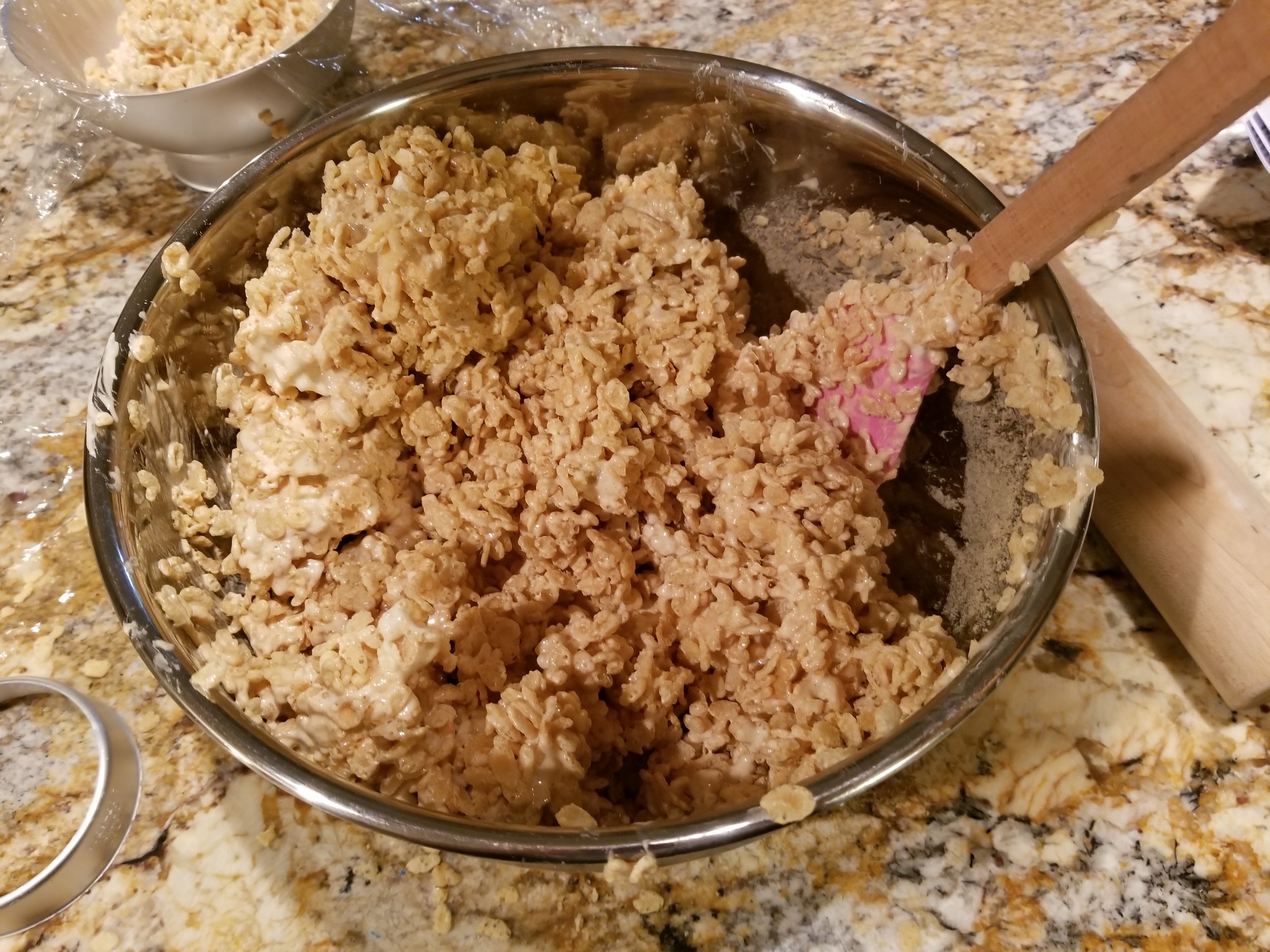 To assemble this cake, I baked my layers the night before an allowed to cool.  Once fully cooled, I iced the layers with the butter cream.  I purchased colored fondant from my local hobby store, and began to create my textured sides.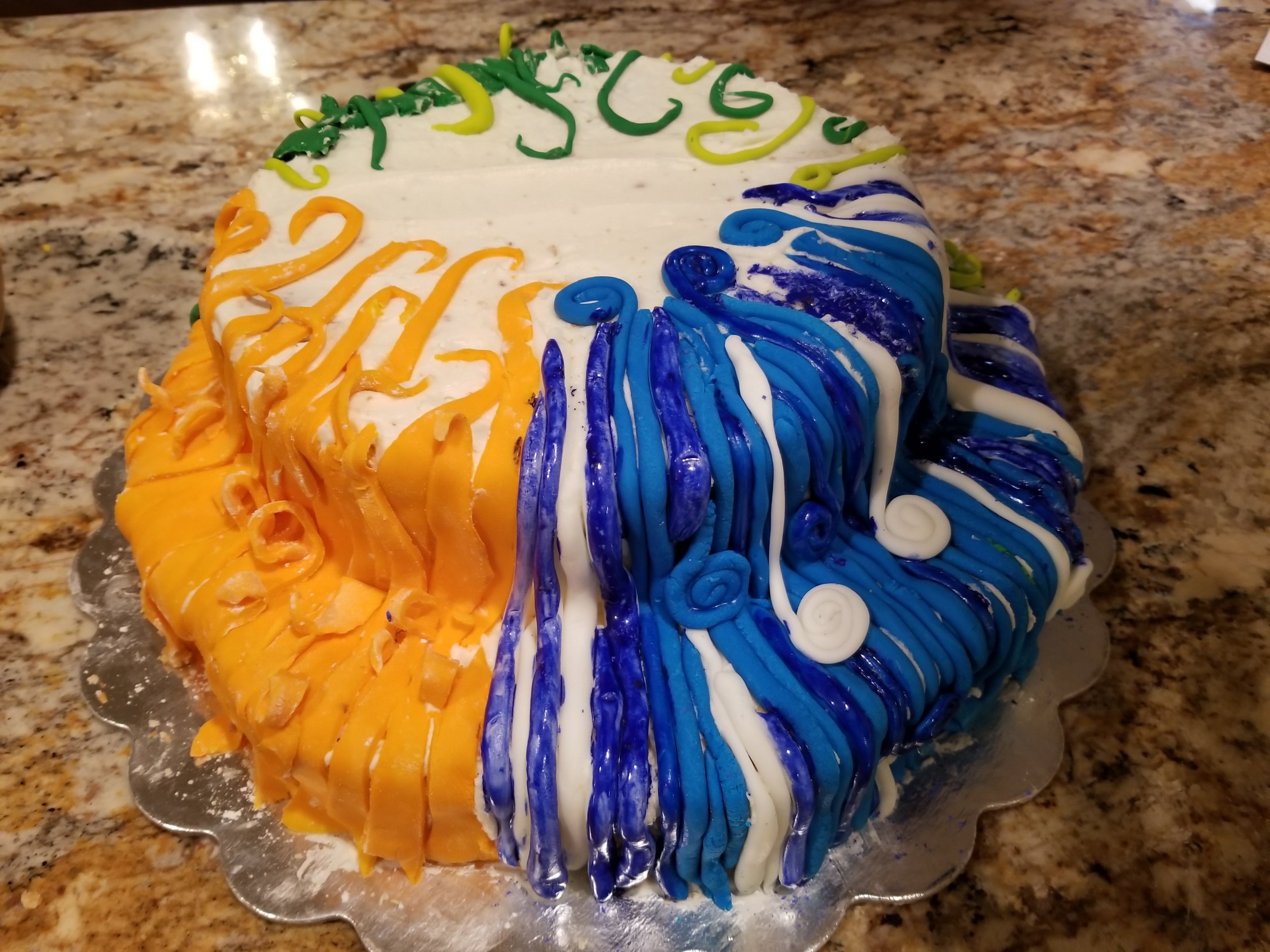 The water side was pretty easy.  I simply rolled the fondant into coils and placed in flowing patterns along the cake, from top to bottom to resemble a water fall.  The lovely little spirals added a little variety to the water.  To get some contrast in color, I used white and blue fondant with royal blue petal dust over the different colors of fondant to provide some contrast.
Get fondant

here!
The fire was relatively easy as well.  I cut thin strips of fondant and shaped the tops into tips to look like flames.  I again place the strips all going in the same direction, but differed the lengths to give it some variety.  To get a variegated effect, I used red and yellow petal dust over the orange fondant to create the flame look.
The grass was a bit of a pain.  I began by rolling my fondant into a thin layer and cutting wide strips (approximately the height of the cake layer).  Using my kitchen scissors, I cut a fringe pattern on one side so that the strip resembled grass.  Using a contrasting color of green I rolled the fondant into thin coils and created the little shoots of grass and vine that I intermittently placed in the higher grass pieces for texture and contrast.
The Pokeball was the largest single feature, but was surprisingly easy.  I used a sports ball cake pan as my mold for the ball.  Instead of turning my rice krispy treats out into a sheet pan, I first filled both halves of the sphere shaped cake pan and then joined the halves.
Get the sphere cake pan

here!

The remainder of the krispys went into a baking dish for the kids for the next day.  Think of them as the sacrificial krispys to keep the tinies off of the Pokeball.  I let the krispy ball set in the fridge overnight and in the morning coated it in butter cream, then rolled a layer of white fondant for the cover.
In this case, I used a red spray food color to get the red top of the ball.  I used tin foil as a barrier to create the line of the top half of the Pokeball.  No need to be perfect, you are going to cover it in a band of black fondant.  Mainly, just as with regular spray paint, you want to make sure you spray in thin coats so that you don't have running drizzles down into your white half.
Color mist can be found

here!
The band is simply rolled black fondant that I used a pizza cutter to shape and trip.  A biscuit cutter and a shot glass provided the circles for the button on the Pokeball, and we were done.
I waited until we were at the skating rink to put the Pokeball on top of the cake, just on the off chance that it would roll while in transport (no one wants to see a middle age woman weep over a rolling Pokeball and ruined fire decoration on a cake – kind of bums out the other kids skating).   To finish the theme, I brought a red table cover and Pokemon plates and napkins to the venue for the table.  The kids enjoyed pizza, Sprite and a TON of Pokeman cake.
Tiny was thrilled with her party and cake.  I will admit, I do love a pound cake, so I wasn't terribly unhappy either.  Enjoy and let me know if you make this cake, I would love to see your photos!
This post contains affiliate links that, if an item is purchased, may give us a small commission with NO additional cost to you!  Thanks for your support!