Recently I got a wild hair to redo my back deck. I have always loved the space but never had done much with it. We had the basic wrought iron table and chairs, but not much more. The space was tremendously underused. I have always loved blues and pinks and decided that if I was going to take the time and spend the money to redo the back deck, I was going to make it into a full fledged Mom retreat. At first, I simply wanted to add some color by getting a new outdoor rug, adding some pillows and plants, usual stuff. Once I made the mistake of going into Home Depot without a plan, I completely spiraled out of control.
Supplies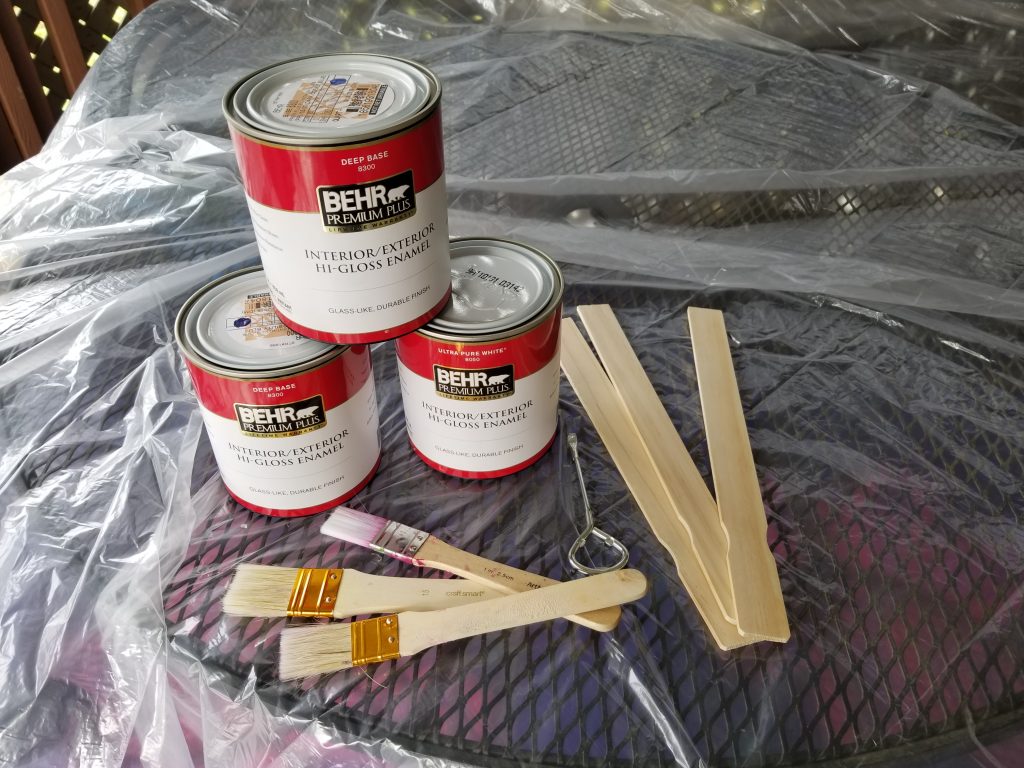 I used Behr Deck Over for the flooring, and the designs were painted on using outdoor latex. I used an assortment of synthetic bristle paint brushes, and mixed colors in disposable Solo cups. I freehanded the flowers on the "rug" so there were no special guides or stencils needed.
The Design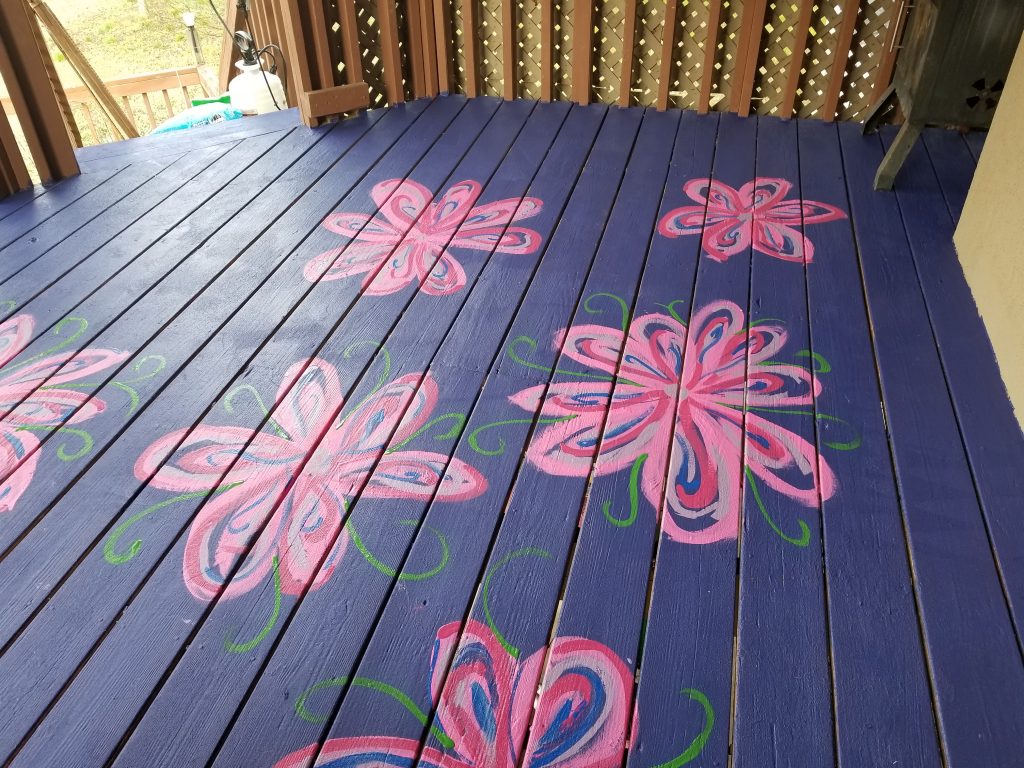 I decided to go with a dark blue for the color in the deck over. You can go crazy with all of the colors and shades. Go with it, there is nothing wrong with a little color. I let the initial coat of deck over dry completely before painting my floral design on it. I simply freehanded five and six petal flowers, used contrasting colors inside each petal, and connected the design with green vines and tiny blooms. I was a very simple and rustic design, but the overall effect was bright, colorful, and just as cheerful as I had hoped.
Ceiling Mural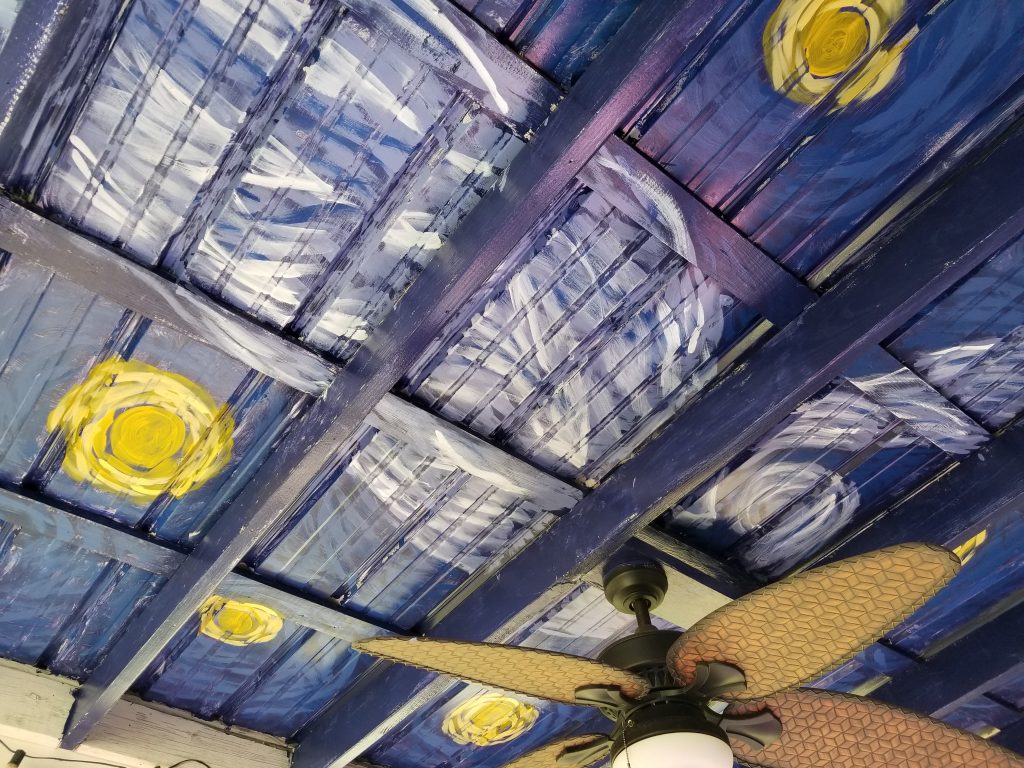 Obviously, this design was inspired by Van Gough's Starry Night. I absolutely love that painting. I began with a base coat in a darker night sky color. I then outlined my swath of clouds in a slightly lighter color, and added the inner circle of each star and the moon. I used quick brush strokes in lighter shades of blue to add depth. I would use one shade at the time in order to continue to build up the illusion of movement in the clouds. I outlined the starts and moon in quick brushstrokes of three shades of yellow. I began with darker colors on the first layer and used lighter colors towards the edges of each "halo" to create the star effect.
Finally, I came back over the swath of clouds with an almost white to really bring out the clouds. My big mistake was deciding to paint the mural on the ceiling AFTER I had painted my "rug" on the deck. Oops. I stocked up on clear plastic painters cloths and made sure to be careful with drips and drops.
Furnishings
I kept the table and chairs that were already on the porch, as well as the fairy lights. I added a blue and white table runner and some lovely dark pink roses. I moved it from the center of the deck to the far side to make room for a rocker and an old swing that I turned into a bench. The base for the bench was three steel patio tables from Home Depot that got a quick coat of spray paint.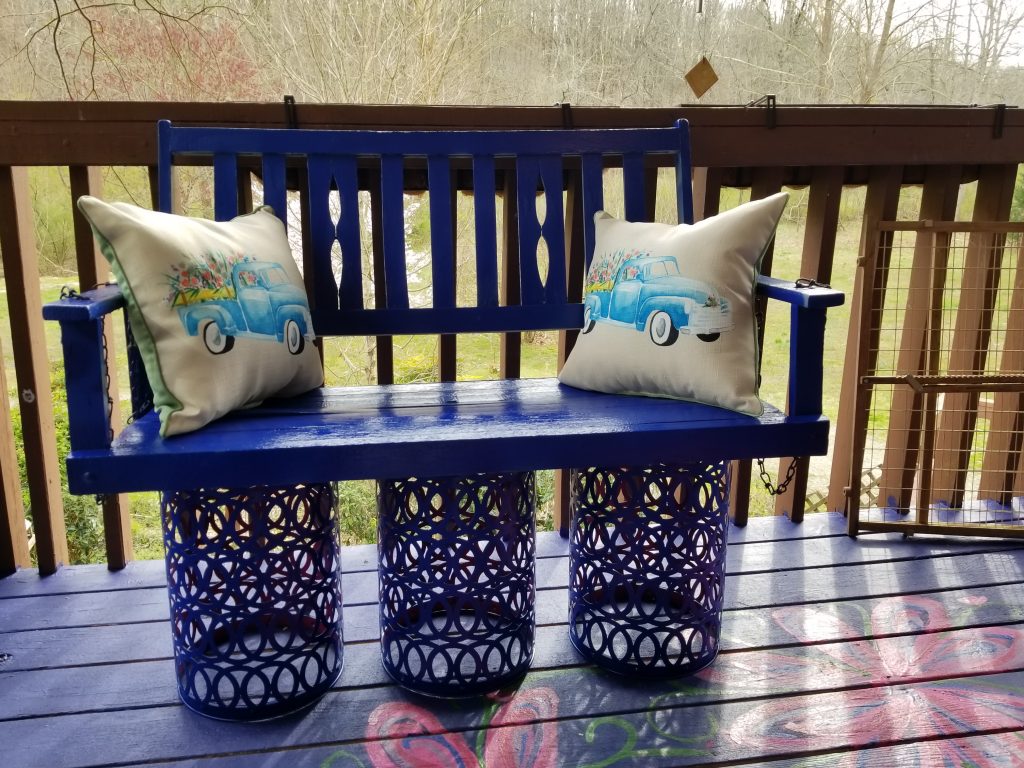 I LOVE the way it turned out. The swing hung on my Grandmother's front porch for my entire childhood – through the time I lived in that same house – and it was where Papa Bear proposed to me. Needless to say, I am tickled pink (well, blue and pink) that I can finally bring it out of storage and use it again! I added some bright little pillows and this is Teeny's favorite place to perch. I added some bright pink blooms as well as some herbs in pots and I am thrilled with the way it has turned out. I also happen to have a Thanksgiving cactus in its 3rd bloom of the year – I guess it is very thankful this year – and it matches the geraniums perfectly.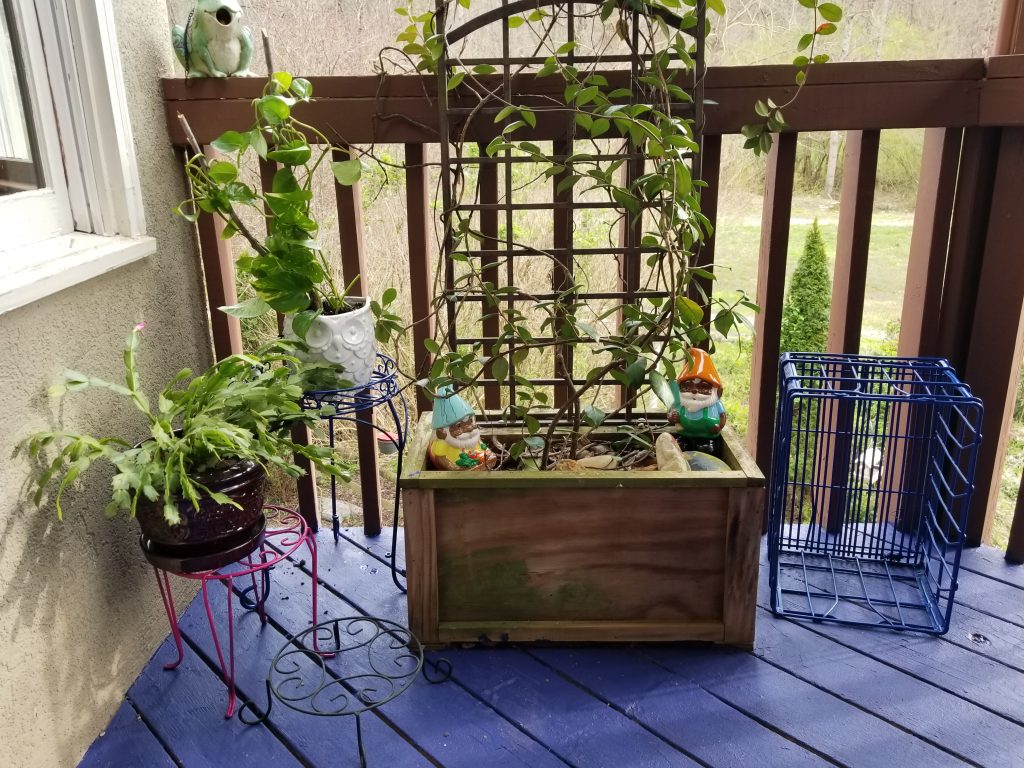 I absolutely love my little retreat. I think I have spent more time in my sanctuary over the past few weeks than I had on the back deck the entire time we have lived at this house. I can sit in my haven and watch the children and doggo playing in the back yard, enjoy the breezes of Spring and blooms of my little plants in comfort and peace. If you don't have a haven, I highly encourage you to revamp a small space just for you – use color, make it comfortable, and enjoy your creativity. Like my haven, it doesn't have to be expensive to bring tremendous joy to your day.
Like what you read? Don't forget to subscribe to my mailing list to never miss an adventure!