I remember the cinnamon rolls served to us from our school lunchroom as a kid. They were the sizeof our little heads, and so very good. You would always know when it was cinnamon roll day, the smell would fill the halls and courtyard and make your mouth drool. School lunches were not always my favorite,but cinnamon roll day was hands down a good day to eat at the school. They were hand made by all the little old ladies that worked in the lunchroom, and seriously delicious. I have not found a recipe that has come close– until now. If anyone has that old school lunchroom cinnamon roll recipe, fork it over!
These are actually pretty easy get going. The longest part of this process is allowing the dough to rise, not actually making the rolls. I like to make a double batch and freeze one batch (split into two) for weekend mornings later on. For these batches, I am making the double batch – one for now (we have company over), half of that batch will go into the freezer for later use over Christmas break, and one full batch for Christmas day brunch. The yeasty, doughy smell,along with the cinnamon and brown sugar smelled so good!
Ingredients for Rolls:
4 cups of flour
1 tablespoon of active instant yeast
1 teaspoon salt
2 tablespoons sugar
1 cup of warm milk
2 large eggs
Ingredients for Filling:
1 ½ cups light brown sugar
2 tablespoons ground cinnamon – I use much more!
Ingredients for Icing:
½ block cream cheese – room temp
1 tablespoon vanilla
1 cup confectioners sugar
2 tablespoons milk
4 tablespoons melted butter
Method:
To make these cinnamony little gems place yeast, sugar, milk and butter in a microwave safe dish and warm for 1 minute. Place these ingredients into the bowl of a stand mixer fitted with a dough hook and mix on low until ingredients are combined. Add eggs.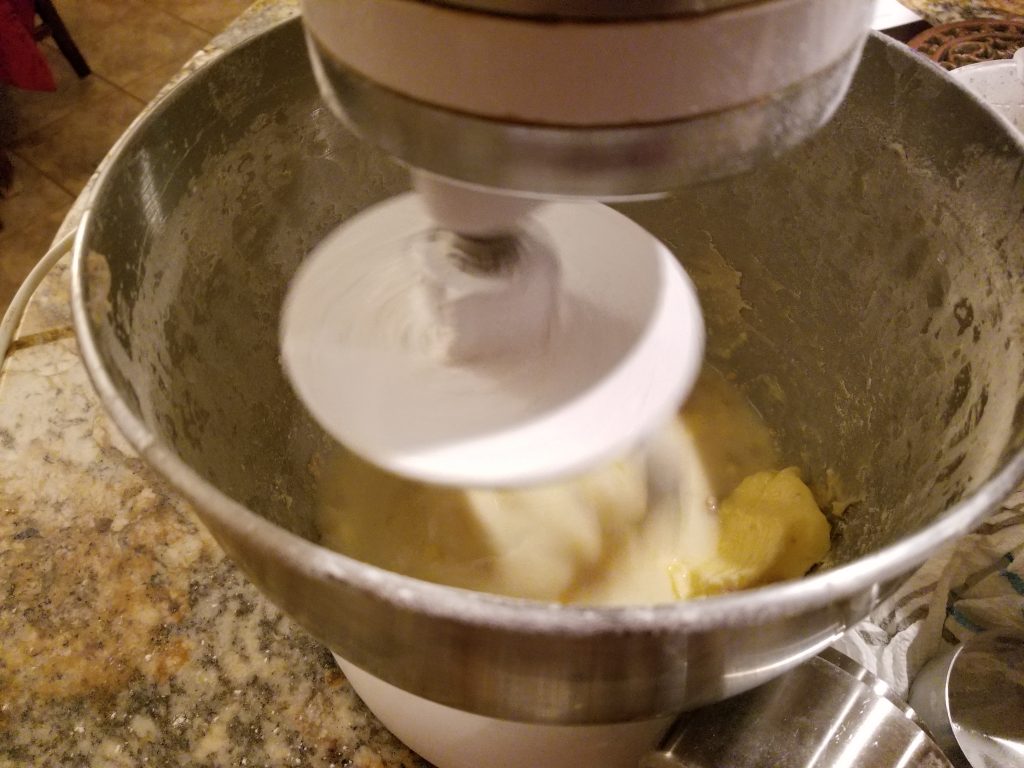 Slowly add flour until the dough forms a sticky ball around your dough hook and pulls away from the sides. The original recipe I used called for 3 cups of flour, but I found that the dough was still too wet with only 3 cups – I used closer to four in each batch.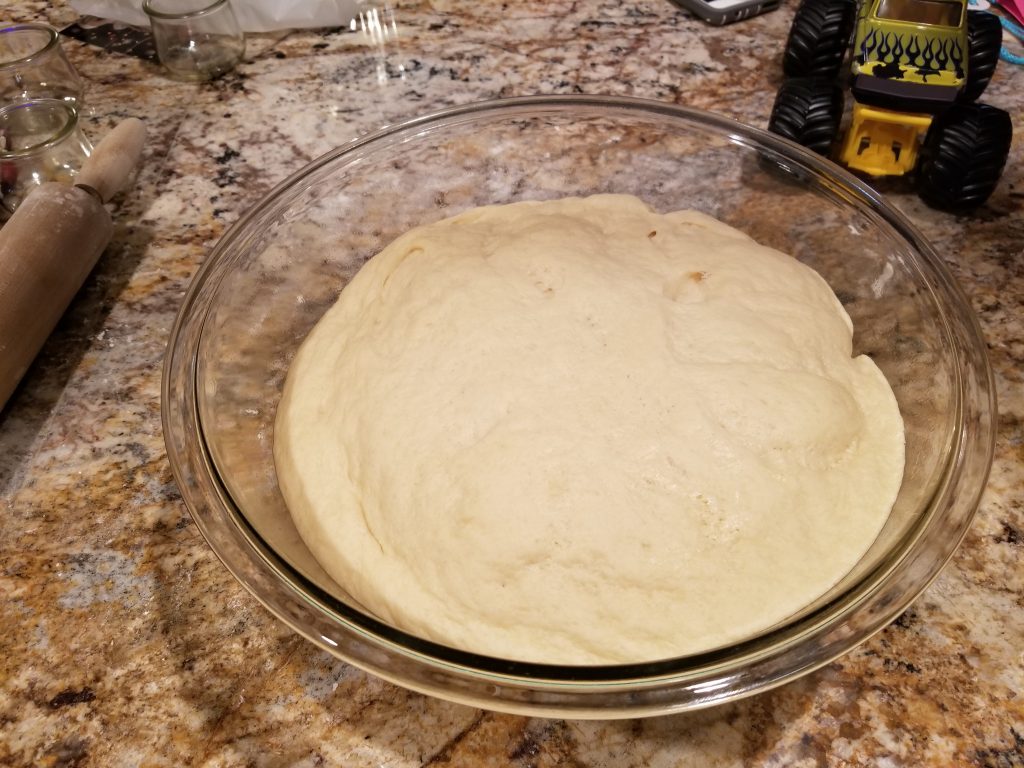 Lightly grease a large glass or metal bowl and turn dough into the bowl to rise. Cover very tightly in plastic wrap and put into a warm place to rise. I like to turn my oven on to 200 degrees before I begin making the dough. Once it gets to temp, turn the oven off. This is a dark, warm,perfect environment to promote your yeast to activate and dough to rise really well. Leave it alone for about an hour =it should double in size before you begin the next step.
When your dough has made its 1st rise, remove it from the oven and punch it down. Just stick your fingers directly into the dough and watch it deflate like a balloon. This is normal – don't worry! Turn it out onto a floured surface.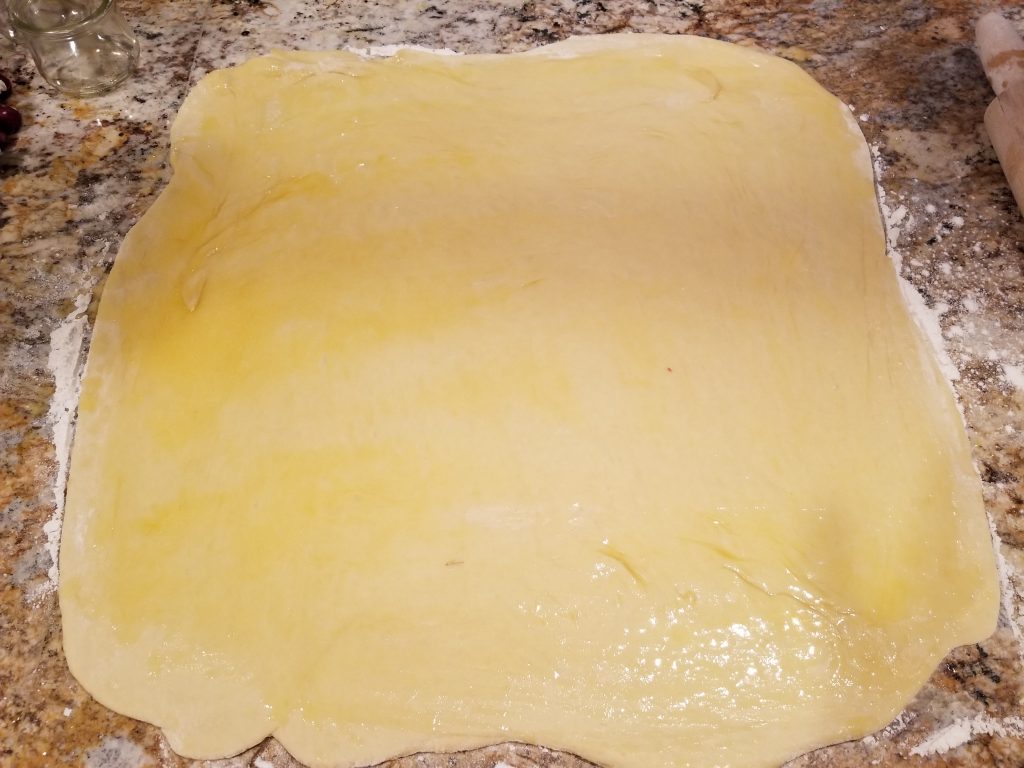 Roll your dough into a 12 X18 rectangle and brush melted butter over the entire surface.
Sprinkle with cinnamon generously and then with your brown sugar.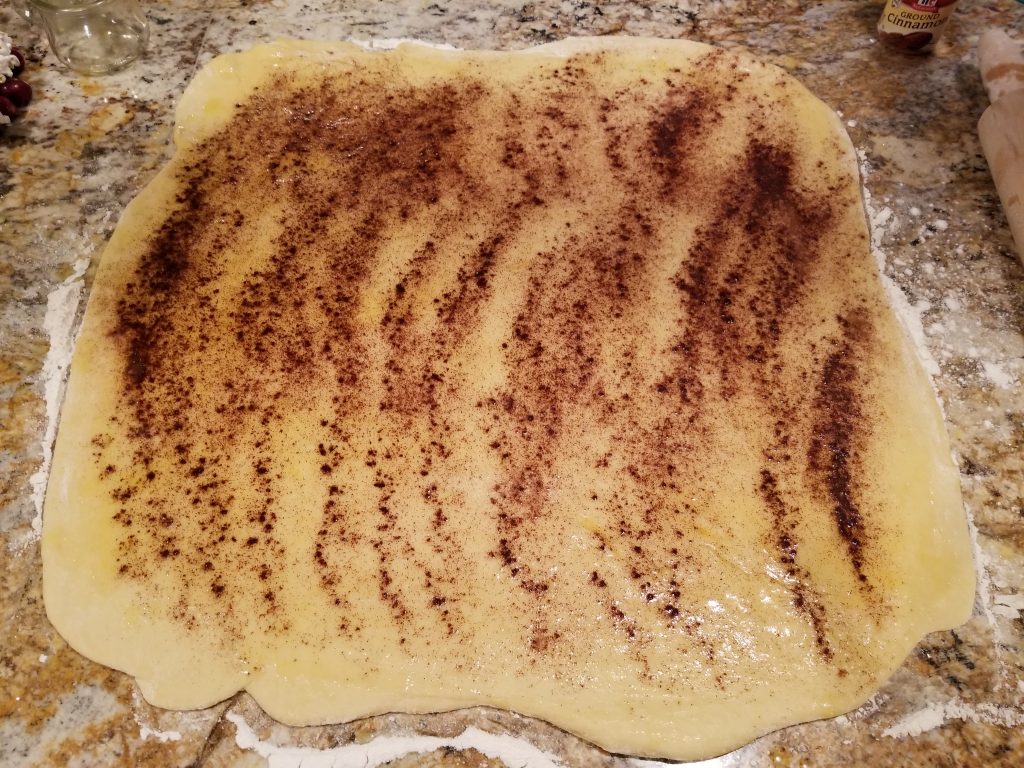 Roll your rectangle into a roll and cut into slices. I gently use a serrated knife to cut through,but you could also use thread or unflavored floss. I would not recommend using a straight edge knife as it will put a lot of pressure on the edges of the dough where you cut,and could make your rolls pointy on the ends. Nobody wants a cinnamon rhombus.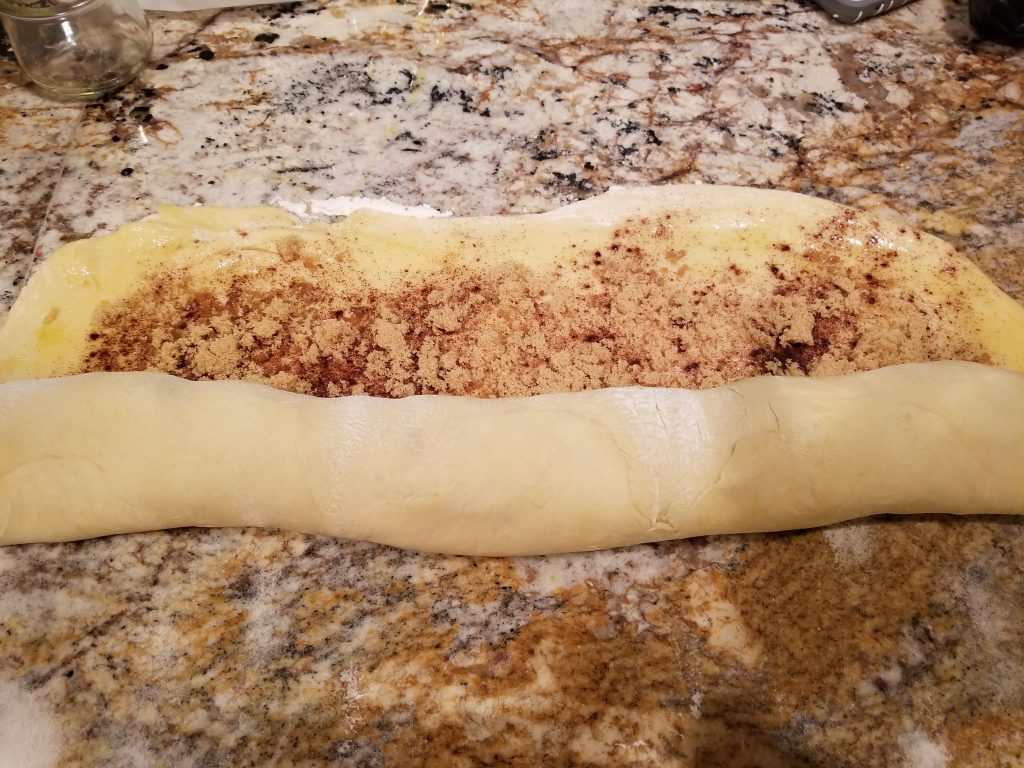 Evenly space your rolls in a heavily sprayed pan, giving them room for their second rise as you place them. Leave a little "elbow" room between them.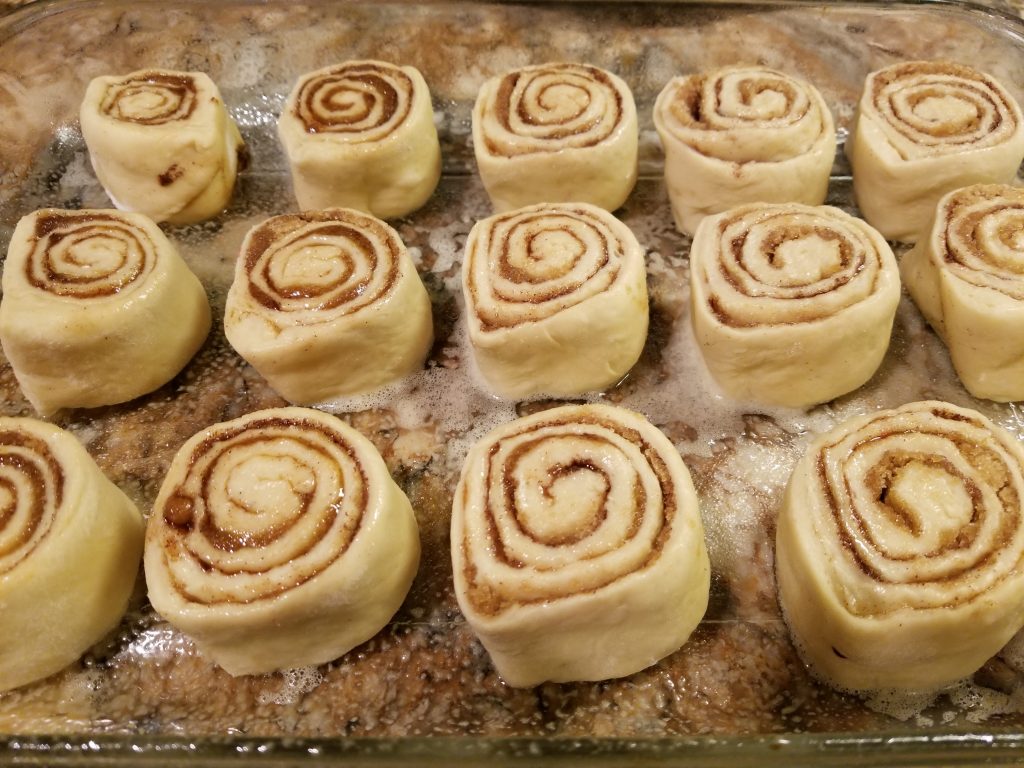 This is the point at which you can freeze, place in the fridge to proof overnight, or just let them hang out for another hour and bake immediately. If you are freezing or overnighting, wrap the rolls very tightly, leaving no exposure to air at all. The air will dry out the bread anywhere that it is allowed to reach and give you dry and crusty bits on your rolls. Again, nobody wants that.
Bake at 325 for about 20 minutes.
To make your icing, mix all ingredients thoroughly, adding more milk to thin to the consistency you like. Personally, I like the icing a little thick, but still pourable. Ice while the rolls are still warm and allow them to sit for a few minutes so that the icing melts over the rolls before serving.
I like to personalize these for holidays and occasions. For Christmas, I love a green tint to my icing,and a little red heart on top for Grinch rolls. Valentines brings a pink or red icing and shaping the rolls into hearts rather than circles. Easter is a blue,green, or purple and brings a sweet little bunny shape.
What do you do to treat your kids at the holidays?