Christmas Treats Santa Can't Resist
I don't know about you, but in my house, Christmas is a LOT of work! I am all about making things as easy as possible without sacrificing detail and experience. The treats below are perfect if you are looking for a quick last minute treat or two for Christmas, These also make excellent gifts and they mail quite well too. I have some treats that will make you look like you spent hours in the kitchen and slaved all day. These are also perfect to let the kids help with. Most of these are done in only a few minutes!
Pinwheel Cookies
These colorful pinwheel cookies are a Christmas staple in our house. I love how festive and colorful they are, and the addition of sprinkles is just a little extra "happy" for the cookie. They just scream Christmas cheer!
Ingredients:
2 cups flour, plus more for rolling
2/3 cup confectioner's sugar
¼ cup white sugar
¼ tsp salt
½ tsp baking powder
2 ½ sticks butter – buy the best you can afford, European style is best
1 tsp vanilla
Red and green gel food colors
White chocolate
Sprinkles
You will also want plastic gloves
Method:
In a stand mixer, add dry ingredients on low with a paddle attachment.  Mix well.  Slowly add butter and remove when it forms a ball on your paddle.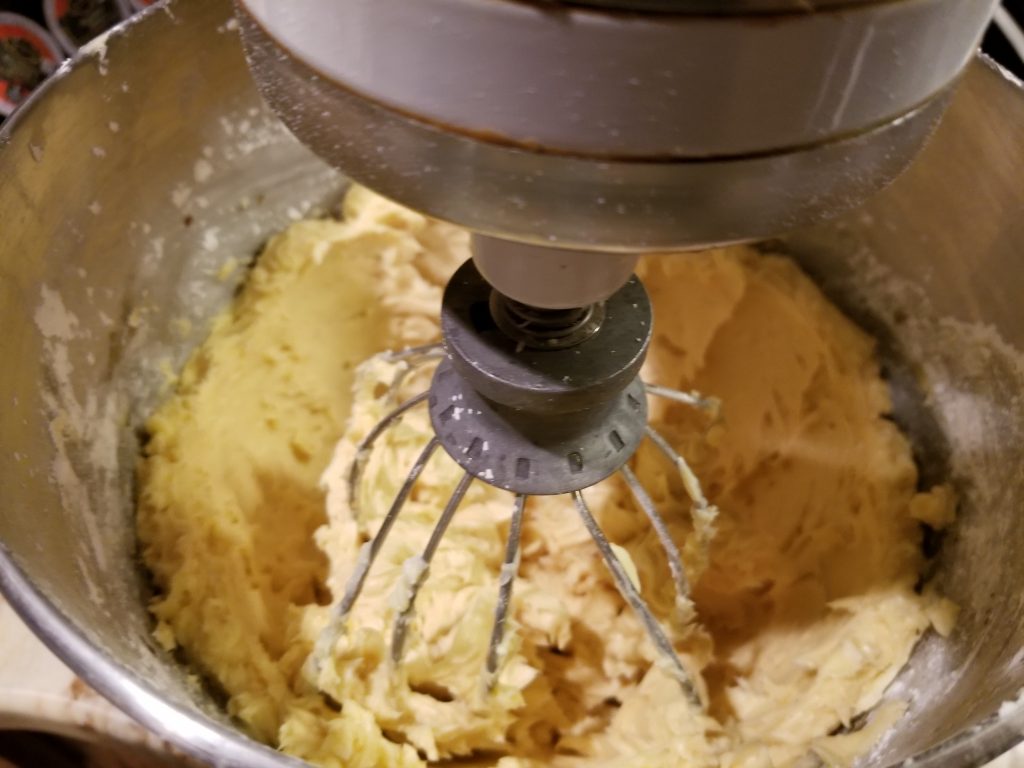 Divide dough into two equal parts.  Make an indention in the center of each ball of dough and add food color.  Put your gloves on now!
Starting with your red ball, begin kneading the color into the dough until you have a bright, consistently colored ball.  Rinse your gloved hands, dry well, and repeat with green.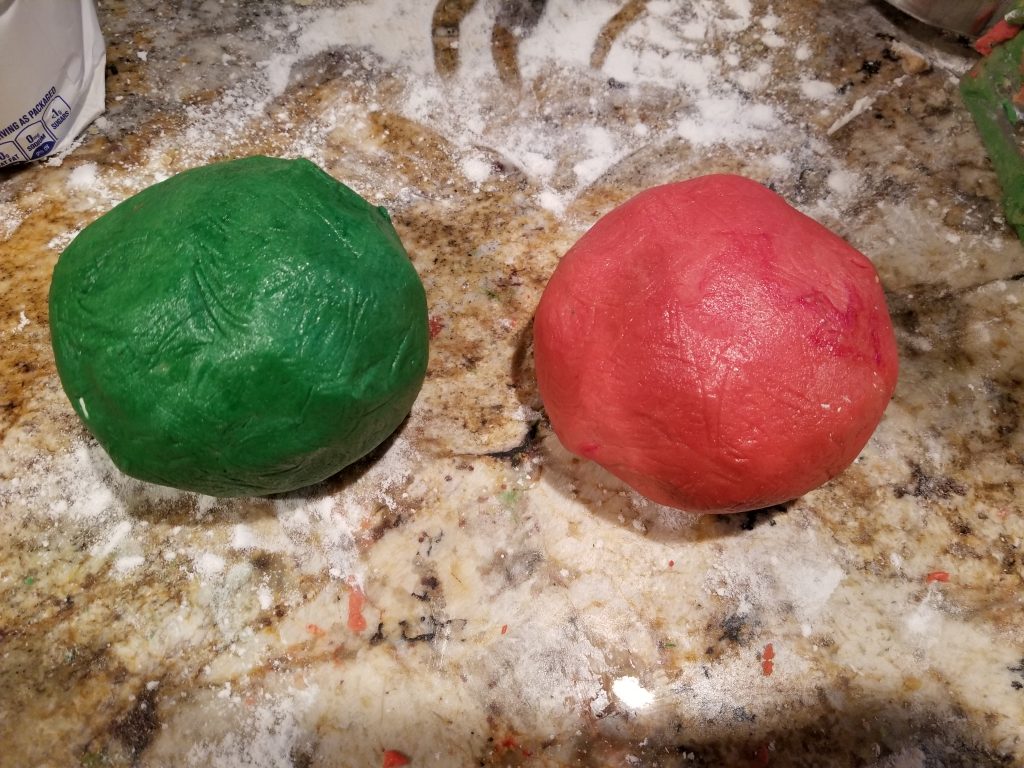 Roll out each color into similar sized rectangles.  Place your red on top of your green and slowly roll into a tube.  You now have a pinwheel of color.  Wrap in saran wrap and place in the fridge to chill.  If you want to make this dough ahead, it freezes well!  I make the dough in advance so that we just thaw on Christmas Eve and bake.
Slice ½ inch slices of cookie dough and place on cookie sheet lined with a baking mat.
Bake at 350 for about 12 minutes. Watch them carefully, they will burn quickly!
Cool to room temp.
Melt white chocolate chips. Dip the edge of the cookie (all the way around the sides) in the white chocolate and immediately into your sprinkles to give a festive and tasty edge to your cookie.
Christ-mice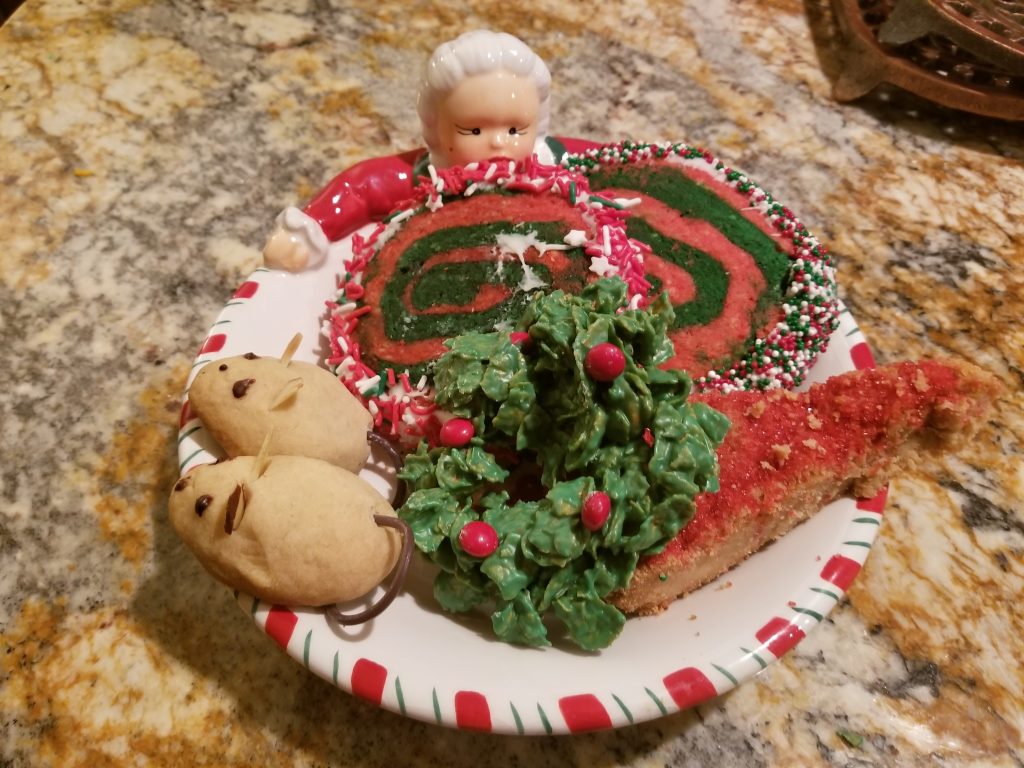 These short bread mice are my favorite Christmas cookie to make with the kids.  They are easy, tasty, and adorable!  They do not mail well as the ears and tail can be a little fragile.  Check out my short bread recipe for the instructions on how to make these super easy and tasty treats!
Cornflake Wreaths
These cookies are so easy and adorable! I love to make these with the kids because they can get into the kitchen with me and help with this recipe.
Ingredients:
1 box corn flakes
3 bags green melting chocolate ( I like Wilton brand)
Red M and M's minis (5 per wreath)
Method:
These adorable cookies are so easy! Melt chocolate in the microwave on 30 second intervals, stirring in between each cycle.
Mix cornflakes into chocolate and begin stirring.  You will want to use a wooden spoon, and be sure to crush the corn flakes as you stir to give a variety of sizes and texture to the finished product. 
Place each spoonful about an inch apart so that you can use the end of your wooden spoon to make a little hole in the center of the wreath. While chocolate is still wet, add red M and M's minis to the wreath to look like holly berries. Let the wreaths set before transferring to an air tight container.
This will make about 24 large wreaths.
Chocolate Covered Oreos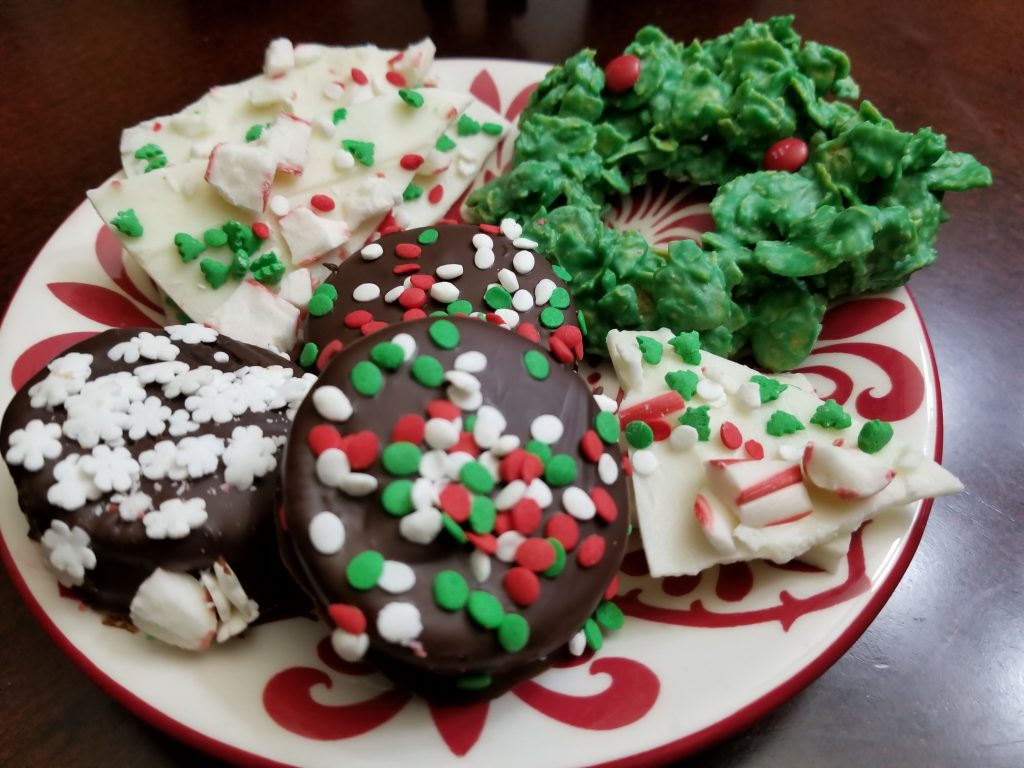 These are so so easy, and look impressive when displayed in a treat box (you can get these at Michael's and JoAnn).
Ingredients:
1 package of Oreos or your favorite brand of sandwich cookies
1 package chocolate bark
Sprinkles, red and green chocolate as desired
Method:
Melt chocolate in microwave in 30 second intervals, stirring in between each cycle. 
When smooth, dip Oreos in chocolate and place on a foil lined cookie sheet to set.  Add sprinkles or drizzle with white or colored chocolate for contrast.  Place pan in refrigerator to speed setting time.
Peppermint Bark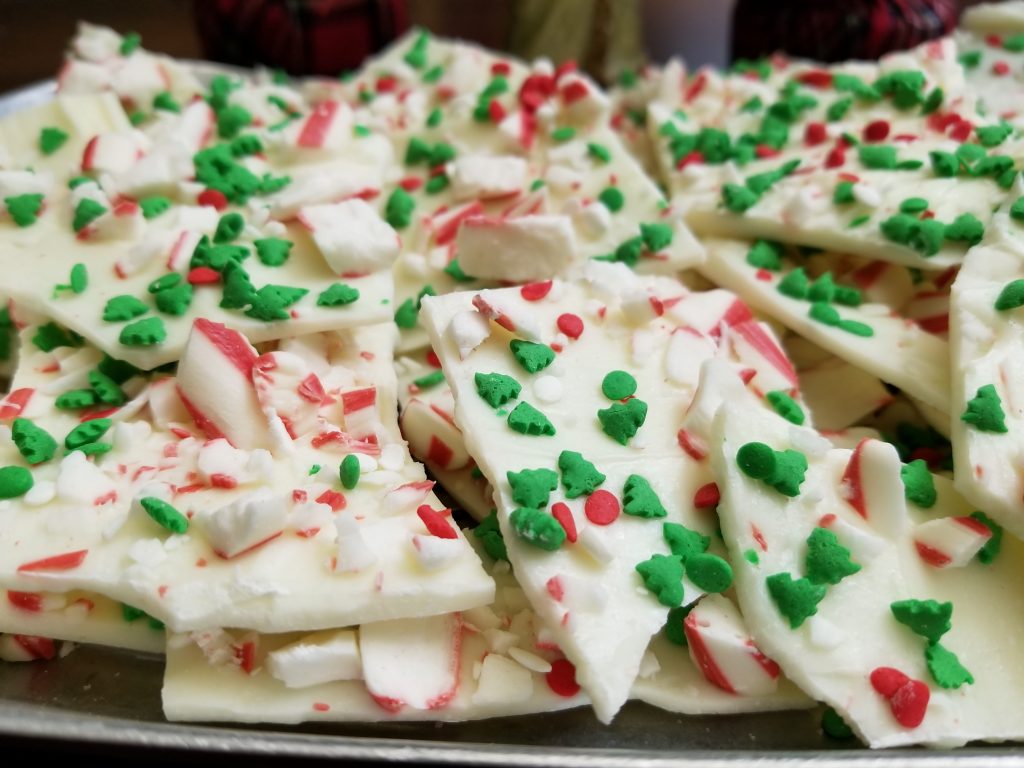 This is by far the easiest of the recipes to make, and is always a big hit at parties and for little gifts.
Ingredients:
1 bag white chocolate chips
Peppermint extract
Candy canes or peppermint sticks
Sprinkles and decorations
Method:
Melt white chocolate chips in microwave in 30 second intervals, stirring in between each cycle.  Once melted and smooth, add 1 tablespoon of peppermint extract and mix well. 
Pour onto foil lined cookie sheet.  Add sprinkles, crushed candy canes, jimmies, and Christmas themed decorations as desired.
Place into refrigerator to harden. Break into small pieces. These look beautiful in a clear celo bag with a bright red bow on top!