This theme night was a bit more intensive than the last one.  We based our dishes around the movie Ferdinand, set in Pamplona, Spain.  I love Pamplona – it is one of the most beautiful cities in Spain, with so much history, so much architecture, and the food – oh my goodness!  I picked up olive oil and chocolate when I was there last December (read about that trip here) and still have a bit of both left.  Because the movie centered around Spanish culture, we decided to go with a Spanish menu.
Not all the dishes were local to Pamplona, some are more appropriate for other regions, but hey, whose judging, right?  We will start with some basic tapas – bread, olive oil, olives, as finger foods, and little ham and manchego and garlic, butter and mushroom pinchos (this is the Spanish word for bite size).  For the entrée, we will have a paella with chicken, chorizo and shrimp.  And finally, to finish off our amazing meal, some churros and chocolate.
Tapas
To make our tapas, we are going to start with a small baguette and slice it thinly.  The goal is to create ¼ inch slices that will soak up some of the oils and flavors from the toppings without giving way completely.  To top these lovely morsels, we will first create the ham and cheese.  Once your slices are on a platter, drizzle heavily Spanish olive oil.  Seriously, there is a difference in the flavor profile between varieties, as well as blends.  Do your best to get a pure Spanish oil, but no harm done if you can't.  Slice a generous slice of manchego and place it first, then your Iberian ham.  Iberian ham is a delicacy.  It is sliced in paper thin, wonderfully flavorful slices that fold perfectly on top of the cheese and bread.  If you can't find Iberian ham, use prosciutto – it isn't quite the same, but you can make it work.  Then drizzle again with oil and you're done.  Easy breezy.
Moving on to our mushrooms, marinate overnight in garlic and olive oil.  When you are ready to cook, slice into reasonable sizes or use just the caps of small button mushrooms for this dish.  Melt butter in a skillet, preferably cast iron, and cook your mushrooms in their marinade until heated through and tender in the butter – sprinkling with salt and pepper to taste.
Alternately, you can roast them in the oven at 425 degrees for about 15 minutes and achieve the same result.  Hit them again with a topping of the  butter sauce before serving.  Delish!
Honestly, any plate of breads, naan, small flat breads, meats and cheeses will do.  Tapas and pinchos are supposed to be low key, easy, flavorful bites that you can enjoy together.  These guys allow you to be casual, talk around your selections, and are customizable for anyone to enjoy.  Get what they like, don't limit yourself to only what you imagine would be on a Spanish menu – it is much more diverse than you think!
For Paella, you will need:
1 packet Mahatma saffron (yellow) rice (I used a 5 ounce packet – dry)
½ sweet onion
½ large red bell pepper
1 and ½ cups frozen peas
4 cups chicken stock
2 lemons (zest only)
1 bay leaf
3 chicken thighs
1/2 pound chorizo
8 to 10 shrimp (deveined, peeled, tail off, raw)
Seasonings to taste: garlic, paprika, fresh parsley, salt and pepper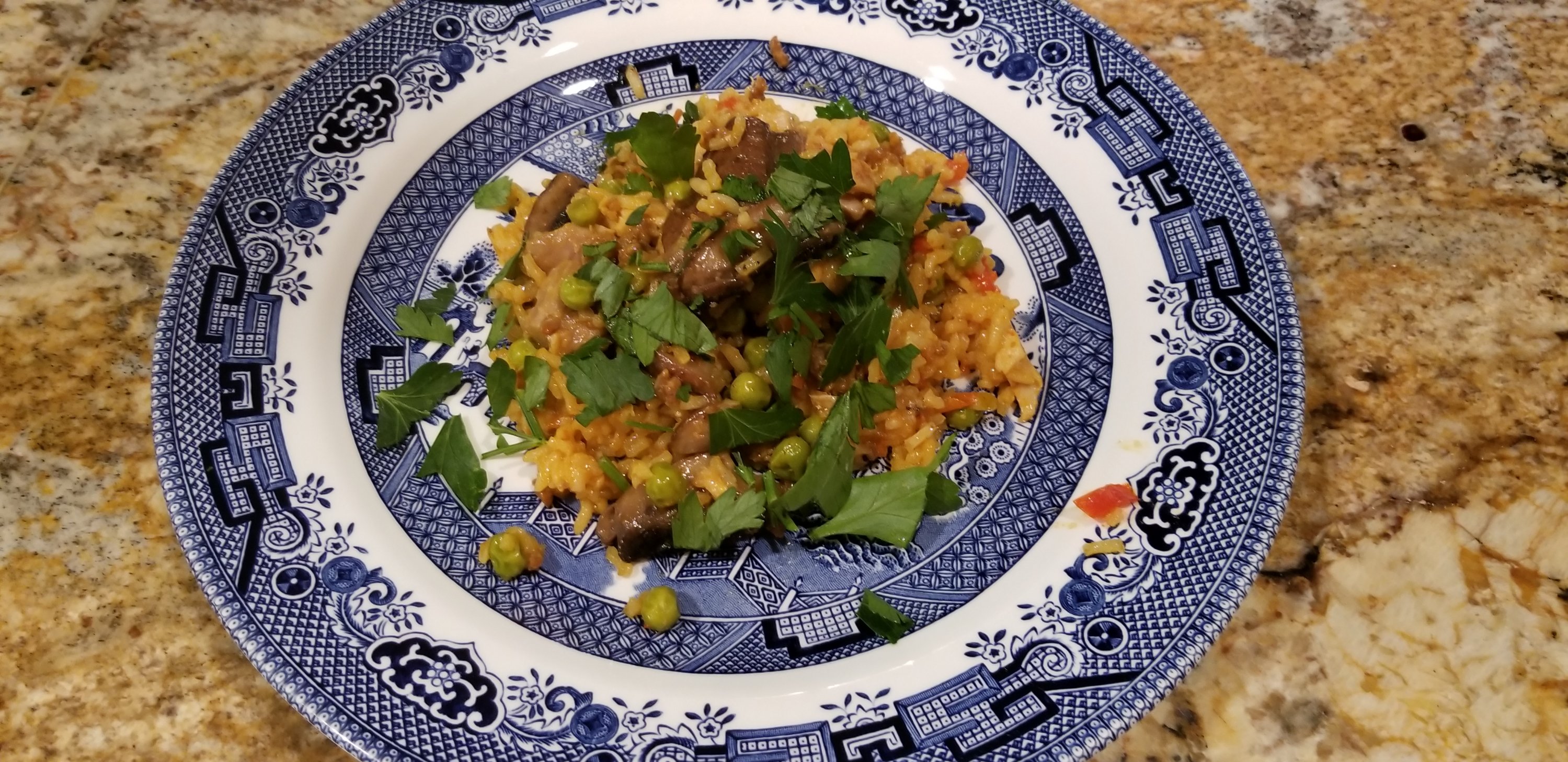 The paella is actually a lot easier than you would think.  I am going to start with a saffron (yellow) rice and cook it in my rice cooker, in chicken stock.  I generally cook my chicken the day before (roasted) for another meal and use the left overs as meat in the paella.  I do this with most of my rice dishes that call for chicken.  While my rice is cooking, I am going to take ½ onion, diced thinly, 1 cup of red bell pepper, diced thinly, and one lb. of ground chorizo and brown them together – sweating the vegies as we go.  Drain and set aside in paella pan (I don't have one, so I use a large skillet).  We are going to throw in ½ bag of frozen green peas to hang out with their new friends as well.  Chop your chicken into ½ inch pieces and throw those on in to the party as you finish chopping.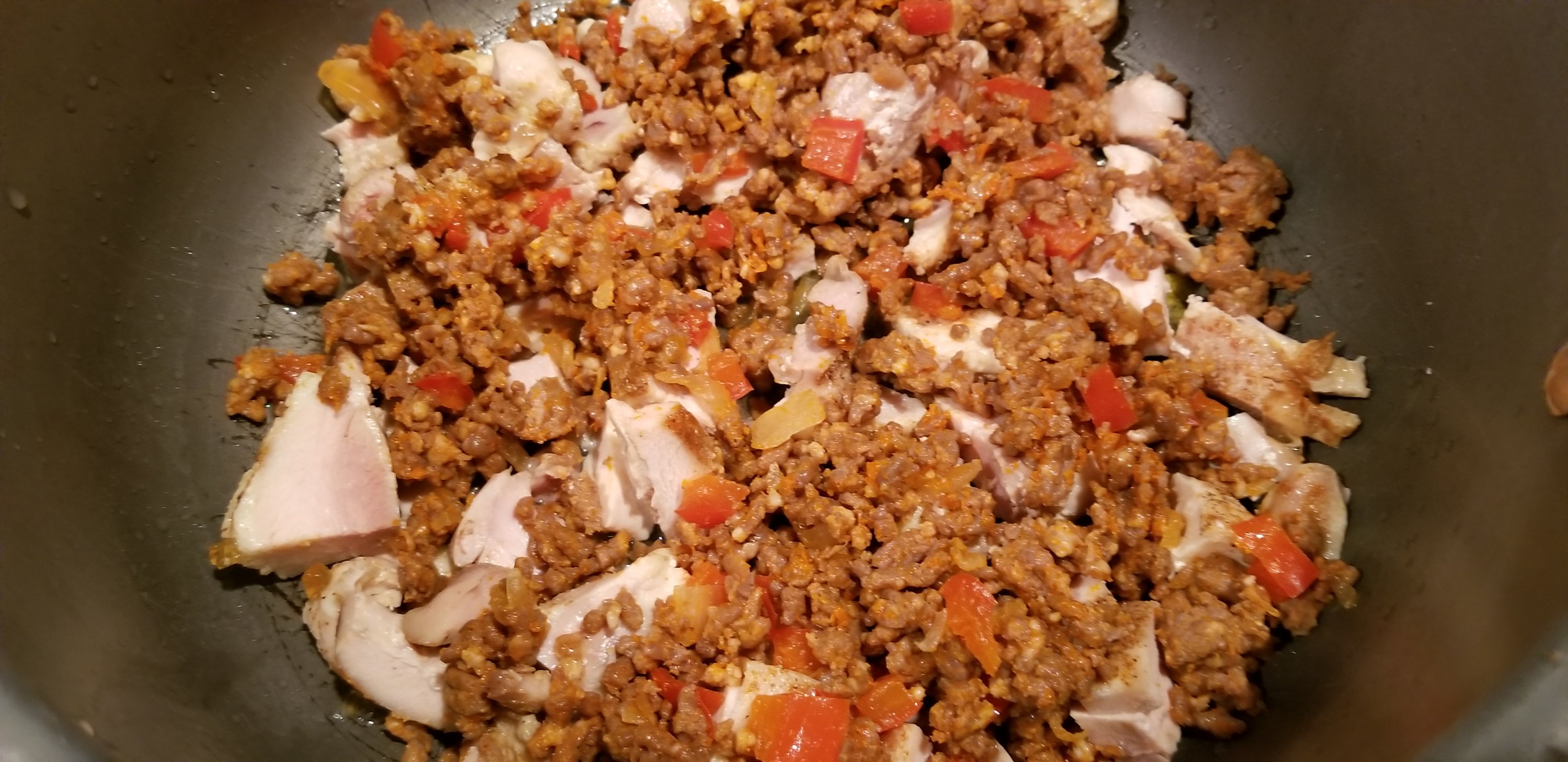 Right now you are going to have a mess in a pan.  Let me assure you, once the rice arrives and simmers for a bit, it will all come together.  Once your rice is done, mix in – adding 1 teaspoon of garlic, 1 bay leaf, salt and pepper to taste (be sure to taste it first because the chicken stock is salted) and a few dashes of paprika.  Mix well, add a bit more chicken stock, your lemon zest and simmer on low for at least 30 minutes with a lid on.  Just as you are getting ready to remove from the heat (guess maybe three or four minutes to go), add in your shrimp.  They barley need any time to cook (3 to 5 minute total depending on size), so you don't want them to overcook and get tough.  Garnish with fresh parsley for a little brightness and color.  So lovely!
Our churros are easy breezy and couldn't be any less healthy for you if they tried.  These little guys are basically deep fried dough, rolled in sugar and cinnamon, and dipped into creamy, thick dark Spanish chocolate.  Oh man!  They are amazing.  I had eaten and loved churros before Spain, but the addition of that chocolaty heaven in a cup put me over the moon!
For Churros (my favorite base recipe is here!) you will need:
1 cup sugar
1 tablespoon cinnamon
½ teaspoon nutmeg
1 teaspoon vanilla flavoring
6 tablespoons Presidente French butter with sea salt crystals (you can sub European style butter – salted)
½ cup milk
½ cup water
1 cup of flour
3 large eggs
Put your wet ingredients, butter, and 1 tablespoon of sugar in a heavy sauce pan to simmer.   Once the mixture is simmering well, add all three cups of flour.  Transfer to a stand mixer fitted with a paddle attachment and let sit for 3 to 5 minutes (this is to cool your mixture a bit, you don't want the eggs to cook yet).  Begin adding eggs – one at the time, scraping down the bowl in between eggs, until the dough is shiny and smooth.
The dough isn't going to look right at first, but let it keep mixing without adding any additional ingredients, still scraping down the sides for a couple more minutes.  It will come together.
Empty your dough into a 16 inch pastry bag (I love these) with a star tip (fave one is here) on the end.  The start tip should be large enough to let the dough pass easily without breaking, yet still leaving an impression in the dough.  I like to use the ones that have long tines which will cut deeply into the dough – this allows for some shape to remain when it puffs up in the frying process.
Fry the dough in small lengths (press about 3 inches of dough out of the tube directly into the heated oil).  Let drain on paper towels, then roll in remaining sugar and cinnamon mixture.
Serve with chocolate sauce.  You can use the recipe here, or you can simply melt bitter sweet chocolate, add one tablespoon instant coffee or espresso powder (you can't taste the coffee, but it really adds depth to your chocolate recipes!), one tablespoon Mexican vanilla, and heavy cream to get it to the consistency you like.  Melt these items together over a low heat in a heavy sauce pan.  When you get the desired consistency (the chocolate should be too thin to set and too thick to drink like American hot chocolate), add a couple pinches of sea salt to cut the sweet and bring out the flavors.
Serve on a plate with a bit of chocolate in its own dish for dipping.  Individual portions are fine, as is communal for sharing.
The kids really enjoyed this dish – is anyone shocked?  Fried dough and chocolate?  Tiny has long loved churros, but I have not made them at home because I didn't want her asking for them every five minutes – not so good for a middle age mom's waistline, you know.  Oh well, the genie's out of the bottle now.  😊
Ok, I'm setting this table up in the living room, on the coffee table with everything out at once.  I want the kids to sample, explore and eat slowly as we watch the movie and chat – everything goes out on the coffee table.
I'm mixing up a little virgin sangria for beverages (just a bit of Minute Maid light fruit punch, ice, lemon, lime and apple with a touch of Sprite Zero for bubbles) and we are all set.  Buen provecho, everybody!