We all know the struggle of trying to figure out exactly what to pack when we travel.  Finding the perfect outfits, packing the perfect accessories, not forgetting critical items.  I am the queen of packing everything but my pajamas.  The struggle gets real when you also have to check it and the weight restrictions are in play.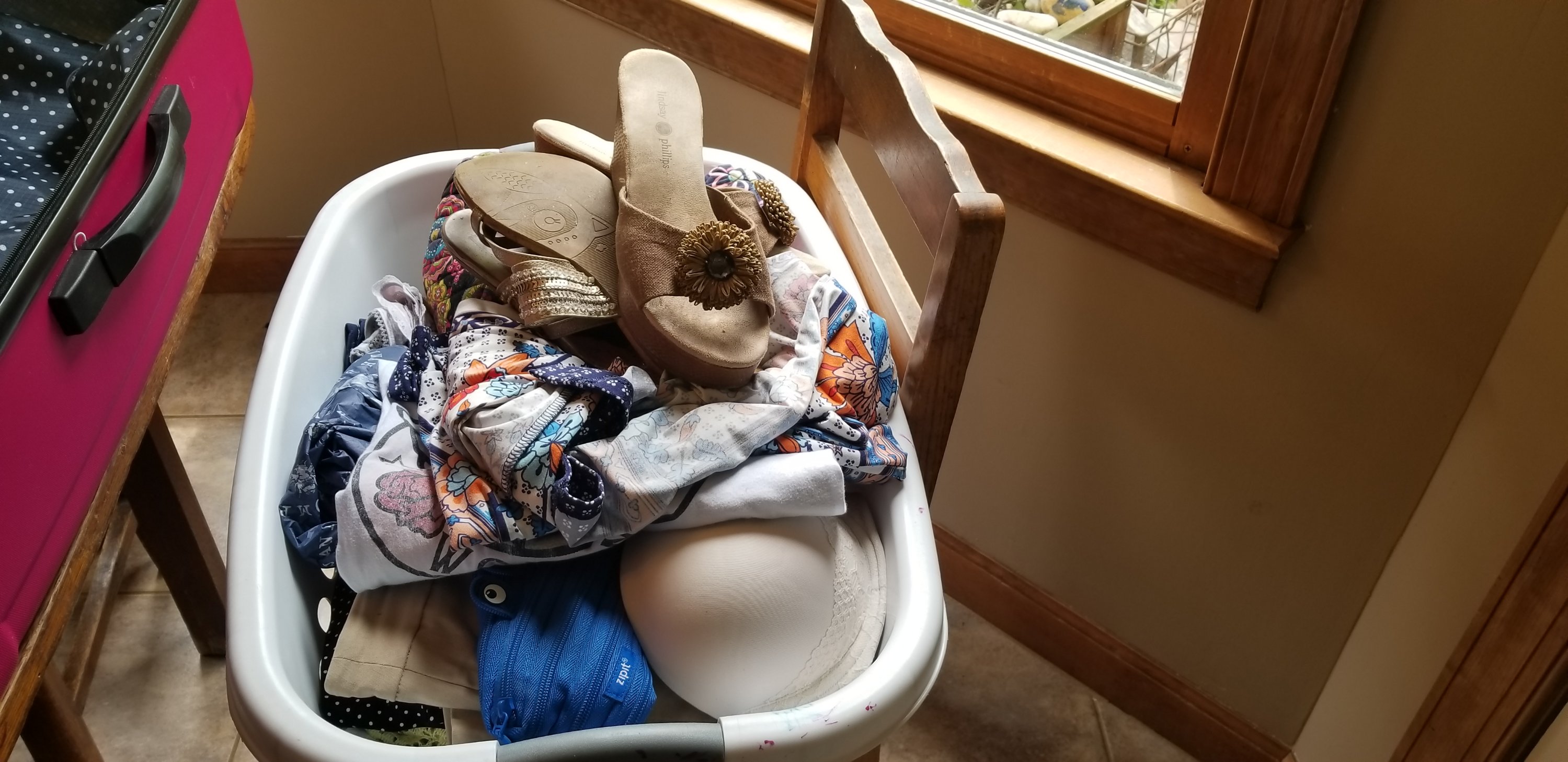 Since I travel for work a lot, I have to be strategic in what I pack.  I can't afford to pack a new complete outfit for every event.  I like to make the most of a few staple pieces that can be mixed and matched for a different look without all of the weight.  I pack my own clothes for a trip much like I organized the kids' wardrobes for the week (get more on organizing food for when I'm away here and organizing the tinies' clothes here).  I like to lay everything out on my bed by day – keeping in mind that some pieces are going to be rinsed and worn again later in the week.  I then select a few accessories that are going to go well with multiple outfits.  These are surprisingly heavy if you pack a different set for every outfit.  Once I have everything organized, I collect it all in a laundry basket and take it downstairs..  I like to pack on my kitchen table so that I have a lot of room to lay out my cubes, presentation materials, etc. It becomes a 3 D version of packing tetris once everything is cubed and ready to place in the suitcase.  To see what I put in my carry on for short flights, click here.
Once I have everything organized that I am going to take, I use my packing cubes (take a look at my post on my favorite travel accessories here) to sort the clothing by type and need.  The two smaller packing cubes are for my swim suit, cover up and active wear.  Small cube number two includes my underthings and night clothes  I usually use two large cubes as well.  I like to pack one with dresses and items that are a bit more bulky into large cube one.  Large cube two has everything that can be packed a little tighter.  I like to use this cube for t shirts, camis, shorts and pants.  I love fabrics that don't wrinkle easily but still have a flattering drape.  I am a woman of a certain age after all.  By the middle of my trip, I have changed use of the large cubes.  They become a separator for dirty and clean clothes so that my dirty clothes do not get mixed in with the clean ones.
My absolute favorite item in my packing cubes set is my shoe bag.  I love the shoe bags because I don't want to have dirt and grim packed against any of my clothing items.  Every once in a while I need to pack more shoes than I have shoe bags (I only have two).  The other piece of the packing set that I can't travel without are the laundry bags.  They double as shoe bags in a pinch – a pair of flats fit perfectly in the laundry bag.  The second laundry bag that I pack is for everything from dirty laundry to damp swim suits.  I packed my Rothy's in the laundry bag because the flats are going to keep their shape and work nicely.  If you haven't tried Rothy's shoes, they are amazing.  I love that their soles are removable and washable!  This is a perfect travel shoe – they are made from recycled plastic bottles, so they are durable and earth friendly.  They are not just comfy, they are stylish and go with anything!  I have the pointy tip ones in black and would love to have every color.  They are not sold on Amazon, but I lined a similar shoe here.
Packing is stressful, especially when you are traveling abroad.  I tend to over pack, I travel like a cross between the guy from Into the Wild and Elizabeth Taylor.  Don't get me wrong, I don't need help schlepping my luggage, but I can't seem to ever hit below 50 lbs. when checking a bag.  Goodness knows you don't want to be caught paying over weight fees or for an additional bag.  To avoid this, I travel with a portable luggage scale.  Yep, that is correct, you can actually buy a hand scale (I have linked one here).  They can be purchased at most travel shops, but I like to make sure it is quality.  The last thing you need is to travel with something that isn't as useful as you want it to be.
Packing doesn't have to be a mystery, with a little strategic planning and organization, you will have space and variety for any occasion.