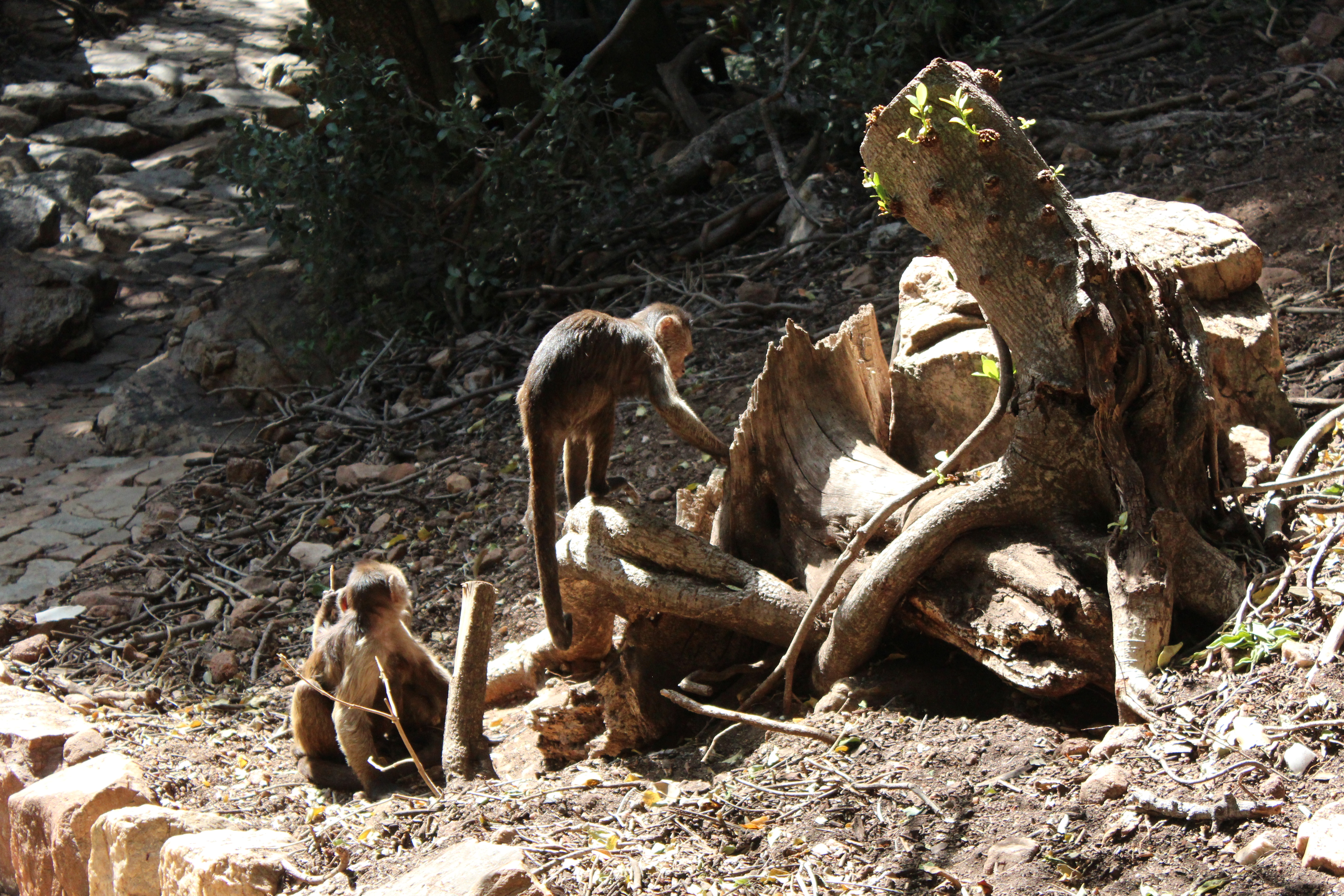 Going on safari has been something I have wanted to do since I was a small child, watching episodes of Jack Hannah and Wild Kingdom.  I lived so far out in the country that we didn't get cable service, so we had rabbit ears – and later a big antenna on top of the house that pulled in 3 clear channels and 2 static-y ones.  One of the later two was only when it was cloudy.  We had NBC, CBS, and PBS clearly.  Fox and ABC were occasional or really static-y.  This meant that as kids, we watched a LOT of PBS.  Sundays usually had PBS on in the afternoon – Cajun cooking, French cooking, and animal shows were always on the rotation.  Usually, we were outside playing, but occasionally if it was raining or too cold, we would watch TV with our parents.  The African animals were always a draw for me – primarily the elephants.  They always amazed me with their intelligence, sheer size, and seemingly gentle nature.
Almost a year ago, I applied for a research grant that allowed me to travel with a group of Biologists and Biology students to South Africa to study the students.  Irony – I studied them while they were studying the animals.  When I actually got the grant, I was ecstatic!  I knew that they would be doing the things I dreamed about as a child.  I was going on safari with my colleagues!!!!!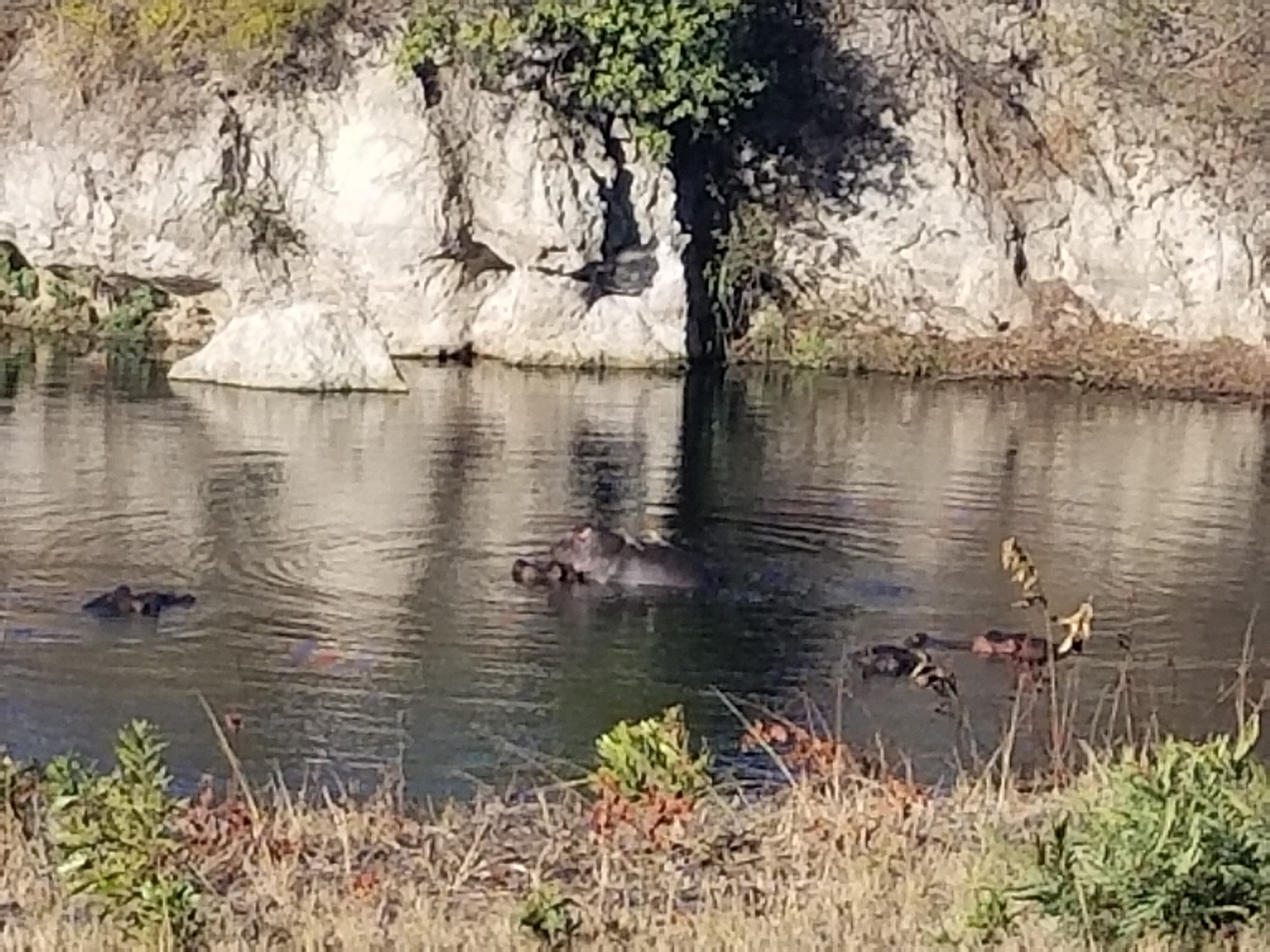 Well, in short, it was one of the most amazing experiences of my life.  Seeing the animals in their natural habitat, just being themselves and happy, it was breathtaking.  My appreciation of the animals and those who work to conserve their habitat had truly deepened.  Our ecology provider was Eco Tours, and the guides they provided were outstanding!  They were so incredibly knowledgeable and in touch with nature.  I was astounded at how well they could identify the birds by call, knew the names of each tree in multiple languages, and could share the cultural stories of creation/the constellations/land forms and bodies of water.
When I arrived in South Africa, I knew the seasons were reversed and that it was winter in July rather than summer.  I got on the plane at about 95 degrees F (35 C) off the plane at about 45 degrees F.  Oh my!  The lows were near freezing on some nights.  The first night, I stayed in Johannesburg.  The plane ride was a 15 hour direct flight from Atlanta to Tambo International.  I arrived at about 5:30 PM.  Since I had heard so much about the crime rate in Johannesburg, I didn't want to take chances.  A South African colleague recommended the Crowne Plaza, so that is where I stayed.  I was able to arrange transportation and a smidge of non grant funded personal sight seeing through the hotel as well, so it was very convenient.  As a teacher of diversity and social justice, I really wanted to see SOWETO, the Mandela sites (bonus that it was his 100th birthday week), and the Apartheid museum.  I also wanted to see the elephant sanctuary.  The day was amazing.   I would recommend the elephant sanctuary and SOWETO for any age, but the Apartheid museum (though EXTREMELY well done) may be hard to handle for younger travelers.  I would suggest 10 and up so that they can process the images they see.
The elephant sanctuary is also attached to a monkey sanctuary.  You cannot touch or feed the monkeys, but you do get within a couple of feet of them in their enclosure.  There happened to be an infant on its mother's back while I was there – so cute!  It is really all you can do not to pet them.  Once through the money enclosure (be sure to watch your things, they (the monkeys!) are pickpockets!) you proceed to the feeding stalls.  The elephants are in their holding pens, happy as can be!  They let us feed a rather large boy named Amarula.  He was huge and stunning!  Looking him in the eye was just amazing.  I couldn't believe I was able to get this close to such  a magnificent creature.  From there, we were able to go to an outdoor classroom where we got a brief anatomy lesson (who knew they walked on tiptoes all the time?)  and then were introduced to our elephant friends.  The gentle giants were so kind and patient as we petted them and hugged them!  They were so very sweet.  Finally, we went to a corral of sorts and, along with the handlers learned how to take an elephant for a walk – and my favorite part – take a short ride on one!!!  I was giddy afterward.  I have wanted to ride an elephant for SO SO long.
Amazingly, this was all in Johannesburg – I had not even gotten to the safari camp yet.  Speaking which, ours was Nkambeni in Numbi.  It truly is an Eden. The camp is situated smack in the middle of Kruger National Forrest – where ALL the amazing animals come out and play.  We saw countless species of bird, dwarf mongoose, impala, daker, cliff springers, and of course, elephants, lions, hyenas, giraffe, rhino, hippos, buffalo, water buck, kudu, wildebeest, and many more.  I was constantly amazed by the beauty of this place.  The terane, the vegetation, and the animals were so much more than I ever hoped I would see.  I do believe my favorites were the wild dogs, zebra, giraffe, hippo and elephants.  The monkeys were pretty funny to watch as well.  Such naughty little buggers.
The camp itself isn't posh (unless you are a biology student who had been in the woods for the previous two weeks.  They were amazed to have electricity again.  It was no Crowne Plaza, but it was pretty cool.  I did want to go camping this summer – I just thought it would be in the US not SA.  Our tent was on a platform with a tiny porch, tiny indoor/outdoor shower (it did include hot water) and two beds with a mosquito net over them.  It was actually pretty nice.  They called it a safari tent.  With lows hovering around freezing, I wondered how the nights were going to go.  There was only one night where I shivered all night even under the amazingly warm blankets on the beds.  It is a tent after all, so no heat or air.
The grand lodge was quite nice.  Most field camps that I have been to do not have a pool, this one has a small one.  It is equipped with a dining room that is open to the reserve, so you can see a variety of game from your table.  Elephants and hippos became our constant dining companions, with the occasional heard of zebras, buffalos or impala to keep you entertained while you dine.  The food was amazing.  I don't know half of what I ate, but since I'm primarily a vegetable eater, it was exciting to try different things.  I did get adventurous and try springbok jerky at one point – tastes like venison Italian sausage.  I went back to my vegis, curiosity satisfied, though it was quite good.   The lodge includes a small but fully stocked bar, and a tiny gift shop.  The management have their systems in place and the lodge runs perfectly.  We were able to see dancers, have dinner in a boma with a camp fire, and generally loved the setting.  I was constantly amazed at how beautiful the lodge was and how beautiful the setting was.  If you do a day game drive to Sukuza, the capital of Kruger, there is a large give that has a ton of stuff that you will surely find something in you love.  Other than that, each gate to Kruger and some of the villages have little bazaars or individual vendors that will sell hand made items.
All in all, I don't think I could have had a better setting in which to conduct research, explore nature, and appreciate the beauty and diversity of our world.  This truly was a dream fulfilled, and I was able to check off SO many bucket list items.  On the way out, we took a very small detour to see God's Window, the greatest and largest canyon in Africa.  It was breathtaking.  If you get the chance, be sure to stop by.  There is a short (1 to 1.5 mile walk uphill) hike up to the first viewing point, then a very short climb up some stairs and a couple of bridges that takes you to the top.  The view will let you see into Swaziland. I am blessed in so many ways, but this trip has brought that back into view for me.  I will admit, I am missing Papa Bear and the tinies.  Catch my how to keep them close when you are far away post here.