So your wife/partner/Mother deserves to be treated like a Queen, but lockdown means she is more like Marie Antoinette than Queen Elizabeth? No fear, I have a few ideas that are reasonable and still packed with thought for your Mom of the year. Unfortunately, the kids are not going to be making cute little packets of bath salts or hand made cards at school this year. So, be warned fellows, you officially have about a week to get it together.
What are some things you can do at home?
Write Her a Letter.
I'm a big believer in writing letters. It seems like a simple idea, but it means so much to someone to have your thoughts of love and appreciation in written form – they can see it, feel it, and reread it in the years to come.
Framed Photos and Poems.
Along those same lines are poems, drawings, and any hand made act of love and kindness is something that she will cherish more than a store bought item.  If she's like me, something from the heart means more than anything else in the world.  Make a frame for her favorite poem (print it or write it on a piece of colorful paper), and put it in a old frame. 
For added charm, let the kids decorate the frames and give it to her.  For Christmas last year, the kids made pressed flowers from some flowers we picked on our Summer trip and put those and a photo of them in a frame for their Dad for a gift.  Super cheap and super easy!  You could also use buttons, twigs, or any found items that you like.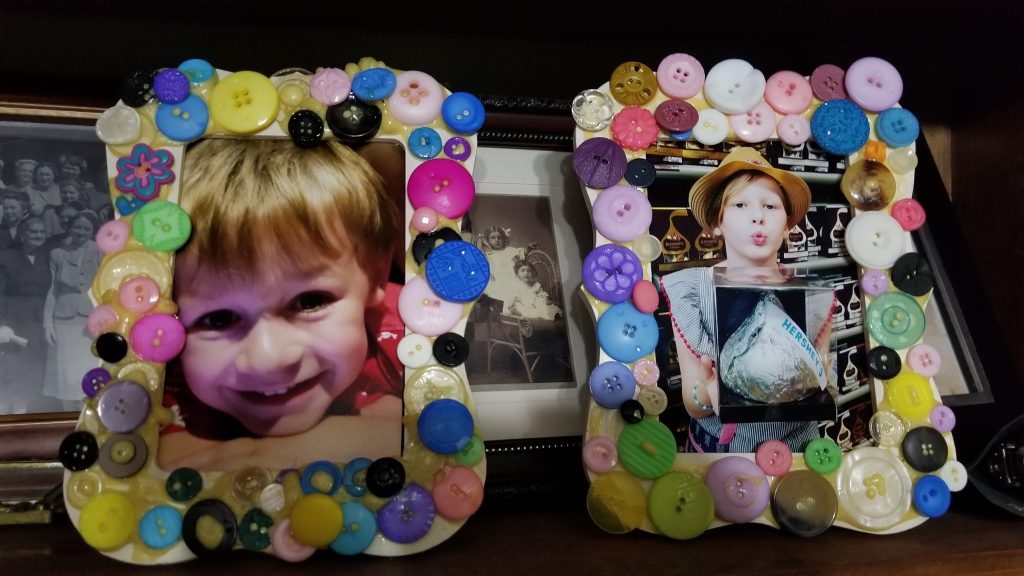 Spa Day at Home
Nothing is as relaxing as a hot bath that doesn't come with an audience, knocks on the door, or tiny fingers slipping through the crack between the frame and the door itself. Seriously – give her a spa day. Draw her a bath, turn down the lights, light a candle, pour her a glass of …..something relaxing J, and walk out – yep, LEAVE HER ALONE. The gift of solitude is likely not something on your mind during lockdown, but trust me – she needs a few minutes to herself. Guarentee her an hour, TWO hours, uninterrupted to do anything she wants. The gift of time is a precious and coveted thing – allowing her to recharge her Momma heart makes life better for her, you, and the kids.
Cook Her Dinner
It can be as simple as grilled cheese and tomato soup, but cooking dinner AND cleaning up after is another thoughtful gift she will appreciate.  The catch here is, let her sit and relax while you and the kids make dinner.  Something simple is just as good as gourmet when you don't have to be the one to cook it!  Follow through and clear and wash the dishes after dinner to really drive home the point of appreciation.  She'll LOVE it!
If you really want to WOW her, make this old fashioned Southern Pound Cake.  I love this one with the crunchy top and soft, moist inside.  There are a ton of fancy bundt (the round ones) pans on the market, but my favorite will always be this old aluminum one that my Grandmother used for holidays, church lunches, and any occasion that warranted one of her pound cakes.  You can also use a loaf pan if you don't have one that is specially made for a cake like this.  I also like to use this cake as the base for my Strawberry Shortcake (pictured at the bottom). 
Ingredients:
6 eggs
2 sticks butter – 1 cup (REAL butter, not margarine) plus a bit for the pan
1 cup heavy cream
2 table spoons of Mexican Vanilla (I use 2 and ½)
½ teaspoon of salt
3 cups flower
3 cups sugar
Method:
Mix dry ingredients and whisk together to blend thoroughly.   Let all ingredients come to room temperature before combining them into this recipe – this is very important or the texture of your cake will not be as moist as you want it.  Mix these directly into the bowl of a stand mixer and turn it on the lowest setting.  Begin to add your eggs, followed by butter, vanilla, and heavy cream.  Increase the speed and mix until the ingredients form a smooth batter.  This may take a minute. 
Preheat your oven to 300 degrees.
While stand mixer is working its magic on a medium high speed, butter the pan (using your fingers, spread butter in an even layer all over the inside of the pan).  Then lightly sprinkle flower over the surface.  Bump the pan a bit to loosen any bits of flower and distribute it evenly. 
Using a rubber spatula, scoop/scrape the batter into the pan and place in a preheated oven.
Place your cake pan on a cookie sheet (so you can handle it easier when putting it in, checking for doneness, and removing it from the oven) and bake for approximately 90 minutes.  Start checking your cake at the 75 minute mark as each oven is different.  To check for doneness, insert a toothpick into the middle of the cake and pull out.  If any batter clings to the toothpick, you need a few more minutes.  Repeat this process every 10 minutes until the toothpick comes out clean (be sure to wipe it off between checks).  Once it comes out clean, you are all done! Be sure to let it completely cool to room temp before trying to take it out of the pan.
This cake is amazing on its own, but is better with fresh sliced strawberries and whipped cream.  A sprig of mint and you look like you just spend the entire day whipping up a restaurant quality strawberry shortcake when the hardest part wasn't having a slice before dinner!  For an added touch, macerate the strawberries in the fridge.  For my newbies – this just means to cut a pint into slices and sprinkle about 3 heaping teaspoons of Splenda or sugar over them and allow the natural juices to form a syrup in the bowl.  You can do this part the night before and let them chill in the fridge and hang out as you prep the rest.  Again, SUPER easy and SUPER simple. 
Photo Gifts
One of my favorite new discoveries is Printsfield.  This new online upstart has adorable items for men and women that feature the photo (face only) of your choice on their design.  They are high quality, the colors are rich and vibrant, and the artist quality when isolating the faces from the photos was bar none!  I LOVE the product that they sent me (I received a discount in return for my unbiased review) and will be ordering some of these for Christmas and Birthday presents as well.  These are perfect for the kid or fur Mom of the day.  They came in about two weeks, and they have factories in North America and Europe.  Momleficent readers get 20% off using the code momleficent20 at checkout.  That makes socks less than $20.00 for a personalized pair, shipped!  These are awesome to get and put up for future holidays or give a gift certificate and let Mom pick out her own design and photo combo.  I have my fur-babies on the pair I selected – aren't they adorable?!?!?!
The important thing to remember is that she doesn't need "things." If this pandemic we are going through doesn't reinforce that the important things in your life come from time and experiences, I'm not sure what will. I know I am coming out of this with gratitude in my heart that I can stay home, do my job, teach my kids (I'm a teacher by trade for those that don't know), and stay home and healthy when others can't. My heart is full and my kitchen has worked harder in the last 6 weeks than ever before, but I wouldn't trade this experience or this time to meditate for anything in the world.
Happy Mothers Day to those who are, or will be Mothers!
Like what you read? Don't forget to subscribe to my mailing list to never miss an adventure!