Spring is here, the weather is gorgeous, and we are all going a little stir crazy in the Momleficent hood.  We definitely have Spring Fever!  Since we are not going to parks or doing much outside the house right now (better safe than sorry!), we decided to get outside a bit and create a dinner time feast with this Ultimate Burger and Burger Bar! 
Tiny came up with the concept – she is getting interested in cooking and I love spending time with her in the kitchen, so I let her creativity go with this recipe.  We decided to make one HUGE burger, stuffed with cheese, rather than several individual ones.  She wanted a huge shareable one.  We also decided to make our own buns since we weren't going to find ones in the bakery to fit this monster she was drooling over.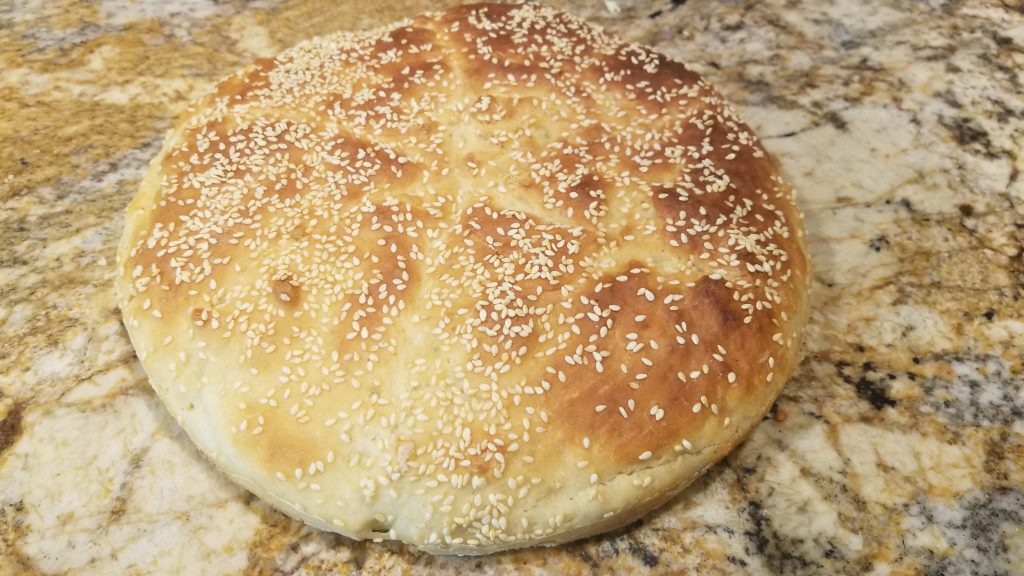 To begin, we started with the basic "Beautiful Burger Buns" recipe from King Arthur Flour (find it here).  We added toasted sesame seeds, and used a 9 inch round cake pan to cook the bun following the directions for the individuals. 
It took a few minutes longer for a larger bun, but you can adjust pretty easily.  Cool on a rack, and slice in half to fit your monster burger later.  One tip for the bun – oil your pan (I like to use French butter for this) then dust with flour, shaking and bumping the pan against the palm of your hand until the flour is evenly distributed.  This helps the bun release easily from the pan after cooking.
The burger was something else! To season, my standard burger mix is:
3 T. minced garlic
1 tsp. powdered onion
Salt and pepper to taste.
3 splashes Worcestershire sauce on each patty
I am seasoning 3 pounds of meat now, but I will use about 1.5 for this recipe, pat out and freeze the rest for later.
I would typically sprinkle on both sides of a patty before cooking.  For this recipe, I am going to mix all ingredients into the meat before pressing into the same cake pan I used to cook the bun.  Since this burger will be stuffed, I am going to start with a layer of meat on the bottom of the pan, pressed up the side of the pan so that it makes a little trough for the stuffing. 
To stuff, we are going to layer with cheese (use anything you like in the center – cheese, vegies, marinara sauce, get creative!). For our purposes, we are using sliced garlic, cheese, and a few spices (paprika, Italian blend), and steak sauce.
I am going to come back over our stuffing mix with another thin layer of meat to top. Try to tightly press the sides and top layer together to make sure the seams are sealed and your burger innards stay where they should.  To cook, I popped into a 350 degree oven for 30 minutes until the outer (thickest part) of the burger registers 165 degrees F on a meat thermometer.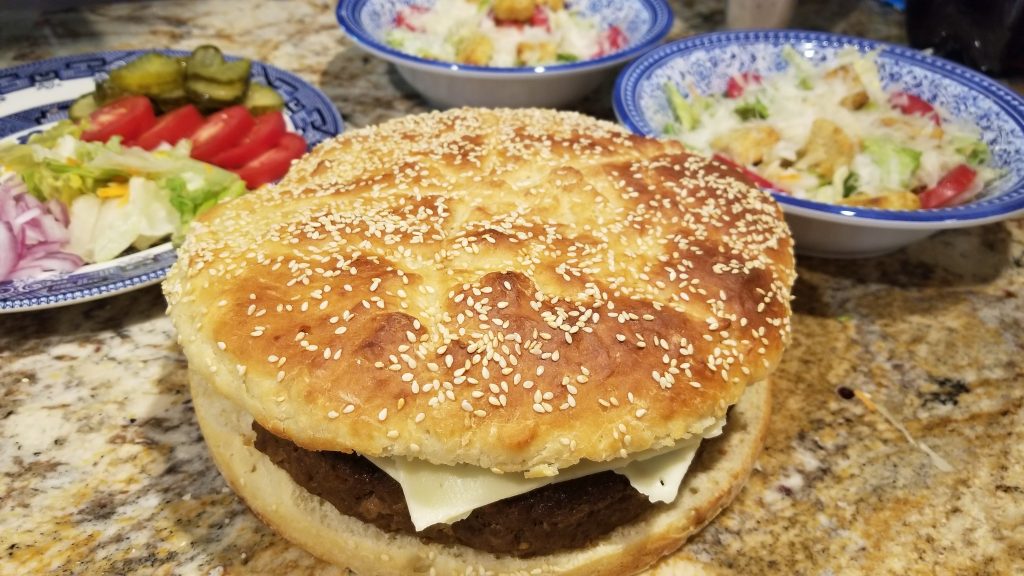 I am going to serve with some jalapeno poppers (recipe here), veggies, and baked beans.  This is the perfect (but messy) meal for dining al fresco if you can.  We are going to eat on the back porch under the fairy lights to get some fresh air.
To serve, we'll cut into segments (as square-ish as possible with a round burger), and top as we like. For my condiment tray, I'm using red onion, pickle chips, black olives, lettuce, tomato, ketchup, yellow mustard, mayo, and Dejon mustard.
Buen provecho!
Like what you read? Don't forget to subscribe to my mailing list to never miss an adventure!