I am generally a hyper organized person – especially when I leave the country and Papa Bear, Teeny and Tiny are all at home without me.  I don't like the idea of them eating out every meal, and I know Papa Bear isn't going to cook every night, so I like to leave a ton of options in the Freezer for them.  This time, it was a special undertaking because I am gone for two weeks instead of one.  While I love to travel and it seemed like a good idea at the time, it now seems like forever without the kids and Papa Bear.
This trip, I organized one week's worth of clothing like I always do.  I only have a single week organizer, and didn't want to get two considering I don't even know if they have two weeks worth of matching outfits to wear without washing.  So, there is only so much I can do for Papa Bear on that front.  I have a feeling that they will be very wrinkly children when I get home.  😊  Check out my method for organizing laundry here (this is my normal psycho routine).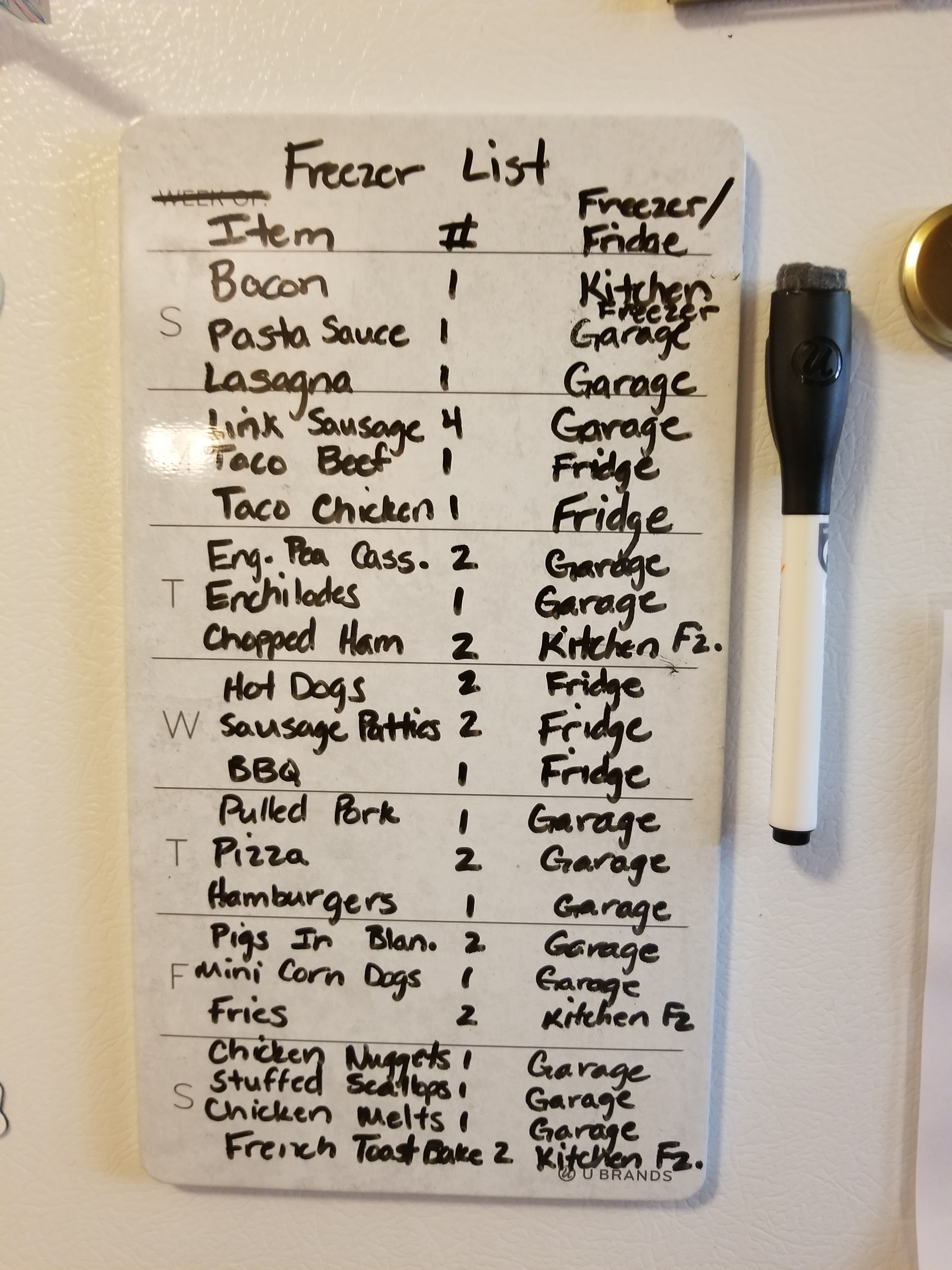 For food, I started a few weeks ago, cooking double batches of freezable dishes that I know they are going to eat.  I still had a couple of items from when I left in May, so that gave me a tiny jump start.  I even made a menu list on the dry board for Papa Bear so that he would know what is in the fridge/refrigerator freezer/deep freezer and which one it is in.  I even threw in some breakfasts for the weekend!
Because 2 weeks of bulk cooking is daunting, I let my trusty friends at the local Aldi help me out (no sponsorships, just like their food!).  I have a few frozen options (pizza, frozen stuffed clams, chicken melts, pigs in blankets, mini corn dogs, etc.) in the freezer for quick dinners.  I have a ton of frozen vegies in the kitchen freezer and pantry, so there are plenty of side options that I know the kids will eat and go with pretty much any of the entrees in the freezer.  When I travel, I really only focus on the entrée and let Papa Bear and the kids figure out what sides are going with which dish.  Life is easier that way, and the kids get some input in the dinner selection.
For the homemade items, I have my standard – English Pea Casserole, Spaghetti Bake, and some enchiladas.  To add a little variety, I have also included Goulash, Lasagna, Hamburgers (season, pat into patties and freeze separated by wax paper) and French Toast Bake.  I will throw you a bone and link you to my last post on going away here for the English Pea Casserole, Spaghetti Bake and Enchilada recipes here.  The French Toast recipe is below and the Goulash recipe can be found here.
For the French Toast Bake:
1 loaf brioche bread – can be sliced or whole
6 large eggs
2 cups milk
1 cup heavy cream
1 Tablespoon Vanilla
Cinnamon and Nutmeg to taste
1 container of Vanilla French Oui Brand Yogurt per 2 servings
To Make:
Whisk all wet ingredients together and set aside.  Cube bread (this recipe I used chocolate chip brioche – generally I wouldn't go for the additional sugar in the chocolate chips, but that is all they had).
Cube bread in ½ to 1 inch cubes and spread evenly in a 9X13 baking dish.  I like to put it in two 8X8s and save one in the freezer for later.  Evenly pour mixture over bread cubes and ensure that they are thoroughly and evenly coated by the liquid.
Let this sit in the fridge overnight and bake at 350 degrees for about 45 minutes the next morning.  This is a great dish for brunches, holidays (Christmas morning, anyone?) and guests because it is so very easy and you can prep it ahead.  Some ovens differ slightly in temperature, so if it isn't quite done, keep it in.  If your tops are getting to crispy, tent foil over the top to shield the bread from the direct heat of the elements.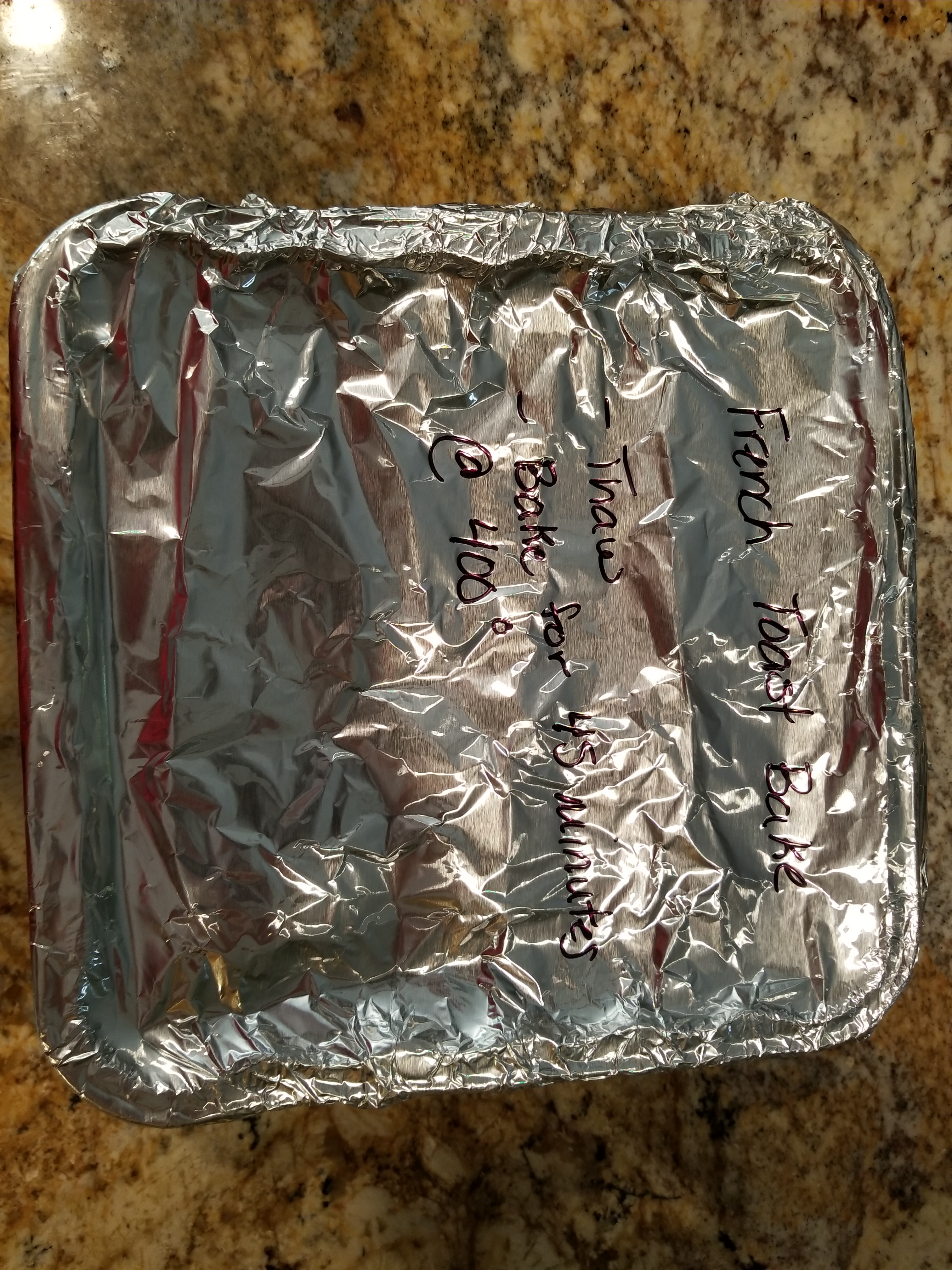 Enjoy, and I hope this help the next time you are going out of town.