Water, splashing, giggling and ice cream.  Those were the sounds I was hoping to get out of my summer.  Recently, at Great Wolf Lodge's new location in La Grange, GA, I got just that.  Eight of us – yes, eight people – decided to take a mini vacation to the new location so that my mother, who is wheel chair bound – could spend some time with her grands in a fun setting that wasn't too far away from  home and accessible (they didn't disappoint!).  We drove a relatively painless two and a half hours to the lodge, and it was worth every mile.  I would love to see this place at Christmas – trees, stars, decorations, and swim suits – yea!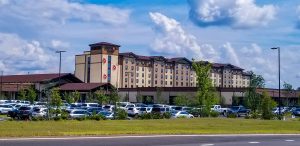 Initially, when I pulled into the parking lot, I thought "Gosh, where's the rest of it."  Little did I know that it was there and in full force.  When you enter the building, it is into the Grand Lobby.  It is heavily themed, and absolutely perfect.  Wolfs, trees, foresty creatures and accouterments abound.  As we checked in, we were all given wolf ears (yea!!! – and yes, I rocked them all vacation long) and we bought activities passes for the kids (more on that in a bit).  Make your reservations here (I do not have any financial arrangement with GWL, all opinions are completely my own).
The staff were wonderful.  They helped us get settled and we were able to go to our room a bit early and unpack.  With eight people, you can imagine that we needed a bit more than the typical room.  We opted for a two bedroom suite.  It was perfect.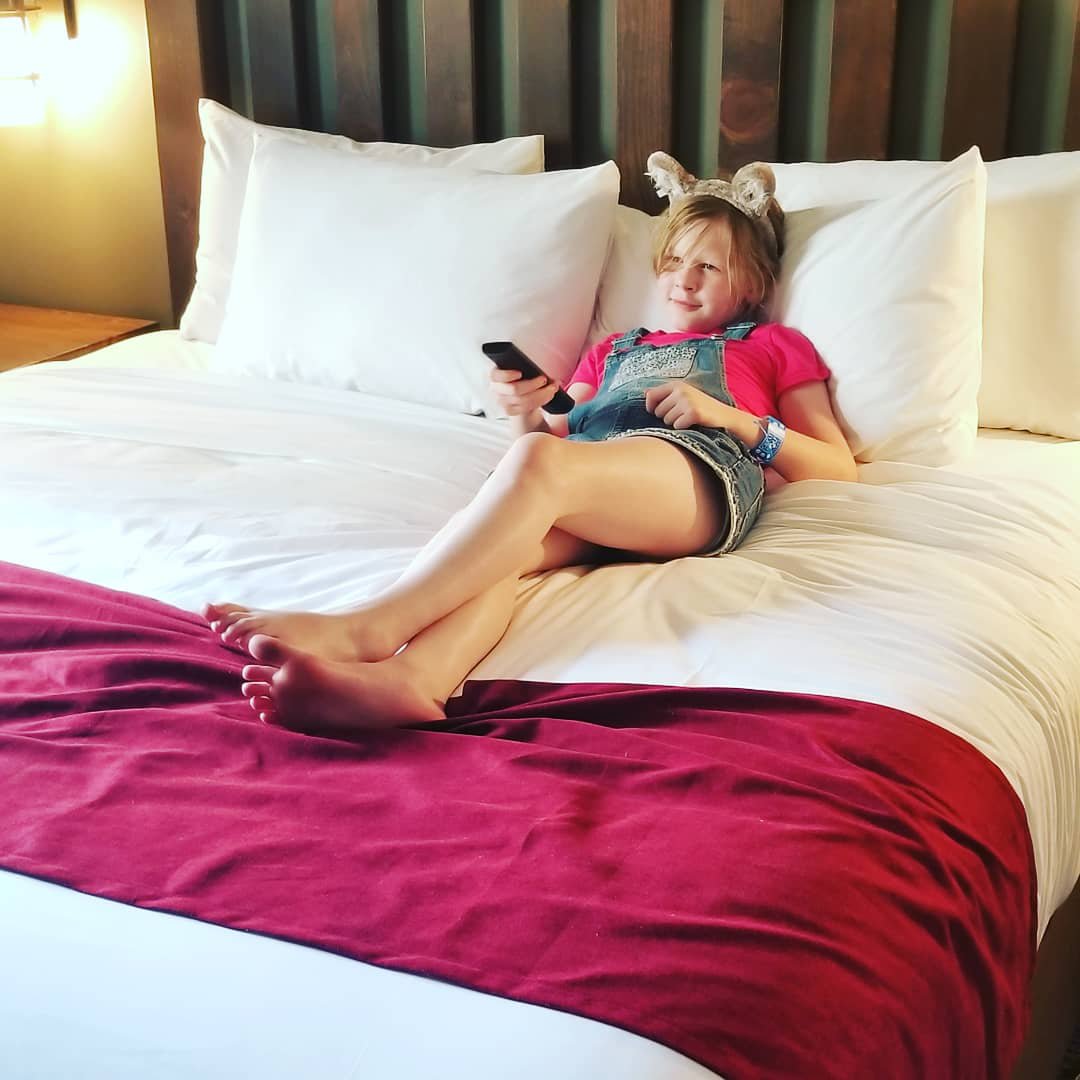 The master bedroom had a king size bed and private bath, the other bed room had two double beds, and the living room had a large sectional couch that housed a hide away double bed as well.  It was actually relatively comfortable for us all.  The beds were perfect, the room was well appointed, and as a special touch, the soaps were all in the shape of tiny paws!  The shower in the master bedroom was actually quite small, but worked.  There was a small (4 inch) lip that made it easy for Mother to get in and out of.  The other bathroom had what they called a "walk in tub" which was just a tub with a slightly lower ledge than a normal tub.  I still haven't figured out the "walk in" part of that, but I also don't know much about the terminology.  Either way, maintenance brought us a chair for the shower and put it in faster than we could get back to the room from requesting it!
It didn't take long for Tiny and Teeny to want to get ready to get into the water.  This lodge is the mother of all lodges with an outdoor pool and play area, as well as an indoor water park.  Indoor!  The climate controlled environment was pleasant, though a bit chilly right when you got out of the water.  The kids had so much fun in the wave pool and on the play equipment.  There are pools with basket ball hoops, a lazy river, a variety of large and small water slides (some so big they loop outside the building and come back in.  The little ones are well taken care of as well with a mammoth climbing area with slides, shuts and all sorts of watery fun.  This is not a place you want to come if you don't particularly like to get wet – trust me, you can't avoid it.  A huge bucket at the top of the play set periodically fills and dumps, drenching any and every thing near it – so many squeels!  Water cannons and spray stations, jets and splash zones run seamlessly from one to another.  Kudos to the life guard staff, they were ON IT!  I didn't see a single one standing still or with their eyes off the water for very long at all.  I have to say, they really did help me keep calm with their vigilance as I tried to manage two tiny hurricanes gracefully.  Even with most of the rooms sold out on the dates we were there, the water park didn't feel over crowded, and lines for slides and outside activities were very reasonable.  I don't think we had to wait more than 10 to 15 minutes at the longest for any activity.
In the evenings, the lobby hosts games, pajama party story times and character meet and greets with some of the forest friends.  Teeny enjoyed meeting and giving a big hug to the wolf character.  The staff, again, was really engaged with the kids, super energetic and very encouraging of engagement.  They went above and beyond to make sure the kids were having a great time and enjoying their stay.  That made me have a great time watching the kids become so engaged.
Since my mother is in a wheel chair, the accessibility to activities was a concern.  It need not have been.  Most of the pools were either zero entry or had a lift.  The splash pad was zero entry, and the life guards were ready to help at a moment's notice.  Mother doesn't swim, so we convinced her to get into the lift chair and get into the shallow end with the kids.  She made it down and then panicked a bit – annnnnddddd, the chair got stuck in the down position.  Oops, probably should have tested that chair's up AND down features before we put her in it.  One of the life guards got into the water and helped me keep her calm for the couple of minutes it took the others to get the chair moving again.  I know it is a smidge mean spirited, but it was kind of amusing after it was all over – she laughed about it too.
The food was relatively good for a kid's based establishment.  There were 10 different dining areas in the lodge.  While I didn't love their pizza (I think we got some that was a little old – the fresh ones I saw later looked good), I did like their burgers, nachos and chicken.  Their fries were perfect.  Two of their dining areas are made to look like food trucks.  Buckets (burgers, sandwiches, salads, etc.) and the Taco Truck (tacos, nachos, quesadillas, etc.) were both pretty good.
I did get a pretzel with cheese sauce that I shouldn't have been so enthusiastic about, but it was really good!  In fairness, I did split it with the tinies and my Mother – don't judge me!  Buckets and the Taco Truck open out onto the water park as well, so snacks and drinks are only a short and soggy walk away.  We also ate breakfast in their cafeteria style dining room both mornings.  It served standard American breakfast fare, and everything tasted fresh.  The staff were super helpful when we had requests, and everyone was tremendously positive.  It was nice to feel like the staff liked their jobs and interacting with the guests.  There is a fine dining restaurant, pizza/grill location, and two bars – one inside the water park itself.  For those that don't get the urge to eat at the grill in the mornings, there is also a Dunkin Donuts on site.
We bought Wolf Passes for the older kids and a Paw Pass for the smallest (Teeny).  These passes are geared to the interests and abilities of the different age groups.  The Wolf Pass included 1 round of golf, 1 game of mini bowling, 2 climbs on the rock wall, all stay access to the ropes course, a scoop of ice cream from Ben and Jerry's, a 12 ounce cup of candy from the candy store's bulk bins, and 20 credits at the arcade.  Before you ask, no, 20 credits doesn't get them far at all.  What it gets them is hooked in the world of this kiddie casino that you will have to crow bar them out of – and don't even think it will be without at least one reload on that points card.  Oh well, it is vacation, we reloaded.  The kids had a blast!  They had a two person full size version of Atari's Space Invaders!  I may have been more excited about that one than they were.
The candy store has some really over priced individually wrapped candy (about $2.00 for a ring pop!), and an ENTIRE wall of jelly belly jelly beans, gummies and taffy.  Holy sugar coma, Batman!  The kids went at it like they were mining for gold.  It didn't take long for their little cups to be filled to the brim with every variety of jelly bean and gummy under the sun.  The like taffy, but the gummies are where it's at for them.  There were gummy octopi (plural of octopus – look it up – ok, fine, it is octopuses, but I like mine better), sharks, bears, worms, fried eggs (yep, you read that right!), berries and a ton of other shapes and sorts.  Their eyes were as big as saucers when I told them they could fill up a whole cup, just for them.  The cups are plastic drink cups that come with a lid that has a perforation for a straw when the candy is gone.  Handy.
The mini bowling was a riot.  The lane, ball and pins are all scaled down in the same way mini golf is.  The tinies had a great time, and Teeny (my 3 year old) beat his sister – unassisted!  That didn't go over well.  Mini golf was forest themed as well, and absolutely adorable.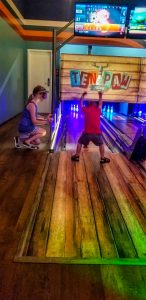 The mini golf course sits under the ropes courses (there are two, high and low) with the bowling alley, rock wall, and arcades lining the walls.  Each child is harnessed in by very friendly employees, and each activity is monitored by employees ready to help the kids as well.  More than once I saw them to up on the ropes courses and help kids down.  The best part, it isn't just for kids!  The activities are all designed for the whole family, so I got to play with the kids as well.  I really enjoyed watching Tiny climb up the ropes course and go across a spider web climbing feature.  It was really cute.  She was scared, but I was SO proud of her for pushing through it!  The high course was really high!
The passes also included a wand and one game of Magi Quest.  Oh my goodness, the kids had so much fun with this.  Their wands, once activated and registered, lighted up a variety of paintings, crystals, tokens and other electronic features that allowed them to collect gold points and items so that they could battle the dragon.  Seriously, an actual green eyed dragon sits in the activities area – smoke comes out of his mouth, he talks and moves, and roars.  He is about 15 feet tall, and quite intimidating to very tinies, but great fun.  The magi quest shop also happened to have shiny red dragon wings and a tiny dragon mask for sale – I have to admit that I love that boy child loves a costume as much as the girl child did – so of course we had to have that.  I had more fun watching him "fly" around and zap stars and crystals with his wand and make them illuminate than I think he did playing the game.  Even the older kids (3, 9, 16, 17 and 21) got into the games and activities.  It really was a great place for all of the grand kids to have something they liked and could do together.
Additional activities that you can do with the kids include a kids creation zone which has art projects and play areas.  The other area (keep in mind this is going to set you back about $30.00 without the outfits) that was absolutely adorable was a Build A Bear like shop with all of the forest friends ready for stuffing.  We didn't do those activities, but did pop in for a bit to check the place out.  The staff was really friendly and interacted well with the kids.  I'm glad Tiny didn't see it, but there was a glitter tattoo kiosk inside the Build A Bear type shop.  She is like her mamma, anything shiny will attract her attention!
And finally, there were gift shops.  Several actually.  One specializes in swim wear, towels, and all things water wear related.  One is dedicated to the Magi Quest game, accessories and items (adorable little red stuffed dragons here, beware, they call to you!), and one that has general merchandise.  Of course there are t shirts and mugs, but they have a great kids section as well.  I also saw a selection of bath products, candles and other gifts that were not logo-ed.  There was a great cross section for most tastes – though a bit pricey.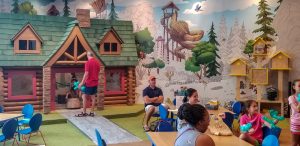 I am already thinking about the winter possibilities that an indoor water park holds.  With this new location being so close to us, we could easily pop back down in the fall and winter months to give the kids a break from the cold.  While you can stay happily self-contained at the lodge for your entire visit, you are also only a few blocks from an Arby's, McDonald's, and a few other fast food establishments, and less than 4 miles from pretty much anything else you want.  The rooms are equipped with a mini refrigerator, so we took waters, snacks and such to save on resort pricing.    We only left the lodge once for a meal out, but only because we wanted to explore a bit.
If you are in the area for only a long weekend, stay at the lodge and enjoy the amenities to their fullest.  Water parks closed at 8:30 and shops and activities If you are there for a week, consider going up to Warm Springs (the location of Franklin Delano Roosevelt's "Little White House" where he received his polio therapy and eventually passed away) or Columbus.  Atlanta is about an hour and a half away, so if you are going to battle the traffic to go in and do something, know that you are likely going to burn an entire day in the city and plan for it.
Most importantly, this facility allowed Mother a chance to spend time with the little kids, play with them, and interact with them in ways she can't at home.  It was a really nice way to make some memories for my kids who have not had the chance to really spend time engaged in activities with her.  We crossed off one of our summer bucket list items by visiting the water park, and I used a phrase I never thought I would utter.  As my oldest child (Tiny – 9) began barreling down the hallway while pushing my mother (who was smiling menacingly as they approached at an uncomfortably rapid speed) I had to admonish by stating "Stop that, you can't use your grandmother as a weapon!"  I don't think her grandmother would have protested if she did.  She would have just held on a little tighter as they passed right over top of me or anyone else getting in their way.