My first trip to Philadelphia was a productive one!  Not only did I successfully get through the biggest conference of the year – which I presented at this time, but I covered some serious ground.  My Samsung app recorded 36.4 miles over 6 days!  I can't believe I covered that much ground!  Traveling without the tinies makes a huge difference in what I see and do.   I love to travel solo for this fact alone – see my post on graceful solo travel here!   Of course I research obsessively before I go to a new city so that I know what attractions are there, what historical sites are there and my fave – what I should eat while I'm there!  See my method for organizing my priorities here and why my favorite travel accessories are here.  I have already covered what to do in historical Philadelphia here, and what curiosities I found that weren't necessarily historic – yet still pretty cool and quirky – here.  Now let's get down to business and talk about the food!  I started from the lower end staples to higher end splurges and finished off any good selection the proper way – with treats!
Ishkabible's
I have never been a cheesesteak fan.  I know, I know, don't judge.  I just haven't.  But when going to Philadelphia from Atlanta, I figured I had to give it a go in it's homeland, right?  I wouldn't go to Dubai and not eat a shwarma, or Mexico and not have street tacos, so how could I go to Philly and not have a cheesesteak?  Well, I'm not proud of it, but my longtime meaty grudge is over.  I got a cheesesteak with white American, lettuce and tomato.  Yep – didn't go with the stereotype – and as usual, it worked out in my favor!  The roll was toasted and warm, and light enough to float if it weren't held down by all that beefy goodness!  The cheese was thickly sliced and melted to perfection.  The warm creamy beef contrasted nicely with the shredded lettuce, cool and crispy, and fresh tomato.  I have to admit, I'll get another one when I am back this summer.  I chose fries and cheese sauce as my side.  Oh man, so good.  I do love a good cheese fry.  These were hot, thinly sliced shoe string fries that were salted to perfection and served in a mammoth pile.  I don't think that both tinies and I could finish a single plate off from this place – the portions are obscene.  If you are traveling and go to Ishkabible's, take and friend and prepare to share – trust me, there will be enough!
Reading Terminal Market
This former train depot – yes, of Reading Railroad fame – now serves as a hip and trendy food court that is sure to have something for even the pickiest of eaters. Beautiful produce markets, tasty cheese counters, and fresh meat and seafood counters sit along side of Amish markets, bakeries and ethnic cuisine (Cajun, India, American and Italian to name a few). My goodness, Bieler's Doughnuts were enough motivation to have me visit again before I go. I got the banana cream and dream cream doughnuts and could only make it through ½ of each before it was just too much for my system. They were light, luscious and absolutely to die for – they were also the reason that I didn't Uber much that day and got in over 7 miles on foot. I have a feeling I still didn't burn those babies off. Of course there are also a number of Amish food stands that all smelled divine as well. You can't go wrong with a little take out from here.  Another "must try" is Flying Monkey – located towards the center of the hall – iced coffees and sweet treats abound!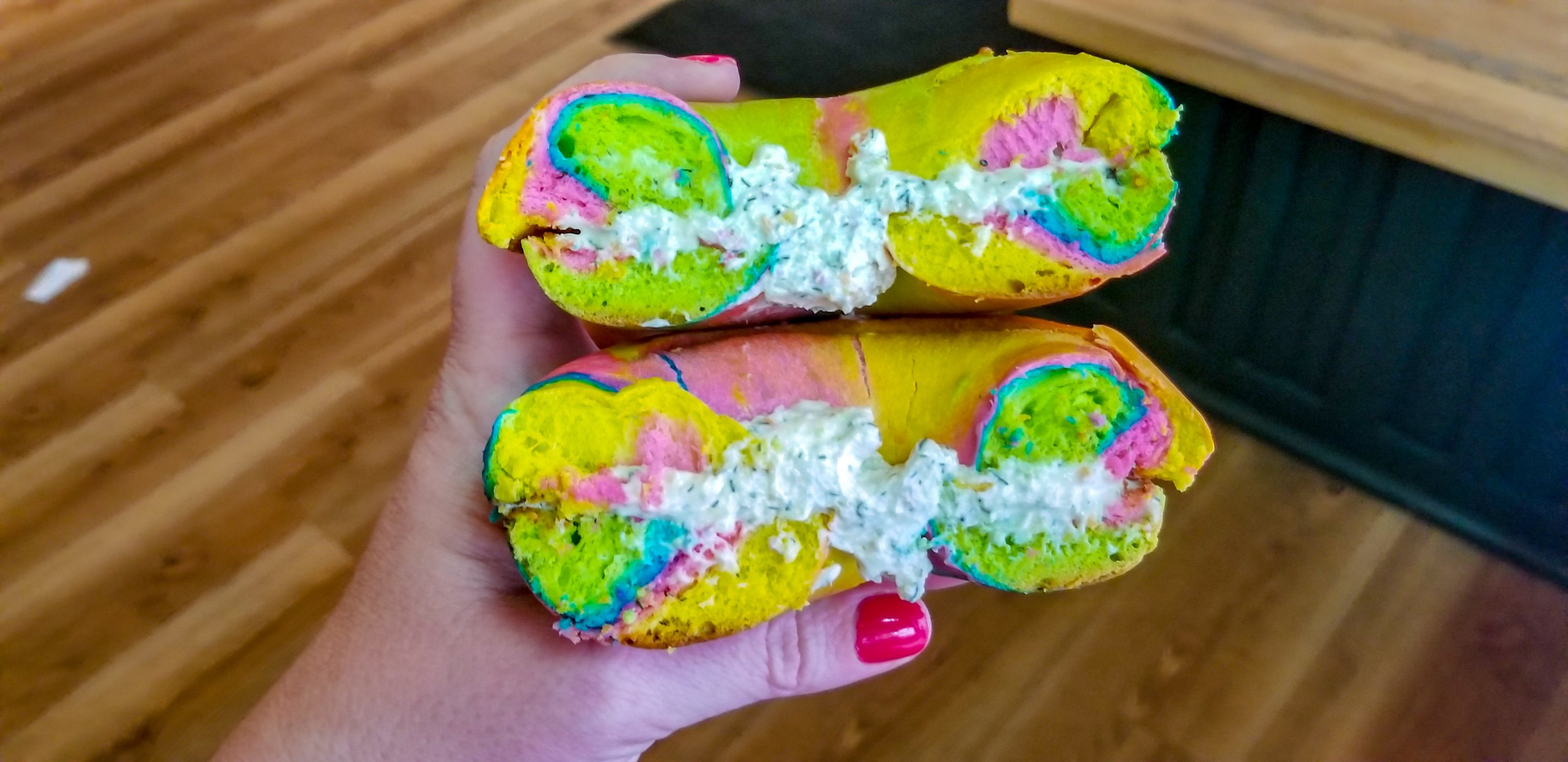 Chestnut St. Philly Bagles
Holy cow, these were good!  But I must say – you'll hear this a thousand times in Momleficent land – EVERYTHING tastes better in rainbows!!!  I read about this place online and found that they had rainbow (tie die) bagels, so I HAD to have one.  The ones I saw online were schmeered with a fun fetti cream cheese – ok, there is such thing as overkill – I'm not 100% committed to the idea that was it, but I hear there is such a thing.  I chose the garden vegi – I'm a savory bagel kind of gal and it was tasty!  I wound up taking a dozen back to my presentation that morning so that the attendees could have breakfast as well!  There is no seating in this little shop, so prepare to get it to go, but the iced coffee is flowing and the bagels are vibrant – what more could you want?  Ok, seating, but beside that.  Great little place, personable staff and definitely on my list of places to take the tinies when we go back this summer!  Tiny and Teeny are going to love the colors!!!
Burger Fi
Ok, not a unique place, but it was ok.  It was close to my hotel and the conference center, so I gave this respectable little chain a whirl.  The burger was hot and average, and the fries were ok too.  I did like that there were a million and one choices for beverages, the staff were super friendly, and they got my order right on the first try.  Those items are half the battle when getting on my radar.  The bun was toasted and had the cutest little brand on the top – it was a nice touch – sort of made me think of the cattle the burger used to be, but I quickly got past my guilt.  The burger was surprisingly flavorful.  Though I wouldn't seek them out on my trip, I would certainly go there again if I were in a hurry or getting take out like I did the night I was originally there.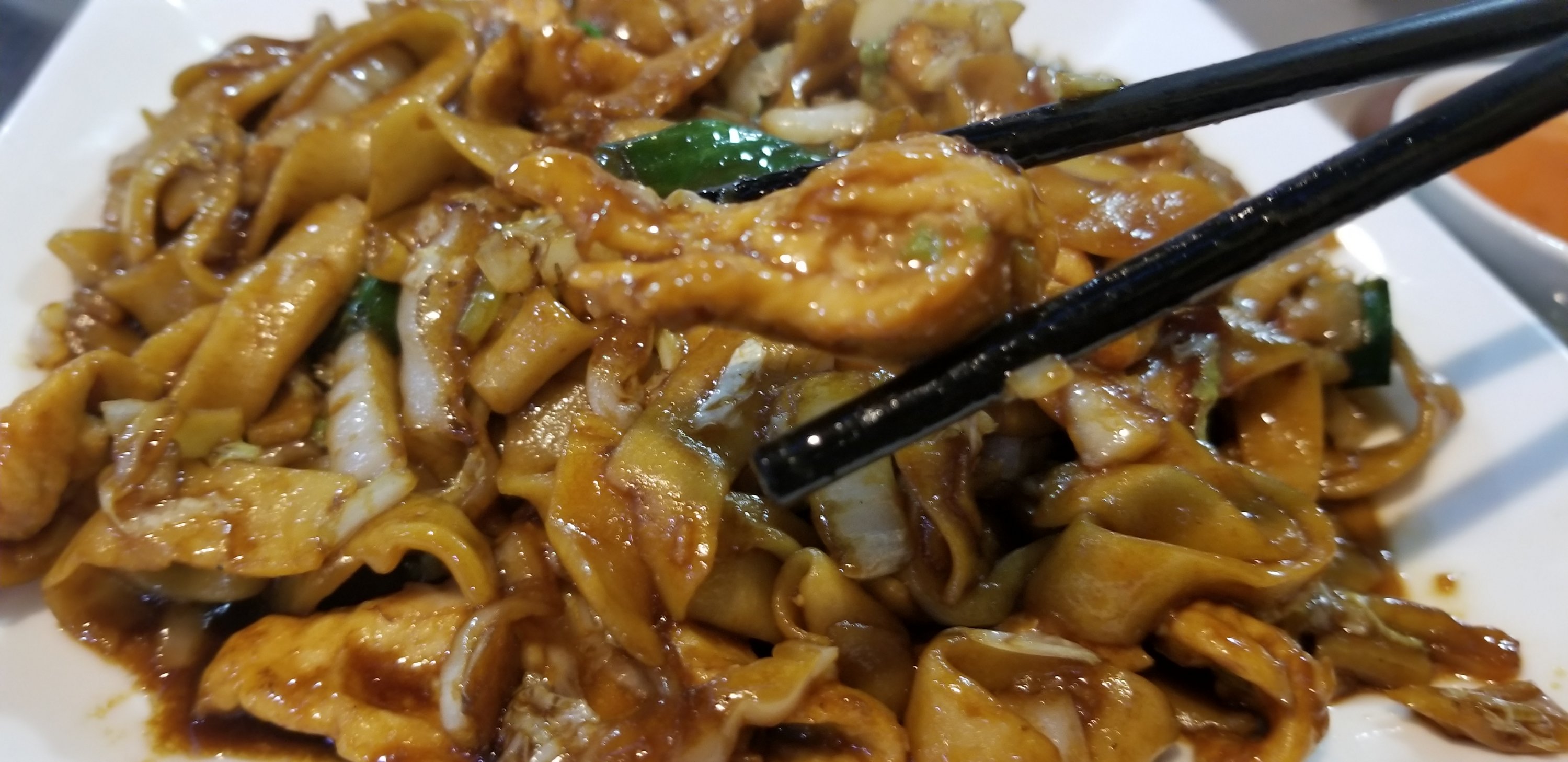 Tom's Dim Sum
Tom's is located in Chinatown, close to Arch St.  I had their chicken and vegetable noodles and an order of crab Rangoon.  I have to say, the Rangoon was not all I had hoped it would be, but the noodles were spectacular!  They were not the typical round lo mein that I generally get, but a flat, wide fettuccini like noodle that held the sauce nicely.  The Rangoon was a little tough, but the filling was creamy and delicious.  I didn't send it back…  The portions were enough that I could have shared this meal with someone had I wanted to, and the pricing was reasonable for the quality and amount of food.  All in all, I would certainly go back.  The dumplings looked amazing.  I saw several orders come out of the kitchen and vowed to come back and sample those later but never got around to it – darn the work part of a work trip!  Next time for sure.
Luna's
This little café, located on Market Street, is a small – cash only (be forewarned, but there is an ATM in the back) hippie at heart's dream.  The ambience is darling with tons of fresh, locally sourced options.  I selected the hand made vegi burger.  The burger was substantial and thick with a great texture and flavor.  The black beans were spiced perfectly and became a canvas for this culinary master work.  I am a burger purist – ketchup, mustard, lettuce and tomato.  Sometimes I like to go wild and hit it with a little red onion or sprouts, but generally, no.  I loved this little place, with their fresh and crisp salads, quinoa bowls, and what looked like the potential for a stellar brunch if one had time for such things.  I sure wish I did, but it is squarely on my "next time Philly" list.
High Street on Market
Located just next to Fork is an unassuming little bistro – High Street on Market.  Initially, I went in search of Fork – one of Philadelphia's most "it" restaurants right now.  Unfortunately, it wasn't open for a late lunch and I stepped next door to their bistro location.  I was not disappointed!  I had a wonderful smoked salmon, cucumber and herbed cream cheese toast.  Oh my!  The artisanal breads are made at the bakery in the back of the bistro, and they are amazing!  The smells grab your senses and drag you into the little space before you know what has hit you!  The salmon toast was packed with flavor, but – was light and delicious – it was perfect for a break on a hot day.  The dish came with a mixed green salad with paper thin – yet still crispy slices of cauliflower and a lemon and olive oil dressing.  Honestly, it was one of the more lovely meals I had – even though my glass broke (the bottom literally separated from the rest) during my first sip of tea!  As you can imagine, I had an entire glass of tea in my lap, a stunned look on my face, and the whole restaurant staring at me!  I just laugh – the servers were so gracious and lovely.  They helped me de-tea, go the table reset and all was well.  Only the country mouse here, right?  This is what I get for going to the city.  What do you do, you just roll with it and try not to be an ass (life lesson there guys and gals – pay attention).  As a result, one of the servers (I think she just knew I was going to be furious – I wasn't – I mean please, I have a three year old.  If that is the worst thing I get spilled in my lap on a given day, we are golden!) brought me a lovely blackberry and basil sorbet.  Oh my goodness – who knew those flavors would compliment each other so well?  The sorbet alone is worth stopping in and giving a try – the blackberry was strong and sweet with a hint of basil as an herbal, but not overpowering, undertone.  That made the whole tea debacle worth every wayward ice cube.   Heck, I'll take the next glass to the face for more of that stuff!
Moshulu
The windjammer was originally built in 1904 in Scotland, and served as a cargo ship for many years until it fell into private hands.  It is now a restaurant on the water, docked at Penn's Landing – just along side the historic center of Philadelphia.  The restaurant is quite upscale, so use this as your date night if you can.  I went alone – I guess that means I had the perfect date?  When I work away, I like to go to one dinner out that is nice, allows me to decompress a little and serves as a bit of a treat after a long week.  This spot did the trick!  Out of all of the fine dining options in Philadelphia to choose from (think the view at R2L, tea at The Dandelion) why Moshulu?  Because I was missing Papa Bear and it was the ship Vito Corleone arrived in America on.  No joke, take a look at the ship he disembarked when he hit American soil in 1901 in the Godfather II.  That's her.  She's also in Rocky and Blow Out, by the way.  I have absolutely no interest in the Godfather – I'm southern and a girl, it's just not my thing.  Papa Bear, on the other hand, could quote them all – and frequently does – with accents.  Drives me nuts – yet I went.  Walking up the gang plank (that's what you call it, right?) to the door, you know you are entering luxury.  The brass is shiny and the wood is gleaming!  The door opens into a front salon of sorts (I don't know ship talk) with a reception area to the left and a sweeping wide stairway to the right.  I expected to see Rose and Jack from Titanic descending at any minute!  My breath caught at the sheer beauty of this vessel.  It was amazing.  There were bar areas in the very front as well as on the deck at the top of the ship.  I was seated at a lovely picture window that was reminiscent of a port hole with a beautiful view of the water!  The menu was packed with tasty delights.  I finally settled on the seared sea scallops with sautéed vegetables.  Oh my, it was divine!  The scallops were cooked until they were done but not rubbery, melting in your mouth with each bite.  The vegetables had a tiny bit of crunch to them, the perfect consistency to balance the soft scallops.  Because I am a truffle fry fanatic, I ordered a small side (thinking they would actually be small – not so much).  These were the best truffle fries I have ever had – and on the east coast!  Crispy and salty with the perfect amount of black truffle to give them that special little twang.  I still haven't gotten past them.
Franklin Fountain:
Oh my, how precious is this place!?!  The soda jerks are all dressed in period costumes and dip hand made ice cream treats like machines!  They even make many of their own soda flavors in house.  Sodas are made by pouring the soda water first, then adding the syrup by hand.  The flavors and treats were too many to choose from.  I had two different treats during my stay – a coke float – creamy and delicious, and a scoop of caramelized banana with rainbow sprinkles.  Perfection!  Especially if you have children, you MUST stop at this place.  It is a bit overpriced, but it is worth it for a single creamy splurge.
Happily Ever After:
I particularly enjoyed Happily Ever After Dessert Cafe – just a couple blocks down from Franklin's Fountain. This little cafe serves ice cream and Dragon's Breath! The ice cream is made by the scoop – with any mix in, flavor or topping you like, put in a bowl and frozen with liquid nitrogen! The result is a very dramatic scoop of ice cream! Dragon's breath is a mug of frozen corn puffs that smoke as the nitrogen evaporates. You eat them with a skewer and as you do, you can breathe "fire" (evaporating nitrogen) like your favorite dragon! I had the absolutely best time taking selfies and videos and sending them back to my tinies for about 45 minutes!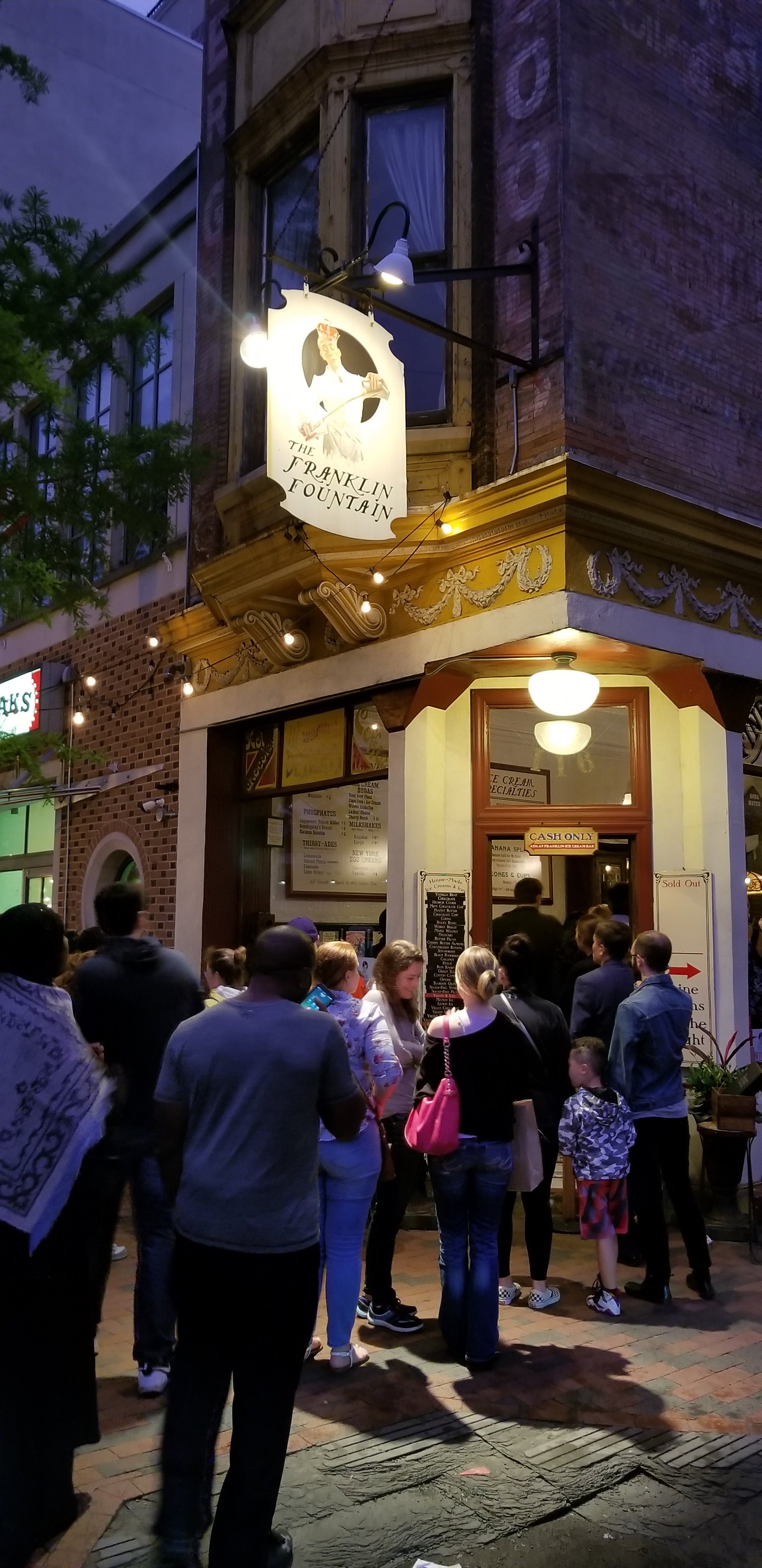 I have been inspired to look for a couple of cafes a bit closer to Atlanta that were similar to some of these options as they were just that good!  The nitrogen ice cream is a must with the tinies, and I would love to find a High Street on Market clone in the city.  I could eat that ice cream every day!  Enjoy your culinary tour of Philly – Buen Provecho!