Travel is going to be a big part of my summer. Since I am going to be away from home so much this summer, I thought I would share some of the things that I can't travel without. See what's in my carry on for short flights here.
Once I learned how organized your suitcase could be when you effectively use travel cubes, I haven't looked back. I don't know that I could travel on long trips without them now. These packing cubes are great for separating your clothes into days or type. I have a variety of sizes that I use to organize my clothing by type. When I travel, I generally travel for work rather than vacation. I use the large cubes to initially organize my clothes by work related and casual. By the end of the trip, I am using the cubes to keep clean clothes clean and fresh, and dirty clothes contained. I love the light weight but durable material and the breathable mesh on the bags that keep garments fresh and organized.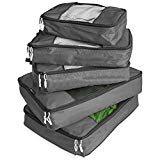 Call me antisocial, but I usually prefer to listen to a good audiobook and crochet when I am on a plane rather than talk to the folks beside me. The first thing I do when I get to my seat and know I'm settled in for the duration is pop in my earphones and get out my yarn. I don't get very many opportunities to sit and listen to an audiobook or crochet at home, with a toddler, I don't get many chances to sit at all. You can't beat a good pair of earphones to make the world melt away and let you live in your own imagination for a few hours.
So the eye mask sounds a bit dramatic, but I find that I use mine more in the hotel when I have jet lag than I do on a plane. Usually a bit of light doesn't bother me, but sometimes when you are exhausted and running on fumes, any and everything bothers you. An eye mask helps block out any pesky rays of sunshine while I am trying to adjust. I love a neck pillow because they can be used on the plane, in the hotel room, on trains, etc. The one I have is inflatable so that you can easily let the air out and store it flat when not in use! I have used this little guy more than any other travel item I own.
We love our audible subscription in the Momleficent house. I love that I can select books that open up the tines to a variety of literature, culture and excitement. We love to listen in the car on our way to school, and I am no different. I usually have one book cued for the tines and one for me at all times. The tinies even request the audiobook over radio now! I love that I am opening their word to some of the literature that sparked my own love of literature during my childhood. It fills my heart joy to watch as Tiny falls in love with Anne of Green Gables and the Little House series as I did when I was young. It is especially invaluable when I travel as I don't watch a lot of television when I am abroad, why stay in and hibernate when you can be out and about exploring and immersing in another culture!
Never underestimate the power of the perfect travel bag. My current favorite is a black leather bag by kate spade new York that would hold my toddler if I needed it to. I love to be able to pack a camera, bottle of water, my personal items and my crochet in a single bag that is stylish and versatile. It converts to the perfect work tote when I get to my destination and am ready to begin my work week. When selecting a travel bag, make sure you select one that will match a variety of outfits and can be used for a variety of purposes in your destination. The last thing you want to do is have everything you need fall to the bottom or not fit. You want to avoid packing multiple bags so that you don't take up valuable bag space and weight in unnecessary items. I have linked a simliar one here.
The old school version of travel adapters involved a little bag and a ton of individual fitted adapters for all of your charging needs. That is great until you lose one. I love the newer models that are a cube and have all prongs in a single contained device. This is so convenient and easy to pack, store and keep up with. It is especially handy when you are traveling to more than one destination in a single trip.
How many times have you gotten to a hotel room to find that there were two inconveniently placed outlets and nothing more? Me too. That is why I now travel with a multi plug. Plug it into your converter and you automatically have three outlets for the effort of one. No more choosing whether to charge your phone, computer or camera first. Why not have all three?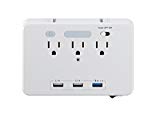 When you are abroad, it is critical that you have a backup quick charge battery pack in your bag. If you are like me and travel alone, as a female, you are always thinking about safety. I love that even when I don't have an adapter on me, I can get a quick hit on my phone so that Uber, google maps, or emergency lines are all within reach at any time.
Ziplock bags, duct tape and a sharpie
Ok, I know it looks like an abduction kit, but you would be shocked how many times you use these items abroad. I can't tell you how many times I have had items break or leak in my bag to teach me the value of tape and ziplock bags. When I am in the Caribbean, I generally bring back hot sauce and rum – who doesn't? It only takes one broken bottle of Marie Sharps (world's BEST hot sauce!!!) in your luggage to send you looking for solutions. Before I pack, I wrap the lid in a layer of duct tape and stick it in the plastic bag. Even if there is a leak or break, it is contained. The sharpie is priceless abroad. I have even used it to disguise a minor side swipe to a side view mirror on a rental car on one trip – saved me hundreds to have that little gem with me!
I know this isn't the most sexy travel accessory, isn't high tech, and isn't hard to find. However, this is one of the most hand little devices I have in my travel arsenal. I generally travel with a couple of these – specifically the combination locks. Why combination locks instead of keyed luggage locks? Simple, I never lose my keys, and there are an alarmingly few sets of unique locks. How easy would it be to pop a lock if you had a collection of luggage lock keys and a few minutes to tamper in an airport abroad? TSA can still access your bag, but it is much more difficult to tamper with a bag and it go unnoticed at baggage claim. I also use these locks when I am in my hotel. I regularly lock my luggage when I leave the hotel room rather than using the hotel room safe. Those are easily accessed. Again, not Ft. Knox, but also not easy to tamper with and it go unnoticed. Don't be overconfident and leave anything in your luggage that you couldn't live without, or leave cash unattended. These little guys are a deterrent, not a fail safe.
I hope these little tips and accessories make your next trip a little more organized.
This is not a sponsored post, but purchases from links above could give us a small commission at no additional cost to you.