This is a sponsored post, but all ideas, content and opinions are my own!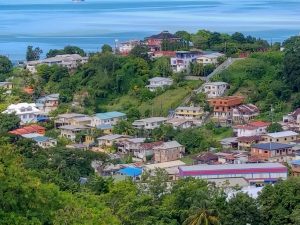 I recently me a woman that I have to introduce you to.  She is the CEO and Owner of Gail's Tours in Trinidad and Tobago.  This woman captured my heart when I originally spoke to her.  She put me in awe of her strength and beauty when I met her in person.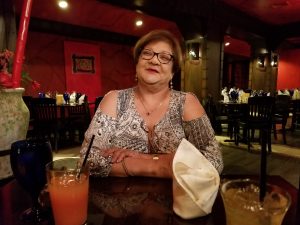 Ms. Gail is a survivor.  I don't just mean that metaphorically.  She survived 10 years of abuse – life altering, almost ending, abuse.  She had to have both corneas replaced, had her nose cut off, her jaw detached, and her face reconstructed.  She ended that marriage in 1996, and with only $25.00 in her name, started her own business in 2002.  She is an adventurer, an entrepreneur, and an all around amazing women.  I don't know that I would have had her strength – to end a 10 year marriage in a male dominated society, start my life over – with nothing, and build a successful business built on service and hard work.  She empowered herself – she believed in herself – she rebuilt herself into a strong, happy, healthy woman.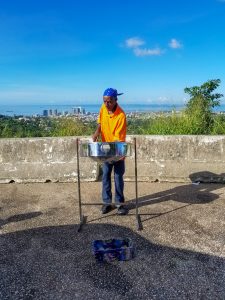 We partnered to highlight some of the cultural gems that Trinidad has to offer but is off the beaten path – something her company specializes in!  She met me at the airport with one of her tour specialists, Clifford, who was kind enough to take me to Lady Young lookout – a breathtaking viewing area overlooking the financial district near the waterfront of Port of Spain.
I was booked at L'Orchidee (pronounced L' or-kee-dee) which is on the north side of the Queen's Park (a massive green space in the middle of the city).  By the time I landed in Port of Spain, I was completely bushed!  The drive in was not bad on the weekend, but I have been told by everyone I have met that the drive to POS from the airport is killer on a week day.
The hotel is in an excellent neighborhood – just near the Prime Minister's house, and in walking distance of the park (Queen's Park Savannah), a massive green space in the heart of town.  If you get the chance to walk the perimeter, do!
The old plantation homes are stunning.  Some have been converted into governmental offices, others into retail (Hagen Dass of all things!) and still others are privately owned.  Many are either under restoration or have just been restored to their original glory – and glory it is!  These homes are breathtaking colonial homes that were the plantation homes of French, German and British settlers who came to seek their fortunes in cotton, sugar cane, spices, tea, coffee, and human lives.  While the slave trade was part of what built the prosperity of the island – it was outlawed decades prior to the outlawing of the slave trade in the US.  The Afro influence on the culture is still felt today.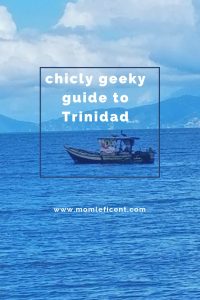 I was stunned at how cohesive and fluidly the different cultural influences that play such a major role on Trinidad life are integrated.  There did not seem to be any major divisions (save elections, which turn out the negativity in all cultures it seems!).  Trinidad is a cultural fondue – Afro, East Indian, Muslim, and Chinese are all large parts of the culture, with each leaving a distinctive mark on the food, religions, and music.  I was privileged to be able to visit Hindu temples and sacred sites – one of which was hosting four funeral pires on a single day.  Out of respect, I didn't photograph those moments of our visit, but the touching gathering of family to say good bye to a loved one resonated the same to me as in my own community.
Gail's Exclusive Tours Limited picked us up from L'Orchidee at 8:00 in the morning, with our first stop slated for a small community in the south of the country.  Debe is a small community with a ton of personality!  The community is a cultural Mecca for those who want to experience the foodie culture in Trinidad.
There are stands that line each side of the street selling Doubles – a local favorite – bara bread filled with "chana", a chickpea curried filling with a little kick (if you don't want it hot, order it "slight").  These are meant to be eaten with your hands, so be prepared to get dirty.  That's all part of the fun.  Locals eat them "in hand", which is standing and eaten by pinching off bits of bread to scoop up the filling.
They were amazing! expected it to be a little bland, but boy was I wrong!  They were delicious!  Other local favorites from the stands were saheena, aloo pie, and bayganne. We ended our time in Debe with a stop at the sweet shop.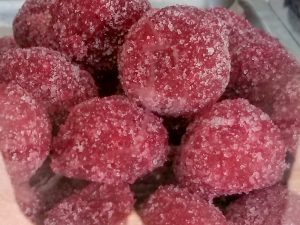 Local favorites like papaya candy (green and red sugary ball that are addictive!) and barfi – a powdered milk candy that has the consistency of a crumbly fudge.
The particular temple we were visiting was a Temple to Shiva that was built in the sea.  The gentleman who built the temple originally built the temple by hand, over seventeen years.  He would bring materials out to the temple during low tide, when the foundation could be improved upon, and slowly built the temple up.  Only a single portion of the original temple remains today, with a statue of Shiva inside for worshipers.  The government built a larger, absolutely beautiful temple in homage just beyond the original site in honor of him.  You can visit and take photographs, while sea breezes caress your skin and salt air cleanses your soul.  It is no wonder this was a special place of worship and continues to be to this day.  The flags you see in the photos are prayer flags (orange is the color of Shiva) which have been planted in victory of prayer.  I visited at the end of Diwali, when families pray to the deities of importance – each represented by a colorful flag displayed outside of their homes.  We then toured the Caribbean Indo Museum.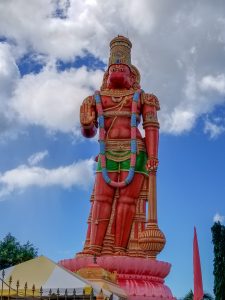 This small museum stands as a testament to the origins of the East Indian population in Trinidad, primarily as indentured servants, and the vessels that brought them over.  Outside of the museum stands a small structure that is a recreation of the homes built of bamboo, thatch, and mud that served as residences to the Indian immigrants.  Finally, we visited the Hanuman Murti Hindu temple.  This sited is a magnificently built temple complex that is absolutely worth seeing.
Traveling on to Maracas Beach, we passed Turtle point.  This small jetty on the road, built by American Soldiers in World War II, to Maracas Beach looked just like a giant turtle resting in the surf.  The surrounding mountains (the very tip of the Andes Mountain Range) were stunning against the background of the sea!  Lush vegetation and flowering trees in stunning reds and yellows dot the country side amongst the sea of green.  The clouds hung low and thick – barely crowning the peaks the tops of the mountains in the distance.  I felt like I had walked into a post card, or possibly a Leonardo Di Caprio movie.  Lunch on the beach was perfect!  The weather started out sunny and warm but as showers approached cooled a bit.  We had a local delicacy – Bake and Shark at one of the beach side eateries.  There are so many options of items to put on your Bake, don't bother with ordering sides.  I couldn't even finish my entire Bake!  I added shredded cucumber, tomatoes, cabbage, pickles, onion, and sauces (shadow benne, garlic sauce, and a tamarind sauce) to mine – perfection!  If you are watching your cholesterol, this may not be the dish for you, but seriously, the stroke will be worth it!  I had never had shark before (well, not that I know of – you know – fish sticks and all…) and expected it to be strongly flavored and a little tough (because what self respecting shark is light and delicate, right?) but it was shockingly mild and flaky.  The fried bread was thin and light, but sturdy enough to handle my massive lunch.
As we headed back to Port of Spain, the guides stopped at a little Chocolate Café' called Mountain Pride Chocolate Bar just to the side of the road.  This sophisticated little operation was lovely.  They served local Christmas delicacies, chocolate laced everything, and bars and cocoa pods for purchase.  My favorite treats were a small bar of white chocolate with pineapple – it was lovely! – and a locally grown drinking chocolate.  Oh my stars!  This was amazing!  The smooth and creamy texture was complemented by a perfectly intense chocolate that made you feel decadent but not sinful – dark chocolate is good for you.  I kept repeating that to myself as I enjoyed mine.  After much souvenir shopping in their prepackaged bars section, as well as picking up a cocoa pod shaped bar for drinking for Christmas Eve, we were back on our way.
Our final stop of the day was the absolute show stopper.  The Caroni Bird Sanctuary near POS.  This tour took us by boat deep into the hear of the swamp to watch the Scarlet Ibis – Trinidad's national bird – come in to roost at night.  This protected bird is startlingly red, and stands in sharp contrast to the darkness and browns of the mangrove swamp.  They only exist in Trinidad and Venezuela (remember we are only 6 to 7 miles off the coast) and have a total of five little islands that they return to each evening after feeding (mostly on crustaceans – which is how they develop their striking red).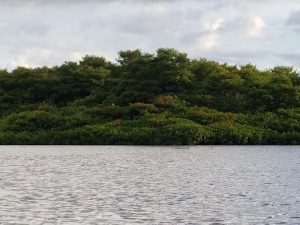 At first, you approach the island from the side, emerging from the channels of the swamp into an open lake.  The birds stand in stark contrast to the vibrant greens of the thick, tropical vegetation.  As darkness descended over the swamp, the birds begin to flock back to their roosts.  We watched in almost silence for about 30 minutes as droves of birds settled in for the night.  Joining the Scarlet Ibis were Snowy Egrets.  The red and white of the birds was beautiful.  If you are a fan of the natural world, this daily ingress needs to be on your bucket list.  The best times to see the birds are between November and March, as their nesting season is from April to October.
The drive back to POS was short.  It was hard to believe that this 11 hour tour closed so quickly!  The guides were some of the best I have encountered in my travels.  Our driver Clifford was an expert on these roads (they drive on the British side of the road, which really disorients me!) and quite funny.
Derik (Derik with an I) was a walking encyclopedia of knowledge and information.  He wove the history of the cultures and island into conversations, so you don't feel like you are in History class, but you come away with a profound understanding of who Trini's really are.  I highly enjoyed my time with these two amazing guides.
Like what you read?  Don't forget to subscribe to my mailing list to never miss an adventure!