With a toddler and a 10 year old in my house, both love story time, we had had quite a range of literature that we read!  I want to share some of my favorite children's books that are perfect leading up to Halloween.
This is one of my favorite times of year, and though we don't do a lot of gory, bloody, yucky Halloween (it's ok if you do, I just don't have a stomach for it – and that's saying a lot given that I have a toddler that occasionally pees on the wall).  What we do, is fun, cute, kid friendly and a little spooky.  In that vein, here are some of my favorite children's books for the season!
This is the cutest little story with all of your favorite seasonal spooky friends in tow.  A tiny mummy plays hide and seek with his mommy mummy and has an adventure in the cemetery, a cave, the swamp, and the dark woods.  He meets his friends Skelly the skeleton, Glob, the swamp monster, Drac, the Vampire,  and a warewolf.  All illustrations are very kid friendly and cutely drawn.  Baby mummy finally is scared by a mouse and runs to find his mommy mummy.  This adorable tale is perfect for the preschool set.
The Great Pumpkin, Charlie Brown
I love this classic from my own childhood.  One of my favorite things about having children is being able to share some of the treasures of my own childhood with them, and reliving the love I had for that story or character through my own little ones' eyes.  All of our favorite Charlie Brown characters are getting ready for Halloween.  Linus is eagerly awaiting a visit from the Great Pumpkin – even adventuring into the pumpkin patch to wait up for him.  What fun!  This old favorite is just as good as it ever was, with quirky Charlie Brown featured in all of his awkward glory.  I love to read this book to the primary grades, but both younger and  older children still love this story.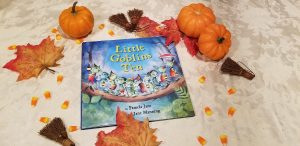 I happened to find this adorable counting book a few years ago when my oldest was in preschool.  This is such a fun book to read aloud.  It features lots of creatures and their babies – all in numerical sequence – to capture the imagination of any child who reads it.  One of my favorite ways to read this book is by using different voices and inflections with each character set.  I especially love the witch and wolves – my tiny one loves to join in and howl his little heart out when we count the wolvie babies.  The "mommy monster and her little moster one" eventually round up the whole crew for trick or treating.  This book is a preschool favorite.
In A Dark, Dark Room and Other Spooky Stories
This is another great romp through my childhood bookshelf.  This set of short, slightly spooky stores, is great for older children (grades 3 through 5) who like a little bit of spooky in their lives.  I have found that my daughter loves them in the late afternoon, but we don't read them much just before bed time or we tend to have too many people and not enough bed…  These cute and spooky stories are a fun activity to include by the fire or by candle light to add a little drama to your story time.  Flash lights, candles, and shadows are so atmospheric for this type of story time, even in the afternoon.
The tinies and I are huge Poe fans.  As a matter of fact, we visited Philadelphia this past summer on family vacation and I took Tiny to visit the Edgar Allen Poe National Historic Site – a home he lived in for a few years with his wife and her mother.  He wrote The Black Cat, The Tell Tale Heart, and it is said that he started The Raven in this home as well.  It was super cool to walk through the rooms he used as a sleeping room and study to see his inspiration as he wrote these classics.  I particularly loved going into the basement where you could sort of see his story The Black Cat playing out before your eyes.  It was a little surreal to walk through the house and feel like you were walking into scenes from the stories.  The Raven was featured in an adorable book series called The Incorrigible Children of Ashton Place and as a result, really got Tiny's mind turning.  I LOVE it when that happens!  The gift shop of the Poe house had an amazing pop up book for the poem and we have had the most fun with it this year!  This pop us is expensive, but extremely well done.  The graphics are vivid, spooky, darkly dramatic and highly engaging.
I highly recommend investing in this book to introduce children to classic literature in a way that will totally capture their minds.  The poem itself is great for older kids, but with the addition of the pop up illustrations, even my youngest loves to read the poem with me and watch as the raven emerges from the pages and seems to take flight.  By far, this is my favorite book this year!
Do you have traditions and experiences that you like to make sure your children experience through the season?
Like what you read?  Don't forget to subscribe to my mailing list to never miss an adventure!
This post contains affiliate links.  Should you purchase an item through one of our links, we may earn a small commission at no additional charge to you.