One of my favorite things to do in fall is decorate the house to bring in a little of that warm color and rich texture.  I love the bright shades of leaves and the deep, natural hues of acorns and Indian corn.  This year, I let the kids help me with a couple of projects to bring a special sparkle to our fall décor.  Both of the tinies are very crafty, and love love love to get into the glitter!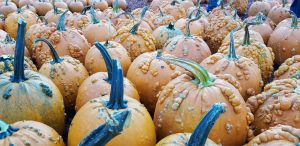 They look like little walking disco balls every time I pull out the art supplies.  It's always funny how long glitter can stay on a human body – even through bath after bath.  It can't stick to a princess dress to amount to anything, but once it gets in your hair, you might as well accept the fact that it will be there until you graduate college.
Pumpkins and Indian Corn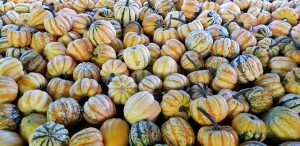 Nothing says fall decorating to me like pumpkins and Indian corn.  I have a specific pumpkin patch  I visit every year with the tinies to pick out our perfect pumpkins.  I swear they have every shape, size, and color at this place, and there is no shortage of people taking Fall photos with their families in the pumpkin patch – I was no different!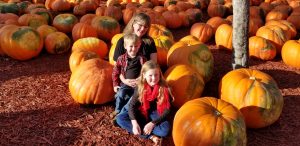 The tinies had the best time picking their favorites among all of the colors and sizes.  Teeny desperately wanted to pick up one of the big ones!  He did his best, poor guy!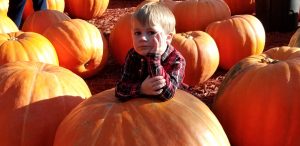 My favorite way to display the largest pumpkins is in a display out by my mailbox.  They are so pretty out near the road after the summer flowers have died.  The small pumpkins and squash stay inside.
I take my magnolias and candles down from the mantle and replace them with a selection of Indian corn, variegated pumpkins, white pumpkins, squash and bright orange tiny pumpkins.  I like to mix in a few artificial leaves to fill in the display, and this year added some glittered acorns that the tinies and I made one weekend!
Glitter Acorns
Our glitter project this fall was glittered acorns.  They are super easy to make, and really add some jewel toned sparkle to your décor.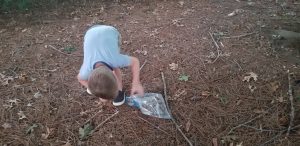 We started by spending some time competing with the squirrels in a local park.  Between my two little scavengers and I, we netted about half a gallon of freshly fallen acorns.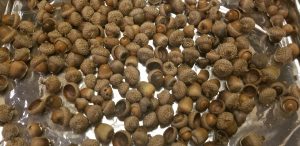 Once we got our treasures home, we put foil on a baking sheet, and baked the acorns at 250 for about an hour.  You bake them to dry out the acorns – they are plant products after all and contain enough moisture to mildew before Thanksgiving if you don't dry them before you glitter them.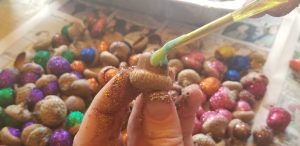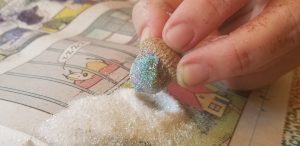 Next, you simply paint the bottom of the acorns with Elmer's white school glue and dip in the glitter of your choice.  I really like the very tiny cut glitter for this project.  The fine grain of the glitter adds some beautiful shine to the acorns.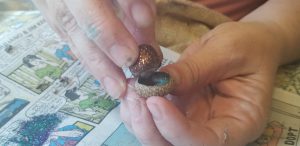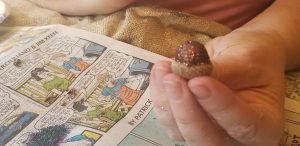 Don't worry if your tops come off, just dab a little glue on the inside of the top and press back into place.  You can get creative and glitter the tops in a contrasting color if you like.  I like the natural top and a glittered bottom.  I also like to leave a few natural acorns in each container to help the glittered ones pop more.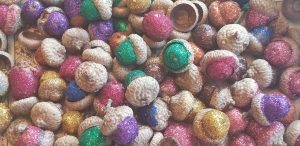 I have these displayed in bright green depression ware on my mantle with my pumpkins.
Candy Corn Trees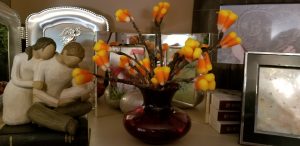 Once the pumpkins and leaves are out, I like to add a fun and whimsical touch to the book shelves by making a candy corn tree.  These are so easy and cheap to make.  I have a tiny bright red vase that contrasts perfectly with the yellow and orange of the candy corn.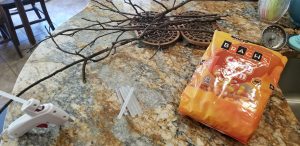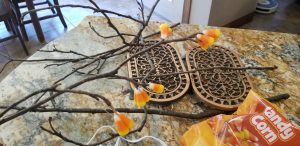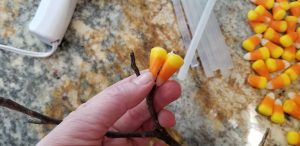 To make this tree I simply went outside and picked up twigs of the desired size and shape, broke any that were too long, and hot glued triads of candy corn to the tips of my twigs as blooms.  They are adorable and really make a nice addition.  You can make these as small or large as you want.  I have been known to make larger branches into table center pieces in fresh flower vases for the season.
Dried Bean Candles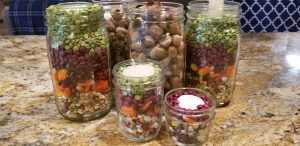 I'm as much in love with mason jars as any Southerner has a right to be.  I love the little ones especially.  I usually layer dried beans (kidneys, black beans, split peas and a mixed bean soup variety) in a vase for decoration.  This year, I decided to take a more practical approach.  I utilized some spare jars that I had laying around the house for a super cute candle set.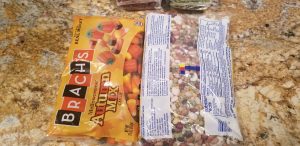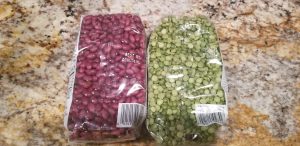 Select the jars of your choice and begin to layer the beans in two inch layers in each jar.  Add a candy corn layer about 2/3 of the way up for fun if you like.  Finish the layers with beans, then a layer of split peas.  The size of the peas worked really well to hold tea lights, and shifted well without overflowing.  They are seasonal, beautiful, unique and cheap!  I made candles of various sizes to give some height to my table arrangement.
What are your go to fall decorations, and how to you bring natural elements indoors?