I don't know why Autumn makes me want to be in the kitchen so bad.  For what ever reason, it does!  I have been making cookies and pies, breads and pastas – it is the feast of carbs in our house right now.  Good grief, as I write it, it is almost like I am a squirrel storing up carbs for the winter.
Well, it just so happens that the cookies I am making this weekend for a special tea with the most special tiny people in my life are acorn shaped!  I love to get them both in the kitchen with me, and these little jewels are the perfect little treats to make and share – even my toddler can help without too much issue.
Aren't they just adorable?  I love peanut butter and chocolate together, especially in a cookie.  These are the "almost" homemade kinds of cookies that are so cute, taste good, and take almost no time to finish.
Ingredients:
1 bag of Nutter Butter Bites
1 bag of Hershey's Kisses
Method:
Remove the tops from the bottoms of each of the cookies and place them peanut butter side up on a baking sheet.  Unpeel the Hershey's Kisses place them in a bowl to reserve.  Pop the cookie tops in a warm oven for three to five minutes.  Don't leave them long or you will over warm them and restart the cooking process over again – you don't want to do that.  Remove the cookie tops from the oven and place the Kisses on top of each cookie to form the base and cap of your acorn.  Reserve about 10 Kisses to melt to make the stems.  Let the acorns sit so that the warm cookies heat the chocolate and melt it a bit – this is what makes them stick to the cookies.  Give them about 30 minutes on the counter and then stick them in the fridge to set.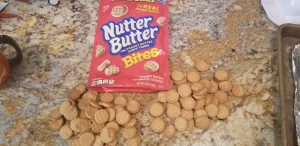 Once the chocolate is hardened again, remove the baking sheet from the fridge and melt your 10 reserved kisses.  Using a zip lock bag, place your Kisses in the bag – then in a cereal bowl in the microwave.  Melt at 30 second increments until the Kisses are completely melted.  Snip a tiny bit of the tip of one corner of the bag off to create a piping bag.  Pipe a tiny drop of chocolate on the top, center of each acorn cap.  Set them on their sides to dry.  Once you have added a stem to each acorn, pop the pan back into the fridge to set.
That's it – super cute – super easy cookies that anyone will love.  I am tempted to make a basket of acorn cookies and mushroom meringues to have on the table at Thanksgiving this year.  How cute would that be?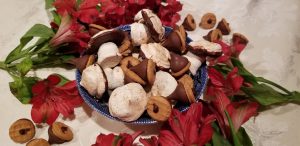 Mushroom meringues are a very easy cookie that most folks love.  The great thing about making mushroom ones is that you don't need any additional color than what is already in the eggs and vanilla.  They are gluten free, and a sweet little treat that most people just love!
Ingredients:
6 egg whites
1 Tablespoon Vanilla
1 ½ cup of sugar
½ cup of chocolate morsels
Method:
Using the bowl of your stand mixer, beat egg whites vanilla, and sugar until stiff peaks form.  To check, pull the beater or whisk directly up from your mix and see if you have a little mountain peak that holds its shape for 10 seconds or more, just as you left it.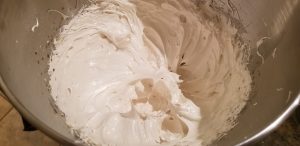 Once mixed, carefully transfer your mixture to a piping bag with a star tip if you are making regular meringues and an open tip if you are making mushrooms.  Pipe a round, flat mushroom cap by  moving the piping bag in a circle on your baking sheet.  You can wet your finger with a bit of water to smooth out the tops and poke down any peaks.  To make the stems, just pipe a stack straight up rather than a flat, round cap.
Bake at 225 for two hours, then turn the oven off and leave them alone over night.  I like to make these as I put dinner on.  Then, when we are ready to eat dinner I start cooking the meringues.  By the time we are ready to go up to get baths and go to bed, it is time to turn the oven off.  I just leave them in there all night to hang out in their little cookie sauna.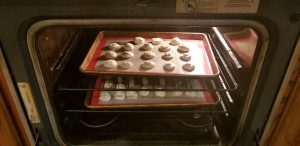 The next morning, remove the meringues.  If they are traditional shapes, store in an air tight container for a few days.  If you made mushrooms, dust lightly with cinnamon to give that earthen look, then join the stem to the cap by dipping the stem in melted chocolate and attaching to the cap.
Set in the fridge to harden.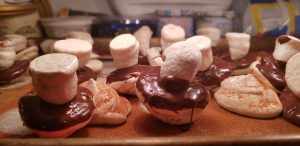 When hard and securely attached, dust the mushroom caps with cinnamon to give them a little spotted appearance and make them look "fresh picked."  You can store mushroom bits in an airtight container until you are ready to join them.  You don't have to join immediately to get great results.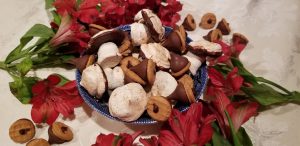 Cute right?!?!  What cute little treats do you whip up this time of year?
Like what you read?  Don't forget to subscribe to my mailing list to never miss an adventure!