So this second box was still pretty good. I saw a lot of items in the box that I liked for myself, and a few that screamed to be used as Christmas presents. Others are going to be put up for upcoming birthdays. This is a great way to get some of those yearly gifts (birthdays, Mother's Day, etc.) out of the way without lifting a finger!
If you want to get $10.00 off your first box (and give me a little off my next box) use this link! You can check out my last box here from Fall 2019!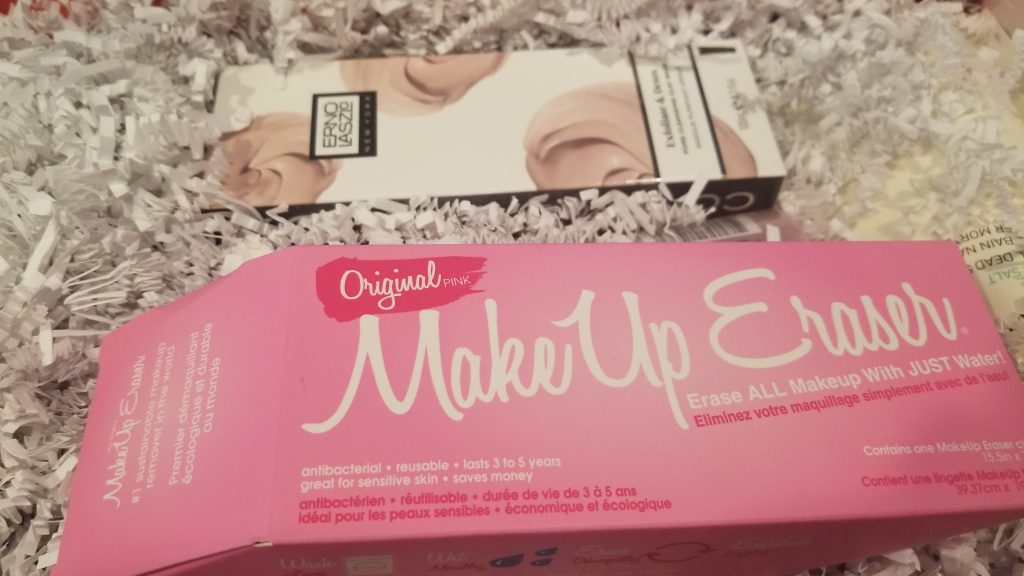 The first items I am going to talk about are the ones that I loved and am going to keep in my makeup cabinet.  First, the make up eraser was really intriguing to me.  The goal is to get rid of some of the chemical laden make up remover wipes in landfills with this more eco friendly version of a facial cleaner.  I loved the color, and the texture is quite plush.  I am going to use it with my micellar water after cleaning my face.  This does not have chemicals at all, so you will need to continue with your regular skin care routine if you begin to use this reusable and machine washable wipe. 
I think I may save the mask and necklace – this is seriously the cutest little necklace I have seen in a wile – a delicate little rose gold circle.  This is adorable, and is going to be perfect for my niece's birthday in March.  The lovely little hand mask is designed to seal in moisture, so I think that she'll also love that!
The detangler in this photo is super cool to me.  My oldest, a tween girl, is going to love this grown up version of a much-needed product in our household.  The clay mask pictured with it is mine all mine.  I love the way clay draws out impurities and helps rehydrate your skin.  I'm exited to have some mommy time (read that as a show where I don't have an audience) to try this one out.  Steam is good for the pores and the soul!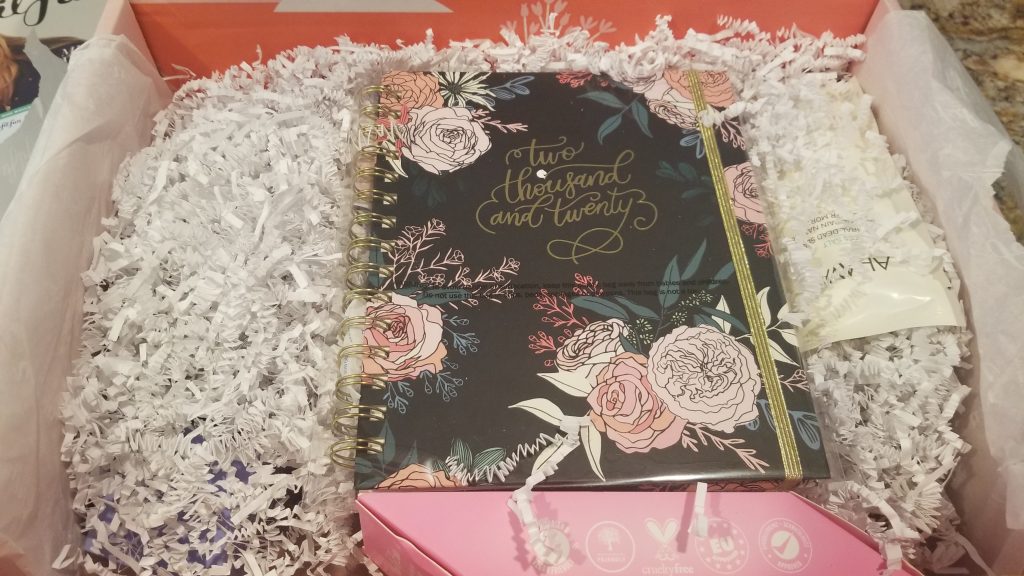 Another Christmas gift for this season is going to be this darling little planner.  Who couldn't use a little more organization in their life?  My daughter is going to benefit from this lovely little planner.  Trying to balance after school activities, karate, academic activities, and have any sort of a social life is hard (especially for the Moms out there!).  This is going to help her keep track of due dates and work on planning ahead – something all 6th graders are great at, right?
Finally, I am totally keeping this Kate Somerville goat milk moisture cream as well.  The scent is light and delicate and the cream is rich and luxe.  I love the feel of it as a night cream on top of my normal serum.  I am also foreseeing that this is going to be a great little go to during the winter months where central heat just saps the moisture from your skin.  This will feel so good to my skin at the end of those long, windy, cold days in the heart of winter. The other product pictured above is Ahava bath salts. My little boy – yes boy – LOVES bath salts. It is very relaxing for him, even as he sinks boats and splashes in the tub. I can't wait to let him try them, even at 4 he is becoming a little connoisseur.
All in all, I liked this box.  While there were more presents for others in this box than for myself, I'm ok with that.  My guess is that the savings on trying to find gifts for these occasions of the same quality is going to be substantial. 
Check out my Fall box here, or if you want $10.00 off your first box, use this link (and I could get a little bit off my next box as well)!
Like what you read? Don't forget to subscribe to my mailing list to never miss an adventure!