Halloween Theme Night
Yes, ghouls and boys, I'm officially in the mood for Fall!  The crisp hints of Autumn are in the air, the leaves are just beginning to turn, and football is actually on the t.v.  Who knew – I honestly didn't see that one coming this year.  I don't follow sports much, too busy making the snacks, but there is something about the sound of a game on the tele on a Saturday afternoon that just wreaks of Fall.  Papa bear is addicted to all sports – yep, all of them, but there is a little something atmospheric about the sounds of a football game on that adds to the feel of Fall. 
In that spirit (see what I did there?) we have officially had our first theme night of the upcoming Halloween season.  This one can fit a variety of Halloween themes and movies, but we went for the vintage movie monster feel for this set.  Some of these are new recipes for us, and some are refashioned versions of old favorites.  One, is just an old favorite with absolutely no additions.  My kids love mummy dogs any time of the year.  If you really want a scare, read the ingredients on the dogs first.  My favorite Halloween theme night from years past was this Hocus Pocus Theme Night! Be sure to check out the links for others at the bottom of the post!
Ghost and Goblin Munchies
Ingredients:
1 bag caramels
1 pack of Pop Secret popcorn
1 small bag Reese's Pieces
1 small bag Reese's Mini Peanut Butter Cups
1 small bag of Autumn Mix
1 bag of chocolate chips
1 bag of white chocolate covered pretzels
Sprinkles of your choice
Any other shapes or treats you want to mix in
Method
So, to start off our menu, let's make some popcorn munchies!  Just a hint, the caramel can get too thick – yes, it can – and it makes it a little hard to separate the clumps of popcorn from one another.  If you drizzle it too thick, it becomes one huge popcorn ball of stickiness – so go at it with a lighter hand than I did until you have layers of caramel to the degree you want it.
Begin with the popcorn – pop in any style you want – we love the pop secret pans at our house.  Spread it out in a single layer and drizzle with melted milk or dark chocolate, caramel, and sprinkle thoroughly with sprinkles of your choice before the chocolate and caramel set.  Let the mix set until hard – you can always stick it in the fridge for a few minutes to speed the process. 
When you are able to break smallish clumps apart to put into your bowl, mix in Reece's pieces, Mini Reece's peanut butter cups, autumn mix (candy corn, pumpkins, etc.) and some white chocolate covered pretzels.   I didn't use the full bags of Reese's items, pretzels, or autumn mix – adjust to your tastes.
Bride of Frankenstein Chips and Queso
Ingredients:
1 bag of blue corn chips
1 small bag of regular corn chips or scoops
1 container of pre made queso dip
Black olives and red bell or sweet pepper for garnish
Green food coloring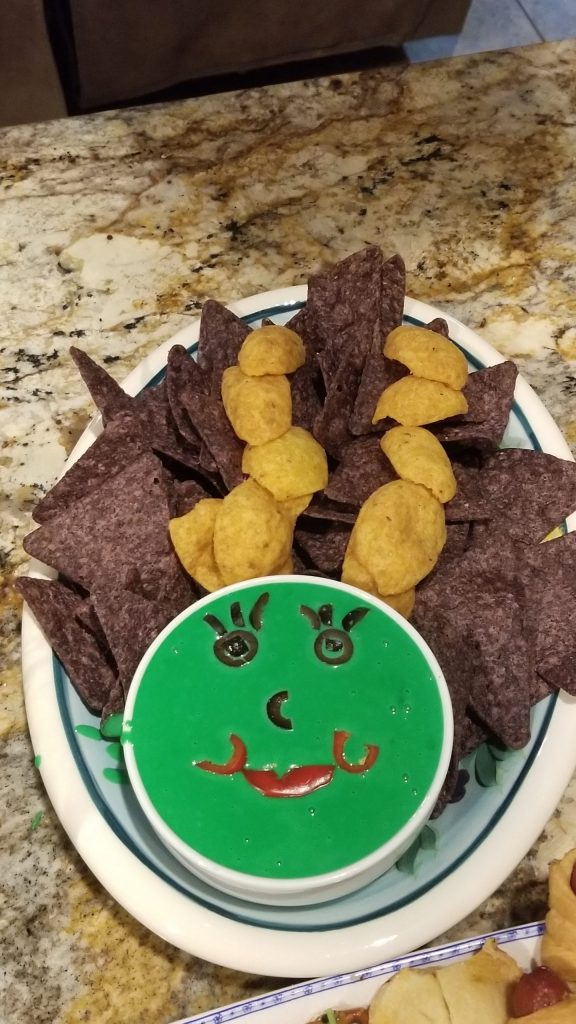 Method:
Y'all!!! This has to be one of the cutest and easiest appetizers for the Halloween season. The trick is to use an oval shaped serving plate to keep the shape of her head and hair as oblong as possible.
I simply placed a small round bowl at the end of the tray, filled in with blue corn chips and two streaks of white chips. Once the bowl is filled with warm queso dip, add her eyes, pupils, and cute red lips. I used a pairing knife to free hand her lips and little smile lines. Easy breezy – and nothing is exactly symmetrical, so you can make little mistakes with no problem. So easy, but it makes a huge impression. You don't have to tint her "skin" green, but a few drops of food coloring (I prefer gel) goes a long way towards that characteristic. Mix well and serve warm.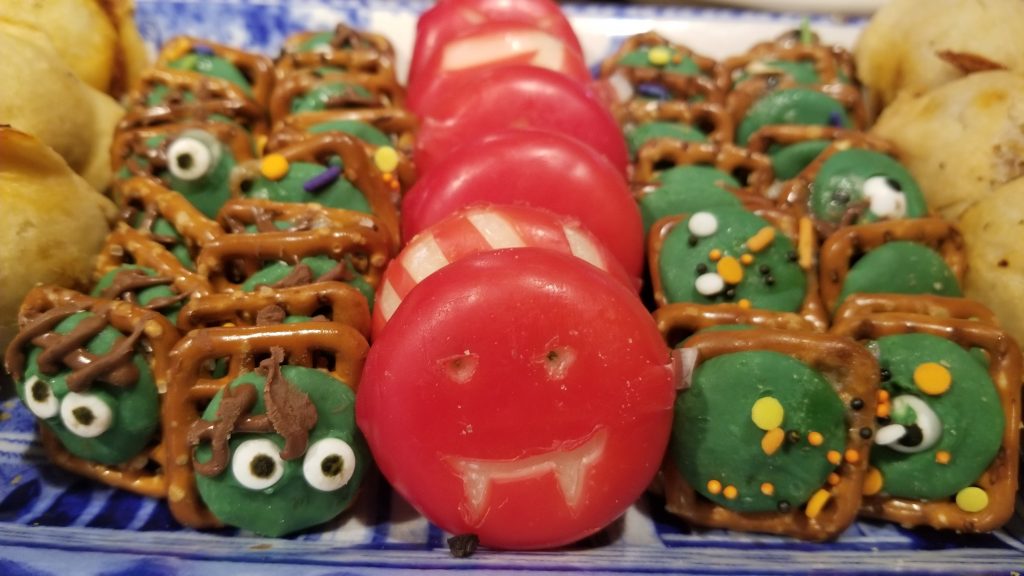 Cheese Ghouls
Ingredients:
Babybell Cheese Rounds
Method:
This is another of those stupidly easy snacks that looks like you spent way more time on it than you did. I use a clean clay tool to cut into the wax layer on the cheese and carve my desired face into the wheel. These guys are super simple to make, just don't cut too deep so that there won't be any marks from the cutting tool. They would also be perfect for a lunch box or lunch plate if you are virtual schooling these days. Easy shapes we cut were a mummy, vampire, and jack-o-lantern. I did dip a toothpick into some green color and poke little eyes into most of the shapes for fun, but you don't have to. Layer on a grazing platter and you are all set.
Mummy Dogs
Ingredients:
Hot dogs
Crescent Rolls (1 tube)
Method:
This is one recipe I usually wind up making a couple times each year.  The kids love it and it is easy to eat.  I don't love hot dogs, and we don't eat them much, so when the kids do get them, they are thrilled.  Who wouldn't be thrilled with these cute little fellas?   
Cut slices of about ¼ inch from your crescent roll log.  Do not separate them coming out of the tube – you are going to slice them almost as if you were slicing cookies.  Unroll from the seam and begin at one end of the hot dog, wrapping up and crossing back down each dog until you have a sufficiently wrapped mummy.  You can let some of the dog show through for a color contrast, so don't feel like you have to cover every single bit of the hot dog.  These are also very forgiving.  If you run out, just grab another slice and start wrapping, pressing the seams together.  Bake at 350 until the crescents are golden brown and the dogs are hot.  Serve with ketchup.
Pizza Pumpkins:
Ingredients:
1 pre made pie crust (rolled, you want two per package)
1 jar pizza sauce
1 package pepperoni
1 package mozzarella cheese
Italian seasoning
Method:
These pizza pumpkins are going to be treated like little pies.  You begin with a pumpkin shaped baking pan.  I had a mini muffin pan on hand, so we had mini pizza pumpkins.  The deeper the relief on the pan, the better the design will show up on your little pumpkins.  Mine was rather shallow, so they don't show up as much as I would have liked for them to. 
Spray the pan well and place rectangles of pie crust into each well. Make sure the rectangle is long enough to overlap at the back and keep your filling in. layer sauce, pepperoni, cheese and seasoning. Bring ends of rectangle together, pressing together and around the edge as much as you can without making it leak. Run a knife around the edge to clean the edge of errant pieces so that the shape is as true as it can be. Bake according to crust directions and serve warm. My kids thought these were the best things ever.
Spider cookies:
Ingredients:
1 package chocolate chip cookie dough
1 bag Reese's mini peanut butter cups (I used the same bag from the Munchies)
1 bag chocolate chips (again, I had left over chocolate from the munchies, so same bag)
Method:
Bake the cookies per package directions. You can certainly make from scratch, and yes, I know they taste better, but the point of theme nights at my house is to have fun and make memories. Doing everything from scratch stresses Mommy out – which is a losing game for everybody. If you want to use a package of premade cookies – by all means, do it!
While the cookies are still warm, place two to three mini cups on top of the cookie, inverted.  The wide side (top) will be down, forming the body of your spider.  Next, fill a flat storage bag or piping bag with melted chocolate and pipe on little legs.  I did find that the ones where I bent the legs more dramatically did look more like little spiders and were adorable (and quite tasty!).  Let these cool (you may need to have them hang out in the fridge for a few minutes to harden the chocolate) and then plate as desired. 
Well, our first theme night is in the books, and we had an amazing time! This vintage movie monster theme paired well with the movie "Monster Family" that is currently running on Netflix. You can also check out our other Halloween treats from years past by clicking the titles – Legend of Sleepy Hollow —The Great Pumpkin Charlie Brown —There Was An Old Lady Who Swallowed A Bat, and for fun in case you are having a get together with grown boys and ghouls – some mocktails that don't have to be mock if you don't want.
Like what you read? Don't forget to subscribe to my mailing list to never miss an adventure!