I have been working on a ton of Valentine's treats over the past few weeks. They have been a huge hit with the kids, and some were particularly big hits with Papa Bear as well. I love it when I make a recipe that the kids just have a fit over – especially when you can tell that it makes them feel special. Papa Bear is pretty simple in that way, and the heart shaped bacon did the trick. Check out some of my favorite Valentine's treats that all went over well.
The kids loved this perfect stove top cocoa. There is nothing like a steaming cup of homemade hot chocolate on a cold day – don't get me wrong, I love the Swiss Miss of my childhood and use it in my coffee maker for the kids. For only a little extra effort, you can have a thick, decadent, creamy cup of comfort that makes anyone feel special. Don't forget to check out these fun and festive cocoa toppers to finish your perfect cup of cocoa!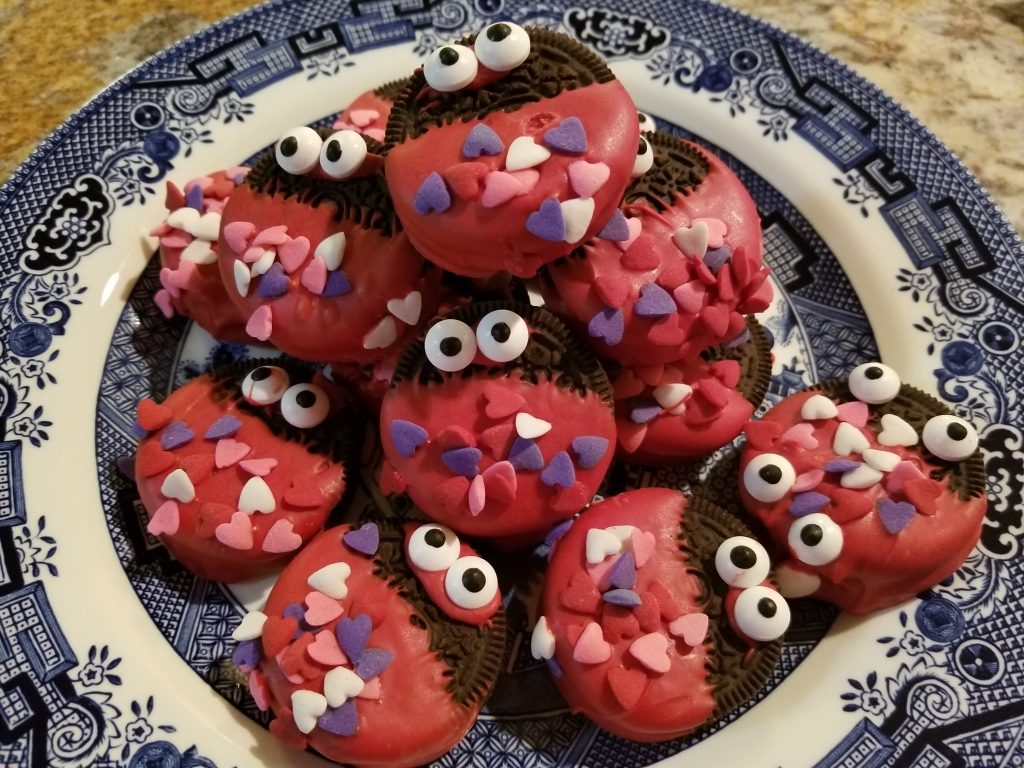 I have been making these for weeks to slip into the kids' lunch boxes. I love writing notes on their sandwiches, bananas, and sending something unusual in their lunch bags for a little mid-day treat. These Love Bugs did the trick. There is something about the festive colors and little hearts that make this little cookie more than just a cookie. Tiny loves to have little treats in her lunch bag – and it doesn't hurt that it makes her the cool kid at the lunch table. Get the full instructions here!
These little tarts are perfect for dessert, tea time, or any time. They are so incredibly easy and taste amazing – if you like cherry. I love the beautiful golden brown that the crust bakes up to when you brush it with melted butter and how shiny the sugar crystals are when they are baked into the pastry. The sweet little pastry heart that tops it off is the perfect way to show your Valentine how much you love them! Easy to follow tutorial is here!
These great little rolls are so fun to make and relatively easy too! The full post is here. This recipe can be made immediately or overnight to make your life easier in the morning! Just shape them as you are rolling them by making a depression in the top of the roll and elongating the end to make the perfect little hearts. Don't stress if they break a little as you are manipulating them (hearts often do when manipulated – see what I did there? 😊 ), you are going to add a glaze and some sprinkles that will cover up any little cracks. Don't forget to pair them with the heart shaped bacon below!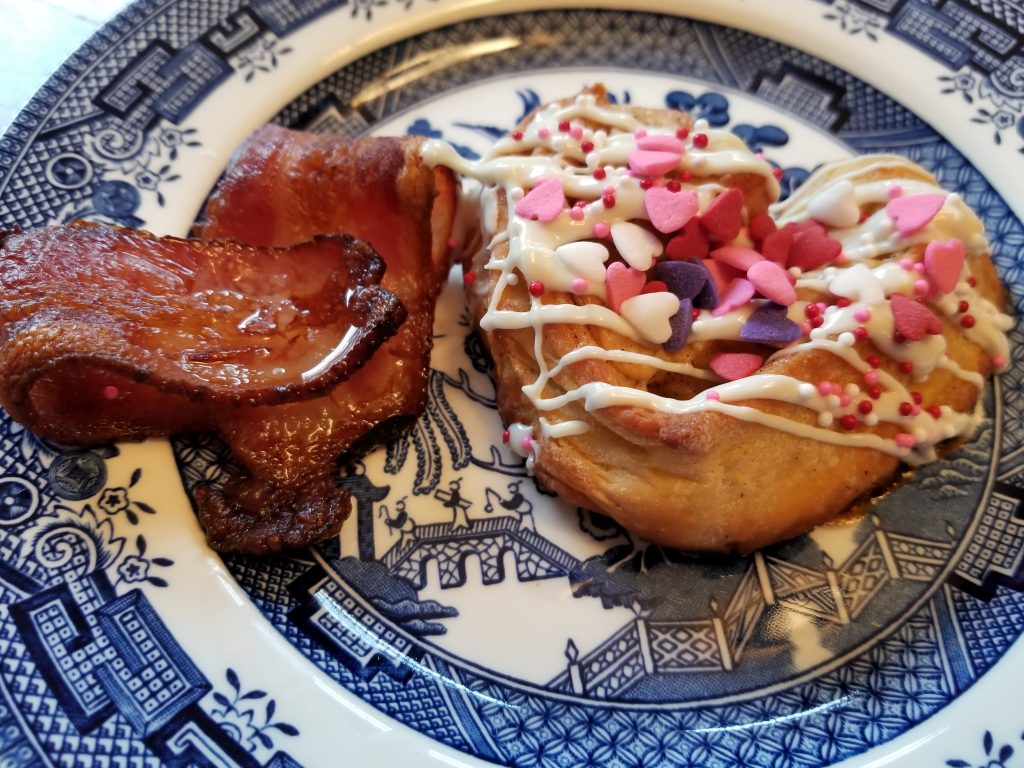 These are by far how Papa Bear would like for me to show my love. They are deceptively easy and – as bacon always is – very tasty! Simply bring each end of the bacon up and over to meet in the middle of the strip. Shape the upper curves to resemble the shape of a heart. Bake at 400 degrees for about 20 minutes. Be sure to pre heat your oven so that your bacon cooks evenly and doesn't burn. No one wants a burned heart.
What is your favorite Valentine's treat?
Like what you read? Don't forget to subscribe to my mailing list to never miss an adventure!